POV Holder:
Corey
POV Competition
Sept 3rd
POV Used
?
POV Ceremony
Sept 5th
HOH
Victor
Next HOH
Sept 8th
Original Nominations:
James AND Nat
After POV Nominations:
James AND Nat
Have Nots
None
Watch the next week of the feeds for FREE – 1 week Trial!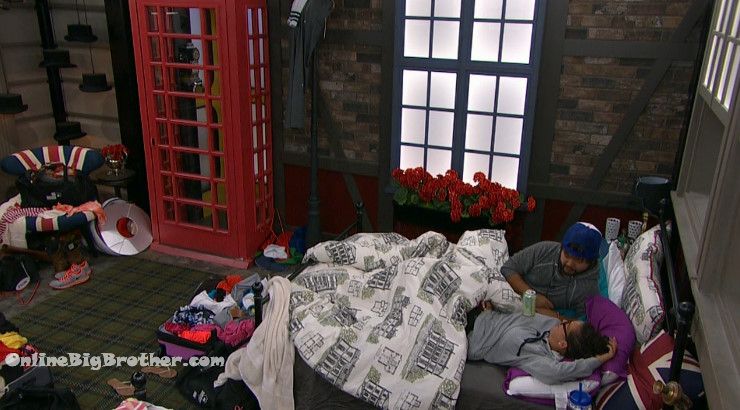 8:14pm James and Natalie
James- I miss holding your hand
Natalier – not after last night..
James rests his pop on her boob (See image)
Natalie giggles "that's on my boob"
Natalie says that the 4 in kitchen are talking shit about them.
James- I doubt it.. Maybe we can get the cards after they are done.. Play go fish..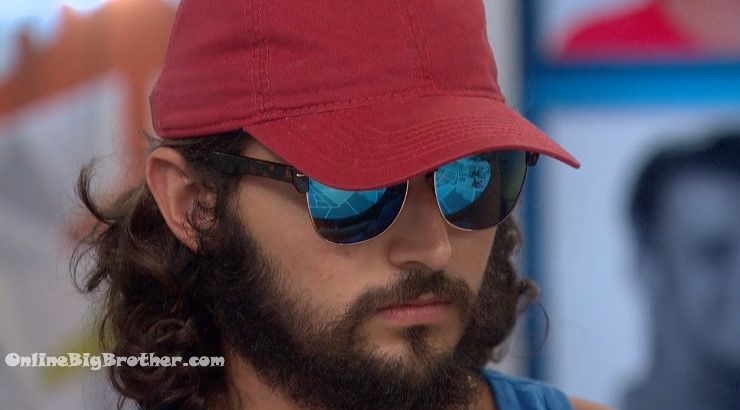 8:42pm Poker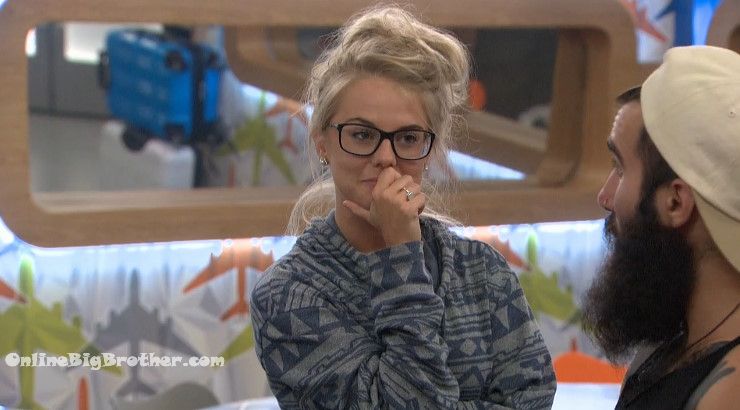 9:51pm Kitchen final 4
They comment the construction has ended in the backyard. There's speculation about the type of filler for tomorrow's episode.
They start talking about the blowhorn incident. Nicole thinks that James and Natalie might be a real thing now because after last night it's the only thing that can fix them.
Paul disagrees..
Victor says you all know how James is he's a nice guy he'll not want to go out leaving it like that.
Paul – some people must want to blow her sh1t up.. First the blow up doll than that.. Someone doesn't like her.
Nicole – and she gets the first care package
10:00pm Paul and Corey
Corey – we got it in the bag dude..
They agree James hasn't been studying they are golden. Corey says James has checked out he's going to want to leave right after natalie.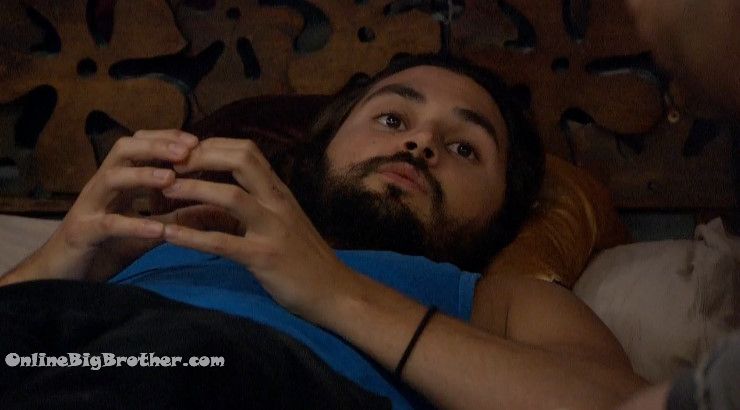 10:03pm HOH Sitting ducks
Paul says if Nicole or Corey win HOH "realistically it's 4 against 1 if one of them win preferable Corey"
Victor – I would much prefer you win HOH tomorrow.. Then we don't have to worry about the veto at all then there's the possibility one of them go home with the blood on our hands.
Paul says if it's days Nicole might give him a run but if it's the departure board he'll win it.
Victor says Nicole will crumble under the pressure.
Victor – i'll be they're sweating bullets praying James doesn't win
Paul – as long as James doesn't win we'll be fine
Victor – what scares me right now is that veto
Paul – dude when has he (james) won a veto
Victor – remember it's not his first rodeo..
Paul says Nicole knows they won't take her to the final 2 and she knows Corey and James will take her to the final 2.
Paul says he doesn't see a world where 1 of them isn't in the final 3
Paul called into the Diary room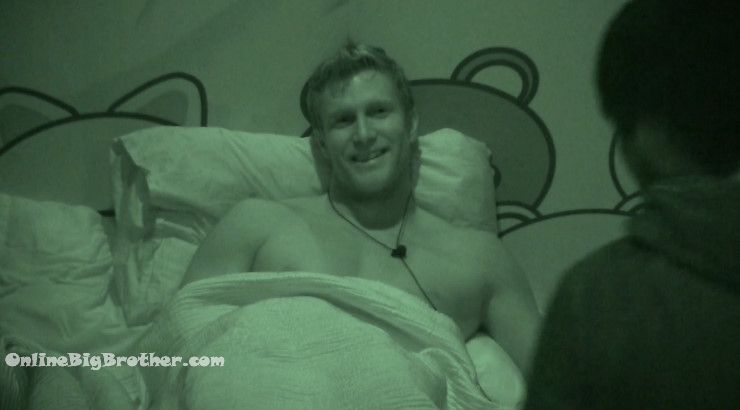 10:11pm Corey and James
Corey – Man don't get down.. It's a game you got her this far anyways.. Just worry about moving forward.. You know the drill BRAH
James- i'm just riding it out till the end with her..
Corey – Nicole and I have your back..
James- I got y'all too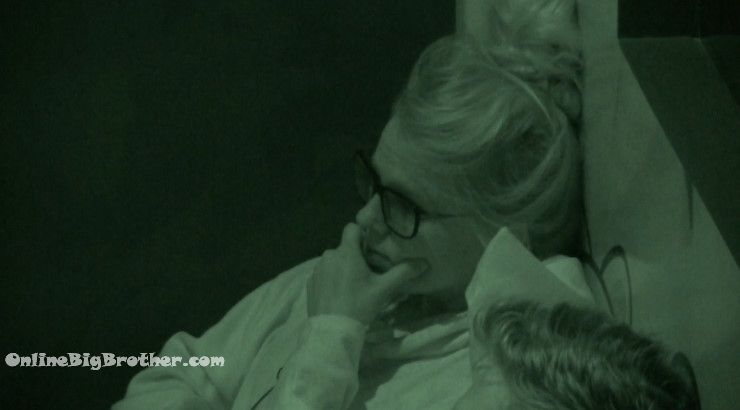 10:18pm Nicole and Corey
talking abotu teaming up with James. Nicole is worried he might turn on them. Corey doesn't think so.
Corey – I really hope he wins HOH (James)
Nicole – you going for it
Corey – yeah
Corey – James wouldn't stab us in the back.. he's on our side. the good guys (back to a kraken season)
Nicole – I want to sit next to you and James cause I love you guys so much
Corey says the only problem with them winning the HOH is they lose Paul and Victor's jury votes. Corey says he has a excuse but Nicole doesn't
They agree it'll be awesome when Natalie walks into the jury house because Michelle will be wanting it to be Nicole so bad.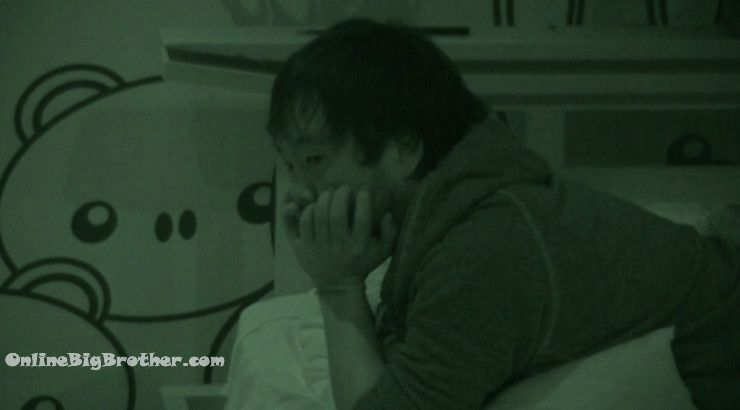 James joins them. They tell James to now beat himself up about Natalie there's no way they could have predicted Victor coming back.
Nicole – I'm forever grateful you kept him in this house.. I hope that I can repay you somehow..
James brings up the bumper car thing day 34. (ahh I was wrong.. Day 34 is when James asked Nicole to cuddle in the bumper cars. )
James – she said cause I hurt her so bad..
James – I'm over it i'm just trying to be cool
10:42pm James starts to share a Dallas story and all feeds flip to Natalie sleeping
When the feeds are back Paul is with them. JAmes is finishing off his story about the threesome he had in Dallas before Big Brother last season.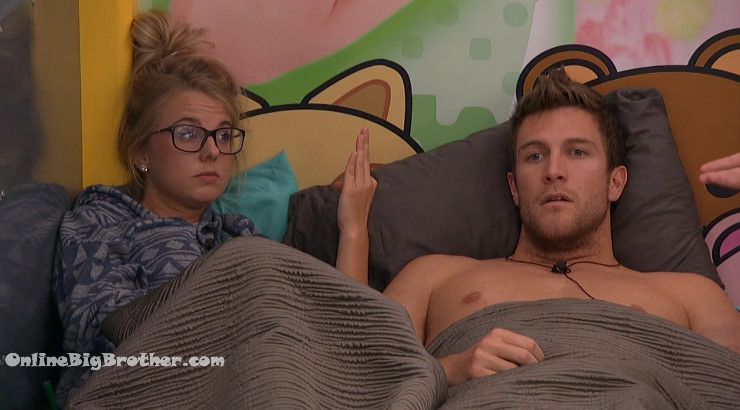 10:55pm Tokyo Room Paul, Corey and Nicole
trying to predict the HOH. They think it's the Big brother Luge for HOH and face morph for POV.
11:24pm Final4 in the kitchen
Paul whispering that Natalie walked by and was super pissed.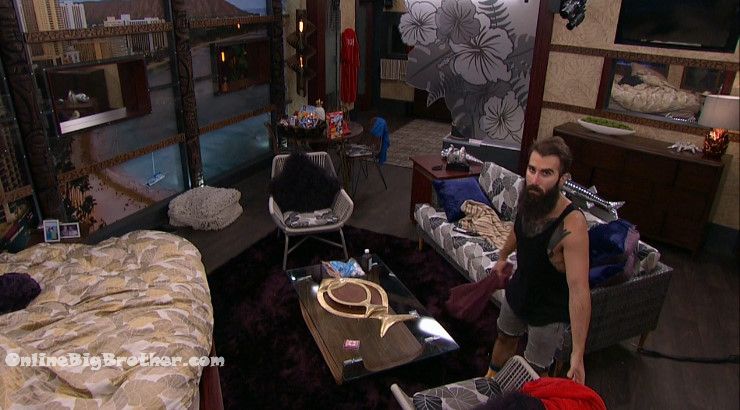 11:50pm
Paul – I can't wait to bone