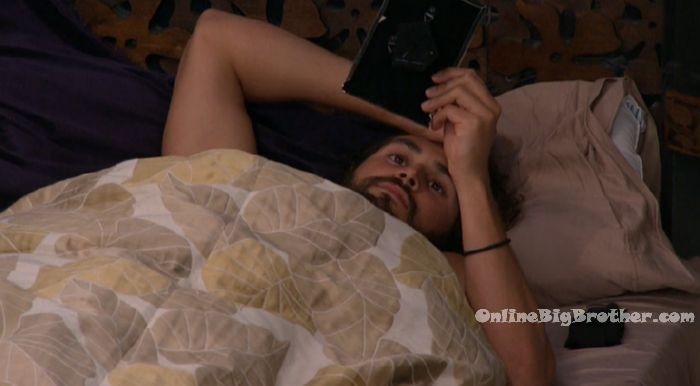 12:15am – 1:30am HOH room – Paul and Victor –
They can hear Natalie yelling in the kitchen. Paul says shut the f**k up Natalie! Vic – we just need to think about winning one comp at a time. James has one choice tomorrow. He needs to win. Its going to be a tough competition. Paul – if there's an incentive, he's going for it. Vic – the only person that's not worried it Nicole. Paul – I really think the only people gunning for it will be me and Corey. Vic agrees. COrey has a lot to lose, You have a lot to lose. I have a lot to lose. James, I really do think he's clocked out. Just because since he's alone now. The chances are so stacked against him. He might have one glimmer of hope. Paul – even if he does win it, no one is going to take him to final 2. Vic – its the vetos. He can win them all, no one has to take him. He could try and f**k up at least one persons dream, you know. Vic – if one of us goes and the other doesn't there is no way we don't win. Unless we had a really bad speech or something. Paul and Vic chat about random things and then go to sleep.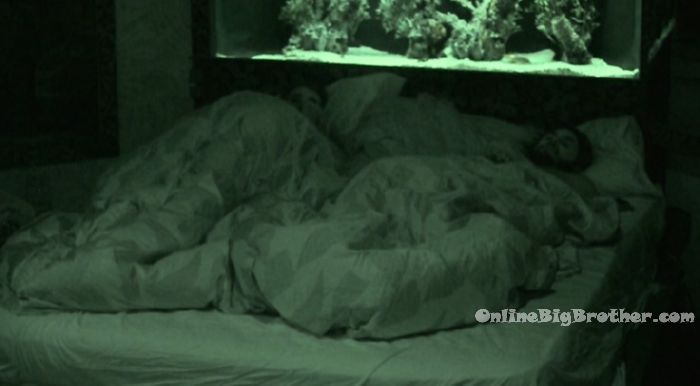 12am – 1:50am In the kitchen – Nat and James play cards. James – I'm kind of a go fish champ. Nat – what, when you were 11? Nat – I am kind of excited that I am a bigger threat than you. How does it feel for you? James – well you worn the pants in this relationship. The head to bed. James gives her a massage. Nat – I hope Bridgette is happy to see me tomorrow. James – she will be. Nat – I hope Bridgette and Michelle are happy to see me. James – they will be.

10am everyone sleeping
11am Jeff on feeds must mean HOH lockdown
1pm Feeds back
Show your support by making a donation.
Donations support this site more than anything. If you dig our spoilers please find a way to support us.
Share it YO!!
Tweet