POV Holder:
Corey
POV Competition
Sept 3rd
POV Used
?
POV Ceremony
Sept 5th
HOH
Victor
Next HOH
Sept 8th
Original Nominations:
James AND Nat
After POV Nominations:
Nat AND James
Have Nots
None
Watch the next week of the feeds for FREE – 1 week Trial!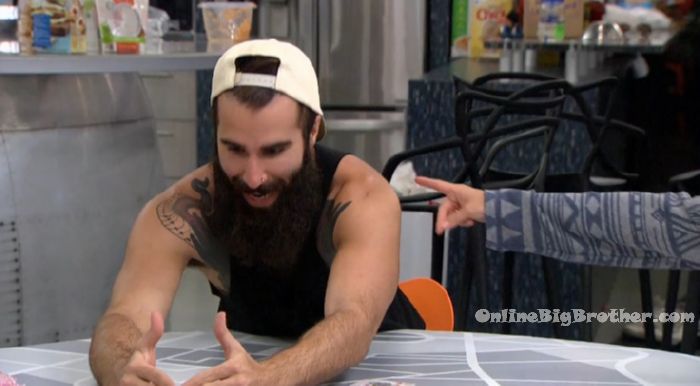 5pm – 6:25pm In the kitchen – Nicole, Vic, Corey and Paul are playing poker.


Meanwhile – Nat and James are laying in bed sucking on lollies and chatting. Nat – They've all been back handedly sh*tting on my all week. Nicole is really worried about her image from all collapse in the house. James asks is she? Nat – yeah, I can tell. James – you can call me out if you want. Nat – what would I have to say about you? James – you're the biggest jerk of all time. Nat – I don't really care about that. Nicole has been in the room with more sh*t talking than I've ever been. That makes her guilty by association. Once I'm gone Nicole knows she has no competition. James asks why? Nat – because she knows no one will send her home over all the guys. If you win can you send her home right after me? James – yeah. Nat – can you just put up Nicole and Corey. James – I will. Nat tells James – I would give someone my underwear for 5 grand! They can do whatever they want with them. They can wear them on their head. I don't care, its not mine any more. Easiest money I've ever made. Nat tells James if I get home and find out you threw the comp that sent me home because you got paid 5G's I will be so mad. James pretends he's sleeping. Nat keeps asking him.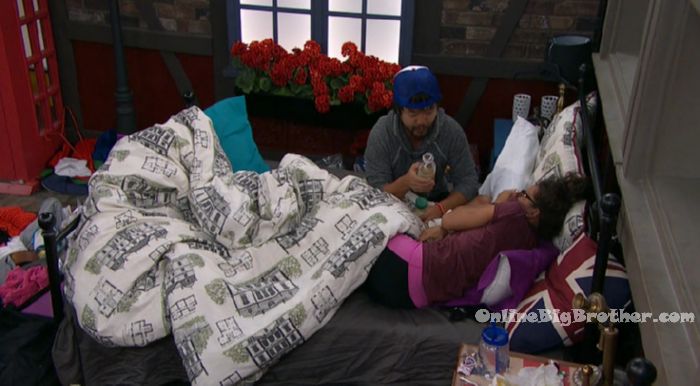 6pm Victor is cleaning the kitchen while Corey and Paul watch.
6:30pm London room – Nat – Any chance they keep me over you … I am running out those doors. Just kidding. I would die. James asks what would you really do? Nat – I would win the next HOH. James – I would be like go and kick butt girl. Nat – do you find me smart? James – yeah. You're pretty good at mental comps. You study and you do well. Some times your brain is just lazy.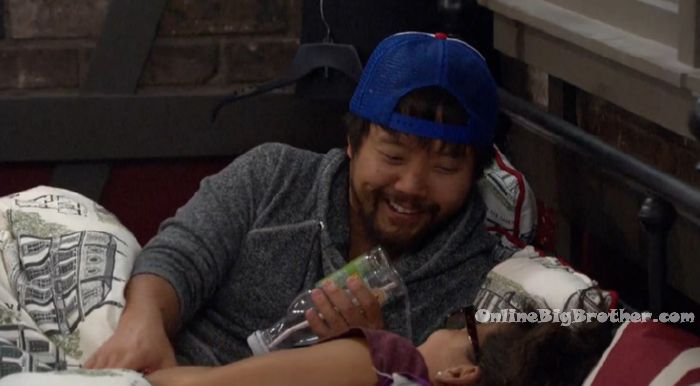 Nat "If you win can you send her home right after me? James – yeah. Nat – can you just put up Nicole and Corey. James – I will. Nat – should I say a secret when I walk out? James says Yeah. You're Miss America's little sister. Nat asks should I just tell them my real secet? James – I just thought you might want to mid f**k em a little bit. Nat – you guys thought I was a secret genius but really I am a cheerleader. Nat decides not to tell them her secret. Nat and James start napping.
6:55pm – 7:10pm Nicole is tweezing Paul's eyebrows in the HOH room. Corey and Vic are cooking and burping in the kitchen.
7:20pm – 7:45pm Nat – You have to put Nicole and Corey up. Everyone will be going up to your HOH room to talk. I would tell Paul and Vic – I can guarantee you guys are 100% safe. If I nominate Nicole and Corey. if one of them wins the veto and comes down I will put one of you up as a pawn but it doesn't really matter because at the end of the day my vote is the one that matters. I'm the deciding vote. I will ensure that you guys make it to final four. I will as HOH vote to keep one of you. If I do that tho.. I need you to ensure I make it to final 3. Or at least do your best. You've got to stick to a couple. James – it just sucks I'm stuck between two couples. James – I'll vote Paul out that way Vic will have to work with me. Do I tell Paul? Nat – hell no! Blindside that motherf'er. They're playing dirty dude! That's okay because I'm going home. A half million isn't worth hanging around these people. Nat and James head to the bathroom. Nat takes a shower. They're yelling and screaming. James starts squirting soap on Nat. He then throws q-tips at her in the shower. Nat continues to scream. In the kitchen – Vic says under his breath shut up! I can't wait till she's gone.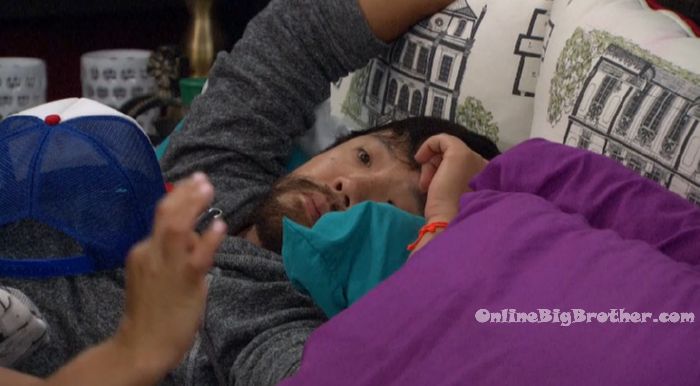 8pm Vic, Corey and Paul playing cards..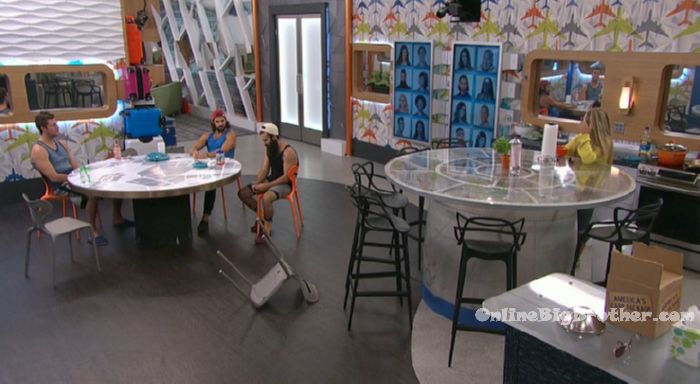 [polldaddy poll=9511194]
[polldaddy poll=9512103]
Show your support by making a donation.
Donations support this site more than anything. If you dig our spoilers please find a way to support us.