POV Holder:
Corey
POV Competition
Sept 3rd
POV Used
?
POV Ceremony
Sept 5th
HOH
Victor
Next HOH
Sept 8th
Original Nominations:
James AND Nat
After POV Nominations:
James AND Nat
Have Nots
None
The HOH Competition will be on the live feeds.. Good chance this means the "Luge" Or "Slip n Slide" Watch the HoH Competition play out TONIGHT (September 8th) on the Big Brother Live Feeds at 10pm ET! Also don't forget you can now get 1-month FREE with promo code: FALLACCESS – expires 9/16/16!
Watch the next week of the feeds for FREE – 1 week Trial!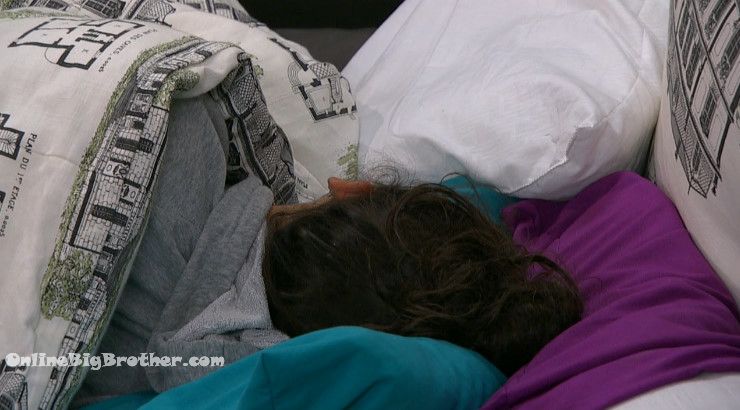 1:21pm Natalie and James London room
Nat – these people are evil.. I want to go to Jury and be with Bridgette and Michelle
James's- it's going to happen
Nat – America I can't believe I apologized to Victor and Paul I tried to take the high road and be the bigger person.. Victor was a complete douchebag to me in the beginning of the season until he had to re-evaluate how he treated people
Nat – Paul has been making fun of people all season and I betrayed them because I had a final 4 deal with someone else (final 4 with both couples) .. I apologize for betraying them but they were jerks all season so that apology I'm taking it back.
James – I don't even know what to say
Nat – don't say anything just Kick butt in this game
Nat – like you said for such a nice girl I can't understand how you got so many people to hate you
Jame s- why do you dwell on things
Nat – that's all there is to do
James – you can think about life.. Friends.. Family.. Why let those mean things get to you..
Nat – i'm going to be happy to leave this toxic energy and these toxic humans
Natalie says she'll never be friends with the "4 out they're
Natalie – hopefully you and me stay friends and I wish you the best in this game
James- why would you say hopefully
Nat – you never know
James – I don't think I've said anything to make you go not be my friend but… the only reason why everything else happened you pretty much said you felt you weren't ready for anything.. .
Natalie – well certain thing you said this season made me not want to be in a relationship
James- that's fine.. I don't hold that against you, we still can be whatever.. We don't need to shoo each other away
James – sometimes I wish you would put yourself in my shoes for a day
Na t- I have james..
James- how you feel
Nat – you know how I appreciated you all summer long
Nat – you were talking about me to them.. all of you were talking about me
James- I said 1 thing.. and I told you that.. I thought we were over I didn't know you were upset
nat – you know we're not friends why would you tell them something
James says he was upset he's a human being
Natalie says she just sat in the London room and cried by herself
James- I wasn't like.. you know.. like.. oh she's a jerk and walked out.. they just asked me if y'all fighting and I said we got in a little argument..
James – we were fine last night
Nat – we are fine james, we are.. I just want to go I don't want to be here anymore
Jame s- you need to go to your happy place you are not the same happy girl that walked in here since day 1
nat – I've had my feelings hurt, I've been hit on by the whole house and you haven't, nobody has been talking garbage about you
Natalie says the 4 out playing cards are acting all innocent like they've never made fun of her.
James says he had a tough time growing up getting beat up by kids and picked on he knows what it's like getting talked about
nat – Victor was so rude in the kitchen talking about his starburst..
Natalie says Victor is a "f***g jerk"
Jame says they all know this that is why Zing bot called him a douche bag (ZOMG.. is that really the edit Victor is getting.. man glad I don't watch the show)
Nat about the (final 4) "they are so annoying i can't wait to get out of here… Finale night not even going to talk to them or look at them"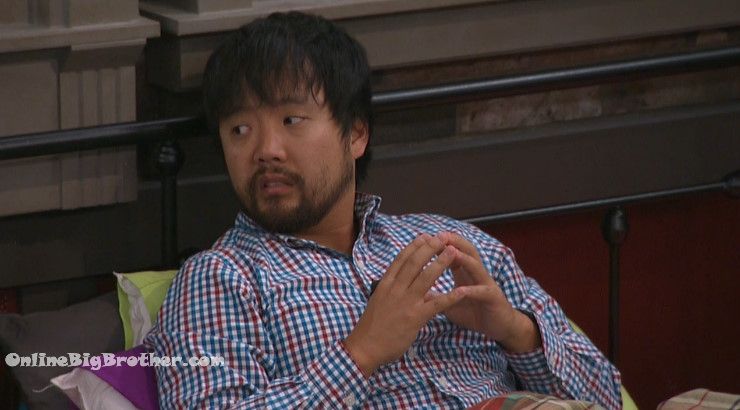 3:00pm James and Natalie London room
James wondering what the ratings are like
Natalie says the ratings will be CRAZY
James thinks the showmances and "controversy" are helping ratings
James – I'm going to throw this next HOH, I need top be open next week.. i gotta push my luck
Nat – what if you can win this next HOH why would you do taht to yourself
James says once she goes the 2 other side will target each other and he'll be safe.
James says the other sides thinks he's checked out, "I layed down and rolled over"
James says if he doesn't win someone has to be up against him
Nat points out they have a final 4 and the numbers they might take him out.
James says it depends on who he's up against.
James thinks Paul will put up Corey and Nicole
Natalie disagrees says Paul is putting James up
James doesn't think so says Paul might try to get his vote and use him as a backdoor option (ZOMG)
James says he's got 4 votes in the jury , they agree if it's James and Nicole final 2 James is getting all the votes.
James- it'll be a tight race.. it'll come down to 5-4.. either way I make it to fianl 2 i'll be happy.. i'll still get 50K
nat – there's a reason you were brought back into this game.. and I have a strong feeling you'll make it very far.
James – Damn how did they take 2 of my people out..
Nat – you really think those 4 best friends are not goign to gun after you james
James- no.. how bad I'm doing at comps, how easy I am to get out.. they see i'm a well rounded guy.. t
James claiming he's on the "GOOD" side saying that good will prevail over evil.
James now saying if he can win the HOh he will he's just not sure what side it's better to win. "My argument will be you can use me I'm 1 person use me.. "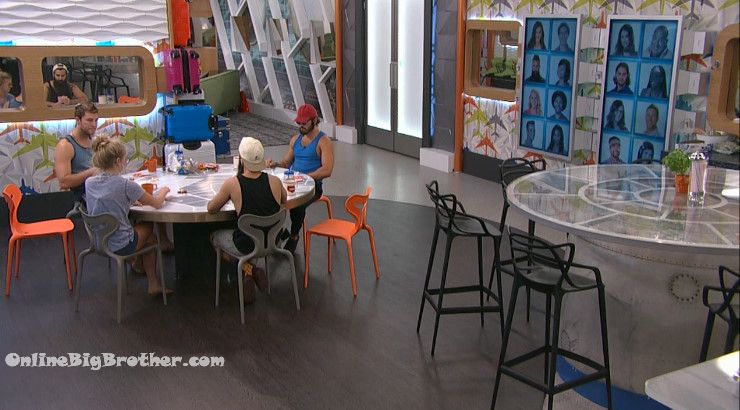 CARDS!!!!!!!
4:12pm Feeds on Jeff..
(sorry for bombarding yo'all with these ads but it is a really sweet deal)
Watch #BB18 HoH Competition play out TONIGHT 1-month FREE with promo code: FALLACCESS https://t.co/GD4oqQZokY pic.twitter.com/UGtstp85eX

— OnlineBigBrother.com (@bigbspoilers) September 8, 2016