POV Holder:
James
Next POV
Aug 1st
POV Used
No
POV Ceremony
Aug 3rd
HOH
James
Next HOH
Aug 6th
Original Nominations:
Shelli and Clay
After POV Nominations:
Shelli and Clay
Have Nots
Austin, Liz, Julia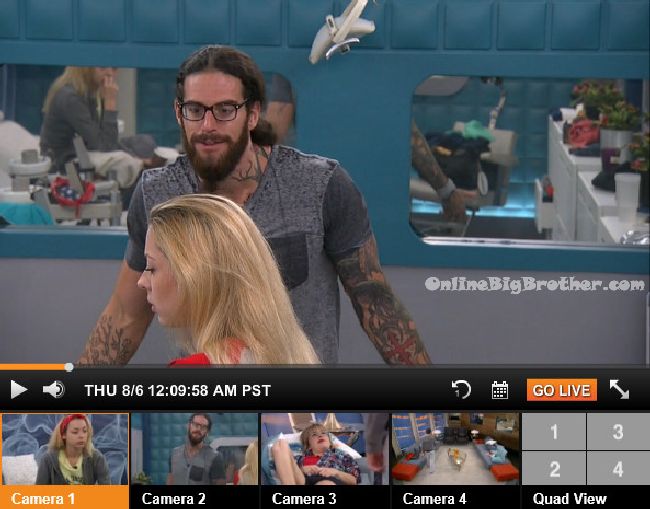 TRY the Big Brother 17 Live Feeds FREE for 1 WEEK:
Click here to ensure your live feed subscription supports OnlineBigBrother.com at no extra cost to you.
12:05am – 12:50am Havenot room – Julia tells Vanessa that she had nothing to stay about Clay in her goodbye speech to him. Julia says that she said her goodbye speech was I'm going to miss your morning coffee and that's the extent I know about you. Julia says I just hope we all vote to keep Shelli. Like I hope Austin does if Liz is. He should vote that way too. Even Steve was thinking everyone is going to go after Shelli if she stays. Vanessa says that Steve thinks its better to keep Shelli. Julia says I think Liz wants to keep Shelli for sure. We not only gave her our word. That girl has protected us. Clay hasn't done anything for me. Vanessa says why would we even do that just to help James's game. Julia says James.. I don't owe anything to him. Vanessa says shortman. Julia says f**king Napoleon. Vanessa leaves. Liz and Austin join Julia. Liz tells Austin that Vanessa is scared that Austin will keep Clay and that Clay will turn on him and deny all the things that you made him swear. Like about the Judas. Austin says but if we keep Shelli it will just confirm to them that we're working with them. Why would we do that after she threw me under the bus? Either way we just have to trust Clay. Do you want to go against everyone right now? Liz says lets talk to Clay. Austin says Shelli's going to the diary room.. Go talk to Clay. Steve joins them. Liz and Julia leave. Steve convinces Austin the keeping Shelli is better because she will be a bigger target. Steve says you need to protect Liz. Steve says that Clay has much better relationships with them. Steve asks who do you want out next? Austin says James or Jackie. Steve asks who will make that happen Clay or Shelli? Austin says Shelli. Liz comes back and says that Clay told her the decision was up to them but that this has been Shelli's dream forever. He is basically throwing in the towel. Liz says we need him to tell other people that. Steve says no you dont! Steve asks Austin did you you promise your vote. Austin says we said we were on board but we can change it if we have reservations. Steve asks Liz did you promise your vote. Liz says we agreed to it. Steve asks did you promise your vote? Liz says no. Steve asks did Clay ever apologize to you for throwing your name under the bus. Austin says no. He said going forward he isn't coming after us. Liz says we're just worried if anyone else wins they're going to take it out on us. Steve says no they're going to take it out on Shelli. Vanessa joins them. Liz explains what Clay said. Austin says he doesn't know what to do. Vanessa says just be a man and tell James. Its like going in for a kiss. Julia agrees lets tell James tomorrow after the HOH lockdown.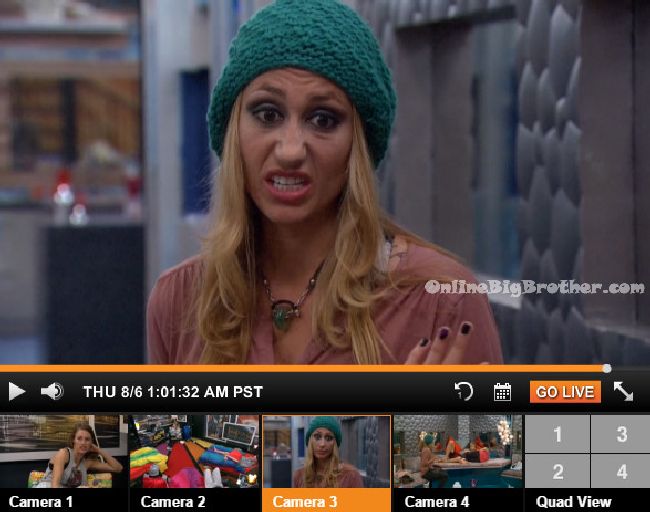 1am – 1:35am Bathroom – I just wanted out of fairness to tell you what I know because I said I would. Meg, Jackie and Becky are voting to keep you (Clay). The girls (Twins) told me they're voting to keep Shelli along with me. They said that you're their sorority sister and would have felt .. after everything to get them in the house making sure they always matched up and everything .. they would have felt really disloyal. And I think they got pressured even worse than me so they were very .. they were scared and everyone has been saying bullied and it does feel like bullying. I think they're even going to tell James tonight. Shelli says they don't need to tell him. Vanessa says I think they don't want James to be blindsided again. Shelli and Clay say who cares. Shelli says he blindsided us!! Tomorrow he's not in charge any more. Vanessa says I don't know about Johnny Mac. I don't know about Steve. Clay says that he knows how Johnny Mac is voting. Shelli asks who? Clay nods his head towards Shelli. Vanessa says that they're (Jackie, Meg, Becky) surrounding Austin and the twins and pressuring them so that we can't talk to them. Shelli asks ddi you ask Johnny tonight? Clay says this was a long time ago. Vanessa says it looks like it will be close and not the blow out James thought it would be. Vanessa leaves. Shelli tells Clay I told you, you could talk to him about voting for you. I don't want you to have to do that (Tell Johnny to vote for Shelli to stay) Clay tells Shelli that she has a better shot. You're better at the comps coming up. You've wanted this way longer. You should be here. Shelli says that if she wins next week she is going to come out guns a blazing. Clay says besides if you win I win. Shelli says that's right. Clay says I told the twins the same thing. (Vote to keep Shelli) Shelli asks you did? I don't know what to say. Shelli says you don't know how bad I want to turn that key and his (James) face pop up. I wish I could turn both keys and his face pop up. Double whammy!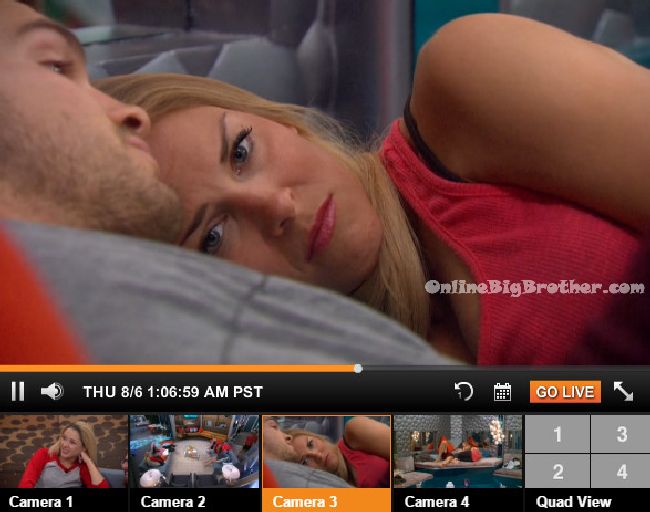 1:50am Bathroom – Austin says there is so much pressure to go the other way. Austin asks you don't want to be here? Clay says I do but. Austin asks why does James want you to stay so bad? Clay says because Shelli is a bigger threat. Shelli is good at this game and she is going to win this double eviction. Clays says that the twins, Johnny mac and Vanessa are all voting to keep Shelli. The numbers are good. I'm telling you she is going to stay. Its a wrap! You need to stay with that 5. Austin says I just hate to see you go. Clay says it is what it is, One of us has to go. Clay says she's wanted this for so long. I'm not going to take this from her. Clay asks Austin if he will promise to vote to keep Shelli. Austin says I will. I just don't want to blindside James. Clay says he doesn't care about you. Shelli stays she is going to win and send his little a$$ home. Austin says its done. Its good. Austin tells Clay good luck. Clay and Austin hug. Clay says I'll see you outside of here.
Clay tells Liz that Shelli wanted this way longer than I have. Make sure Austin votes to keep her. You all need to stick together. James doesn't care about ya'll. He only cares about Meg and Jackie. Clay says Shelli is going to win the next HOH comp. I'm telling you.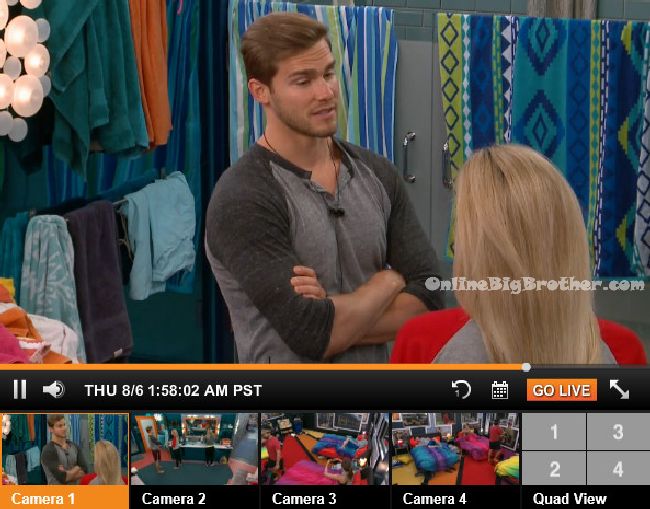 2am Bathroom – Austin and Liz are talking about Clay telling them to keep Shelli. Liz is crying about how he's willing to do that for her. Vanessa joins them. Austin says he told me to vote him out. We have a plan to tell James mid day. We tell him that Clay came to us late last night. The votes aren't there. Johnny Mac is doing it. Vanessa says Johnny Mac is voting the other way. He just told me. Austin says Johnny mac is voting to evict Clay. Vanessa says that's what I thought but I just talked to him and he was doing what the house was. I said the house doesn't want that. You need to vote what is good for your game. Vanessa says Steve's doing it, we're doing it. Vanessa says its a lock no changing our minds. I'm going to go tell Johnny Mac.
2:10am
Vanessa tells Johnny Mac that the vote is going to be close but whatever will be, will be. She tells him that he needs to win an HOH. She says that she was told specific information about someone coming after him and will tell him tomorrow at the latest. Its the first time I've ever heard someone talk bad about you. Its going to get dicey this week. We need to turn sh*t around. Johnny says okay.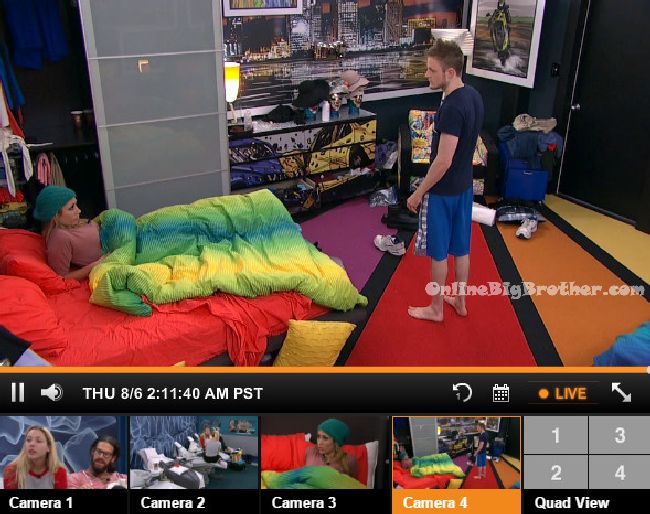 2:40pm – 4am HOH room – James says that he is about to scream at Shelli like what the f**k are you doing!! Go the F**K HOME! Jackie asks and what the f**k is up with Vanessa is she working with us or not. That was all f**king bullsh*t. James says if Vanessa was campaigning for Shelli to stay then she is working with her point, period, blank!! Jackie says exactly!! She's not campaigning for her to stay so she can vote her out next week. She's done! Remember I asked you that? She stalled like a motherf**ker! James asks who said that she (Vanessa) was campaigning to keep her? (Shelli) Meg says Johnny Mac and Steve. Jackie says the twins were like Clay is being a bit*h. He's being so mean, we need to get him out! I was like so what?! NO this is all bullsh*t. They're f**King bullsh*tting! No, they cannot switch on you! James says its f**ked up if they do! Jackie says so f**ked up. James says I'm going to be like .. I could have put ya'll up!! I could have put you up Austin, I could have put liz up, I could have f**king put Julia up. Jackie says now they're going to work with her. She's the one that said all that sh*t! James says I said this was probably going to happen in my diary room. James says if I had used that veto on him .. it would have been Shelli going home 150%! Jackie says and Vanessa is so worried about being backdoored.. you should have backdoored that bit*h!!

James says I should have thrown her a$$ up this week. Jackie says if I win .. Vanessa & Liz Bam BAM!! Put those motherf**kers on the block!! Becky joins them. She tells them Clay is in the hammock room with Steve now. Meg says sh*t!! Becky says Steve is the swing vote. We have a huge benefit. We have Johnny and he will talk to Steve last minute. What the f**k is Vanessa telling Shelli and Clay? Becky says everything. Meg tells James if you blow up they will vote for her to stay. Jackie says Vanessa is such a little… James says c**t! If ya'll win please drop the axe on her! Jackie says even if Shelli stays I want Vanessa out first. James says and don't be nice about it when you put her up either. Say something that hits her in the gut! Meg says we need to win tomorrow. Jackie says we f**ked up her whole came. She's taking it harder than Clelli. James says Shelli's got to go! I kinda want to rattle Shelli's cage though and just be like look at her and say Shelli you're not staying. Meg says no stop!! Jackie says you shouldn't have told her she was going home to begin with but I guess it would have gotten to her. Jackie we look like a$$holes. I don't want to be a villain. Meg says we're not!
Watch it all using FLASHBACK: Big Brother 17 live feed FREE Trial