POV Holder:
Paulie
POV Competition
Aug 6th
POV Used
?
POV Ceremony
Aug 8th
HOH
Victor
Next HOH
Aug 11th
Original Nominations:
Michelle AND Zakiyah
After POV Nominations:
? AND ?
Have Nots
Bridgette, James, Corey
Watch the next week of the feeds for FREE – 1 week Trial!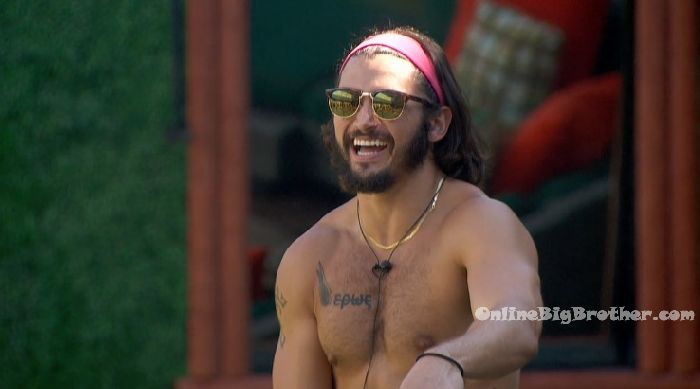 3:50pm Backyard – Corey, Paulie, Nicole, Bridgette. Nicole asks what percentage of your life do you walk around with your shirt off? Paulie says 95%! Nicole says I want a serious answer. Paulie says when I'm at work I wear a shirt other than that I don't. So maybe 65% shirtless. Nicole asks who goes more shirtless you or Cody? Paulie says its pretty even. Paulie says I grew up pretty much not wearing a shirt all the time. Vic asks what percentage of the time do you wear socks while having s*x? Nicole says I'm not doing this. Vic says it allows you to get your shoes on faster to leave. Nicole says oh my god. Corey says when he's at home he doesn't have shirt on. Vic says why would you have a shirt on when you're at home.
4:15pm Backyard – Corey says he hasn't given any good reason why we should keep Meech .. besides how it would be good for his (Paul) game. I'm guessing. Paulie says it doesn't matter. I think we're right there with having him convinced without having to force it. Corey says he isn't thinking about how he wants Michelle out. .. for Michelle to leave it would be me, you, Nicole, James, Natalie and probably Bridgette. Who is going to vote Z out? You Paul, that's it. How are you going to flip that many people. You know James is going to use it on Paul. You only need 3 votes to evict someone. Sorry Paul you're not going to get Z out. Its basically James's eviction (Because he can eliminate 2 votes). Paul is going to be all butt hurt about that. If Michelle wins 2 guys are going up. If Z wins Vic is going up.. which is what we want. Meech has won a comp, Z hasn't won anything. Paulie says Z can't go to anyone without it getting back to me. Corey asks who do we put up if we win during a double eviction? Paulie says Bridgette and Natalie. We would have to ok it with James. If I won it, I would put up Bridgette and Z. I'd tell her she's a pawn. What were you thinking? Corey says the same thing.. and the option of backdooring somebody like Vic. Paulie says yup, always an option.
In the kitchen –
Natalie says the next person I bone is going to be my husband. Vic says there you go! Natalie tells her moms boyfriend to hurry up and propose, otherwise Paul is going to swoop in and take her from you. Then he would be my step dad and no one wants that.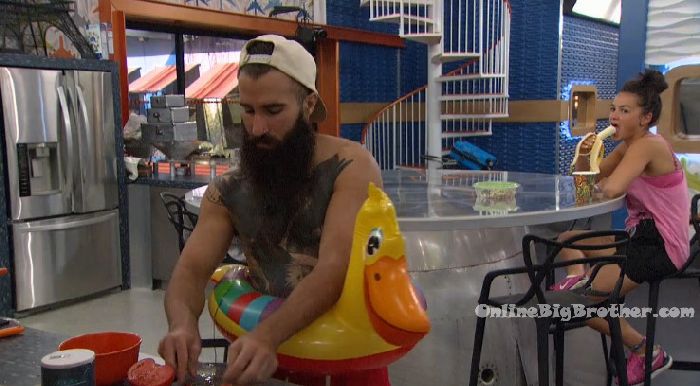 4:45pm In the bathroom – Nicole asks James can we talk some game later? James says yeah. Nicole says we haven't talked game in awhile. You and I need to talk .. without it being sketchy and stuff.
5pm Nicole says that Paul came to me and asked who I wnated to go home. I said maybe Michelle because she has word vomit and won OTEV. Paul said Z has to go. He is so dead set on Z going. He's going to be upset when she doesn't. Corey says I know. Vic joins them. Corey asks what do you think about the votes this week. Its your HOH? Vic says I think Z (going). Corey asks why? Vic says she's stronger than Michelle. Z joins them and the conversation ends.
6pm – 6:20pm Corey and James talk in the Havenot room. Corey says that he talked to Victor and Paul and they want Z to go. That's not good for us. James asks what about Paulie? Corey says Paulie obviously wants Michelle to go but Paulie doesn't want to piss off Vic and Pual so he wants you to use the thing on him (Paul) so he can't vote. Paul went to Nicole and said that Corey wants Michelle out. Acting like I'm the only outcast. James says I feel like the blame will get pushed on me and you. Corey says unless you use it on Paul and Paulie. You guys are out, you can't vote. So you need three votes then.. me, you, Nicole want Michelle gone. Where is Natalie going to vote? James says where ever we want. Corey says no I'm sorry if you use it on me and Paul. So that you make Paulie vote. James asks why is Paulie trying to do that to us. Corey says he's not trying to, he just doesn't want to make Paul and Vic mad and he wants the jury vote. James says but really I'm the only on that's going to get f**ked in this. This can't be a Corey and James deal … it has to be a Corey, James and Paulie deal for them to be okay with it. James says I just don't want to blindside him. James says I definitely want Michelle out. Corey says I feel like Michelle would put up two guys. Corey says right now I see it as me, you, Nicole, Natalie, Paulie and Bridgette vote out Michelle. And only Paul voting out Z. Corey says Paulie needs to vote. James says if anything I could X Nicole or Natalie out. James says maybe we need to keep putting it out there that we're stuck. Every time we get around Vic we're stuck. Corey says if he didn't want Michelle to go he shouldn't have put her up there. James says we need to get all the guys in here with Paul and Vic and hash this sh*t out. Michelle with the comments and the crying.. she just needs to go.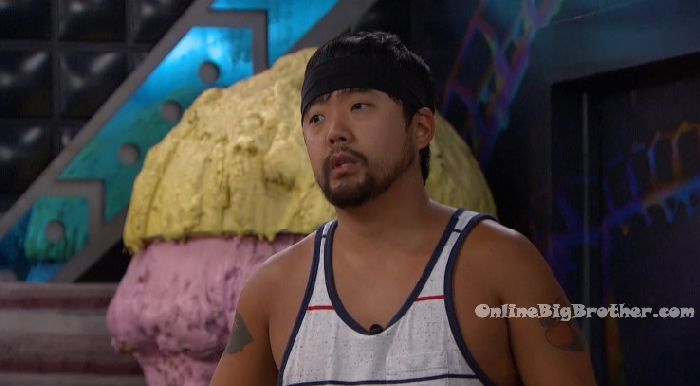 6:40pm Nicole says Michelle said she was openly coming after Natalie. James asks when did she say that? Nicole says she said it right in front of you. I'll do what the house wants obviously but that's what I want. James says I'm going to stop your vote and Corey's vote and then we're going to keep Michelle. Just kidding! Nicole says Paulie also wants Michelle to go. We need to talk Paul into wanting Michelle out for some reason. James says really you, me and Corey could send anyone home. Nicole says us four are rolling together right? James asks who's four? Nicole says well Nat. James agrees and says we just need to worry about this week. Nicole says maybe we get rid of Z so that we don't piss people off. James says no we don't do what Vic wants. Nicole says if I send Meech to jury .. I'm 0 for 2 jury votes.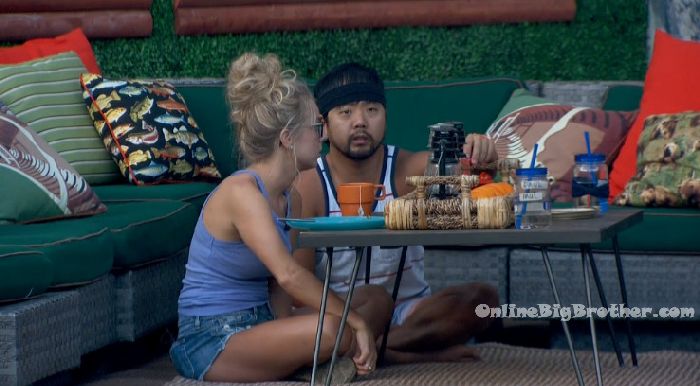 7pm – 8pm James tells Nat that Nicole said you're on Michelle's hit list. Nat doesn't think so and says she and Michelle are good. Natalie asks so the whole house is voting to keep Z right? James says yes. Nat says I'm not letting Michelle leave with 0 votes. James says no she'll have 1 or 2 votes. Nat asks is the veto being used? James says no. There are 7 votes. 2 get axed. Nat says you can axe mine. James says so 5 votes and 3 votes send someone home. Technically I could rally a group and send anyone home. James says Michelle has said so many comments. Like how she can't trust me. Paul and Vic want to keep Michelle for some reason. Did you notice Paul and Vic are getting close to Bridgette. And they want to keep Michelle. I feel like they're trying to build a squad. Nat asks why don't you F**king pull Bridgette in for us? James says I don't trust Nicole. She always tries to get info. Nat says she's playing Derricks game. ..all three of you are playing Derricks game. Nat asks so you want Michelle gone? Nat says okay. James says but you do whatever you want but if you vote for Z I might just axe your vote. James laughs. Natalie breaks down the house and explains what she's observed. She explains who everyone is working with and who's protecting who. She says that Paulie is the puppet master that's running the house. Natalie says if I won 50K I would be more than content with life. I can finally go to the bathroom, I'm not stressed anymore. Nat says Paulie and Z aren't going to date after the show. He gives her false hope. James asks what about you and James? Nat says who knows. I think were the only ones that could date. Nat tells James that he's an influencer in the game. If you want someone out, you'll get them out without any blood on your hands. You're a plant seeder… a seed planter.