POV Holder:
Paulie
POV Competition
Aug 6th
POV Used
?
POV Ceremony
Aug 8th
HOH
Victor
Next HOH
Aug 11th
Original Nominations:
Michelle AND Zakiyah
After POV Nominations:
? AND ?
Have Nots
Bridgette, James, Corey
Watch the next week of the feeds for FREE – 1 week Trial!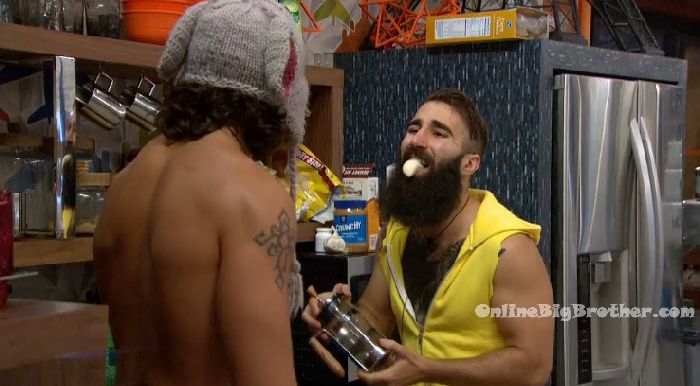 11:30am Big Brother wakes up the house guests. Vic and Paul are in the kitchen. They have no coffee filters so they decide to use the french press but realize its filthy and has mould in it. Paul says if it was his he would just throw it out. Vic says his grandmother would kill him if he threw it out.
Vic says I had a dream about this girl from back home and it was all dope and sh*t but she gained a little bit weight… from the time I left. Paul says you're hilarious bro! So it was like a nightmare? Vic says so I was like HEEEYYYYYY! I wouldn't care if it was a little bit but it felt like it was 20 – 30 pounds. Nice to see you tooooooooo.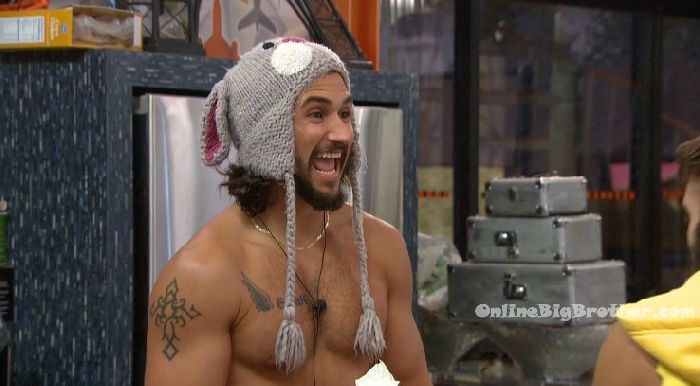 12:20pm – 1:15pm Vic and Paul head into the safari room – Vic tells the live feeders how this has been an amazingly successful week with the HOH and the veto. Paul agrees and says yeah and last week. Vic says imagine if we win next week too. I would be like really!? This is too easy! Paul finds some pills on the couch. Vic says I think they're James. Vic says we take a jab at him. I think everyone would be like YES! Too perfect. The only thing is having Corey not freak out if that happens. Then we have to risk not telling him if that happens. Corey joins them. Corey tells a story about working at a bar that had a mechanical bull. He says the guy that normally ran it wasn't working. He said a group of girls came in wanting to ride it. He says he really didn't want to run it but did. The last girl to ride it was at least 250 pounds. He says he had trouble trying to help her up on it. He told her to move forward and hold on. He says he barely moved it forward and she flew face forward and and face planted. She was crying about hurting her shoulder.

1:40pm Backyard – Paul, Nicole, Vic and Corey are hanging out. Meanwhile all the other house guests are still sleeping.

2:10pm – 2:35pm Backyard. Paul, Paulie and Corey. Paul asks how the reaction was? It wasn't so bad? Paulie says that she (Z) was okay with it at first but then later she cried. Paul says at the end the day keeping noms the same is the most friendship. She is going to have some pissy-ness towards you especially if she gets a few votes tossed her way. So I would rather .. SEE YA! Chop it! I don't think she would be angry at you because you can just play dumb like I did with Da. Then we can pull in Meech. Paul says I think Bridgette needs to go .. probably next. Paulie says that James said that Natalie is convinced there's an all guys alliance. Meech said that she is observing who is working together so maybe she said that to Natalie. Paul says GET RID OF HER! I think we do Z, Bridgette and then Exec (Vic). Paulie says I don't think Z has the power to unite the girls. And what guy is she going to go to? If she did that guy would come to me and I would be like what the f**k are you doing?! Paul says if another girl goes they are going to be sh*tting their pants. Paulie says yeah but they can't do anything about it. Paulie says if Natalie wins she won't put up a girl and won't vote out a girl. Corey says one of them won't be James. Paul says I need solid reasons for Meech to go first. Its just the hot and cold behavior with Z is just a little annoying. Corey heads inside. Paul says if you send Z home .. that will be the kick start to the other boys that you did it. Now its their turn.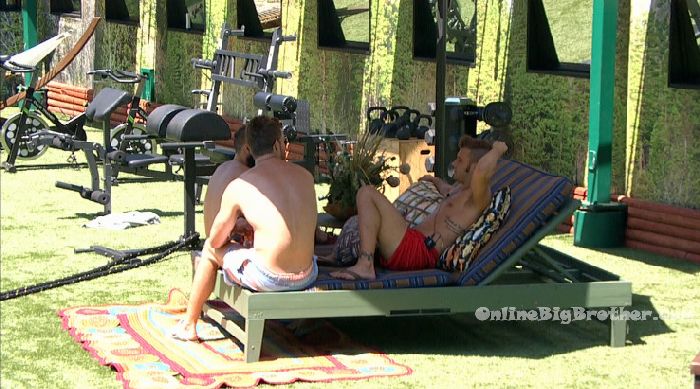 2:45pm Paul asks Nicole who she thinks should go. Nicole sasy there are pros and cons to both. Paul says if Z got the opportunity to win HOH she would take a shot especially if Paulie didn't use it on her. You could break Meech like this before a competition. All you have to do is drop a little comment or something and she would be in tears. We have a shot to take out Z now. It won't be hard to put Meech back on the block because she word vomits and pisses off enough people to want her out.
3:15pm Paul comes out to get in the pool with his duck floatie. Vic asks is it cold in there? Paul says you don't know that! Nicole laughs. Vic says I wasn't making a statement.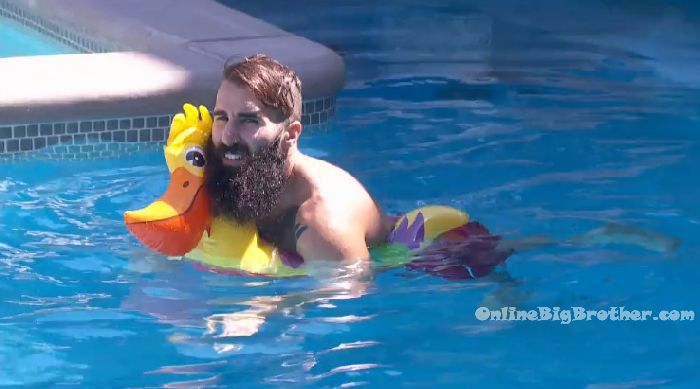 [polldaddy poll=9491180]
[polldaddy poll=9491957]