POV Holder:
Paulie
POV Competition
Aug 6th
POV Used
?
POV Ceremony
Aug 8th
HOH
Victor
Next HOH
Aug 11th
Original Nominations:
Michelle AND Zakiyah
After POV Nominations:
? AND ?
Have Nots
Bridgette, James, Corey
Watch the next week of the feeds for FREE – 1 week Trial!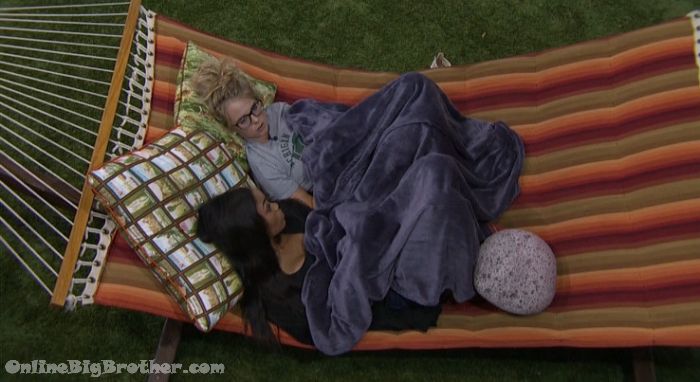 9:07pm Zakiyah and Nicole
Zakiyah – what's going on..
Nicole – I Dunno what's going on
Zakiyah – I feel ok
Zakiyah says She hopes she has Nicole, COrey, JAmes and Paul
Nicole mentions Paulie also
Nicole agrees says she can count on those votes, "Don't tell Meech that, it'll hurt her feelings'
Zakiyah says PAulie might not use the veto because he doesn't want to ruffle any feathers and they votes they have are locked to keep Zakiyah.
Zakiyah – I hope people don't treat me like I have the plague
Nicole – Corey wouldn't want to ruffle any feathers and I would completely understand..
Zakiyah – I really want to win next win…
Zakiyah says she will nominated Victor.
Nicole is happy with that says she'll throw the HOH to Zakiyah so she can get rid of Victor.
Zakiyah – Victor will be going up without a doubt
Zakiyah is worried about MEECH because she beats herself up so much.
Nicole – If I had the choice I would keep both of you
Zakiyah says She doesn't tell Michelle any information.
Nicole says when Michelle is upset she spews information and puts targets on her back.
Zakiyah – I never took her serious.. When she said things to me I didn't feel the needs to go tell them this..
Zakiyah – she's a sweet person outside.. She's not made for our game.. We're the last of the fatals.. The last of the mohicans..
Nicole about Corey "He's the cutest thing to walk this planet.. I'm getting more and more into him every day… I miss him it's sad.. "
Nicole – I'm very into him..
Zakiyah – I think I like Paulie more than he likes me
Nicole – no
Zakiyah – I do ..
Nicole – he doesn't want to get distracted..
Zakiyah – he's a focused man
Zakiyah doesn't think Paulie is using her for strategy she thinks he really likes her enough to want to spend time with her. Nicole agrees.
Nicole goes on about being annoyed about Natalie always bringing up Corey's ex girlfriend.
Nicole is pissed about Natalie.. "Called him sexy daily…. "
Zakiyah pissed too "She talks to Paulie all the time"
Nicole – I know he doesn't like her.. But she likes to rub thins in my faaaaacccccceeeeee … why do you even saayaaaayyyyyyyy thatttttttt
Nicole thinks theres some bad intentions from Natalie. Nicole says her her behaviour is malicious
Nicole goes on and on about Natalie and Corey says natalie wanted Corey bad for the first 25 days in the house. (LOL no, last time I checked Natalie didn't have a bulge)
Nicole gives Zakiyah advice in what to say when Paulie doesn't use the veto
Zakiyah – I'll wear pink tomorrow..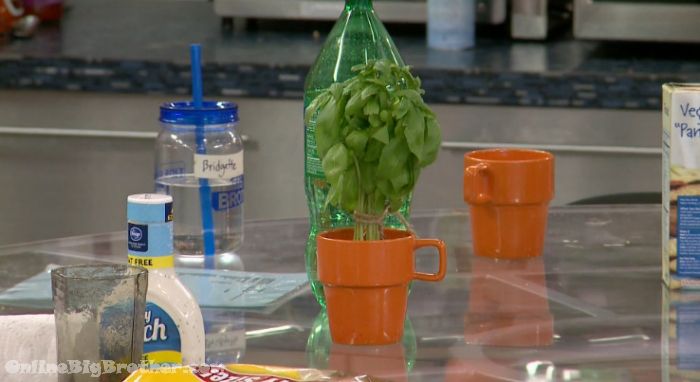 9:34pm Bridgette's Basil plant
9:40pm Storage room Nicole and Paul
Nicole starts telling him about the talk with Zakiyah says she thinks Paulie isn't using the veto.. Zakiyah walks in.. they change the topic..
After Zakiyah leaves..
Nicole continues about Zakiyah being OK with Paulie not using the veto. Zakiyah says Paul, Paulie, Corey, Nicole have her vote and she says she loves Paulie and thinks he's a sweetheart.
Nicole – she said she's 100%.. Vic's gotta go
Nicole – I'm 100% fine with voting Zakiyah out..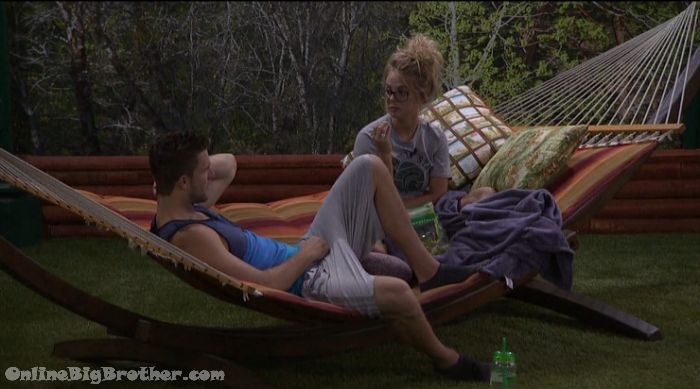 9:58pm Nicole and Corey
Nicole going on about Natalie trying to hurt her by flirting with Corey.
Nicole – her intent is malicious..
Nicole takes a drink of water it's got salt in it.. Nicole to James "You TURD"
Salt in Nicole's water thanks to James #BB18 @DawgsBigBrother pic.twitter.com/DiRSH8IzOj

— OnlineBigBrother.com (@bigbspoilers) August 8, 2016
Nicole whispers to Corey that James told her he doesn't care who goes. Corey doesn't think that's true.
Nicole – he said he would flip a coin..
Nicole says she hopes he picks her to have her vote nulled, "Those girls are my friends"
Nicole asks if Michelle has talked to Corey
Corey says he hasn't she's been in bed all day. Nicole agree they comment on how Michelle spends more time in bed than anyone in the house.
Nicole says she saw Michelle and Bridgette talking, Nicole "She's got to go she's s flip flopper, and Paul says he doesn't care.. so if he doesn't care it shouldn't matter"
Nicole asks who JAmes is Die hard with
Corey thinks it's them and Paulie
Nicole says Zakiyah needs to stay, Corey agrees.
Corey – No one is going to listen to Paul I promise..
Nicole says they need to talk to Pauli make sure he doesn't use the veto. Corey says he won't.
Nicole says she will put up Victor and Paul to ensure Victor goes home.
Nicole says she wants to get a care package, "I want to get my hands dirty and then get myself out of it"
Corey – I do to
Nicole says after Z stays they need to tell her that Paul was really pushing to get her out.
Corey – I'm going to tell Bridgette that Paul wants to get her out next
Nicole – ya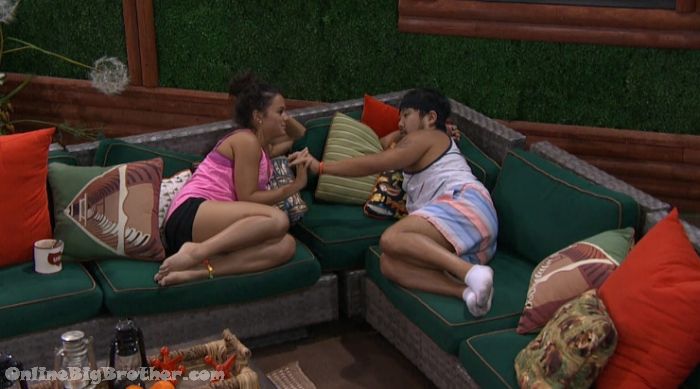 10:01pm Natalie and James
showmancing..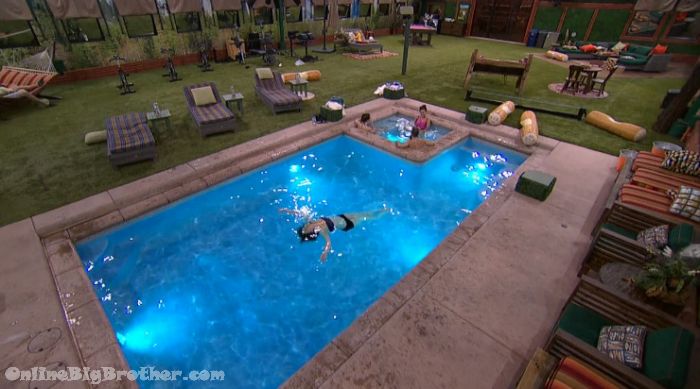 10:38pm Hot tubing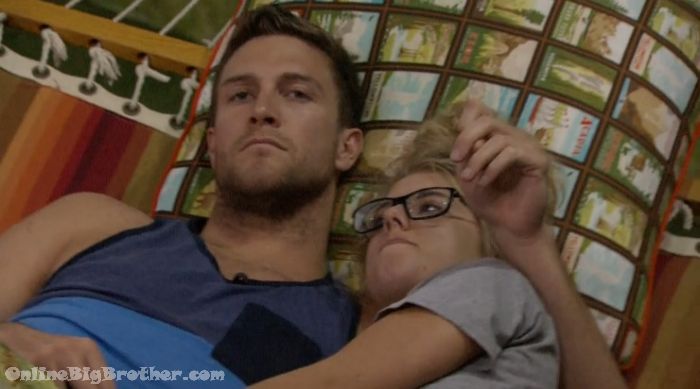 10:57pm Hammock Nicole and Corey
Nicole says she knows Paulie is running the house.
Nicole says James will win unanimously, "I want to sit beside him because we're both vets"
Corey doesn't think a it would be says Victor and PAulie might not vote for James.
Nicole would like to be in the final 2 with Corey. she would "Roast" Corey in the speech
Corey – Oh my gosh
Corey says their next targets are Bridgette and Victor and one of those can't play HOH.
Nicole says this is the funniest season ever..
11:25pm Chatting about dogs ..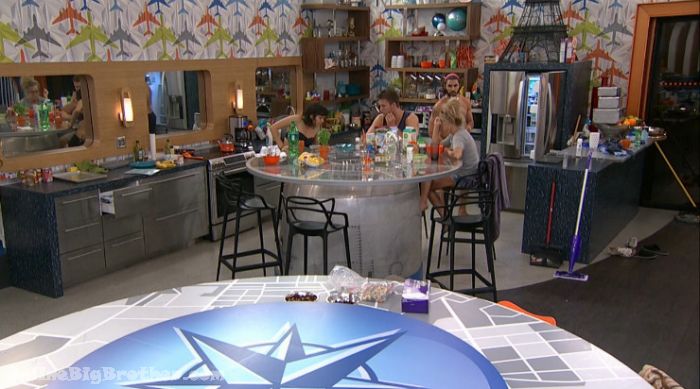 11:45pm Victor, Nicole, Corey and Bridgette
Victor is trying to talk them into having a burping contest.
Nicole is complaining about lifting weights.
feeds switch the backyard where in the hot tub Paul, Zakiyah, Natalie and Michelle are talkign about degrassi.
[polldaddy poll=9491180]
[polldaddy poll=9491957]