POV Holder:
Paul
POV Competition
June, 24th
POV Used
Yes
POV Ceremony
June, 26th
HOH
Nicole
Next HOH
June, 30
Roadkill Competition Winner:
Frank
Original Nominations:
Paulie, Jozea, and Paul
After POV Nominations:
Paulie, Jozea and Bridgette
Have Nots
?
Watch the 1st WEEK of the live feeds for FREE:
Big Brother 18 Alliances Help Guide
5:15pm – 5:30pm Cam 1-2 Backyard Jozea, Paul and Frank are talking. Jozea tells Frank that after when he watches he will see that he always went to bat for him. Even when the veto thing.. I knew he was going to pull himself off. I had to say save yourself. You can't say friendship. Maybe I'm playing the game too sweet. Maybe I need to play vicious. Paul says I really think you're fine.. his just general deminor … its like he's just accepted defeat. Unless there's some grandiose scheme that none of us have heard of… which I doubt. Frank says yeah this house is too small. Paul says it would have to be that you were getting f**ked over by three of us. Paul tells Jozea to just play it cool. The talk about the roadkill competition. Paul says he doesn't know who the f**k put him up. They didn't tell anyone .. anyone! Paul says for all we know it might have been Frank. Paul laughs. Frank laughs.
In the safari room – Tiffany and Paulie are talking. Paulie and Tiffany agree to look out for each other. Tiffany says we don't want people to know we're working together. Paulie says we have a good shot at competitions. I honestly think we could steamroll through to the final 6.

5:35pm Safari Room – Frank tells Tiffany and Paulie about his conversation with Jozea/Paul. Frank says he (Jozea) is just nervous. I told him the few days before the evction are hard. Just relax. He told me that Paulie just wants to enjoy his last days. Nicole joins them.

HOH room – Corey, Michelle and Zakiyah are talking. Michelle says almost time for HOH. If I win I wouldn't let any of them up here. I don't think they would want to come up here though.
5:50pm Cam 3-4 In the bedroom – Da'Vonne tells Tiffany to be careful because you're making James nervous by talking to the other side. Tiffany says James is the one talking all day and being with the other people. Are you kidding me? Tiffany asks who does he think I'm working with? Da'Vonne says he doesn't know. I think that scares him. Tiffany says I make him nervous because I am Vanessa to him. Da'Vonne says there are more of us that feel iffy about him. He is just one person who feels some type of way about you. Tiffany asks you promise me you have my back. Davonne says I do!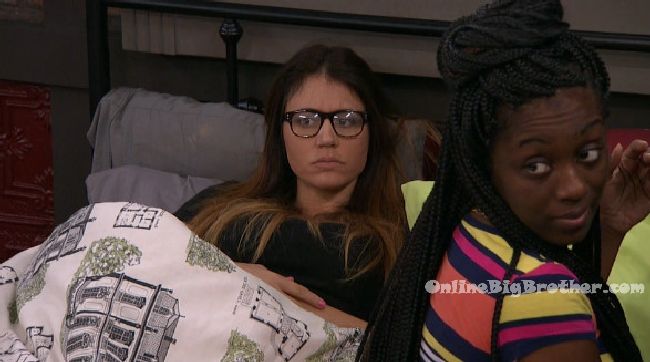 6:15pm In the storage room – Victor, Natalie, Bronte and Jozea find shoes in the storage room that are only for #TeamUnicorn. They're confused why only they get new shoes. James says he isn't sure why only they got the shoes but that they give us shoes so we don't mess up our own.
6:25pm – 6:40pm Cam 1-2 Hammock – Tiffany tells James that coming into the house she knew she wanted to work with James. People were saying the vote were going to be 7-4 so it might be a good idea for you or Frank to vote the other way to not show your cards. So you can continue to play both sides. You could cover your a$$ to not get those girls mad at you. James says the sides are pretty cut and dry. Vic and Jozea are talking about moving in together. The sides are pretty obvious. You coming for me bro.. bring the heat! Tiffany says some times I feel like you look at me and you see my sister. We're not the same. James says you do remind me of your sister. Tiffany says I just wanted to make sure everything was cool because you looked at me weird. James says I didn't mean to. I'm glad you're coming to me about it though. As far as I know everyone is voting the same way, right? Tiffany says yeah. I just hope people don't flip. Its okay if you do but we don't want others to too. Tiffany asks if the HOH will be team stuff. James says I'll have to lose .. I'm going to have to make sure they lose. And Hope and pray to god they lose. Trip Bronte up, kick Natalie in the back or knock over the letters or something. Tiffany asks James if anything happened with him and Meg in the jury house. James says no .. whatever happened .. happened after the show.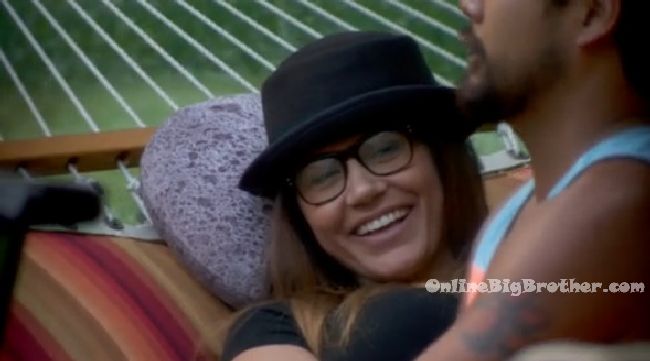 6:45pm Frank says
6:50pm DaVonne says I just did damage control with Tiffany. I'm convinced she head the conversation. I'm tired .. I'm tied. My kid is at home, I'm not her parent. Frank says I know, I don't want to babysit somebody. We only got to babysit her for a couple weeks though. DaVonne says yeah. Frank says She's 32 years old!
Frank says he asked in the diary room and they said they were going to lock us down around 6am tomorrow. I asked if we would get out of these pixel costumes. And they said they would let us know. Frank says I think we're going to have to compete in a competition tomorrow. I think there's going to be the first part of the HOH tomorrow. That's why they gave the shoes today. Frank heads to the kitchen and they talk about what might happen.
7:10pm In the backyard – Nicole and Zakiyah are making a dance routine.
FLASHBACK and watch everything you missed: Live Feed 7 day FREE Trial!