POV Holder:
?
Next POV
?
POV Used
?
POV Ceremony
?
HOH Winner Team 1:
James
HOH Winner Team 2:
Jason
Nominations 1 :
Steve, Jackie
Nominations 2:
Becky, Johnny mac
Battle of the Block Winner
Becky and Johnny Mac
Next HOH/ Next BOB
July 2nd / ?
Original Nominations:
Becky, Johnny, Steve, Jackie
Current Nominations:
Steve, Jackie
Have Nots
Austin, Da'Vonne, Liz, Vanessa
Watch the first week of the live feeds for FREE with the 1 week trial!
Click here to ensure your live feed subscription supports OnlineBigBrother.com at no extra cost to you.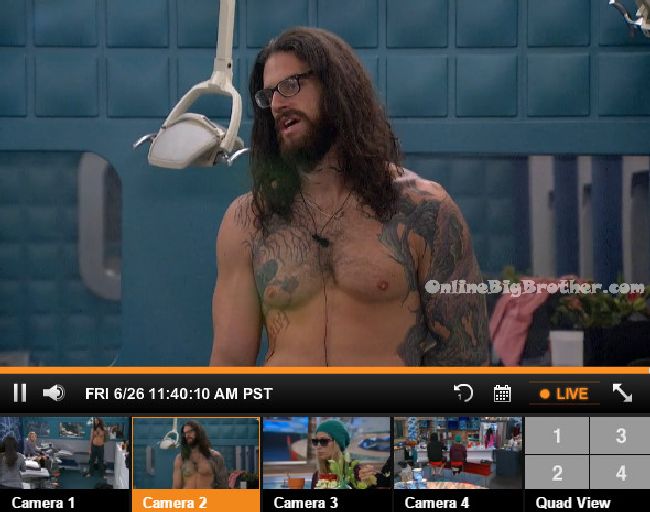 11:30am In the havenot room – Jason and Austin are talking. Austin asks are you ready for this veto? Jason says you know me I'm ready for anything. They wonder if it'll be the spelling one? Jason says yeah watch John spell orthodontist. I kind of think it won't be though.. they've been doing that one for many a year. Jason asks why was Jace so weird last night. Austin says he's just paranoid. Jason says tell him to not act so crazy. Austin says he has such a high personality that when he has a low.. Jason says its so obvious. Austin says its not good for him, its not good for anybody. Liz joins them and Jason leaves. Austin talks about Jace being all over the place. I'm so even keel and so its not noticeable if something's bothering me. Liz says he needs to just lay low which is hard when he came in here on such a high. Liz says what if James and Audrey are working together? Austin says I don't think they are. Liz is worried about being put up on the block. Austin says that's why I wanted to get Steve out week 1 because he is someone they're going to use to get us out by losing the battle of the block. Austin says we're good.. we just need to sit back and chill. We don't need to get into any of these crazy alliances. Austin says we don't have the numbers right now thats why we have to make sure James is aware of what Audrey is doing. Jeff is freaking me out because he is so paranoid about everything we do. I think Jackie going home would be such a waste. She would be good on our side. Austin says if they got out Jeff it would pull Jackie in close to us. If you get rid of Jason ..I don't think that's a good move. People would band together. Austin says we need to work on Becky for now and wait until after the veto. Liz says lets just keep an eye on Audrey. Austin says a girl like Becky is good to have on your side.. but she is someone that you can't convince once her mind is made up. Austin says if the noms stay the same I would like Steve to go because he's a detriment to the battle of the block.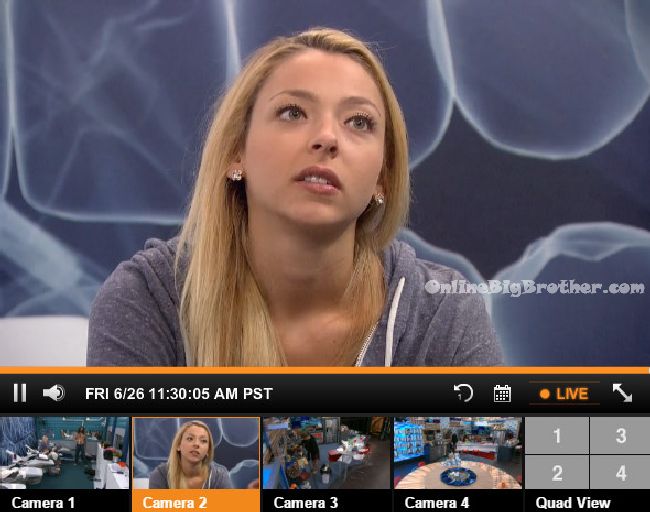 11:45am In the kitchen – Clay, Shelli, Vanessa, Jackie and Jason are talking. Vanessa is talking about being upset last night. She says leaning on and relying on other people isn't a good thing. She says obviously I'm missing a few tools from my tool box. But that's why this experience is a good thing because it makes you realize that. I definitely want to be here. I'm not a quitter. I can't even go out this week. I just had a moment.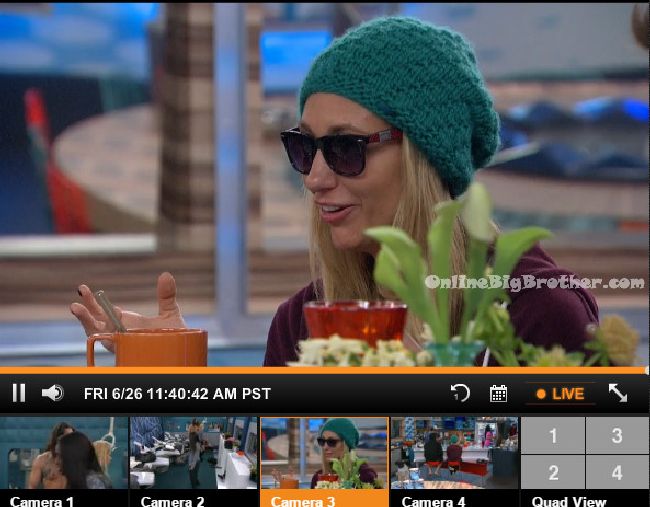 In the bathroom – Jeff and John are talking. Jeff says that Jace is acting the most different out of everyone. Jeff says we need to solidify our group. (Clay and Audrey) because the other side has (Austin, Jackie and Liz). He says we need to say we're the core group and that's it. I think they're shuffling around a bit and making moves which is scary.

11:50am – 12:10pm In the storage room – Audrey asks James what do you want me to say when people ask why you're sleeping in the havenot room? James says because I'm a grown a$$ man… and I can do whatever I want to! Because I'm the king of the castle right now! James asks who was asking that?! Audrey says Jeff. James says oh… I think I'll just pull Jeff aside and talk to him. Audrey says he's not saying anything bad. Just if you talk to him reassure him that everything is good. James says I'm not mad, people just don't know me. It doesn't matter who I hangout with. Once my target is locked I don't change coordinates. Its locked. James says I have no worries about Jackie. Jeff needs me to take his hand every once in awhile and put his head on my shoulder. People just don't know me .. I don't need a big bed. I will try and talk to him and reassure him everything's good. James heads to the bathroom and talks to Jeff / Clay. He tells him its nothing (sleeping in the havenot room)… its kind of strategic ..they didn't talk about anything last night. Jeff says I get it there's a lot of game talk that goes down in that room. You don't really have to reassure us. Jeff says I owe you one .. you're good with me. Clay says we just need an understanding ..not even an alliance.. just a group that sticks together. Jeff tells James when you sleep in there find out where Liz's head is at. James says I haven't heard Liz talk game at all.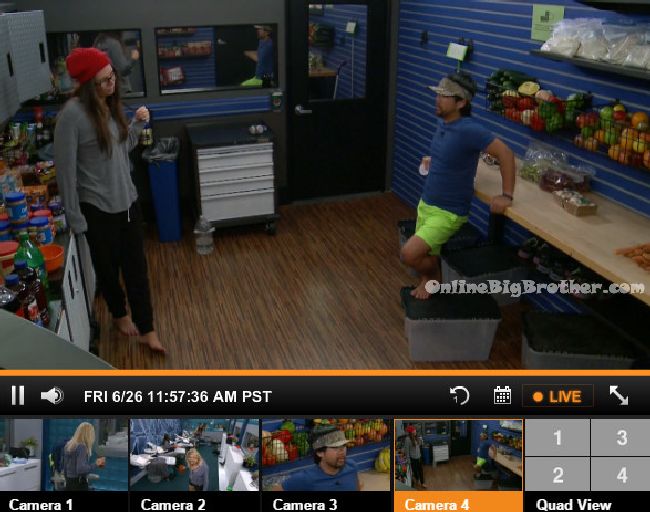 12:15pm In the havenot room – Audrey warns Steve that people are concerned about him walking around. Like walking around past the HOH room but not going in. Steve says I think I could be an easy get out next week. Audrey says I don't think so because people will realize there are bigger targets. Steve says I appreciate you telling me because now I'll be more mindful of that. Can you tell me about the meeting last night? Audrey says she thinks there might be speculation that you wouldn't use the veto so Jace wouldn't go up. Steve asks people think I wouldn't use it? Audrey says people think you threw the BOB. Steve says I was doing everything I possibly could to win it. Steve asks what can I do? Audrey says just be nice and if you see two people talking don't come in. Audrey says I think you're still good even if the veto didn't get used. Vanessa joins them and the conversation ends. Vanessa leaves. Steve asks what did I do to become a target? Audrey says just being different. Audrey says Jackie and James will for sure use the veto if they win it. There's a good chance it will be used. Steve crosses his fingers and says I should be good.
12:25pm In the living room – Becky is leading a yoga class.

In the havenot room – DaVonnne and Jason are talking. DaVonne & Jason think that Audrey has her hands in everyone's cookie jar. They want to convince James to backdoor her to get her a$$ out. Davonne says it would be better if its not blood on our hands. Jason says I'm okay I'm not HOH because next week I can get up there again. Jason says maybe we should let Jace go this week and worry about Audrey next week. Jason says Audrey isn't going to win HOH because she thinks she's good with everyone.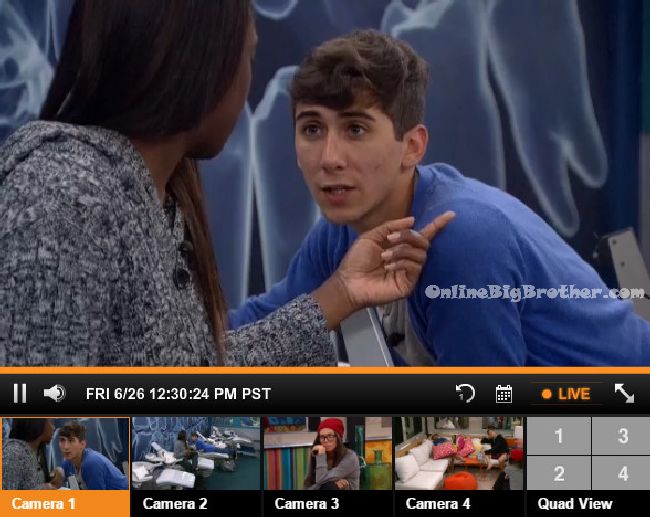 12:35pm Big Brother switches the feeds to the taped Jeff Schroeder interveiws.. It looks like the Veto Competition might be happening now..
VETO PLAYERS: James, Jackie, Steve, John, Becky, Jason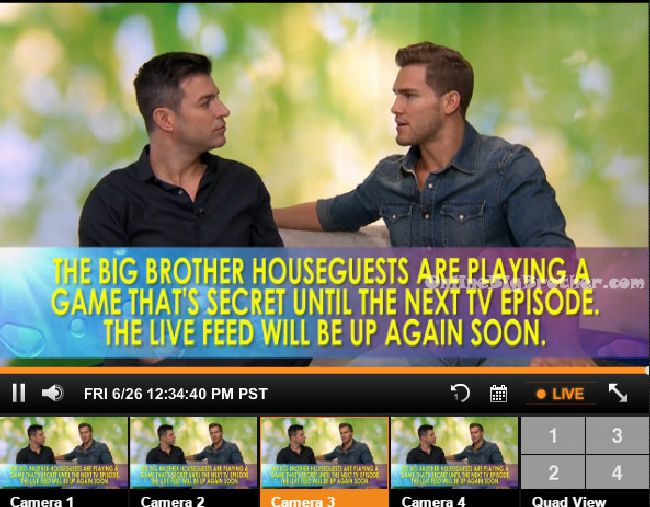 1:50pm The feeds are still blocked..
2:50pm Still blocked..
Live Feed subscription gives you CBS All Access thousands of archived shows. Live Shows like Big Brother, all the Big Brother Seasons, and 24/7 coverage of what is happening inside the Big Brother House. Plus there's flashback that lets you go back to any second of the feeds and rewatch what happened. Simon and Dawg will index the season just watch the parts worth watching.
All this for $5.99 a month try it out 1 week free. Support our efforts and get your feeds via a link on this site. Live feed subscritpion Sign up