POV Holder:
JohnnyMac
Next POV
July 11th
POV Used
Yes
POV Ceremony
July 13th
HOH Winner Team 1:
Vanessa
HOH Winner Team 2:
Austin
Nominations 1 :
James & Johnny Mac
Nominations 2:
Jason & Meg
Battle of the Block Winner
Jason and Meg
Next HOH/ Next BOB
July 16th / July17th
Original Nominations:
James & Johnny Mac
Current Nominations:
Jeff & James
Have Nots
No HAve nots this week
TRY the Big Brother 17 Live Feeds FREE for 7 Days!:
Click here to ensure your live feed subscription supports OnlineBigBrother.com at no extra cost to you.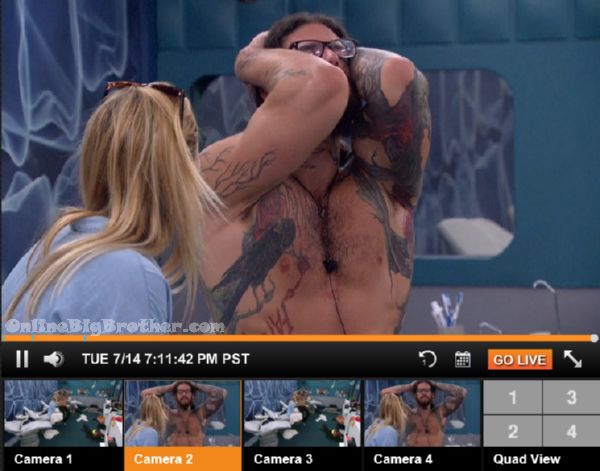 7:10pm Austin and Clay Have Nots
Austin saying Jeff is campaigning hard against James, he's working LIz in the bedroom. Austin told James he's voting to keep him 100% it's been decided now.
Clay tells him to calm down and not get too emotional. Austin knows says he needs to he's getting really pissed at Jeff right now. Clay tells him that is what Jeff wants this game is about keeping your cool.
Liz comes in and Clay leaves.
Austin – what the f** was that.. why did you let him
Liz – you knew what he's going to do
Austin asks her why she was laying under the covers with him
liz says Jeff asked about the twins
Austin – what did you say
Liz – nothing
Austin – I was so pissed..
Liz goes on to explain what happened.
Audrey comes in asks Austin if he's going to eat the potato.. "Is everything OK"
Austin – it's fine.. f****g Jeff .. he's a bullshitter
Audrey – James is onto him now
Audrey wants to have a big meeting so they can all compare notes.
Liz and Austin steer her away from that idea.
Austin gives Audrey a quick recap of what happened.
Austin says he told James he's got his vote. Jeff can't go running around saying he's got the votes anymore.
Audrey leaves..
Austin – Oh my god I was so f****g pissed I'm going to kill him I was like I'm not at the bar..
Austin says he took a shower to cool down.
Liz continues to tell him more about the talk with Jeff. She brings up that Jeff is saying that Austin has been flirting with Jackie.
Liz tells him he can't get mad at her he was in the bed with Jackie.
Austin – that's strategy you know where my heart is
Austin says he made a deal with James for his vote he's going to keep Liz, Austin and Vanessa safe next week if he wins HOH
liz asks what James will do
Austin thinks James is going to throw the HOH. One less person they have to worry about.
Austin brings up talking to Meg and Vanessa in the HOH and Meg is saying that she's voting out Jeff. "The domino's are falling"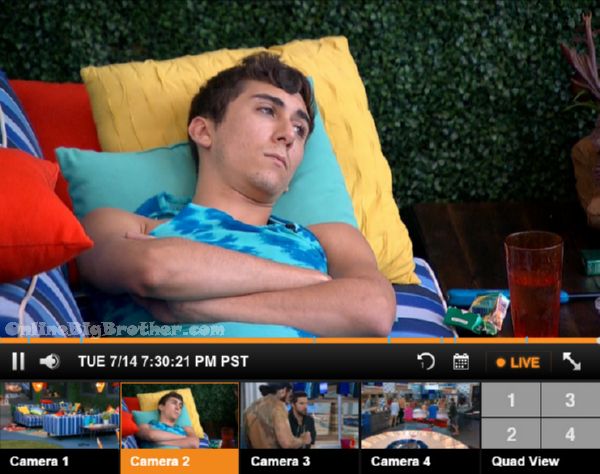 7:30pm Backyard Jason and Audrey
Jason is starting to get worried that Jeff will stay because he's campaigning hard.
Audrey thinks it's a tall order for Jeff to get the votes.
Jason is worried about the Austin and Jeff relationship says they went from public enemies number one to podcast buddies in a day.
Audrey tells him she doesn't have a issues with she starts going over some week 1 drama trying to clear her name.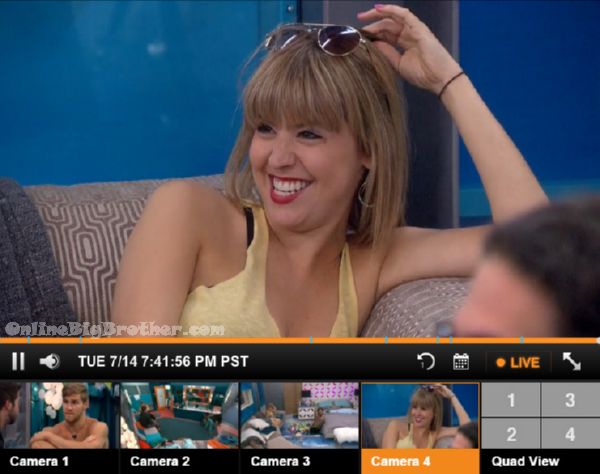 7:34pm Austin, Austin and Meg
They confirm they are voting out Jeff. Meg says she has no issues with Austin. Austin says he has no issues with Meg. Austin brings up Jeff's pitch about being in an alliance that wants Austin to join them but they were waiting until Audrey left. etc etc..
7:36pm Clay, Jeff and Jackie
Jeff saying that Austin barged into the room when he was having "a normal conversation about life" with liz.
Jeff – Dude
Clay says it's being said that Jeff is going to blow up an alliance. Jeff says he's not he's going to leave and not expose anything.
Jeff says he pissed Austin off bad when he was talking to Liz "Dude chill out Dude"
(Jeff adds when he told Austin about the Alliance he had just been nominated and was pissed)
(The real story Jeff told Austin is completely messed up in the house I remember hearing it from Jeff when it happened but it's been retold so many times I'm confused)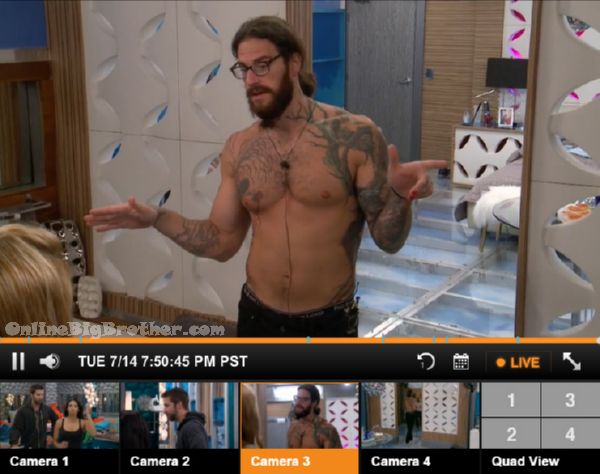 7:46pm Austin and Vanessa
Austin says Jeff was under the covers with Liz trying to get her to tell him about the twins.
Vanessa says Liz is a better liar than Julia they are lucky Liz is in here right now.
Vanessa warns him to make sure they don't call liz up when doing the podcast. Austin says they aren't doing it until tomorrow and by then Jeff will know he's not staying and he won't want to do it.
Vanessa asks about tonight's date night. Austin asked liz and she's going to be his date
Austin had asked Vanessa to find out if Liz likes him, Vanessa tells him Liz likes Austin or at least warming up to him.
Vanessa says the honest to god truth is Julia and liz both like him but Liz more than Julia "That's my true read on things"
Austin – she's special
They start wondering if Clay and Shelli are going to flip the vote. Austin says if they can get Becky they have the votes to evict Jeff.
Austin – JohnnyMac, what is he doing he's sinking himself.. why come out and say you have a secret deal with Jeff when he's leaving

They agree JohnnyMac is making a bad move
Austin says James gave him a one week deal if he has Austin's vote. The deal will keep Liz, Austin and Vanessa safe for next week if James wins HOH. Austin didn't want to clump the three of them together but the deal is perfect.
Austin plans on going to JohnnyMac and telling him they really need his vote. JOhnnyMac might not know the votes is going to be close. Austin adds if JohnnyMac doesn't and Austin wins the HOH he might have to put JohnnyMac up as a pawn.
They stress how he needs to win the HOH.
Vanessa – are you Jedi drilling hard
Austin – yes
she starts quizzing him..
Austin doesn't think there will be a Q/A because it could be seen as a fairness issues with the twins, "She kinda hinted at me they said that to her.. she got yelled at when she said it"
Austin says if he knew Jeff wouldn't have a chance to come back in he would be way more wild with his goodbye message.
Austin – Jeff no one comes between me and my twins
Vanessa says sleeper cell got together and figured out that all the shit about Audrey came from Jeff. during the meeting they agreed we have to subtly campaign to improve her image a bit.
Vanessa – "It's important we change hearts and mind"
Vanessa says work on JohnnyMac, Becky and Jackie. Meg, Jason and James won't change their minds.
Austin has no idea what Jackie is going to do once Jeff goes. Austin says Becky told him Jackie wants to know more about his girlfriend back home because she interested in him.
Vanessa asks him if he's interested in Jackie.
Austin – Not when liz is in the house
Talking about pulling in Becky on their side.
Vanessa – i'm the worst pawn ever if anyone thinks I'll throw someone they can go f*** themselves
Austin – JohnnyMac is the only one willing to throw it
Austin wonders if Jackie will throw it for them
Vanessa – maybe for a in with us
Austin swears if winning the HOH is within his power he's going to do it
[envira-gallery id="121460″]
7:55pm HAve nots Shelli and Clay
Clay going over his conversation with Jeff and some of the drama that has started.
Jackie comes in they talk about jeff pissing Austin off saying he could have waited until after Thursday. "Just get thru the week"
Jackie – get thru the week.. right now you don't have a game sorry sweetheart"
Clay asks her how is she feels good about in the house
Jackie says she feels good about Becky adds that she's a single.
Jackie asks them what they are going to do
Clay says he's not sure
jackie says she's cool with their decision they have to do what they have to do..
They agree Jeff is a good guy just takes a little getting use to.
James comes in
Jackie says she's glad she's going on a date with Steve
James wasn't going to go.
CLay says Audrey is free.
(they've told production there will be a date night if they get alcohol the dates are Steve/jackie, Shelli/Clay, Austin/Liz, Meg/Jeff, JOHNNYmac/Becky)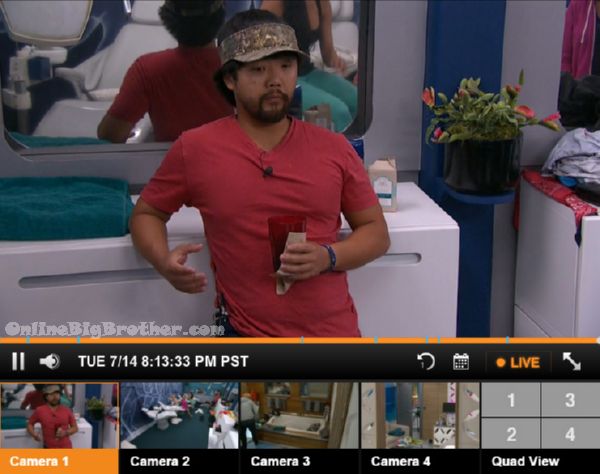 8:13pm James. Clay, Jackie, Shelli
James saying Jeff is campaign against him and it's a slap in the face because he's been telling him he wasn't going to camping.
Jackie thinks Jeff is just talking to people
James has been confronted by multiple people saying Jeff is campaigning against him
James – Like he's being weird
Share it YO!!
Tweet