POV Holder:
Bridgette
POV Competition
July 9th
POV Used
?
POV Ceremony
July 11th
HOH
Bridgette
Next HOH
July 14th
Roadkill Competition Winner:
Frank
Original Nominations:
Paul, Tiffany, Bronte
After POV Nominations:
?, ?, ?
Have Nots
Nicole, Corey, TIffany
CBS All Access: Live feeds are only $5.99 per month – Try it FREE for 1 WEEK!
Big Brother 18 Alliances Help Guide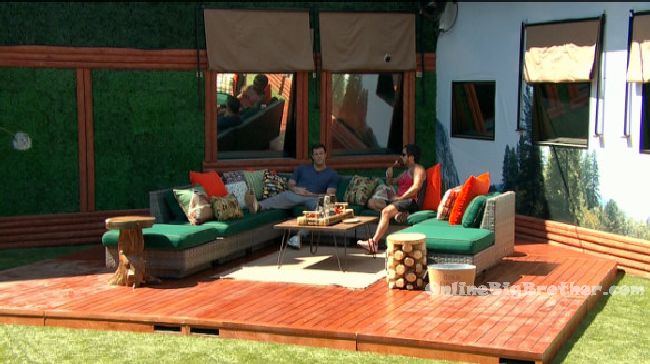 10:20am Big Brother wakes up the house guests. James tells Corey that Paulie's idea was to get Frank to throw the HOH to get you (Corey) or Paulie out. He (Frank) was like yeah I'm down with it, throw Corey and Paulie up together. Corey asks so does he think Nicole is going to throw the HOH. James says I don't know. Corey asks do I tell Frank I'm throwing it? Like whats the full plan? James says we're trying to make Frank feel comfortable. If he (Frank) wins HOH I think he'll take out DaVonne. He's trying to do some backdoors. Ya'lls team can win. If I win I would probably put Paul back up and if Bronte is still here I would put her back up. Then tell him that we're trying to backdoor someone big like Day … then when the veto comes down .. put him up (Frank). Corey says yeah I'm down. Hopefully he doesn't get picked to play in the veto. James says if he does get picked make him feel like he needs to throw it somehow. Corey says if I win I would probably throw Paul and Bronte up too.. for the third week in a row. James says with Paul he's feeling like he doesn't need to win the veto because no one's going to send him home. James says I honestly don't like doing stuff like this but I'm trying to stop everyone else from being burnt. I've got your back, I ain't going to put you up. Not until it gets down to it. Frank is so scared to kind of go half way with all of us. He has 1 person pretty much from each team to try and throw stuff at least until they break the teams up. Corey says I just don't know anyone who would vote for Frank to stay … maybe just Bridgette. James says we don't even need her vote .. but everyone is going to drop everything on her lap like what he did to Day and Z. Corey says I like Bronte a lot. James says I feel like we have 3 solid girls on our side Bronte, Natalie and Michelle. Corey says I like Bridgette but I just don't have anything in common with her. I think her and Tiffany would put me up. James says well Tiffany is going home this week, that's a done deal.. I think. Corey asks so after Frank everyone else makes it to jury? James says that's the plan. Corey says after I make it to jury, if you get me out … no hard feelings you know. Especially if I'm not winning comps. I'm totally down with getting him (Frank) out next week. After these 4 out, I don't really care. I wanted Jozea out, I wanted Vic out, I wanted Tiff out, I want Frank out. Actually I want Bridgette out too. James says we'll have to put that one on ice. Corey says I just know she would come after me.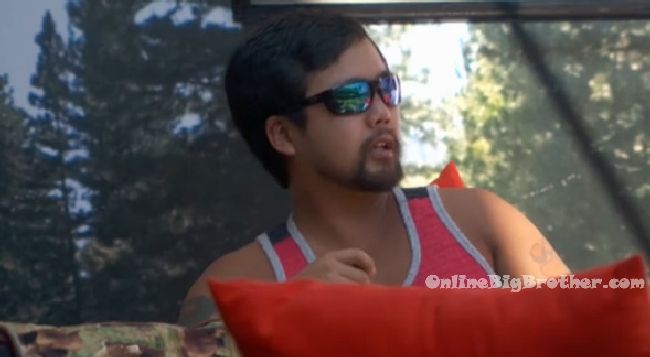 11am James heads up to curl up with Natalie in the HOH bed.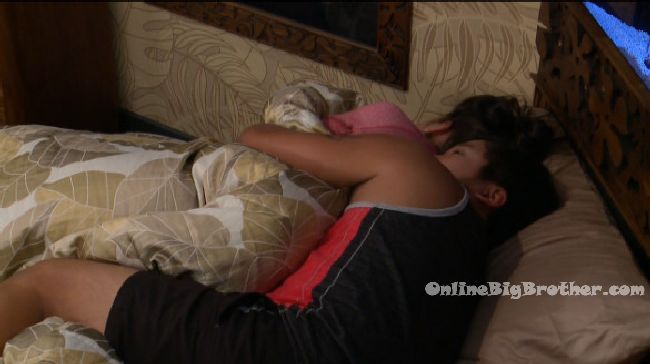 11:10am – 11:20am Backyard – DaVonne tells Michelle they're probably going to give you the works. I real bonfire and everything. DaVonne says next week can't come fast enough. Michelle says Tiffany feels pretty safe but if she does or in the 30 seconds after she gets evicted do you think she will say anything? Like hey Frank they're trying to get you out? DaVonne says na. Michelle asks if you don't get a lot of jury questions .. does that mean people hate you? DaVonne says no. Some people just don't show their cards right away.. until after jury.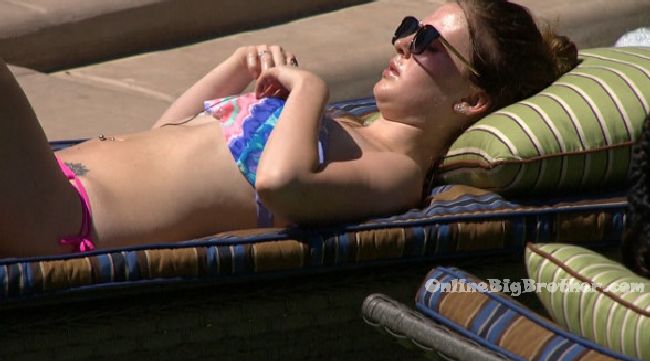 12pm Big Brother puts the house guests on an indoor lockdown. Most of the house guests are still sleeping.
12:40pm – 1:15pm Safari room – Frank, Bridgette and Bronte are talking. Frank says I figure they're locking us inside for the thing tonight. That's a long time to get ready. Bronte says I heard through the grapevine they're also fixing some of the awnings. Bronte and Bridgette chat about random things for a while. Then Bronte heads back up to the HOH room. Frank and Bridgette talk. Frank says I really can't believe she's holding such a grudge. We had a little tiff over nothing. Corey joins them and they talk about how he woke up in the havenot bumper car this morning and his legs were numb. They talk about how bad the slop tastes.

[polldaddy poll=9465176]
[polldaddy poll=9464369]