POV Holder:
Steve
POV Competition
Aug 8th
POV Used
Yes
POV Ceremony
Aug 10th
HOH
Becky
Next HOH
Aug 13th
Original Nominations:
Shelli and Steve
After POV Nominations:
Shelli and Vanessa
Have Nots
Meg, James and Jackie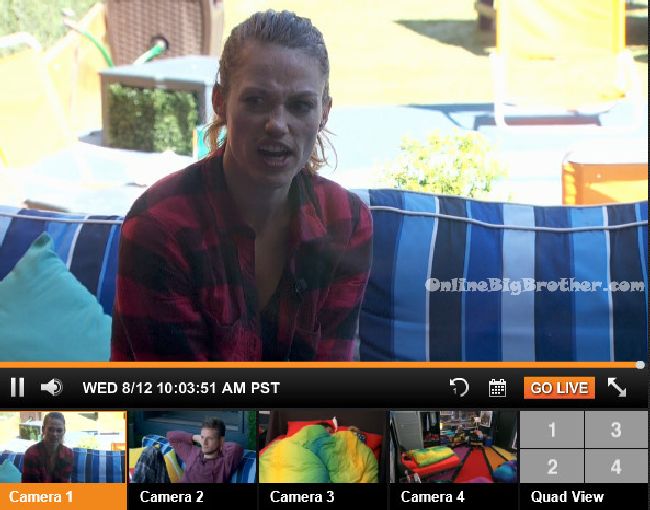 – The live feeds are going to be crazy leading up to Thursday's Eviction –
Watch the next week for FREE with the 7 day Trial!

9:50am Backyard – Johnny says if she does make it through the first eviction I up for the second one. Becky says so that's where she's at! Johnny says god dammit. Becky says I really don't what Vanessa to stay so I really what Shelli to have a convincing argument. That she won't put up James, Jackie, Meg. And I want her to stand by it because for her to stay in this game improves my game. I like her. Just got to do it and stand by it. We don't want to keep the person everyone wants home. I would be shocked if Shelli makes it three more rounds because Liz, Austin and them have been so close to her. Me winning was the best chance for Shelli and even I can't convince them. I worked on them for an hour last night. They were like why would we take out the person that would come after us during the double eviction. I was like you couldn't think of that before. Johnny says god dammit. Becky says Its in Shelli's hands to convince them she isn't after them. The only person that is safe this week is Meg. No one would send her home. The big fish are Shelli, James, Austin. We're all secondary targets if one of them comes off. Johnny asks who do you think you guys would vote for between me and Steve. Becky says they're not after you. They want Shelli and Vanessa to go home obsessively. It would be a potential to put a twin on the block next to one of them in case they're not sure which way they would vote. They aren't wanting anyone else. I don't know who would be next after .. the only people James, Jackie, Meg want out are Shelli and Vanessa. Shelli has to convince them she won't go after them to get their vote. Johnny says if she goes I have to pull out a "W" here (Win). Becky says I would die if I get evicted on Thursday and Shelli doesn't. Maybe a strategy might be to change. Clay and Shelli started that battle with James. He was saying he likes Clay and didn't understand it. When he dug into it he found out the dirt that Shelli and Clay didn't like him. James questioned it after the "On The Edge" HOH. Johnny says Damn. Becky says its primarily between James and Shelli .. if they can work out their issues they can make it happen. Johnny asks are they 100% decided or are they up in the air. Becky says they're up in the air. During the double eviction they have to put up someone that will ensure the target goes home. You're not a target. Johnny says I'm a target if Vanessa, Austin or the twins win .. and they don't want to put you guys up. That's four people. That's a lot more than you're worried about. Steve and I would go up. Becky says I'm afraid of the twins too. We've gone after them. I lied to them. Becky tells Johnny to take time to talk to Shelli. Johnny says these goblins.. dammit. Becky says they make a good point until Shelli can convince them. Johnny asks what would your guys move be if you won during double eviction. Becky says it would depend on who stays. We can't feel out where Austin and the twins are at. Meg Joins them.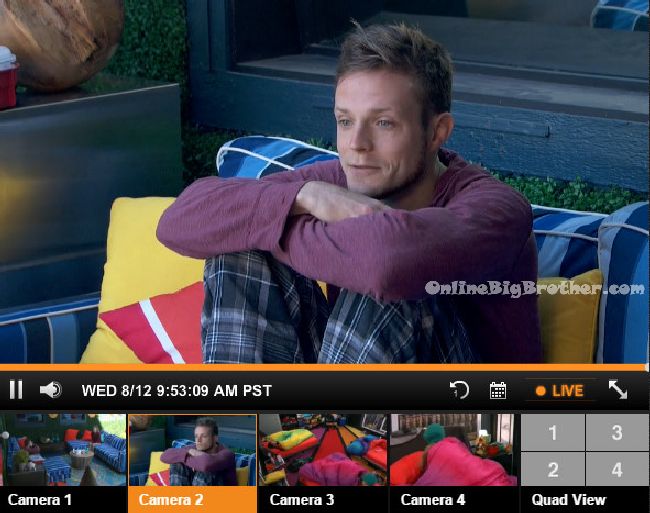 In the bedroom – Liz says Johnny Mac is sketching me the f**k out. Austin says I know. Liz says Like he's done! Austin so bizzare. I don't know where he gets off! Yeah it won't work. They're trying to make sure we're all voting together.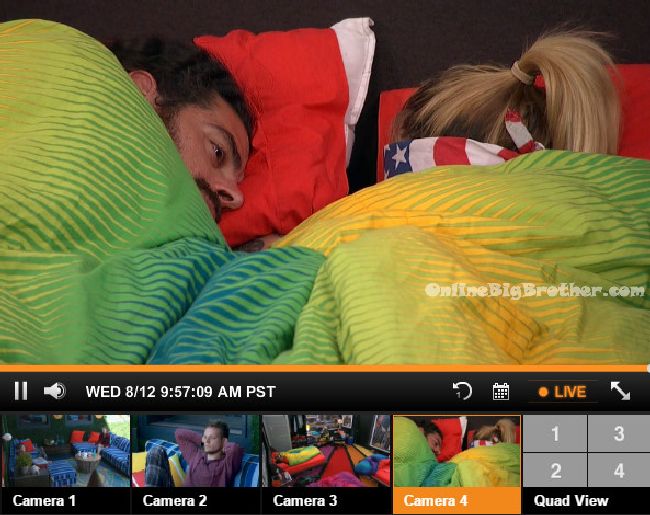 10:20am
Meg tells James and Jackie that apparently Steve, Johnny Mac and Becky were up all night. Meg says whatever!
10:25am – 10:35am Comic bedroom – Austin asks who's outside. Vanessa says Becky and Johnny Mac. Austin says of course. Vanessa says that Becky and Johnny Mac were up all night talking with Steve. Vanessa tells Austin and Liz I know why Shelli was asking Julia who she would put up because she knows Julia isn't going to say to her Shelli or You. She know she would probably say one of them and then she would use that information and go to one of them and say look they're gunning for you. I'm willing to gun for them if you keep me. I would bet my life that's what they were brainstorming with Steve. I would bet my life on it. Austin says that's the twist .. everyone here is a cop! (Reference to BB16 Derrick lying about being a cop) Liz says it makes sense. Vanessa says don't give her anything. Liz says obviously! Vanessa says here is the thing I would never.. if I am not going to win I want one of you to win. If you guys would win you would do the same as me .. put up Johnny Mac and Becky. Austin says yeah. Vanessa says and then we could keep Steve. Why does Johnny Mac go to the diary room so much? We should just ask him. Austin says I need to crank up the funny, things have gotten too serious. Vanessa says I became Audrey 2.0 for a bit because I got sad no one would come visit me. Austin says Becky and Johnny Mac are The General Macs.
Watch the NEXT WEEK of the Live Feeds for FREE! Click here for your: 1 Week Trial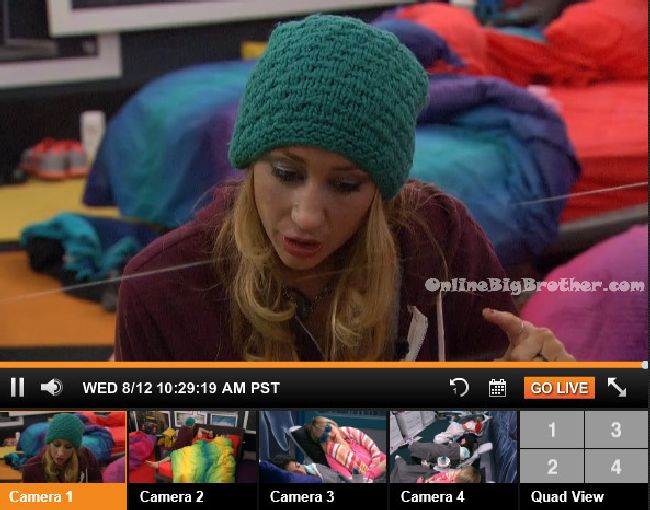 10:45am – 10:55am Backyard – Becky says I wouldn't have the votes to stay if they put me up next to Meg. And if Vanessa wins I would for sure go up. Johnny says I wouldn't have the votes if they put me up next to Steve. Becky says I would be the backdoor target. They would vote me out because I'm more likely to win. Becky says if its a 4 – 4 tie! I am keeping Shelli. And I will tell them that. That requires Liz, Julia and Austin to keep Shelli over Vanessa but I highly doubt Austin would keep Shelli over Vaneesa. Johnny says it changes everything. I have to win. If I win I don't know what I would do. If Shelli did go home, do I finish their fight for them? I don't know. Johnny says I picked the wrong side. I had a group .. but its been destroyed! Austin and Liz join them and the conversation ends. Becky says I can't believe in just over a week 3 people will be gone. Liz and Becky talk about last season. Liz says she couldn't stand Jocasta .. she was such a wet blanket.
Austin tells Liz. Its weird, why is he (Johnny Mac) sulking so much.
11:30am Johnny Mac and Becky are talking on the backyard couch. JOhnny says I cant believe we have to play with such stupid people! Becky says I just wish Shelli and Clay had been smarter .. like you have to be smart about how you play your cards. I want Shelli here. If my group goes after Shelli I can't save her. I can't risk my game any more. Johnny says if Vanessa stays she has a good chance at winning a quiz comp. Keeping Vanessa is good for James not the group. Becky says its better me if Shelli stay but not for the group. Its up to Shelli. She has to sell her soul and bury the hatchet. You need to find her and talk to her. Johnny says I'll go get to it and wake her up.
Becky talks to Jackie in the bathroom. She says I feel better after our talk last night. I see Megs points. From an individual stand point I shot myself in the foot but from a game stand point I understand.
Comic bedroom – Vanessa is talking Johnny. Vanessa says I realize that you will probably vote for Shelli. If you're not 100% sure how you will vote I have an argument on why you should vote for me. I understand if you have a loyalty there though. I won't say anything bad about Shelli. There's a lot you should know about the big picture. Its not out of disrespect that I haven't approached you for a vote .. its out of respect. Johnny asks what do you have to tell me. Vanessa says I am extremely loyal unless someone wrongs me. Vanessa says there is a lot I want to explain to you if I stay. Before we vote I will have a talk with you to explain why I should stay. I feel bad for taking a vote away from Shelli but I want to stay. Johnny says I will just make a business decision. Vanessa says that Becky is not on the top of my list but I do think she has wronged me. I think she is a hypocrite. I know you are friends with her .. I have a lot to explain to you. I know you are close to Becky but if you knew what I know it would be different.
12pm Backyard – Austin asks should we just tell Shelli. We will vote for her but one of us might send Vanessa a sympathy vote. Just to get her to calm down. The whole Steve nerd act isn't really. He really is the pu$$y thrasher. Julia says that Johnny Mac is sketchy. I wanted to call him out .. like its past your bedtime! Austin says if he wins we're f**ked. Julia says if we win we should put up John and Becky. Austin says its risky if Becky doesn't go. Julia says its best if Vanessa wins. Austin says I think Steve and Johnny Mac would be best for us too. Julia says the grimlins are more afraid of us. Julia says we will tell Shelli we will vote for her and that one of us will throw Shelli a sympathy vote.. I think that's a good conversation to have so that she doesn't start scrambling.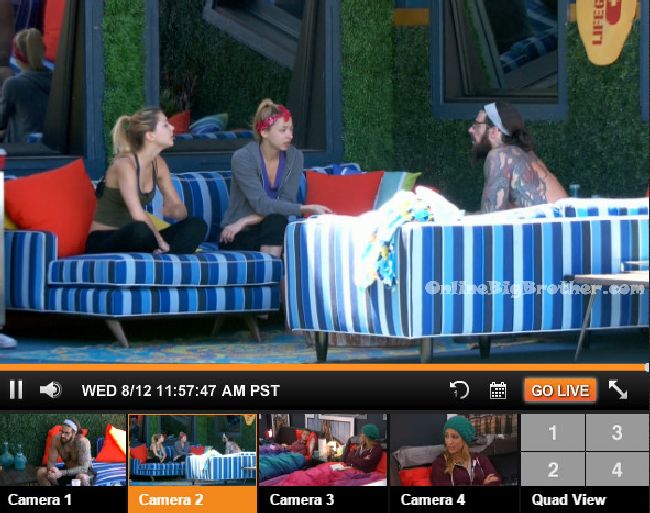 12:05pm – 12:35pm HOH room –
Becky is talking to Jackie. I would have gone about this week differently if I knew everyone felt they wanted Shelli out. If it comes to a tie I am voting out Vanessa. Jackie says yeah you have to do what's best for you. Shelli is more of an individual than Vanessa. Jackie says but she is coming after us. I can't get that out of my head. Shelli can't move the masses. Vanessa can. She can lead people. Shelli can't. She is just laying low. She has no one. Vanessa still has Austin. Vanessa will tell you whatever you want to hear. If she wins HOH I am going up next to Meg and you guys will have to choose. Jackie says that's the same as if Shelli wins. Jackie says Shelli is coming after us but trust me I want Vanessa out as much as you. Jackie says the only reason why we are questioning it is because we are looking out for the group .. not to throw you out to the wolves. Jackie and Becky start studying.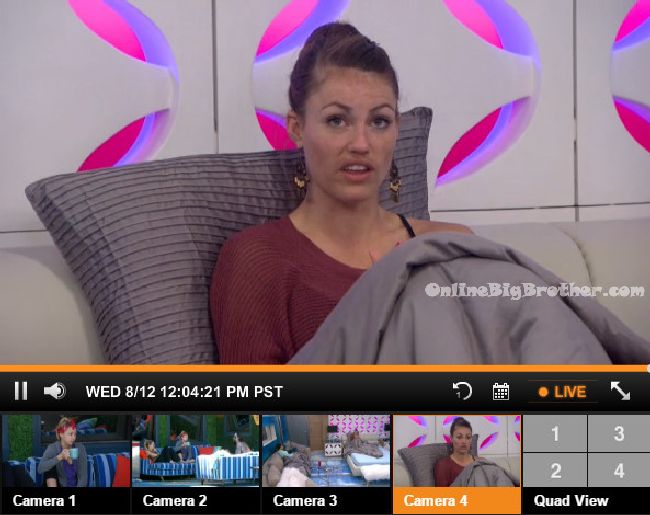 ALLIANCES:
Goblins/Gremlins = Jackie, James and Meg
Generals = anyone allied with Becky
SOS = Steve and Vaenssa
Rockstars = Steve and Jmac
? = Becky, Shelli, Jmac, Steve
Freaks n Geeks = Austin, Twins, Steve, Vanessa
AUS-Twins = Austin, Julia and Liz
"Brass Tacks"  Gobins and Austwins
[polldaddy poll=9015303]