POV Holder:
Vanessa
Next POV
July 18th
POV Used
Yes
POV Ceremony
July 20th
HOH Winner Team 1:
Liz
HOH Winner Team 2:
Shelli
Nominations 1 :
Jackie & James
Nominations 2:
Jason & Johnny Mac
Battle of the Block Winner
James and Jackie
Next HOH/ Next BOB
July 23rd / July17th
Original Nominations:
Jason & Johnny Mac
Current Nominations:
JohnnMAC and Audrey
Have Nots
Jackie, Audrey, JohnnyMac and Becky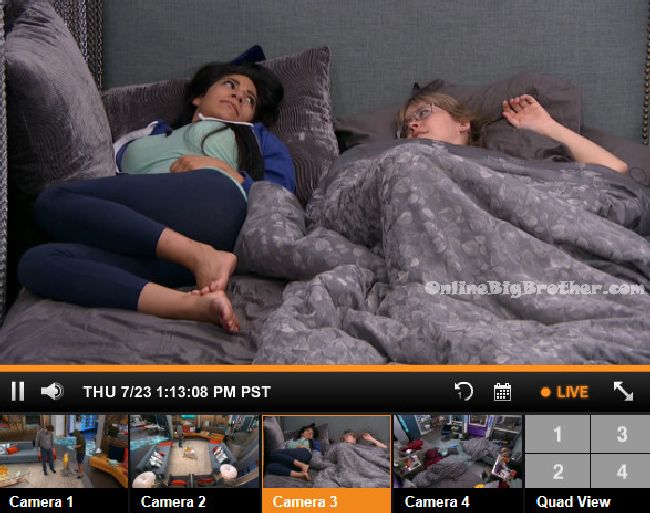 TRY the Big Brother 17 Live Feeds FREE for 1 WEEK:
Click here to ensure your live feed subscription supports OnlineBigBrother.com at no extra cost to you.
10:50am – 1:08pm
Big Brother blocks the live feeds for the HOH lock down in preparation for tonight's eviction.
1:10pm – 1:30pm The live feeds return to James in the living room vacuuming. Meg, Vanessa and Jason in the bedroom talking about hair cuts. Meg suggests Jason wait for others to get their hair cut before risking getting one from someone without any practice. Jason says I'm going to look like Steve if I don't get my top cut. Jackie comments that Audrey is showering. Meg says that's a good sign I guess. Meg asks Jackie what was the deal this morning? Jackie asks what deal? Meg says opening that room (Second HOH room) and like.. Jackie says just for her. I know like come on! Better be open every f**king time now then! Meg says no it won't be. Jackie says I know what's with this special treatment?? Jason says none of us will get that I can guarantee you that! Jackie says she's going to walk out on a red carpet. Like do we all have to act like that to get something. Like she's taking a warm shower right now. Meg asks oh my god she is?!!?! Jackie says of course she is! She doesn't give a f**k. Meg says that is really a slap in the face. Jackie says if I were going home I would never do that. You do what you have to do for the BB family. Like No! Just because you're going home you don't give up. Meg says that's what she did. Jackie says I know just because she's going home she gave up. That's what people are going to hate her for. Vanessa comes by and says she's in the shower. Jackie says yeah in the warn shower. Vanessa says oh. Jason says she's not a real havenot!! Jason says Big Brother I hope you're listening to this.. Jason is going to go in there and throw a fit to get whatever he wants. Jackie says we all are now. Jason says you've opened Pandora's box now! The week you're going home ain't nobody need to be a havenot because all you need to do is … Big Brother blocks the feeds. Jackie says you get penalty votes or something. Meg says I keep waiting for there to be some type of explanation or something. Jackie says it was all weird. Meg says her hospice days were too similar to her basement days. Jason says she's been fine for a hot minute now and she still doesn't have to be a havenot. Big Brother blocks the feeds again.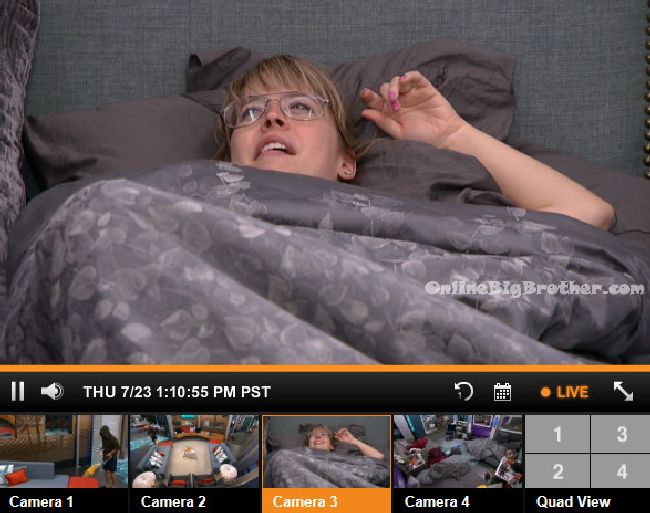 1:30pm – 1:50pm Vanessa breaks down and starts crying about her acne that is breaking out. Clay starts cutting JMac's hair. Shelli comments on how Audrey took a warm shower. Clay says oh yeah she's doing whatever she wants to do.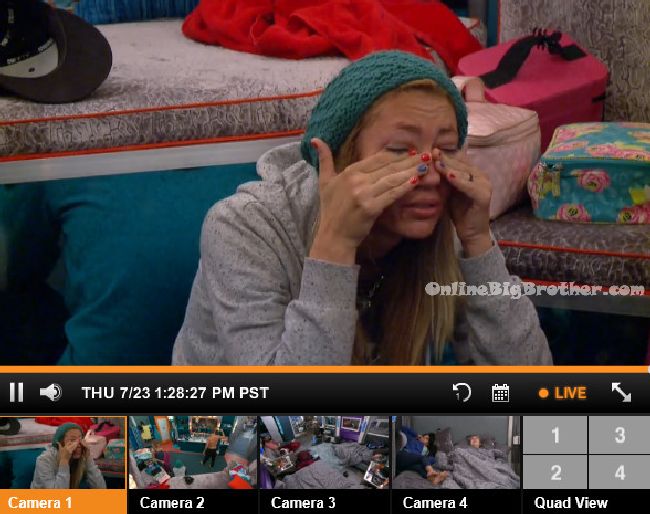 1:50pm The fish camera is a bit off .. and we can see a member of production's legs walking around the second HOH room.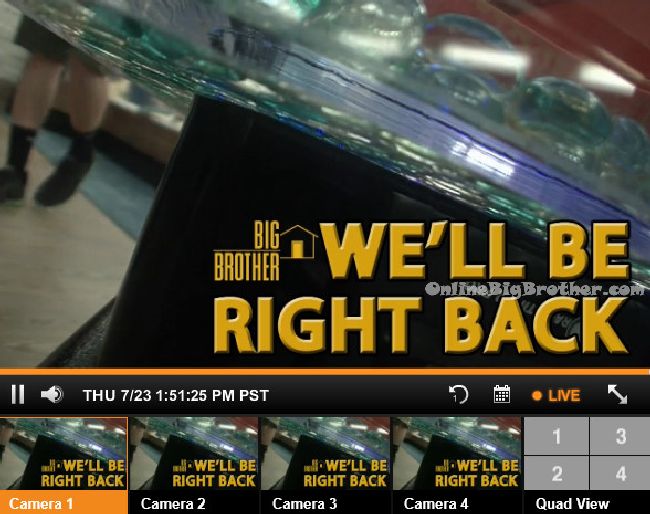 2pm – 2:30pm Kitchen – Becky comes out of the havenot room and tells Meg, Jackie and Jason about how she went into the room and turned on the light and Audrey turned it off again. Becky says she turned it right back on and said not till I'm done doing what I need to do. Jackie says she is taking up the whole room like its her own bedroom. I am so over this! I'm being a bit*h I guess. I'm going to be shunned. Jason says I was being nice about it but after that shower thing. I'm over it. Jason says they're going to get away with everything!?!? That's just ridiculous! Jackie asks Jason what the HOH comp will be. Jason whispers something about him thinking its a knock out comp. Jason says he's going against Steve… "I'm f**ked" Jackie says we need to study. Jackie says she is worried about how people are going to view her and that is why people are going to hate her. Austin says she came here and used production as a strategy.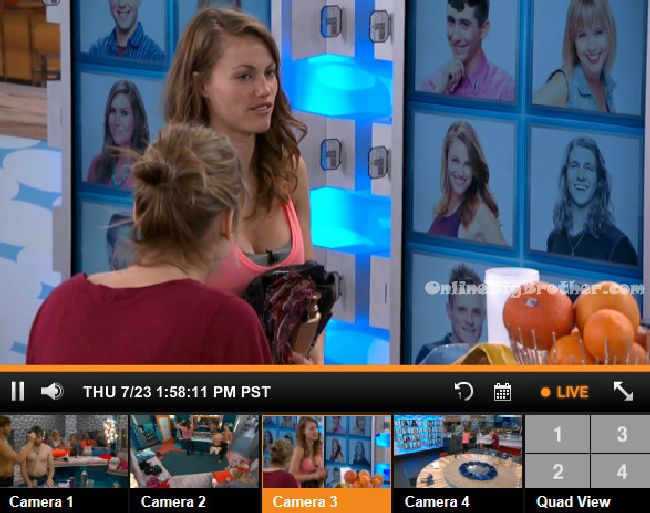 2:30pm Havenot room – Audrey tells Vanessa I think it was mean spirited to come in here with pizza and tell me that production said I could eat it and then go out there and say I should get a penalty vote for it. Vanessa says I think it came from kindness. Everyone felt bad. If you have an issue that you think you're going to get one (Penalty vote) you should talk to them about it. Audrey says I don't care! Vanessa says at this point you've had a hot shower, eaten, had the lights off, didn't sleep in the thing. At this point you've done so many things that you would get the penalty vote any ways its probably not worth arguing. I will tell you what you say you trust my opinion on things I don't think she did (did it out of meanness). Many people suggested it. You didn't eat much slop. People wanted to make sure you were fed. Its a lot of medicine. Audrey says I don't know what I'm going to say. Vanessa says maybe if you can't organize your thoughts just keep it short and sweet to the point. The best thing to do is be authentic. Keep it classy. Be a good sport. That's what I would recommend. Audrey says I'll just say Merry Christmas / Happy Birthday / or Happy Easter. Vanessa says that would be funny. But in your shoes I would say something like this has been an incredibly complex journey. The good news is at least you don't have 17 million zits on your face. Audrey says its a sign of wisdom. Vanessa says Just be your natural funny self. Think about what you want your last words to be. Audrey says I can make fake snow out of toilet paper and blow it. Audrey asks how much time do we have? Jackie says a few hours.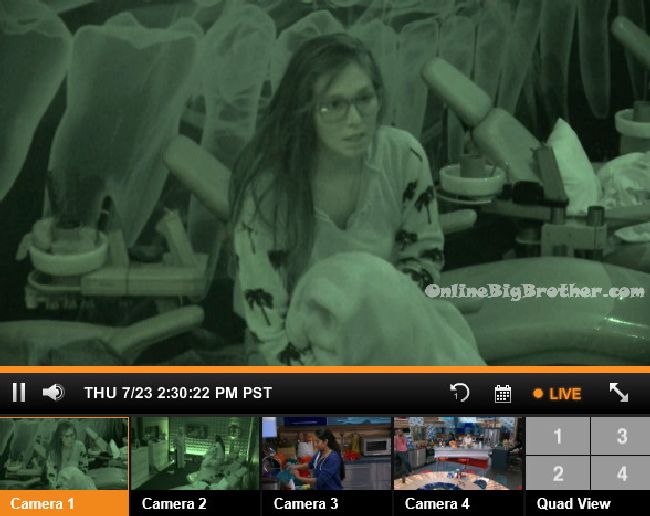 2:45pm – 3pm Audrey says she had some weird a$$ dreams last night. Vanessa asks did the stuff help with anxiety? Audrey says yes. Audrey wonders how she will be viewed. Vanessa says you're probably grappling with the ability to control public perception. Vanessa says you don't even know you might go into sequester and be able to come back. Bottom line this is the beginning and what happens here is only a very small part of your story. Audrey says I'll blow toilet paper right onto Shelli. Vanessa says don't do that because if you do you'll look f**king nuts! Audrey goes into her musical that she did last night to show Vanessa. Audrey "I feel Shelli put a knife into my back is this real.. is this really,is it really real?! Gif of her musical from last night Vanessa tells her to stop this sh*t. Get your sh*t together. Say something that will make your parents proud. And not something that will make you look insane. Vanessa leaves and Audrey says oh my god I hate my life!! Audrey heads to the bathroom and says maybe I'll sing "I woke up on the block is this real, is this really real?!" Shelli says I'll sing with you. Audrey then says except they told me not to sing.
In the havenot room – Vanessa tells Audrey to just remain calm. Audrey tells Vanessa I think I have something I'm going to say. Vanessa says I do think you should end it that way. Audrey says and Merry Christmas!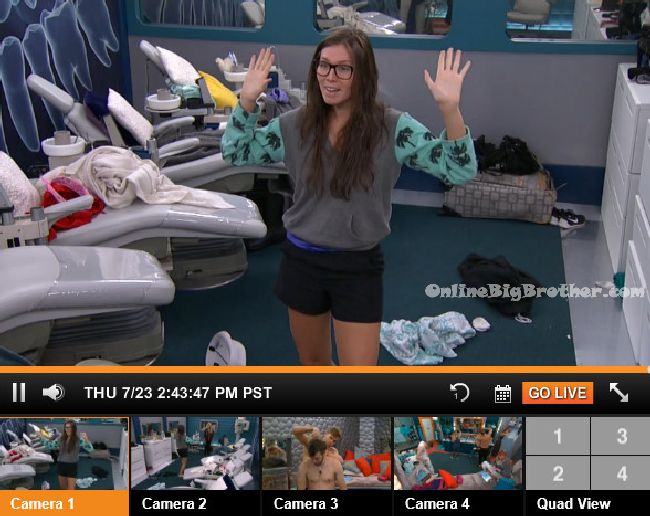 3pm
Clay's almost finished with Steve's hair cut.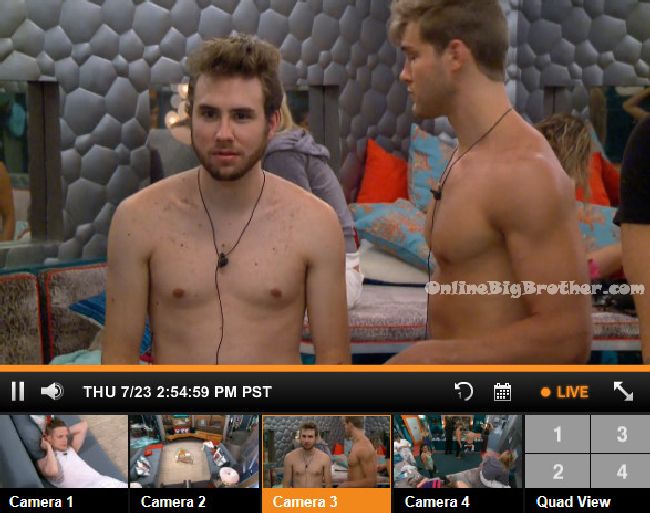 [envira-gallery id="123525″]
Last image before the feeds are cut for the LIve show
Live Feed subscription gives you CBS All Access thousands of archived shows. Live Shows like Big Brother, all the Big Brother Seasons, and 24/7 coverage of what is happening inside the Big Brother House. Plus there's flashback that lets you go back to any second of the feeds and rewatch what happened. Simon and Dawg will index the season just watch the parts worth watching. All this for $5.99 a month try it out 1 week free. Support our efforts and get your feeds via a link on this site. Live feed subscription Sign up
[polldaddy poll=8983592]
Share it YO!!
Tweet