POV Holder:
Clay
Next POV
July 25th
POV Used
Yes
POV Ceremony
July 27th
HOH Winner Team 1:
Jackie
HOH Winner Team 2:
Vanessa
Nominations 1 :
James & Liz
Nominations 2:
Clay & Becky
Battle of the Block Winner
James and Liz
Next HOH/ Next BOB
July 30th / July 24th
Original Nominations:
Clay and Becky
Current Nominations:
Jason & Becky
Have Nots
Shelli, Clay and Steve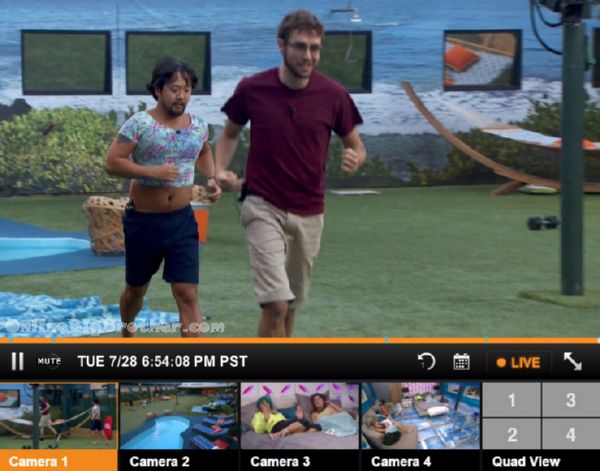 6:55pm James and Steve going for a run james wearing Meg's top
Liz and Austin work out while Steve and james run laps
[envira-gallery id="124675″]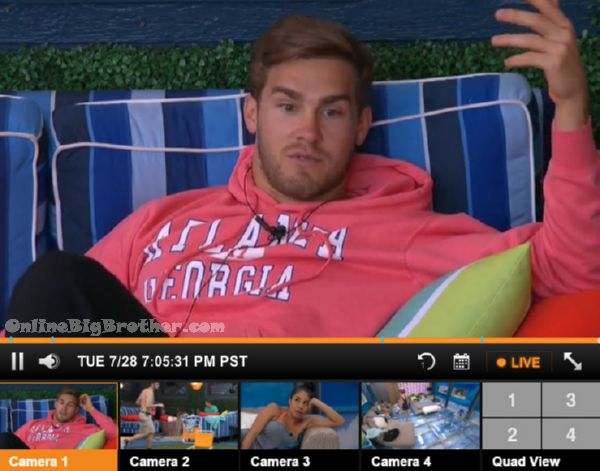 7:06pm Clay and Jason backyard
Clay says Shelli is his ride or day. He trusts Vanessa. Jason says him and Meg would never had done him dirty.
7:11pm Meg tries her top back on after James was wearing it. James claims to only have worn it for 2 laps
Jason – that looks good even with those stains
[envira-gallery id="124681″]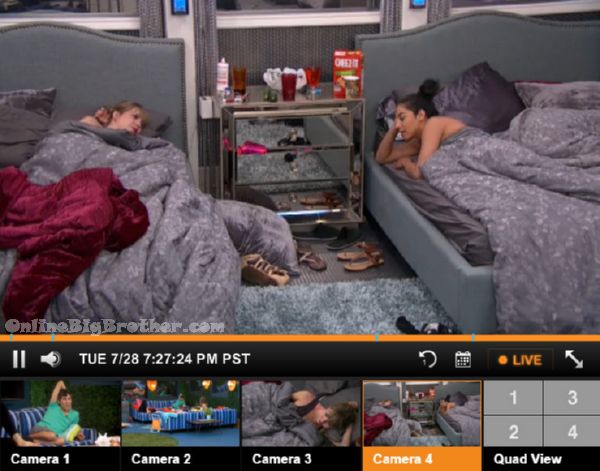 7:24pm Meg and Jackie
Meg talking about putting up Shelli and Austin. (Good idea so Clay wins the POV and takes down Shelli)
Meg – I miss Jeff..
Adds if he was in the house right now he would be "Throwing Down"
Jackie wishes he was here especially when all that went down yesterday
Jackie – We're screwed they know we're onto them. they will freak out
Meg – we have to play it cool with them
Meg – I wonder who Liz will go after
Jackie – Me, probably put me up but not go after me..
Jackie – I can't believe they f****g let this happen.. i feel like this was such a waste of a week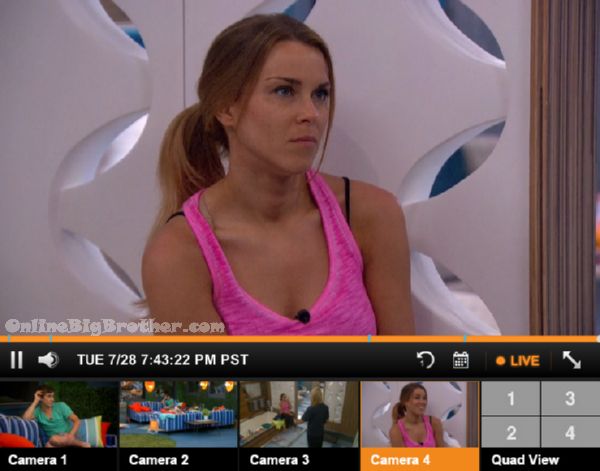 7:39pm Shelli and Vanessa
Shelli says she's got concern is Vanessa made a huge move but the house thinks it was her decision.
Vanessa – hell no.. if they do it wasn't from something I said
Shelli – I've been told Jason thinks I was the one that gave you the idea.. i put the idea in your head.. Becky said it
Vanessa – jason told me you girls are running this sh1t (her and Shelli)
Shelli – we'll we have won 4 HOH's in a row
Vanessa says Jackie is the main concern now. She thinking they have tools to influence Jackie's decision because they have the numbers jackie can't go against the numbers
Shelli – you and Jackie good now
Vanessa thinks Becky is nervous because they are targeting her.
Vanessa says if JAckie wins the HOH they could get the twins put up. They can use the angle that no one wants to twins IN jury that's two votes. They can tell them the twins hate them and will never vote for them.
Vanessa talks about how drained she is from yesterday's non stop[ game talk
Vanessa warns her the house is going to try and separate them now because everyone knows they are working together, 'It's very threatening to people"
Shelli – I'm afraid for Double eviction someone putting me and you together to backdoor Clay
Vanessa doesn't think so says after jason leaves they are down to 2 people.. She doesn't thinks Austin and the twins will do that "It'll be the biggest betrayal ever"
Shelli – Maybe not Austin but what's Judas's up to
Vanessa – the twins feel like they owe you and I for helping them get here and they are loyal people.
Shelli – what's your thoughts on Becky
Vanessa – She's in a great position
Shelli agrees says she doesn't like what Becky has been telling her, ;'She said JAckie was really mad and really paranoid about us"

Shelli says JAckie is more connected to Jason and Meg than Becky only because Becky doesn't talk alot of game. Becky is closer to Jmac than jackie is.
Shelli – she's playing both sides
Shelli adds now that Becky and Jackie are losing a number they might start talking more game to each other.
Vanessa – If liz won HOH would it be better for her to target Jackie or Becky
Shelli – jackie
Vanessa thinks Becky might be a better target
Shelli – target both of them
Vanessa – Becky seems more logical Jackie is more emotional.
Vanessa says Jackie is always up in the HOH because her stuff is still up here she doesn't want Shelli to think there's something going on.
Vanessa says the other side's plan this week was Austin or Liz
Shelli – I knew that, how did you not know that
Vanessa – no one told me that Austin was the target next week..
Shelli – we talked to you about that
Vanessa corrects explains this was before the Austin Lie. Jackie and Jason were targeting liz and Austin early last week before they got involved.
Shelli tells her jason is thinking Steve and Vanessa are working together.
Shelli – "II would have preferred for Jason to be here into Jury, just for sympathetic reasons and he's great"
Vanessa and the twins hate each other it won't take much to nudge Jackie to target the twins.
Vanessa – sorry it's the survival of the fittest
Vanessa says they could offer James a deal to not target them she calls this a 3 person security deal.
Shelli is more worried about jmac than Steve. They agree jmac is connected with Becky, Jackie and Steve. Vanessa calls this the pawn alliance.
Shelli – Jame swill blow with whichever winds is strongest
Shelli says James is close with James, "I don't talk game with James at all"
Shelli says it will be so amazing if Clay wins HOH they don't have to do anything and still be in power.
Shelli wants Steve and Clay to win it
Vanessa – they will never win a comp together..
Vanessa says Jmac,Jackie,JAmes,Austin or the twins could win a physical comp along with Clay.
They comment on how out of shape they are, they really noticed it during the POV competition.
[envira-gallery id="124688″]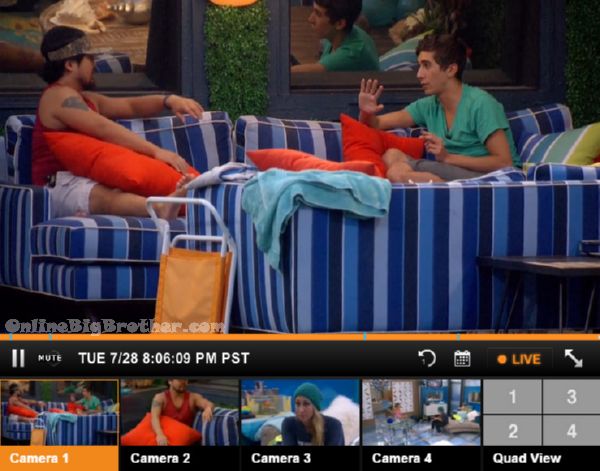 8:04pm Couch James and Jason
jason says America and Production love Steve
Jason talking to production asking them for help saying he lives in his parent's basement 'Help a hoe out.. sh1t"
Jason says they are going to be bored all summer if he goes, "I can't believe I won't cast a vote for who will win this game.. sickening.. "
Jason – so super fans if you apply say you never seen this show before say they found you in a bar.. in golf course"
Share it YO!!
Tweet