POV Holder:
Clay
Next POV
July 25th
POV Used
Yes
POV Ceremony
July 27th
HOH Winner Team 1:
Jackie
HOH Winner Team 2:
Vanessa
Nominations 1 :
James & Liz
Nominations 2:
Clay & Becky
Battle of the Block Winner
James and Liz
Next HOH/ Next BOB
July 30th / July 24th
Original Nominations:
Clay and Becky
Current Nominations:
Jason & Becky
Have Nots
Shelli, Clay and Steve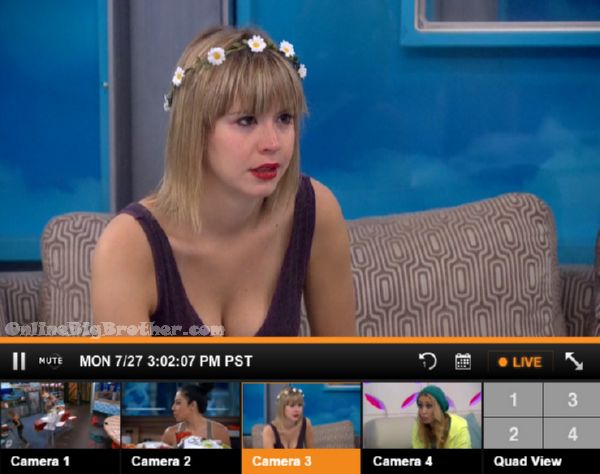 2:28pm HOH Meg And Vanessa
Meg crying "I feel really dumb really dumb and really hurt.. I feel blindsided totally
Meg – I feel like a dumb girl I really wanted to work with you.
Vanessa – I get it
Vanessa says she wasn't meant to have power and after she got power people took advantage of her. It all happened so quickly.
Vanessa says the Diary room is pissed off at her because they are trying to make a TV show here and she's keep changing the plan. She swears hand on god that every conversation she had with Meg was truthful
Meg wants to know why she never told her Jason was going up. Vanessa claims she never knew Meg well enough it all happened so quickly.
Feeds cut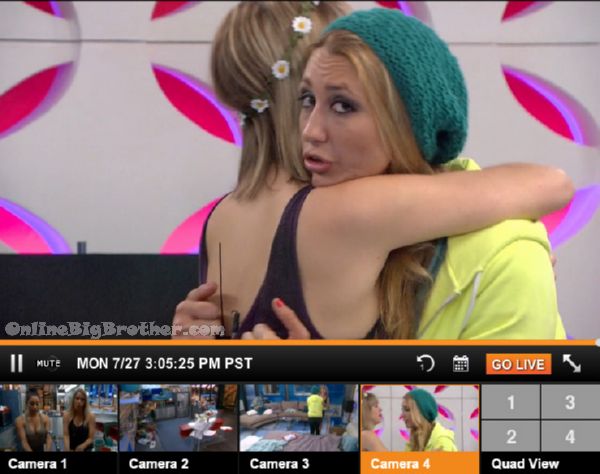 2:47pm Feeds come back to this conversation.
Vanessa saying she really likes everyone in the house and really likes Jason. She a good person, "this is the hardest decision in my life in the last few years bar none this was not done cavalierly"
Vanessa – at the end of the day I'm pissing more people off by putting up Austin over Jason.
Vanessa says based on how everyone in the 8 person alliance (Black moon or whatever it was called) was acting and saying she didn't believe they had the makings of a real alliance.. so with that information she had to piss off the fewest people "Like 3 or 4"
Vanessa's – it came down to a game more for me
Meg – I would have been loyal to the 8 person alliance.
Vanessa claims Austin is the last person to know he was not getting backdoored. Vanessa claims Austin was downstairs all night thinking he was going home.
Vanessa says she was approached by people that weren't biased and they had numbers.
Vanessa – I'm telling you Meg now I'm more scared and terrified I have a HUGE target over my head and Meg I promise you nobody is targeting you.
Vanessa says everyone knew about the plan to get out jason but James and Jackie.
Meg is going to confront Clay and Shelli because they are saying they didn't know
Vanessa say they did know and she would have never done this move if she didn't have Clay and Shelli's support. Vanessa says she's going to get really pissed if Clay and Shelli continue to deny their role in this.
Meg says she understands that Jason going up isn't solely Vanessa's doing.
Vanessa – If I knew you wanted to know I would have .. I didn't even know what I was going to say (the POV ceremony)
Valenssa and Meg hugs. Vanessa warns her if she's learnt things from this week to keep it to herself. Stresses this was not her Rouge maneuver.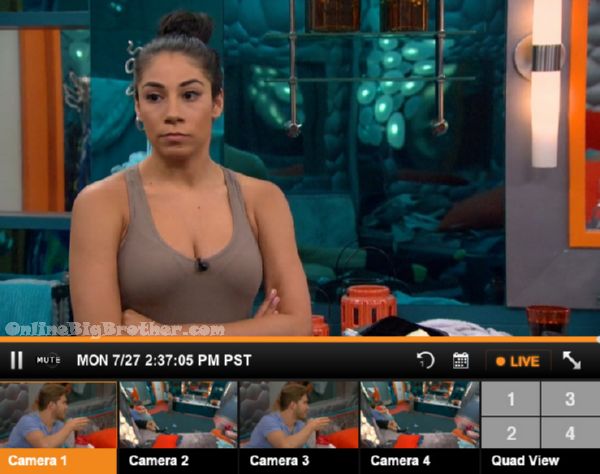 2:35pm bathroom James, Jackie and Clay
Jackie is trying to figure out what is going on, "Why did we create this group"
James – I felt good about it
Jmse says Vanessa keeps bringing up sides doesn't know what she means. (LOL good grief people Audrey told you last week and it's clear as day)
Clay is acting stupid, "I'm blind I don't see it.. there's group"
Jackie is pissed off that her 8 person alliance that was going to get them all to Jury is gone. Says it was f*****g easy they just had to stick together.
James says every group they make there's always one person "Doing retarded sh1t breaking the group up"
James asks him if he ever sees the other side of the house going home.
Clay says the other side has won all the HOH's so far.
James says if they lose 3 more people James is going to have to join the other side there will be no one left.
James walks to the Kitchen where Jackie is making a meal.
James – SH1T
James mentions Austin and Liz have been working on Steve that's their project.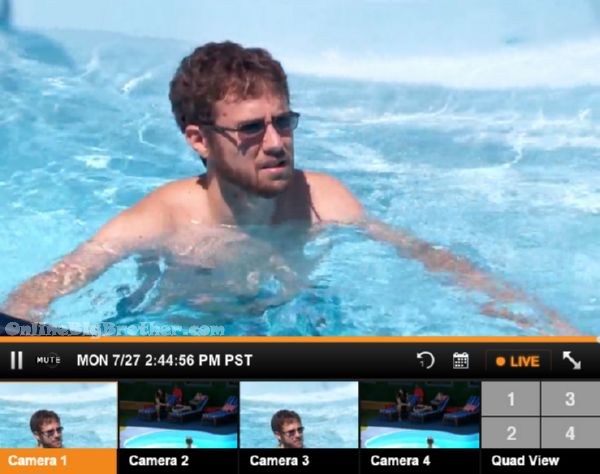 2:43pm Pool Steve, Austin and Liz
Steve and AUstin talking about relating to Jason on a super fan level. Austin says jason took advantage of that.
Steve says they should leave Jason alone.
Austin agrees, Brings up Jason telling Austin when he thought Austin was the target, "it's really a house decision it's not personal it's a house decision and I'm going with the house
Austin is going to give Jason the same reason when he comes to him for a vote. Liz, Steve and Austin all say they have promised Becky their vote.
Liz – 1 million percent promised BEcky my vote..
Austin – she's always been supportive of me he has not very simple decision..
Austin says Jason should have kept to himself what Austin told him. He could have used it instead he ran around the house blabbing it to everyone and he got burnt.
[envira-gallery id="124429″]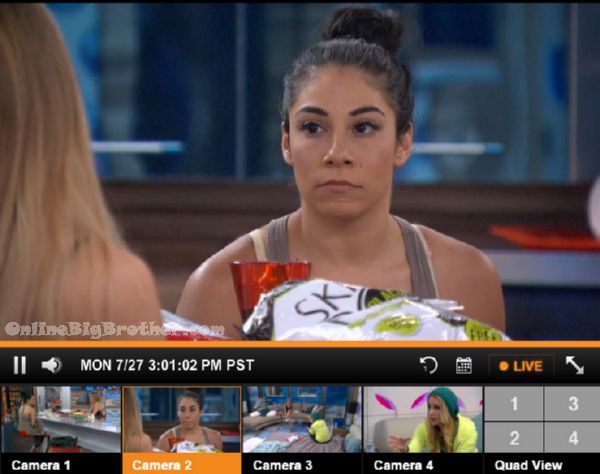 2:59pm Kitchen Jackie and Shelli
Jackie – To not be in the know is scary
Shelli – obviously her whole plan was for Becky not to go home.
JAckie – right
Shelli – she brings up compelling arguments for why
Shelli – this sucks because I think he's a good person to play the game with .. BIG TIME.. he's like a little computer..
Shelli saying she just found out this morning, Adds that Austin is the perfect target next week he already is volunteering to go up "If he left there's isn't many targets left" (How about you and Clay)
Jackie – Right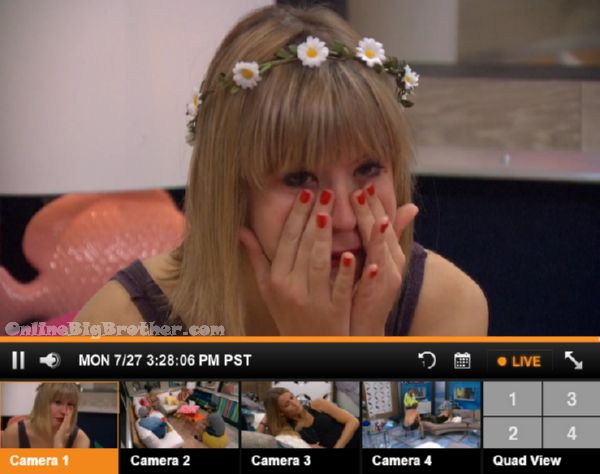 3:07pm hammock room Meg and Jackie
Meg – I'm over being upset about it i'm livid
Jackie talking about how they are screwed now AUstin is coming after them because they were going to vote him out
Jackie – why would you go against 8 people you had it
Meg – there wasn't 8 people
Meg doesn't think Austin, Clay, Shelli and Vanessa are working together
Jackie thinks they might be those are the people Audrey said are working together plus they are the ones that have been making all the moves in this game, Da, Jeff, Audrey and now Jason went home.
Jackie about Jason – They were trying to get him last next week.. now who's next.. us
Jason comes in. They tell him it's the whole house even Clay and Shelli
Jackie and Meg both say Clay and Shelli lied to their faces twice.
Jason says he knew Shelli and Clay were in on it.
Meg now saying there has to be an alliance with AUstin, Vanessa, Liz and Shelli/Clay
Jason – So Audrey was right
Jason says Shelli is up in the HOH laughing points out she's been running around the house all day laughing, "I tried.. I'm going home you bi1tches better win it"
Jackie – this isn't going to stop me..
Meg – Clay and Shelli won't vote for you they are going to pretend they are
Jackie – just like with Jeff.. right till the last minute they'll lead you on..
James joins them.. 'We're crying again"
Jason says the only people that didn't know what was going to happen today are in this room.
James thought Clay and Shelli didn't know
Meg – they knew
Jackie – they've had their hand in every single eviction..
Jackie – it's not them it's her Shelli.. I love her to death but.. you can't trust her
James – you can't trust her
james – There might be a little truth to everything Audrey is saying
Jason – that group Audrey called out last week
Jackie – they came up with that plan behind my back
Jackie says this was more Clay, Shelli and Vanessa's doing Austin didn't have a big role in it.
Jason – I need a twist to fall out of the sky or I'm dead
Jackie – they've had a hand in every eviction it benefits their own game and f****s everyone else
Jackie and Meg start crying 'Why do they keep putting up their peeps"
Jackie – I tried so hard jason..
Meg – it's not your fault jackie, We have to win next week
James – watch your back more with Clay and Shelli
Jason – MORE watch them completely
Jason says it's obvious that production knew he was going up because they were all trying to get him to make fun of Shelli/Vanessa he wouldn't do it.
Jackie – we had final 8 what the f*** it was so easy..
Meg says Shelli and Clay had a lot to do with Jeff leaving.
James – everyone of those HOH's Shelli has controlled the last 4
James, Jackie and Meg tells JAson they will vote for him to stay. Jason goes up to the HOH to talk to Vanessa.
[envira-gallery id="124436″]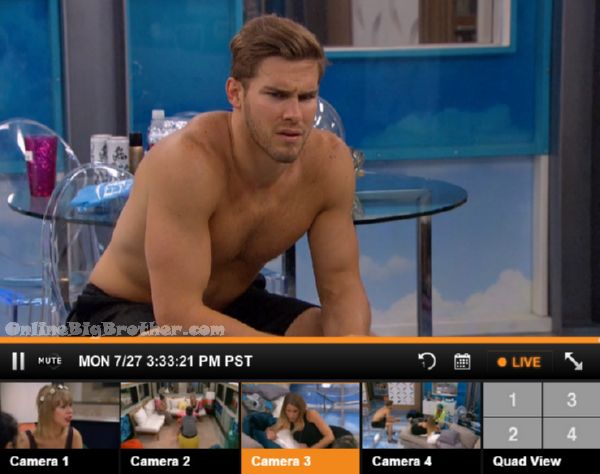 3:11pm HOH Vanessa and Shelli
Vanessa tells her she's ride or die with their alliance 'Mathematically we have the biggest chance.. things are going to get f**ing brutal these next couple days
Vanessa stresses how she's made some enemies this week – I'm going to be a front door target
Shelli – only if it's one of them (Winning the HOH)
Vanessa says the biggest concern with Meg was that Shelli was telling her she didn't know and they know Shelli and Clay knew the plans was changing from AUstin to Jason.
Shelli says she's telling them she knew Vanessa was changing her mind.
Clay joins them
Vanessa telling him none of them are coming out of this looking clean it's best they don't try because it'll do more damage.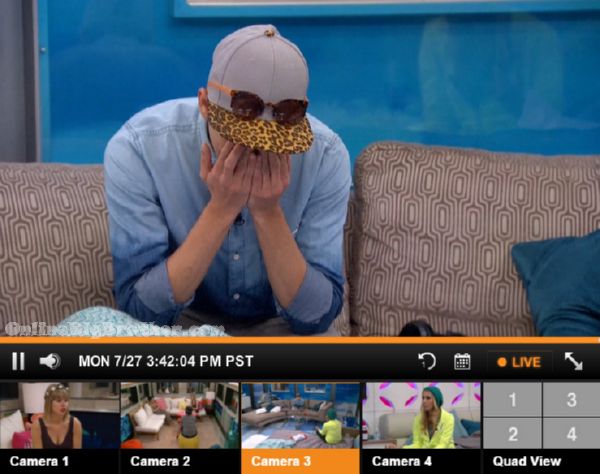 3:35pm HOH Vanessa and Jason
Jason – I'm not blaming you alI I know you are doing other agendas not you own.. They are coming for me for a long time.. they made a final 4 deal, They've been trying to work with me..
Vanessa says it came to her 4 different people that Jason is throwing James under the bus.. "I know they can't be all making it up, 4 people from 4 different sides of the house"
Jason – Shelli's running it she's running this game..
Jason adds that he was baited by Shelli and Clay to say that about james
Jason – I've been the target for 4 weeks now I get it
Vanessa – I was sending AUstin home I was with that plan and was devastated when it didn't work out.. this was not my mastermind idea
Jason – of of course.
Jason – who said we weren't happy when clay won..
Vanessa – all around the house
JAson says he was happy for Clay to win the Veto "They were good in y book it was better if they won POV.. i had no deal with Becky just a deal with Shelli and Clay "
Vanessa – ever person in this house came to me individual Jason or Austin.. the answer was you.. Of course I didn't go to James, Meg, Becky
Vanessa claims she was in the process of telling Jackie but got called into the DR
Jason – I'm so stupid I helped you study for the HOH you got me out with.. I'm so stupid, I bought everything Clay and Shelli were selling me.
Vanessa says she feels like taking a swan dive in a empty swimming pool. the 8 person alliance was so new she felt like the bottom of the totem poll. She says is boil;s down to she's pissing fewer people off putting him up.
Vanessa – I'm solo in this game I have to go with numbers.. you are a good competitor and Austin is a injured bird
Jason – People don't see Becky as a bigger competitor than me
Jason – Now that I know what's up I know I can't stay.. once I found out Shelli and Clay were in on it.
Jason tells her Big BRother is his life and passion other bitches in this house were found on tinder. Vanessa Says she will help Jason out on the outside.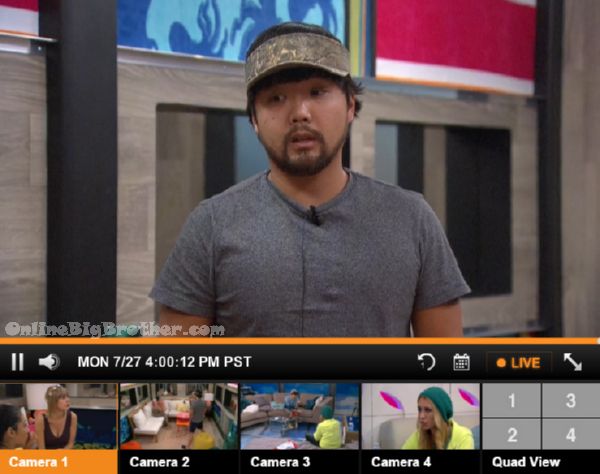 3:48pm Hammock JAmes, Jackie and Meg
James – damn it's like we're fighting like 70% of the house it's not good
Jackie says Shelli is really insecure she's a paranoid wreck. Jackie doesn't think Shelli and Clay are working with Vanessa and Austin they are just using this as an opportunity to get out Jason someone who was their target for weeks.
James says they need to pull in whoever stay this week. Maybe they can start working on JohnnyMac's vote.
James – it's all making sense the stuff Audrey was saying maybe she was saying the truth those last minute.. she swore up and down.. Don't trust Shelli and Clay.. She said they can't be trusted..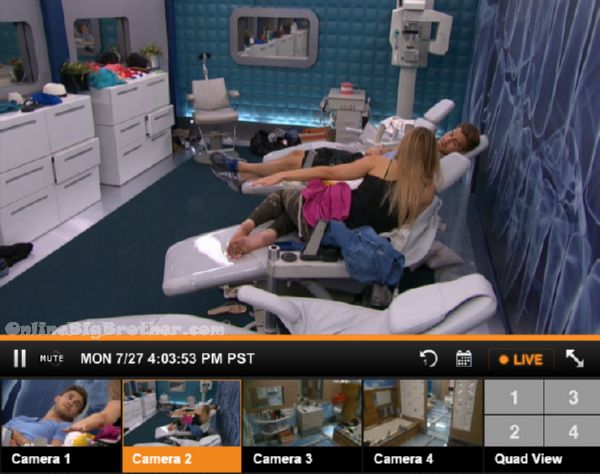 4:00pm Have nots Shelli and Clay
Clay talking about how they are going to get the heat off their backs moving forward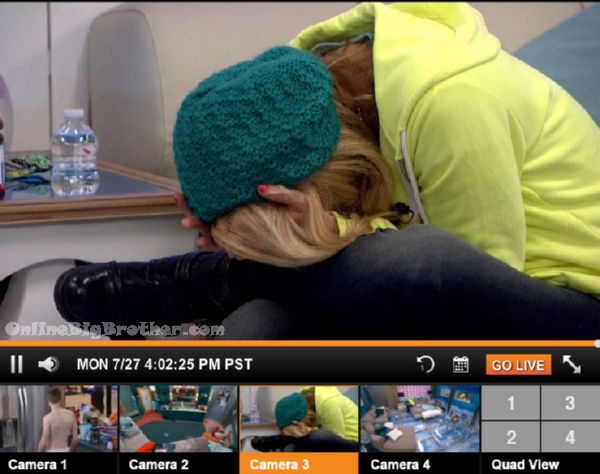 4:02pm HOH Vanessa alone
Vanessa – Oh my god .. Brutal brutal brutal brutal Game
[polldaddy poll=8994045]
Share it YO!!
Tweet