Big Brother Spoilers – Christie won the HOH, Nominated Cliff and Kathryn. Veto players were: Christie, Kathryn Cliff, Sam, Jack, Nicole. POV  Host was Tommy.  Sam wins the Power of Veto, it was called Food fight. Sam used the Veto on Cliff and Christie nominated Ovi as the replacement.
House Guest alternate names:
Analyse AKA Sis
Jackson AKA Michie (Jackson Michie)
Isabella AKA Bella
Grab your live feeds —->  BB21 Live Feeds Subscription Link
Rank your houseguests —->  Big Brother 21 Ranking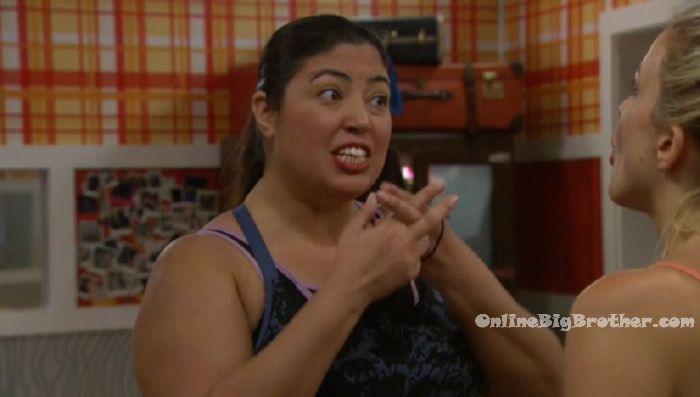 1:20pm Bedroom. Kat and Jess. Kat – this week I am not really going to do anything. I need to keep Jack in my corner because he can flip the whole house. I know the girls have my back but I also don't know if Bella is going to flip her vote. Jess – she wouldn't. Kat – I don't know though. I have Cliff. I have I think Jackson. Jess – I want to say that Bella has more loyalty to Jackson than Jack. Kat – I feel like we in the long run we need to get rid of Jack. Jackson is more of a girls guy and Jack is a guys guy and a backstabber. Jess – I feel really bad for Ovi. Kat – I wish she (Christie) didn't tell him he was a pawn. Because he's going to keep acting … and he is going to get blindsided. Jess leaves. Ovi comes into the bedroom. Ovi and Kat both agree not to throw the other under the bus. Ovi – I really like you Kat. I wish both of us could be here. Kat agrees. Ovi leaves the room.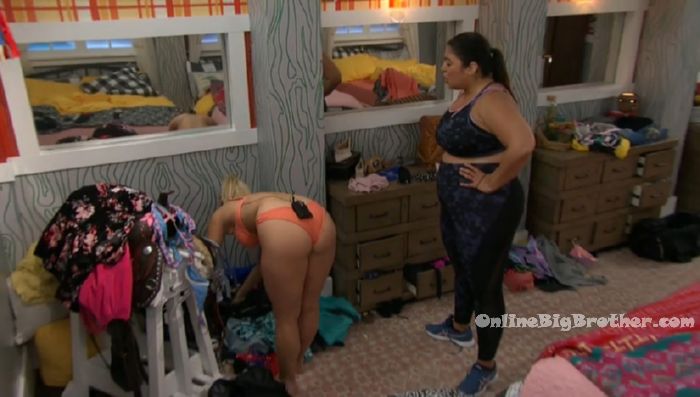 Kemi & Nicole celebrating Kemi not going up as the replacement nom #BB21 @bigbspoilers pic.twitter.com/dGmxYDFV6f

— Dawg (@DawgsBigBrother) June 30, 2019
Jess joins the celebration #BB21 @bigbspoilers pic.twitter.com/9KPX7LGdOg

— Dawg (@DawgsBigBrother) June 30, 2019
1:55pm Backyard. Jack and Christie. Jack – it will be a tough next couple days but you're good. Christie – I know. I feel bad. Its sucks. Jack – I trust your decision with my life. I have your back to the Nth degree and I always will! Christie – I hope you're not mad at me. Jack – nope! It totally works out for my game. The only thing that it would damage is if Kemi won HOH but she never will and even if she did coll we have numbers. Christie – 100%! Jack – I've never seen it in this show ..where cool go ahead and win HOH. Christie – I still feel like Bella and Nick are coming back. Like its not weird. Yesterday was weird. Jack – and you don't have to talk to me for a long time.. like we're good. Christie agrees.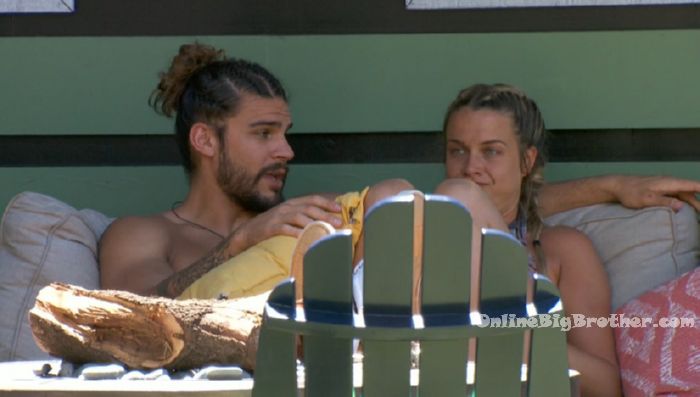 2:15pm Kitchen. Cliff and Ovi. Cliff tells Ovi that he has his vote. If I hear something, I will let you know because I wouldn't want you to be caught off guard. Nothing against Kat but I think she's had too many breakdowns. I think next week when we have the next HOH we will see some battle lines drawn. I don't think we will continue to the targets.