Big Brother Spoilers – Christie won the HOH, Nominated Cliff and Kathryn. Veto players were: Christie, Kathryn Cliff, Sam, Jack, Nicole. POV  Host was Tommy.  Sam wins the Power of Veto, it was called Food fight. Sam used the Veto on Cliff and Christie nominated Ovi as the replacement. Ovi Has a power he can secretly force the Head of Household to select two new Noms after one of the first 6 nomination ceremonies. WE've just had 1 nomination ceremony.
House Guest alternate names:
Analyse AKA Sis
Jackson AKA Michie AKA mickey (Jackson Michie)
Isabella AKA Bella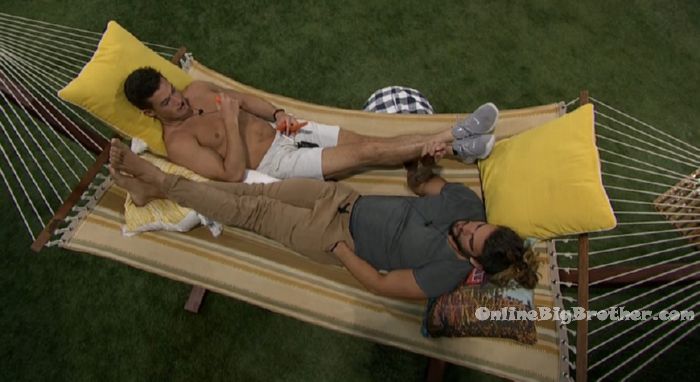 11:27pm Hammock. Jackson and Jack. Jackson – Kat is getting super territorial. She's shooting daggers. Jack – you're interested in Holly. Jackson – yeah. I am openly talking to Holly about how I can transition this because with Kat its more of an obligation ..with Holly I actually would. Jack – its cool that she would knowing what happened with Kat (Jackson & Kat slept together before the feeds started) .. that's cool. Its a good chick to be with. Jackson – why? Jack – she's got her sh*t figured out but she was pretty butt hurt about losing her job. Jackson – she was upset about potentially losing her job. I need this week to be over so that Holly can take her bed back and Kat can be in the RV so then I can.. Jack – hit Holly in the late night. Jackson nods. Jack – I love how you're willing to hook up with them on national television.. I couldn't. Jackson – I'm not willing to do anything that will make air. Jack – like the chick is super cool and super cute, walks into a room stops everything but I don't know if its there. Jackson – Sis? (Analyse) Jack – Sis's personality is just a little.. (flat). Jack and Jackson talk about how they want to throw Kat the HOH win. Jackson – then she (Kat) will be up in the HOH bed. Jack – that's your priority. Jackson – food, sleep, blank ($ex). Jack talks about Nick and Bella. I didn't think that Nick had a weak link but that's it (Bella). That's his achilles heel. Jackson – I've ..sounds bad.. I've been trying to see if it grinds his gears. Flirting with Bella. And she gets pissed at him .. maybe we need to get under his skin a little and stir it up a little.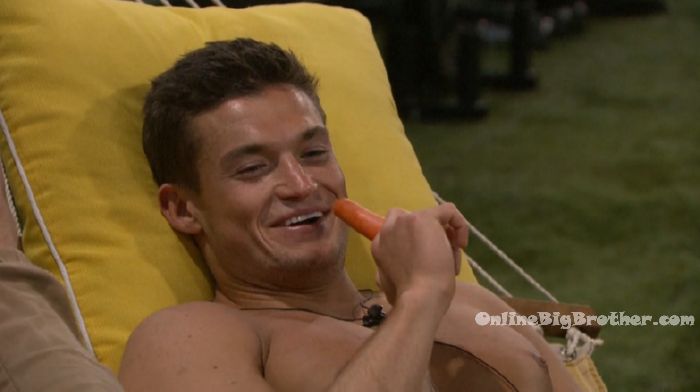 Jack – did you go up in the bedroom? Jackson – no I went to Kat. Jack – Oh you savage! Jesus Christ! I ain't saying sh*t. Dude you did it again?! Jackson – no, just laid there. I am just keeping her close at night and then keeping my distance during the day. Balancing it out. The first time kind of kick started. The second time escalated things. The third time kind of brought out feelings a little bit for her. Jack – you've done it three times? Jackson – the first time was when I told you about it. The second night .. and then that happened again. Jack – ah and you didn't tell me. Got it. I don't need to know every time. Ricky Bobby. Jackson – she is always like can you come over tonight? Jack – you're her pawn to stay alive longer. Jackson – with her its a game but with Holly, I would actually do that. 100%! Jack – Holly is cool as f**k. Jackson – cool as f**k. Jack – I don't think she will win HOH because if she doesn't she is going up on the block.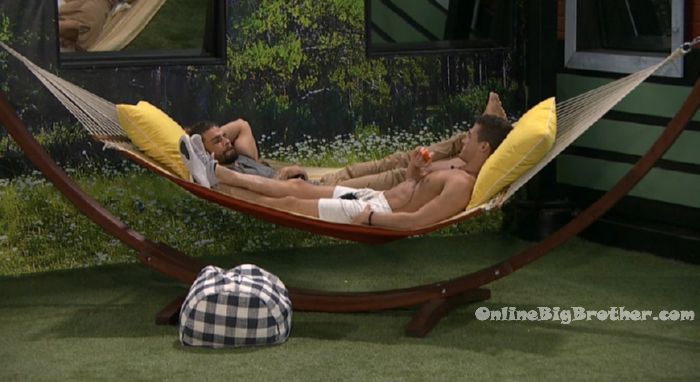 11:40pm Bedroom. Nick and Bella..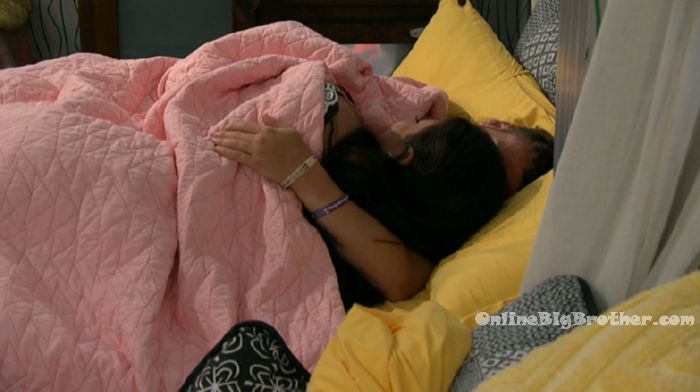 12:05am Jack, Jackson, Kat and Analyse. Kat – y'all know I have your back. Jackson – if you won, who would you put up? Kat – I know personally who I would put up but from a game standpoint especially if we're all working together I would ask y'all. Jackson – Kemi & Bella. It accomplished two things. If Bella has the power it smokes it out and Kemi is still on the block. Jackson – you (Kat) would have blood on your hands but we would have your back. Kat – I've been feeling like I'm going home the last two weeks so I'm ready to thing.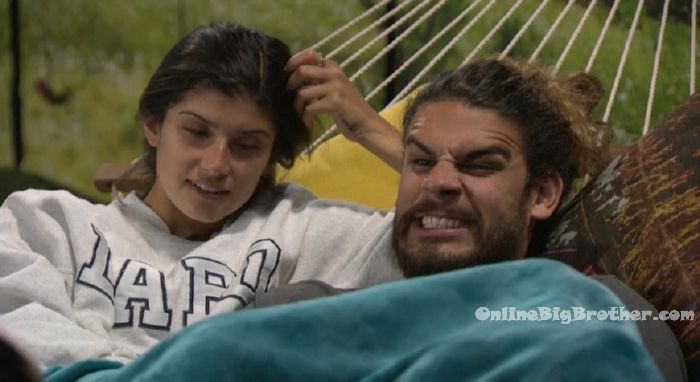 12:33am Bathroom. Ovi and Sam. Ovi – I've been counting the votes and I think I really need your vote. Not to pressure you in anyway. I feel confident that Cliff, Nicole, Tommy.. Sam – Jess. Ovi – well I don't know if I would have Jess, she's closer to Kat. I would have Jack, Sis. I think Jackson will. He's close to Kat but he said he will. I need you.. Sam – did you talk to Nick and Bella? Ovi – Nick said that he will if I have to votes. Sam – you would think with those names you would have the votes. And if you factor in one or two more that you didn't even know so it should be a wash. Ovi – I feel really good about you. I love you man. If I win HOH I will take whatever you say into consideration and you'll never be my target. Sam – I am pretty sure Nick will vote out Kat. I will touch base with him. It should be a wash.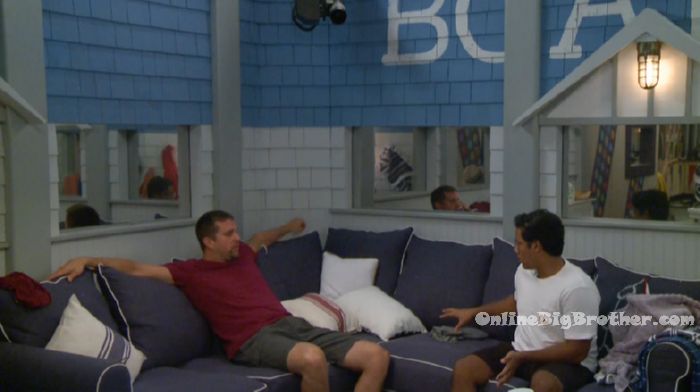 1am Bedroom. Ovi talks to Nicole. Ovi – I think we have the numbers now. I just need you. Nicole – I will as long as we have the numbers. Ovi – counts out his votes. Nicole – this could work. They hug. Nicole – its going to be okay.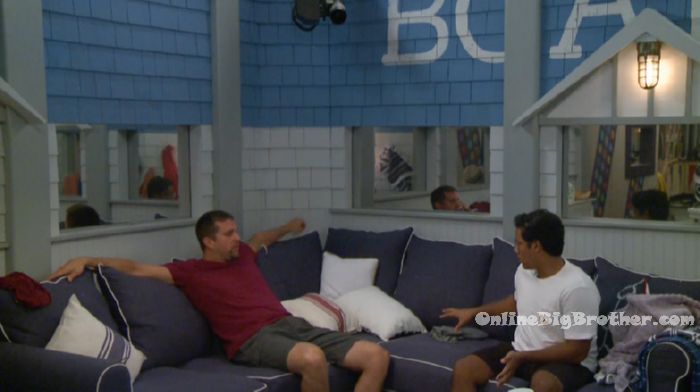 1:32am Boat room. Ovi talking to the cameras about his time in the house up until now. he goes over the votes that that he thinks he has and says that he feels the odds are in his favor.
1:55am – 2:15am Hammock. Jack, Tommy Analyse and Jackson. They talk about how Christie didn't want to put up two girls. Jackson – which then maybe this girl alliance thing.. Tommy – no. Analyse – No. Tommy – I don't think so. I mean I'm not a girl but I feel like I would know about it. Jackon – ovi was trying to sell me on it. They're trying to make a girl alliance. jackson to Analyse – you b***hes conspiring against us? Analyse – I actually didn't hear anything about a girl alliance. Jack – its kind of silly. They all laugh about how Kat did an eviction speech instead of saying why Sam should use the veto on her. They all head inside to go to bed. Jack, Holly, Jackson and Analyse eat in the kitchen.