POV Holder:
Steve
Next POV
July 3rd
POV Used
?
POV Ceremony
?
HOH Winner Team 1:
James
HOH Winner Team 2:
Jason
Nominations 1 :
Steve, Jackie
Nominations 2:
Becky, Johnny mac
Battle of the Block Winner
Becky and Johnny Mac
Next HOH/ Next BOB
July 2nd / ?
Original Nominations:
Becky, Johnny, Steve, Jackie
Current Nominations:
Steve, Jackie
Have Nots
Austin, Da'Vonne, Liz, Vanessa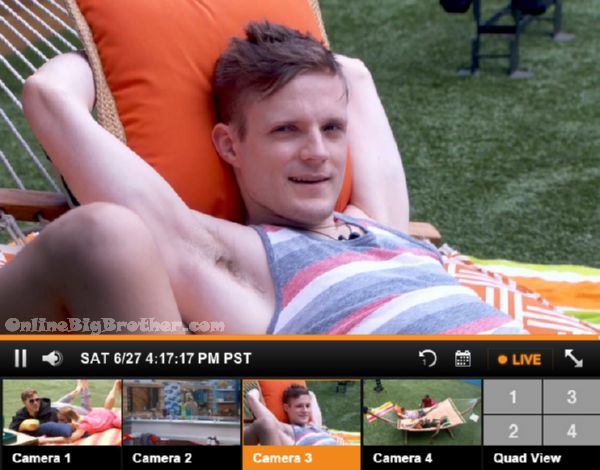 Johnny Mac sighting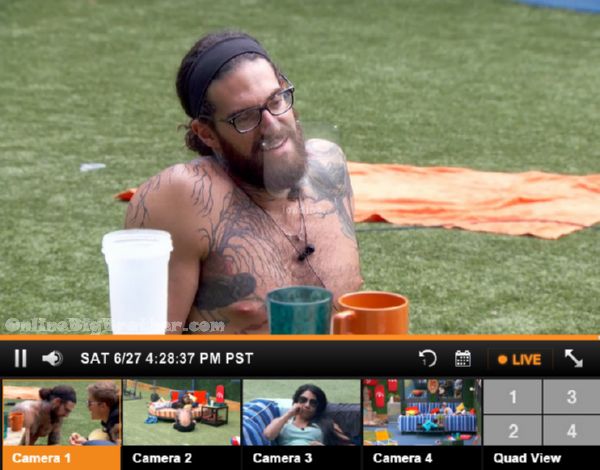 4:26pm Clay, Shelli and Austin
Austin says he wishes he could be as even keel as Johnny mac "He's just chilling" Austin mentions he's not going to expect any Muscle gains while in the house he's just going to focus on maintaining his muscles.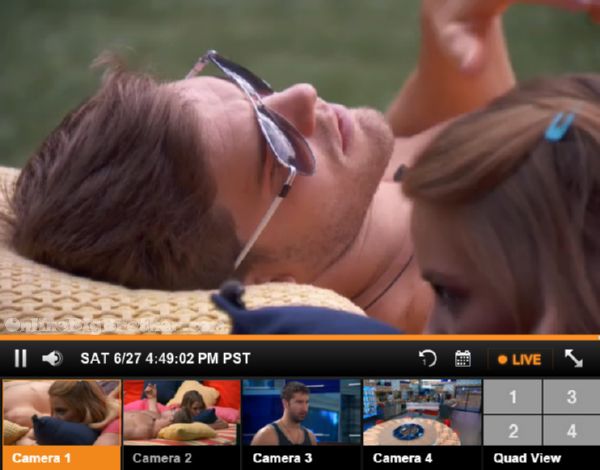 4:42pm Clay and Shelli backyard
Clay says he's very opinionated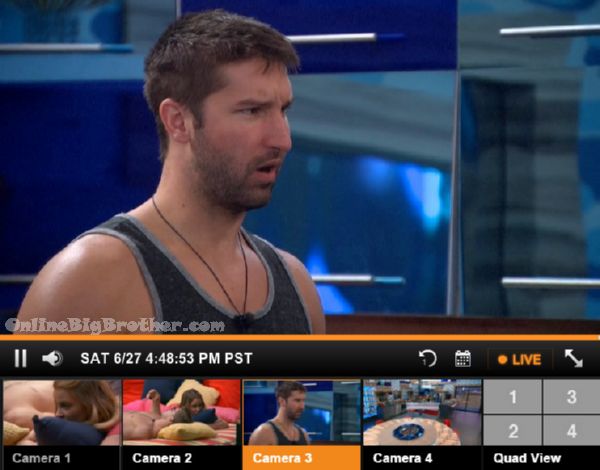 4:43pm Audrey, Jackie and Jeff
Audrey says Shelli pulled her aside and said Jeff is feeling out of the loop.
Jeff -when he say that.. last night.. I had a heart to heart
Audrey thinks it's all good then.
Jeff doesn't want Clay to know about the Alliance (High Rollers). He wants them to keep things vague with Clay. Audrey says he already knows. Jeff says they need Clay to not target Da.
Jeff says he can't trust Liz "She'll lie right to your face.. if she was smart she would stop doing what she's doing"
Audrey says Liz talked to her told her she wasn't going to put her up.
Jeff – She's just so far up their a$$es (Austin and Jace) it's weird.. if she was smart she would have felt the weird vibes people have distanced themselves from both of them.
Jeff says Shelli and Clay are together all f***g day
Audrey agrees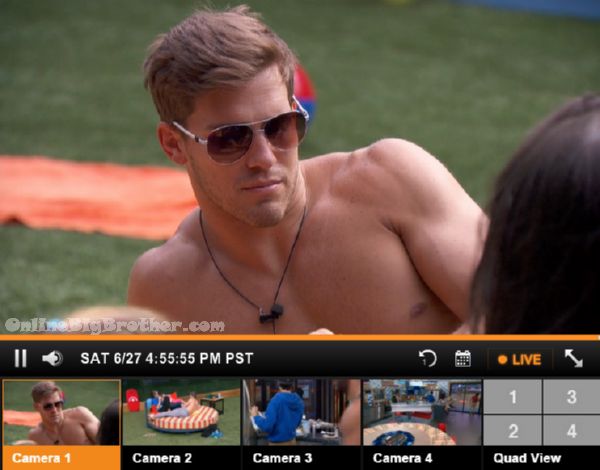 4:56pm Clay, Audrey and Shelli
Audrey says further on in the game the three of them will be who America is cheering for.
Audrey – You two are my ride or die
Shelli – Right back at you babe
Audrey says Jeff wants Austin gone next week but she wants DA out. Clay says getting rid of DA means they can pull in Jason and James.
Audrey – I'm with you guys i tell you everything.. I have to act like i'm with her.
Audrey says she will not ally herself with someone that is a timebomb.
Audrey wants to get rid of Vanessa points out that Vanessa and Becky are close.
Audrey thinks Becky is trying to pull together strong girls.
Clay can see that happening.
Sufrey is worried Vanessa will win the HOH next week. they agree it wouldn't be the worst thing.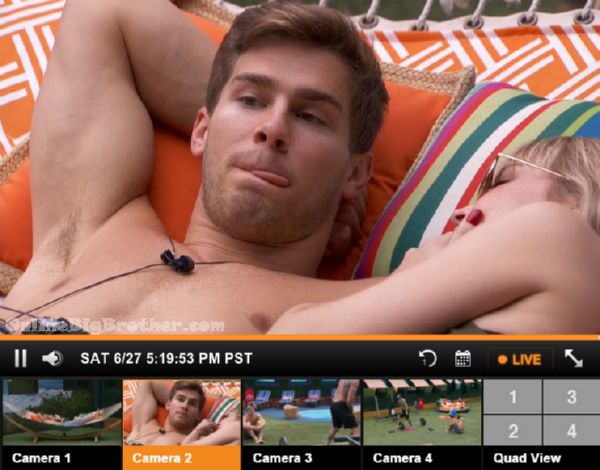 5:11pm Hammock Clay and Meg
Meg says she gets mixed feelings with Jace. They both Like Johnny Mac, Meg has been trying to get him to open up a bit. Clay tells her she's his main girl Right behind is Shelli.
Clay is warning her about DA says she's got James and Jason on her side. Clay adds they can pull Jason in easy once DA is gone. Meg doesn't think they can make a move on DA next week.
Clay thinks they can run the house with DA gone. Adds they need Austin and Liz to take out DA. Clay is worried if he's the one that takes out DA Clay will start gunning for him.
Clay says their group has every type of person and skill, mentions they can pull Johnny Mac and Steve in because they are smart.
They question if winning the HOH is the best for their games this week.
Meg and Clay say they want Audrey to win HOH so she's forced to pick a side. Meg has noticed Audrey's name is always coming. Clay says it's because she's playing all sides.
Clay hints if he does win HOH and he has the opportunity to backdoor "Someone" (Da) he'll take it.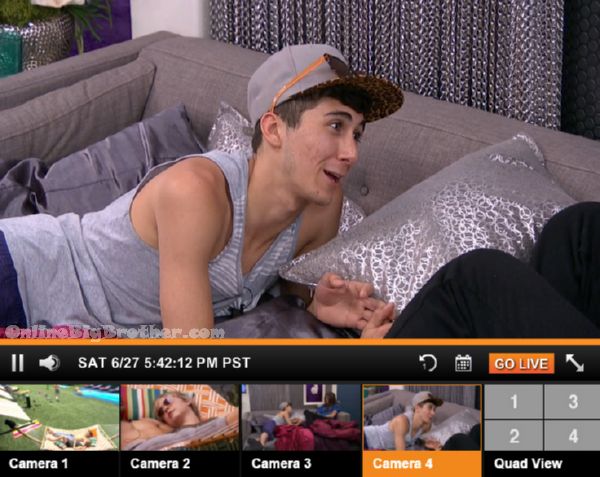 5:39pm HOH Jason and Audrey
Audrey – I'm backing off next week.. now clay and Shelli are like Where do you stand.. I'm going to pick a side
They mention Jeff taking Clay's spot in the alliance. They both trust Jeff more than Clay but Clay more than Shelli. Audrey accuses Shelli of not even playing.
Audrey says Becky is trying to get the "Smog" girls together (Smart and Strong)
Jason agrees says she's trying to get the loner girls. Audrey thinks it's Vaneesa, Jackie, Becky and Liz.
Audrey doesn't think Becky is the threat right now Vanessa is. Audrey warns if Becky makes it to final 7 she'll pull out a lot of HOH wins.
Jason warns that VAnessa goes in the Diary room a lot. She doesn't think it's team america she just thinks people in the ouse have secrets and secret tasks. jason thinks Vanessa is a executive. Says all her tears when the feeds first came on were because there was a task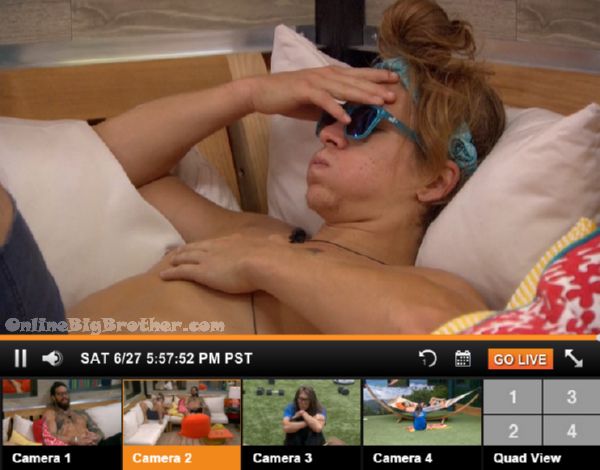 5:57pm Cabana Jace and Austin
Austin – don't lose it yet.. don't lose the cool yet.. if that is the way the house is playing i'm gone next.. that cheap game.. its so boring for the audience.
Austin – We gotta play this.. Let me talk to Audrey she'll tip me off
JAce – I got dealt a bad hand.. F***g audrey dude she's f***ked me..
Austin – I wonder if she's trying to ally with me to get you out of the picture.
Austin – You can't think bad yet.. dont think bad yet dude.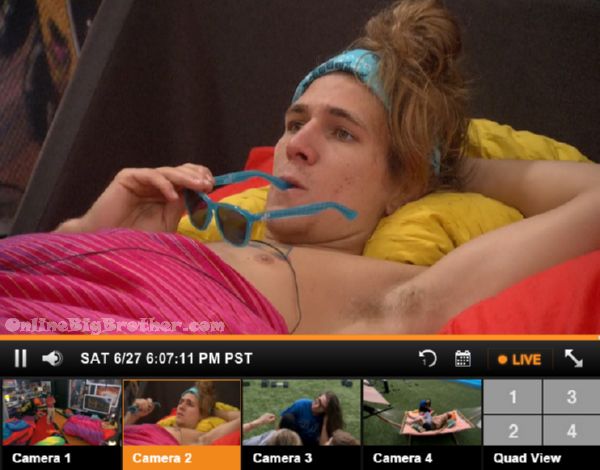 6:06pm Bedroom Jace and JAmes
Asking him if there is anything he should know going on asks if they are still down with the five alive. James says "Yeah". Says he had no idea how things started yesterday. He doesn't know how his plan got out to everyone. James thinks it might have been DA who told everyone it was his plan to Backdoor Jason. Jace points out it was Audrey that dragged him in on it and was grilling him. Jace feels liek Audrey is still with them asks James if he feels the same. James is still trying to figure out how the backdoor Jason story got out.
Jace doesn't know who James will put up he does know James wants to keep Jackie so whoever James puts up will be the target he'll need to guarantee he has the votes.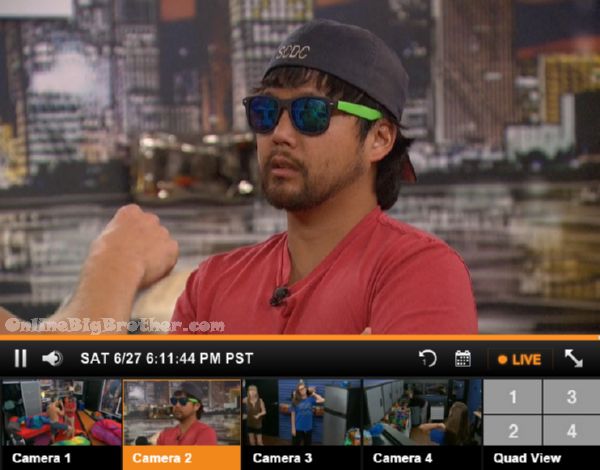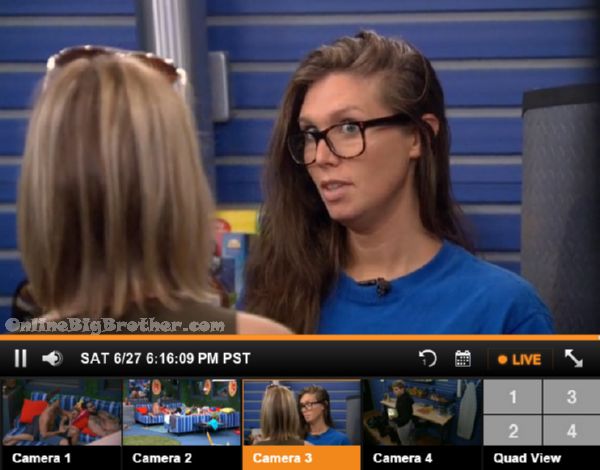 6:16pm Storage room Audrey, Meg and Clay
Audrey saying she's getting a really bad vibe with Jackie. Starts in on her speculation about a Jackie, Vanessa and Becky girls alliance. Clay thinks Jackie will backstab them.
Live Feed subscription gives you CBS All Access thousands of archived shows. Live Shows like Big Brother, all the Big Brother Seasons, and 24/7 coverage of what is happening inside the Big Brother House. Plus there's flashback that lets you go back to any second of the feeds and rewatch what happened. Simon and Dawg will index the season just watch the parts worth watching.
All this for $5.99 a month try it out 1 week free. Support our efforts and get your feeds via a link on this site. Live feed subscritpion Sign up