POV Holder:
Steve
Next POV
July 3rd
POV Used
?
POV Ceremony
?
HOH Winner Team 1:
James
HOH Winner Team 2:
Jason
Nominations 1 :
Steve, Jackie
Nominations 2:
Becky, Johnny mac
Battle of the Block Winner
Becky and Johnny Mac
Next HOH/ Next BOB
July 2nd / ?
Original Nominations:
Becky, Johnny, Steve, Jackie
Current Nominations:
Steve, Jackie
Have Nots
Austin, Da'Vonne, Liz, Vanessa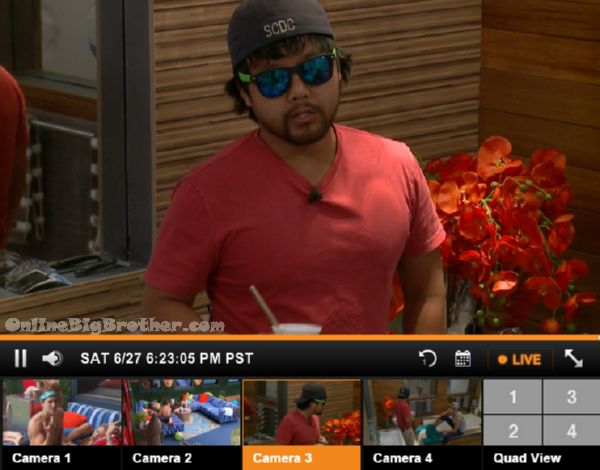 6:25pm HOH HOH James and Jason
James goes over his conversation with Jace says Jsaon's name came up as a replacement nominations.
James says he's allied with the High Rollers he's going to put up JAce as the replacement nomination.
Jason says he would be FLOORED if Jackie went home over Jace. So many people would have lied to them if that happens.
Jason thinks the vote will be 9-2.
Audrey joins them. James goes back to telling them Jace asking him what he feels about backdooring jason.
jason laughs "they're not letting it go"
Jeff joins them they start talking about not wanting Liz, Jace and austin gin the jury house.
Jeff mentions how Jace was warning all the guys that Jason was going to team up with the girls.
Jason – "Ohh Please"
Says 1/2 the "B1tches" in the house aren't close to him.
Jeff says Vanessa is going to be the pawn this season.
Jason doesn't think Vanessa deserve to be in the house.
Jason starts saying that he's worried about a bitter Jury this year. Says it will all come down to speeches.
james asks them about Meg. Jeff likes her, Jason does to doesn't think she's playing yet.
6:49pm Backyard Austin, Liz and Jace.
Austin says for now they have to trust James and Audrey
Austin – there's a lot of nerds in here.. I didn't realize they put so many in the house
Liza and Jace agree.
Austin says 1/2 the house are nerds led by Steve
Austin -0 Shelli is going nerd herd status..
AUstin think they are on the side of the cool kids. "we will be the cool kids on teh show that get eliminated early because we're too cool for school"
Liz asks about DA how to handle her.
Austin says never talk to DA just placate her never give her anything useful at all.
Austin thinks DA is shady and she needs to go next week.
Liz is glad Clay is also going after her.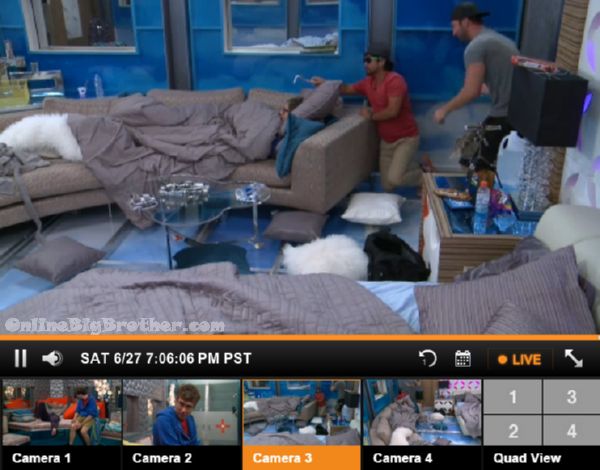 7:07pm HOH JAmes and Jeff messing with Audrey trying to poke her with a tinfoil wand
Audrey hears the camera focus in on her and catches them. (Animated GIF here on our G+ page)
7:13pm Steve and Vanessa
Vanessa brings up they should make a deal not to nominate each other next week. Steve says of course he wouldn't nominated her anyways.
7:16pm Jeff and James continue their pranks on Jace but get caught
[envira-gallery id="117051″]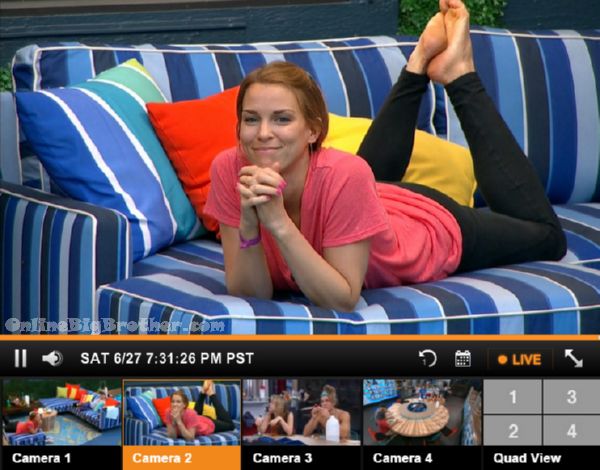 7:30pm Shelli and Jason
Getting to know each other chit chat..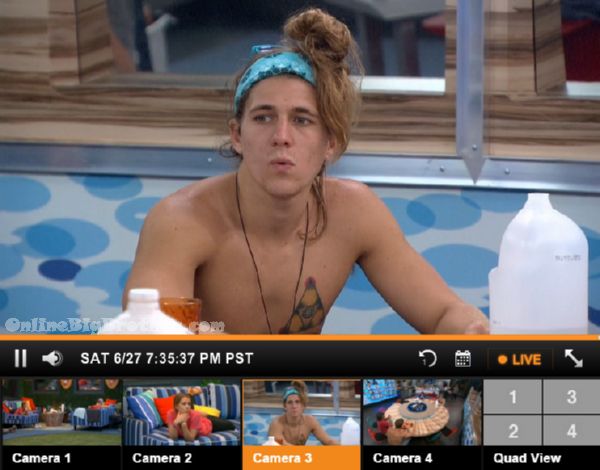 7:35pm Jace's hair what do you think?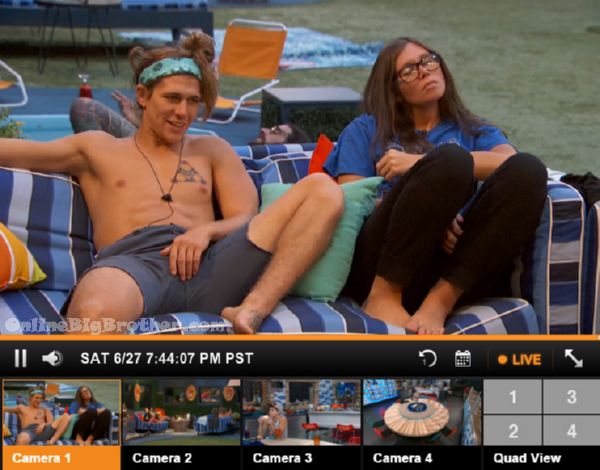 7:43pm Backyard Shelli, Vanessa, JAckie Audrey, Jace (Chit chat)
Jace – Dasani Is barely filtered tap water it's piss water I hate that water, Dasani
Jace – I taste water I like spring water it has a higher mineral content.
Jace tells them about his arcade game collection. Says he had a eBay company when he was a kid selling things like "Jordan's", videos games and teh such.
He has a PAC MAN arcade in the original 80's cabinet it's worth 3g's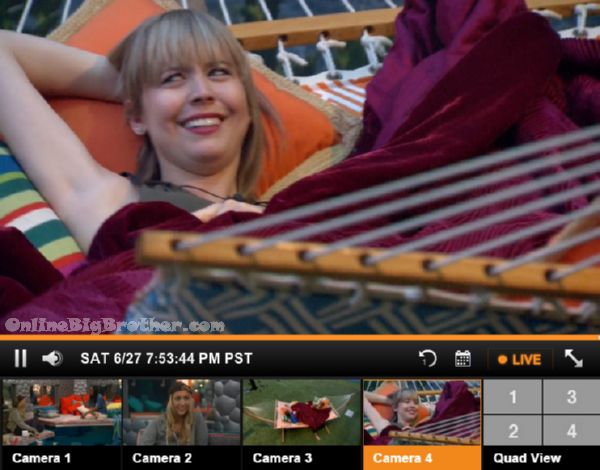 7:53pm Hammock Meg and Audrey
Audrey says Shelli and Jackie were up in the sky bridge pretending to play chess. She says Jackie has really been working it today.
Audrey says Jeff, JAmes and Jason completely underestimate her they all think she's not playing the game.
Meg – What do they think playing is
Audrey – I was like you guys have no f***g clue.. it doesn't make sense to me because you've been involved.
Meg says she had a good conversation with Johnny mac, talked general game. "He's just laying low"
Audrey – almost laying too low.. He's doing a good job unlike Vanessa a lot of the guys feels good abou thim
Audrey – Next week will be a whole different game Vanessa will come out of the woodwork.. Adds Jackie and Becky are going to turn it up.
Meg – I'm ready for next week I'm ready for HOH
Audrey wonders at what point Jeff and Jackie will flip. Meg says Jury.
Audrey wants people the two of them can beat in the final 5. Audrey doesn't think James is going to be a competition threat, the first HOH he lucked out on. They are worried about taking Clay and Sheli to final 5.
Audrey says once Da is out of the picture Jason will be with them. They agree Jason is loyal so the blood for DA's eviction needs to be on someone else's hands.
Audrey says it's hard for them to plan ahead and strategize before they find out about the BBtakeover twist.
Audrey wants them to plan out their final 5, She wants jason.
Meg agrees.
Audrey wouldn't be that threaten if it was James.
Meg thinks if James makes it near the end he will win.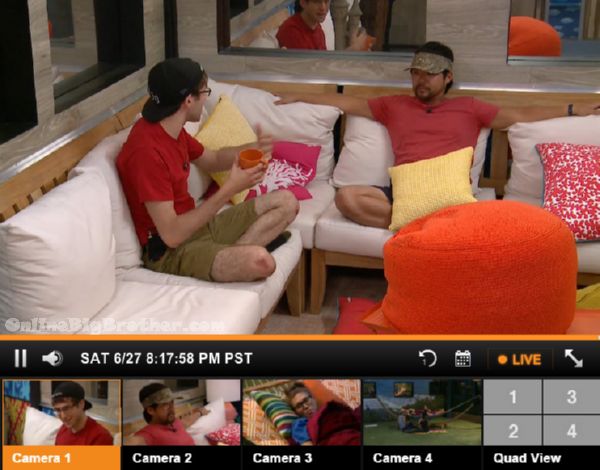 8:15pm Cabana Room Steve and James
James points out he gets to vote, Asks him who he is going to vote for.
Steve says it depends on who the nominees are asks him who the replacement is
James doesn't know, says he wants Jackie to stay asks Steve what he thinks of her
Steve likes her asks if the plan has changed.
James says the plan hasn't changed. (Put Jace up)
James says this week will be a easy week "Its smooth sailing"
James appreciates Steve keeping the plan a secret.
Steve knows James was suspicious that he told Jace but he didn't, Adds that Jace is still really nervous.
James blames it on the paranoia in the house.
James says if Steve wins HOH, to come talk to him. If he has a plan or needs James for strategy to feel free to come to him.
Steve doesn't know who he would nominate because there is so much that can happen between now and Nominations.
They start chit chat about jobs back home.
James says he was a logistic specialist at office depot, "I was a sales associate"
Steve never heard of Office Depot
After James leaves.. Steve says to himself that James is so nervous adds that he wants to save JAce.
Live Feed subscription gives you CBS All Access thousands of archived shows. Live Shows like Big Brother, all the Big Brother Seasons, and 24/7 coverage of what is happening inside the Big Brother House. Plus there's flashback that lets you go back to any second of the feeds and rewatch what happened. Simon and Dawg will index the season just watch the parts worth watching.
All this for $5.99 a month try it out 1 week free. Support our efforts and get your feeds via a link on this site. Live feed subscritpion Sign up