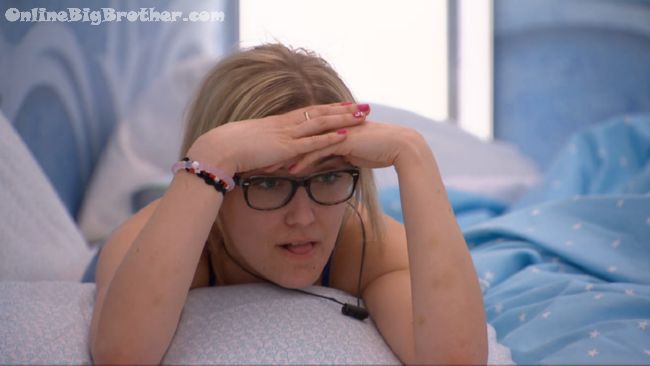 12:31am Zach and Ashleigh
THey talk about next weeks noms. AShleigh says she'll put up Sindy and Brittnee. Zach really wants Sindy out of the game warns she's going to make a big move, "I guarantee she's going to win the HOH, this house will be in complete scramble mode"
Ashleigh – that will be really scary"
Zach – I'm thinking more and more about keeping Sarah.. she's so bad at competitions
Zach brings up last year where Jon had no strong competitors and was able to steamroll through the house
Ashleigh warns about Sarah's social game.
Zach says the longer Kev/Pili and Bruno/Bobby stay in the game the better, they are going to fight each other.
Zach wants them to target Willow, Sindy, Sarah and Brittnee.
Zach – if we get rid of Bobby/Bruno .. we're the targets.
AShleigh – I could never personally take Bobby and Bruno out
Zach – maybe 7 or 6
ASh – yes.. but before hand.
Zach doesn't think Brittnee will target Bobby anymore cause they are so close. Zach also thinks Willow is going to flip flop the entire game.
Neither of them think Sindy will put them up. They think Sindy and Bobby are locked up in the vault conspiring against Kevin.
AShleigh thinks Brittnee is going to put her up just like she's going to put Brittnee up "It's A mutual undercover thing.. I just don't know who goes up with me"
AShleigh doesn't think the chop chop will turn on them until final 8 "They chop 4 thousand times a day"
Zach says they should keep Bruno to final 7 that way it's them and Bruno
Zach – Kevin is taking JP… I know that for a fact
Zach – I would keep Bruno as long as I can he's so loyal.. nd i'll head to head with him in a competitions.. I can beat him c'mon.
Zach says Bobby is "So Dumb.. he's so Dumb"
Zach thinks he can beat both Bobby and Bruno in any mental competition, "Both those guys are loyal puppies.. we'll use those guys to get us to 8"
Zach smirks says he dropped a seed with Bruno about Willow. AShleigh says Bruno doesn't trust Willow anymore
Ashleigh – you can tell them shit doesn't stink and they believe it
Zach is going to aim Bobby/Bruno towards the girls and leave Kevin alone.
Zach – Sarah's going to be itching in 2-3 weeks So i have to get her out before that.. If I win HOH in 2-3 weeks i'm sending Willow out (Didn't you just say Sarah is coming after you in 2-3 weeks… LOL)
Ahsleigh questions why BOB/BRU have switched from kevin to Brittnee/Sarah. Zach says he's been feeding Bru/Bob sh1t all week.
Ashleigh calls him a master manipulator.
Zach – you build trust with them first then you try to manipulate them.. if they don't trust you first they think you are a rat.
Zach – I have to get inside Sindy's head.. going to have to flirt with her tomorrow..
AShleigh is certain Bobby will target Brittnee or Sarah she'll get in his head. Zach thinks Bruno will go after Sarah..
Zach – Godfrey hasn't done any campaigning.. does he think people will keep him
AShleigh says how she misses Bobby being gone says he's the only person she can be an a$$hole to and not worry about him, "And he's sweet"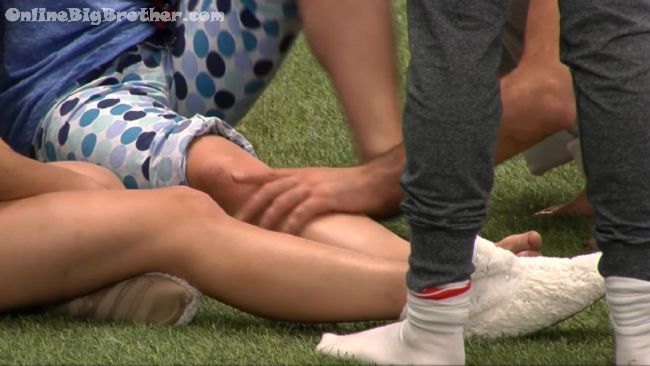 1:00am Willow and Pilar playing god ball crash into each other and Willow hurt her legs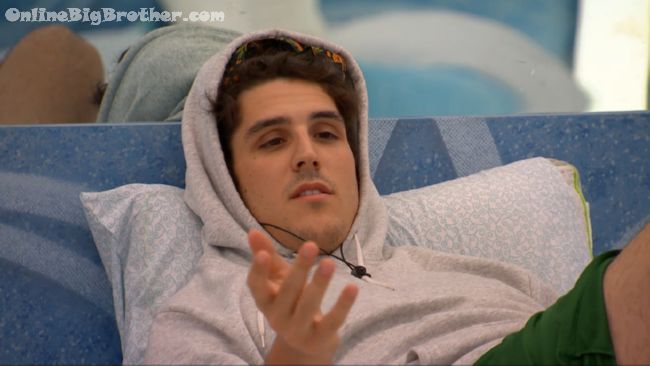 1:05am Jordan and Zach
Zach saying he controls Bruno and Bobby because of his manipulation special abilities.
Jordan tells him things change super fast in the house.
Jordan says he's talked to Brittnee and she's saying Sindy and A pawn will go up if she wins HOH.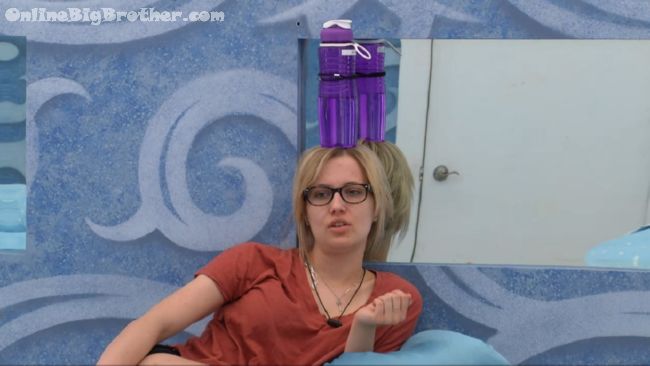 1:24am bedroom The Diapers
Talking game in the bedroom.. After Godfrey leaves they decide Willow will be the house pawn.
Pilar suggests they get rid of Bobby.
Zach and Ashleigh tell them they have Bobby wrapped around their fingers. Zach says they'll get bobby to go after Sindy/Sarah
Ashleigh – it's so easy to get inside his head it's sick
Zach – he's so wrapped
Ash – he's wrapped
Zach tells them once Sindy and Bobby leave they will dominate all the Endurance and physical competitions.
Zach says if one of them will take a "stab" at Bobby/Bruno first he'll swoop in and take out the garbage.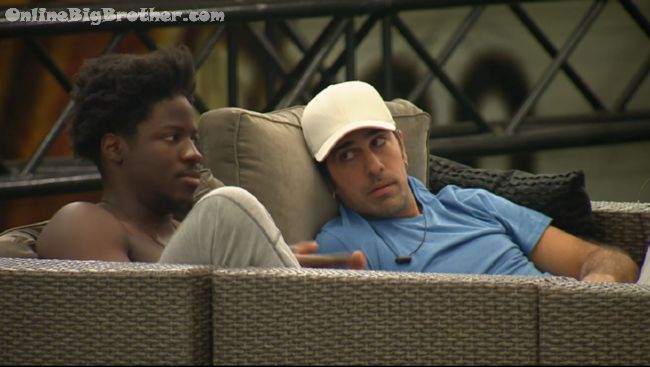 1:37am Bruno and Godfrey
Bruno – I think we can make a move man.. if we get Jordan out this week.
Bruno – Nobody has the f***g nuts to make a move.. if people were legit..
bruno – JP is a WAY bigger threat.. Zach, JP and Ashleigh are in together.. AShleigh has Pilar.. tight tight tight..
They name out the 5 members in the Diaper alliance saying that group has to be broken up.
Zach joins them for a moment tells them he's going to watch his shomi tomorrow.
Godfrey mentions how Willow is so in love with Zach right now that is why he hasn't gone to her for votes yet.
Bruno – Maybe you could get through to her.. what's the worst that can happen.
Bruno calls Willow a player he might be able to get somewhere with her.
Godfrey tells him Sarah is down to keep him but she's waiting for him.
Bruno laughs 'Why didn't you tell me"
Bruno says Sarah is really close to Jordan she's seen them talking late at night 2:30, "they came out of the pantry.. They seemed so shook up when they saw me"
Bruno is really worried about Sarah calls her poison if he goes up to her and mentions voting Jordan out she could take that to Zach and Jordan and blow his game up. They both agree Zach, Jordan and Sarah have been whispering around all week.
Bruno – fight when you're here man.. they've already brought someone back nobody is coming back
Godfrey – Tomorrow i'll bring some heat man.
Bruno – Zach, AShleigh, JP and Willow their going to trip up on their own feet..
Adds that eventually they will catch each other in a lie and start targeting each other.

2:18am Zach, Sarah and Jordan
Saying that Bobby and Sindy went into the vault to do a two person task, "we all picked / they volunteered"
2:48am Zach and Asleigh studying in the HOH bed. Everyone else is sleeping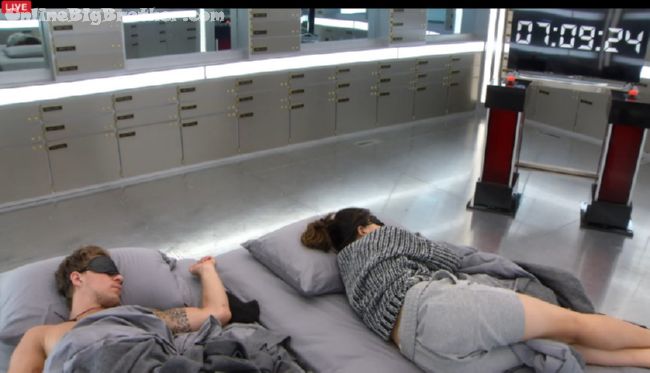 8:45am – 9:50am A camera has been on the Vault the entire night where Bobby and Cindy had to sleep with the lights on. When the count down reaches 1 hour 19 minutes the feeds are blocked and switched to a different camera view.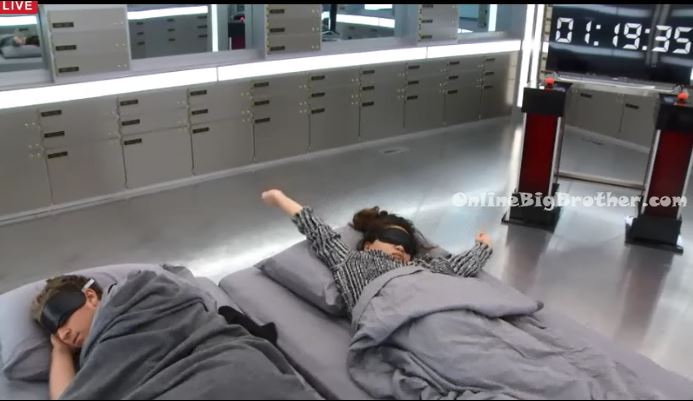 9am Big Brother starts waking up the house guests. Brittnee says I can't tell if he is trying to throw me off or what. He told me that he told Cindy as soon as she came in and she failed. Sarah says that JP said he was going to go up and apologize to people. It was Zach's idea to tell you that. Brittnee asks are they going to try and work with her now? Sarah says no. Willow walks by and Sarah asks her where she's going? Willow says she's going to the store. Sarah comments to Brittnee that Willow can't pick and choose when to talk to me. Brittnee says I will tell you what I am not letting her win this game. It's not happening.
Brittnee says honestly I can only see good from Cindy and Bobby being in there. Sarah says yeah, exactly.

9:50am Big Brother blocks the feeds.
11:10am Still blocked..
ALLIANCES IN THE HOUSE
There are always a lot of Alliance but we've tried to make sense of it all.. Read our alliance help guide
[polldaddy poll=8810064]