POV Holder:
Zach
Next POV
April 24
POV Used
No
POV Ceremony
April 19
HOH Winner
Zach
Next HOH
April 22nd
Nominations:
Godfrey and Jordan
Have Nots
Godfrey, Sarah, Jordan, Bruno
POV Players
Zach, Jordan, Godfrey, Sarah, Ashleigh, Pilar
If you are outside Canada and want to watch the FREE Big Brother Canada Live feeds sign up for a VPN service here https://www.hidemyass.com/vpn/r16399/. It's safe to use, easy to set up, and cheap. Need to know more check out this post explaining how to set it up.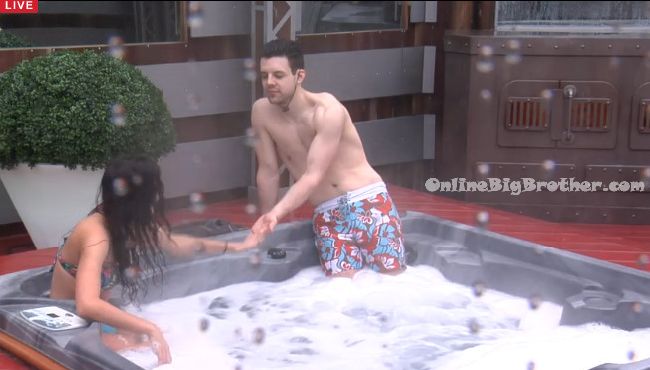 Out in the hot tub – Pilar and Kevin recite information they've learned about each other. Kevin recites everything Pilar has told him about her and her family. Pilar says you killed that story! I'm very proud! That's my life! Pilar and Kevin head inside and talk to Willow and Sarah by the vault. Pilar yells to Bobby and Cindy We love you guys! Sarah says I don't think they're in there. Kevin says something is up! Sarah says before we got locked out we could hear them in there, they couldn't reply and now we can't hear anything. Just then Sarah hears them giggle. Sarah says nothing is up! Pilar says JP is anxiously waiting for you! Cindy or Bobby knock on the vault door! Kevin "You can't do that!" Big Brother says "STOP THAT" Kevin says I can't believe they knocked. I wonder if they got bum vetos? Willow puts her head up to the door and asks did you guys get your bum vetos?!


Cindy or Bobby knock on the vault door! Kevin "You can't do that!" Big Brother says "STOP THAT" @bigbspoilers #BBCAN3 pic.twitter.com/mgcqnLYMpI

— Dawg (@DawgsBigBrother) April 20, 2015
Meanwhile in the backyard – Bruno, Godfrey, Brittnee, Zach and Ashleigh are hanging out talking about random things.

4:55pm – 5:10pm Up in the HOH room – Kevin says that he really likes Bruno. He says that Bruno and Bobby are like this (he crosses his fingers). Kevin and Willow talk about being paranoid in the house. Kevin says that he keeps telling himself don't be Graig. Willow asks has God talked to you? Kevin says he pitched to me pre-veto but not post. Willow says he hasn't talked to me at all! Is that weird? Willow says I might have a bum veto, God! Kevin says God might turn it up in the next couple days.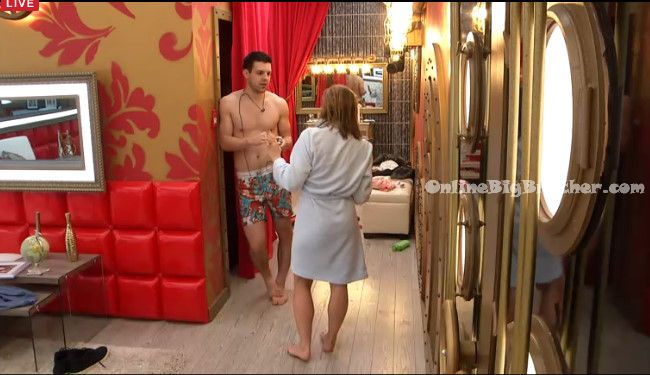 5:30pm – 6pm Big Brother blocks the feeds. When the feeds return – The house guests are in the backyard talking about conspiracy theories. Up in the HOH room – Kevin and Pilar are making out. He says we kind of make out a lot eh!? Pilar says Ok, we'll stop! She leaves the HOH room. Pilar grabs the nutella jar and starts working on it as Ashleigh paints her nails. Pilar says that it would be the worst if Kevin won HOH and I was a havenot. "I feel like I'm going to win HOH" Ash says if B, Cindy or Sarah don't win HOH one of them are going to be going up. That's what Bobby and Bruno said. Pilar asks they're not after Kevin any more? Ash says no, that's what they're saying. Pilar says interesting. Pilar says I would vote out Sarah. Ash says I just don't know why B has something against … I just feel super sketched out about her. Brittnee walks in and the conversation ends. When Britt leaves Ash says I just feel she has it out for me. I don't know why.
6:20pm Up in the bathroom –
Pili tries to help shave Kevin's face. Kevin "I'm letting Pili hold a razor blade by my throat… I'm kind of scared!" Pilar says oh cool its working! Pili tells Kevin .. Apparently .. Bruno isn't after you any more. Kevin laughs and says that he loves whenever she wants to talk game she slides over and says "Apparently…." Pilar talks about how Ash told her Bruno is after him (Kevin) any more. Kevin says he hopes so but will have to see if its true or not. Kevin jokes with her more about always saying apparently. Pilar says I'm not going to start my sentences like that any more so you don't know what I'm talking about.. The kiss some more. Pilar heads into the bedroom and talks to Britt. Brittnee thinks this week coming up will be Canada's HOH. Kevin joins them. Brittnee says if Canada was HOH it would really give insight into what people are thinking about / the direction of the show. Kevin thinks Bobby and Cindy's decision might be where they get $1000 each but everyone goes on slop for a week. Brittnee says that would be a bad thing to do at this point in the game… half way through the game. Kevin says everyone is speculating on what it might be.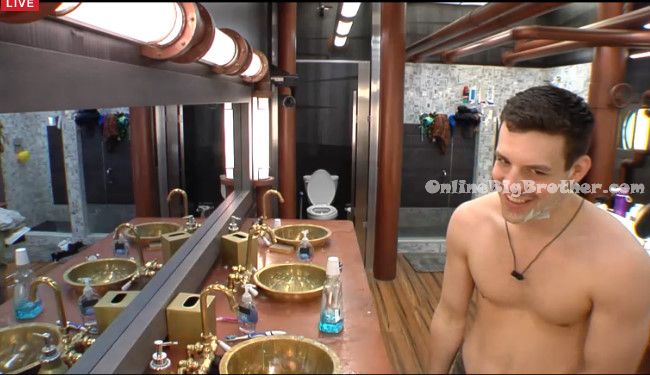 Sarah and Willow are in the hot tub room. Sarah says she talked to Zach about who everyone was voting out. She says that all he would say is that's the plan and JP's a good guy. Sarah says well Godfrey is a good guy too. We're all good people. Willow says Godfrey going is what she's heard too. She says that she's offended that Godfrey still hasn't come to talk to her. Willow says that they might get to be able to put people on the block. They might get a special power?! They might be watching us right now.
6:45pm Bruno and Godrey talk about Jordan. Bruno says this is Zach's HOH not his. I hate cockiness. Godfrey says he's talking about not being on slop next week. You might not even be in the house next week buddy!! I f**king hate cockiness!!
6:55pm – 7:20pm In the bedroom – Brittnee and Jordan talk game. Jordan tells Britt about not being able to trust Cindy. Brittnee wonders if it will be Cindy go next week. Jordan says it depends on who wins HOH. Brittnee says this is just such a slow game. This is day 33 and there are still 11 people in here. Brittnee brings up how Godfrey campaigned to the whole house. Jordan asks when? Without me? Brittnee says yeah. Last night .. or before the veto. He was just talking sh*t. No one was listening to him. Britt asks who's your target next week? Jordan says I would want to stick to the original plan this week. Put up a pawn and the target goes. Jordan talks about how he and Cindy make out every night. Britt says she had no idea. Jordan asks about Bobby. Britt says she likes him but he only holds her hand if she does it first. He's weird about talking about us too. Jordan asks if she likes him? Britt says have you seen the man bones on that guy! He's kind of like Emmett. But our personalities are different. Jordan says what you don't like cinna-slops!! Britt says shut up! Britt tells Jordan how Godfrey said he has 3 votes. Jordan asks who? Britt says he didn't say. Jordan says he kind of hopes the vote isn't unanimous because then it means someone is trying to start trouble.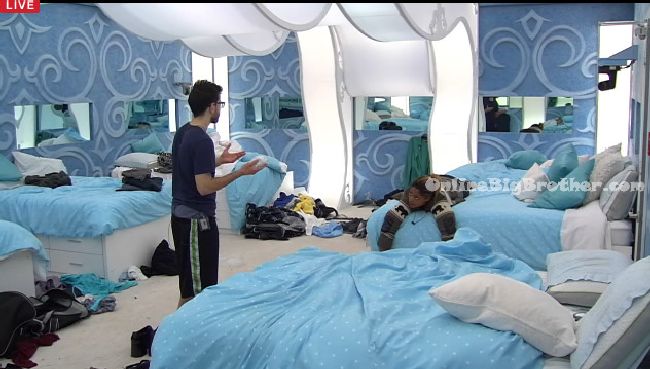 7pm – 7:20pm The live feeds show the vault – Where Bobby and Cindy have a basket with Twistos snacks. The countdown clock has 16 hours 17 minutes left on it.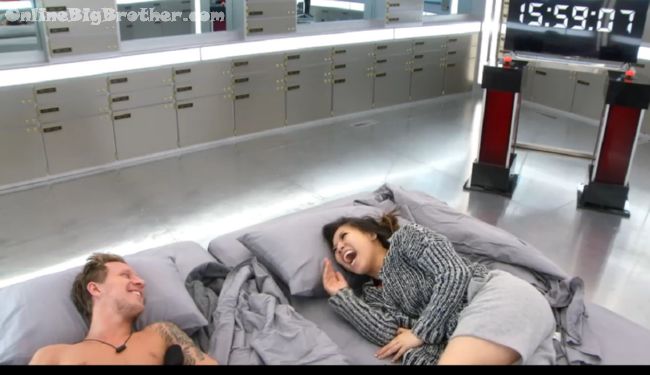 16 hours left… Hurray!
(Simon here.. there may be some overlap with what I added below. I didn't expect the feeds to be down for so long)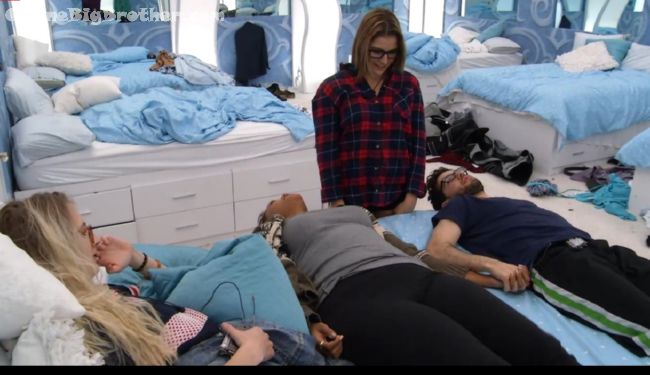 7:24pm Bedroom Sarah, brittnee, Willow and Jordan
Brittnee is showing them how Bobby holds her hand in the bed says he's not very aggressive.
Jordan leaves from the balcony tells the people in the living room that Brittnee was telling them about It's happening with Bobby. Brittnee storms out jokingly starts yelling tells Jordan he's the worst yells out that Bobby and her are not happening. (While this happens Bobby and Sindy are at the vault door listening.. See image)

The girls talk about taking Bobby's virginity. Brittnee wouldn't want to lose her virginity on a TV show.
Willow – Can you lose your virginity twice.
Brittnee says she misses Bobby usual they see him 10 times a day.. Say they always make fun of AShleigh together.
Willow – I love when you make fun of Ashleigh.
Sarah says there's three full on Showmances,
Willow – Brittnee will be soon give it 7 more days
Brittnee – Bobby and I are polar opposites (Feeds go dead… when they come back cams are showing earlier footage technical troubles I assume)
9:13pm Feeds still down… No idea when or if they will come back. Afterdark is not on for the next 2 days so there's reason to believe feeds will be off for some unknown reason.
9:55pm Feeds still down
11:00pm NO FEEDS for YOU
11:30pm Feeds are back
ALLIANCES IN THE HOUSE
There are always a lot of Alliance but we've tried to make sense of it all.. Read our alliance help guide
[polldaddy poll=8810064]