POV Holder:
Elissa
Next POV
Aug 24th
POV Used
YES
POV Ceremony
Aug 26th
HOH Winner:
Aaryn
Next HOH:
Aug 22nd
Original Nominations:
Elissa and Helen
Current Nominations:
Helen and Spencer
Last Evicted Houseguest
David, Nick, Jeremy, Kaitlin, Howard, Candice, JUDD, Jessie
Have Nots (head cheese and habaneros)
GM, Amanda, Helen and Elissa
Big Brother 15 N*de flashback times here (Added a new one of Helen)
9:44pm Cockpit Andy and Helen
Helen goes over her conversation with McCrae. She says McCrae has to play his own game people back home are going to look at him as a follower this season.
Helen says she wants to continue with their final 3 deal she thinks it's the smart move for them.
Andy: "I do to"
Helen talks about Aaryn finally seeing that Amanda is a threat she came to HElen about the idea to back door Amanda.
Andy says he doesn't know where Aaryn's head is at. He thinks she would put up Amanda but he doesn't know. Helen: "I will always have your back if you have mine.. you know.. "
Helen: "If you lose me I don't know.. I think elissa will freak out at every one that didn't keep me.. "
Andy: "YA"
Helen: "If I left just makes sure ELissa doesn't go rogue"
Andy: "I don't think you are going to , you have me, Elissa for sure and you say you have Gm thats all you need.. done
Helen: "I just want to get McCrae"
Helen: 'How is spencer doing"
A: 'OK we just shoot the shit a lot"
H:" Is he nervous"
A: "He seems confident" Andy has been buttering Spencer up.
Andy says Elissa and Helen have been good to him but so has Amanda and McCrae
9:54pm HOH Andy and Aaryn
He's relaying his conversation with Helen, he says it's the same stuff she's telling everyone else.
Andy: "It's just insane to me that she knows nothing that is going on.. like nothing.. "
Andy: "I mean .. I love her to death.. "
Aaryn: "We have to do what we have to do.. "
Aaryn: "Have you noticed that Spencer can go from nice to being a super asshole"
Andy: "Yes 100% spencer worries me.. He's very high on my radar.. I'm on high alert with him.. I don't think he's gunning after each of us which is good. .. but he freaks me out a little bit"
Aaryn: "He told Amanda that he's coming after me.. "
Andy: "I hope you are in agreeance that Elissa and Spencer have to go next" Andy says Spencer is a little more controlled than Elissa.
Aaryn says they just have to wait until after the HOH competition
10:14pm Cockpit Helen and Elissa
Helen says she didn't noticed Amanda the first week in the house. On day 8 Amanda came up to her and told her Elissa was making her a target.
Helen: "You gotta win HOH guns blazing"
Helen says if Elissa wins the HOH her best bet is to put Amanda and McCrae up if she wins the POV make a deal with GM and Aaryn. Elissa says she wants to get Spencer out.
They start trying to figure out if they can drive a wedge between Amanda and McCrae. Elissa suggests telling to McCrae about how Amanda always talks about her boyfriend back home. Helen says she's never heard Amanda say that so coming from her it would just be like she's making sh!t up.
Helen says they have to think of ways to drive Amanda crazy. She suggests they start hanging out with McCrae a lot. Elissa: "she'll reign him in" Helen: 'Good it'll piss him off"
Helen: "I can't believe we haven't gotten a Pandora's box yet"
ELissa: "I gotta win next week"
Helen: "Hopefully they give you a power"
Elissa: "I have to win .. Big Brother give me the wall" (the wall is a HOH endurance competition)
Elissa: "I'm deathly allergic to the slop"
10:46pm Kitchen Amanda and Elissa
They are both preparing food.. Silent. Andy comes in and Amanda starts talking to him.
Amanda leaves. Andy asks Elissa how she is doing.
Elissa says she's alright she starts complaining about her teeth saying the slop and protein is causing a lot of tarter to build up.
Elissa: "I hate it when your teeth don't feel like you've just came back from the dentist"
Elissa: "Do you have Sonic care"
Andy: 'No.. I use a regular toothbrush"
Elissa: "You got to get sonic care"
Andy: "I'll take you up on that offer.. I'll look into it" Andy goes back out side
11:00pm They get a bit of Alcohol Andy and Aaryn have a MUG each.
They convince Andy to chug the wine and he does. GM: "Go Andy your the man"
Andy: "Chug that wine chug that wine"
You can re-watch ever second on the feeds using the flashback feature.. It's just like a DVR and is super easy to use. click this link for a Free Trial —> Subscribe to the Big Brother Live Feeds
11:20pm Elissa and Helen have nots
Elissa saying that Amanda is trying to seclude her, "This must be so boring for Big Brother… those girls are already not fun"
Elissa: "At least we have funny conversations"
Helen says they will know if Andy is a traitor or not on thursday. If he's not she needs to work with Andy and they know GM and Aaryn don't have anybody else so they can get them to.
Elissa: "Amanda is giving me such an attitude. I think it's funny.. I hope she says something"
Helen: "I hope I get McCrae vote it would be amazing.. he's so scared.. it's so silly"
Helen cannot understand why McCrae would turn down her deal she said to him she would never vote to evict him.
Helen: "Starting tomorrow i'm going to have to hang out with Aaryn and GM a lot"
Elissa: "it's a nightmare hanging out with them.. they're boring.. they don't really talk about anything fun"
Helen: You just have to make a lot of small talk.. this game is all about managing the boredom and small talk"
Elissa says if she was Helen she would try to make Amanda and McCrae mad at each other.
Helen: "It's too early for that"
Elissa wants to make up a story but Helen does not want to lie to them. She's told McCrae so much already and it doesn't get him made. Helen says Amanda is the one that gets mad.
Elissa says she is fired up to win the HOH, "If we don't win we go home".
Helen: 'Ya I know"
They decide to go find GM and Aaryn to hang out. Elsisa says it is going to be social torture. (they never make it to hang out with anybody.. at 12:04am they are both sleeping)
Elissa says her hip is sore she slept on it wrong and it's dislocated. says she has to watch it or it will ruin her career.
H:"Which Career"
E: "Yoga"
H:"Oh"
11:35pm HOH Amanda and Aaryn
Amanda: "You know how bad I want to run up to her and rip her collagen inflated lips off"
Aaryn: "What was she laughing about"
Amanda: "Just that i'm pissed.. I want to put habanero in her slop balls"
Aaryn: 'I want to put habanero on her tampons"
Amanda says Elissa was doing her sadistic laugh, "I hate Helen and Elissa".
Amanda sees Helen on the HOH Screen "Ohh there's Helen you are going home in two days.. Ohh there's Elissa.. you're going home in a week and two days"
Amanda: "She dresses like sh!t .. Elissa.. what the f*** is she wearing.. "
Aaryn: "Do you think he's a husband or a sugar daddy"
Amanda: "Sugar Daddy.. "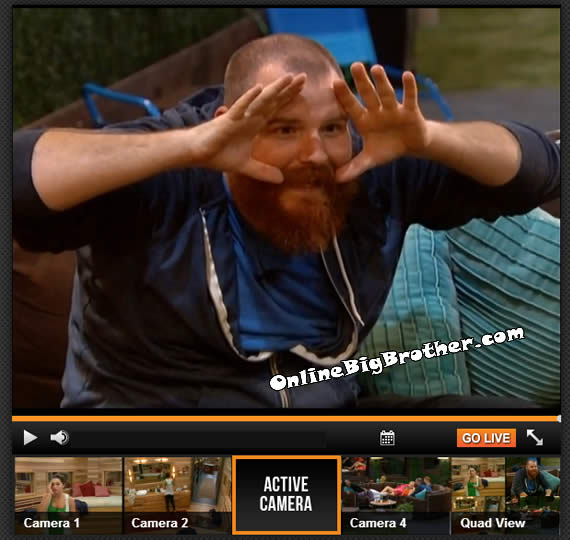 11:47 backyard Andy, Spencer, Amanda, Aaryn and McCrae
Talking about Their OTEV Riddles
Spencer riddle on Candice "A rat, a tattle tale and a Snitch are all things we call this b!tch"
Andy for Jessie "Even though you had no power you f!ngered yourself in the HOH shower"
They ask Andy if that was real. Adny says yes. Jessie told him she went into the corner of the HOH shower and "worked on out"
Spencer:' She said it took 30seconds"
Spencer jokes that he was looking (See the image)
Aaryn asks them to do her OTEV riddle.
Amanda: "she liked to say candice's ass was fat it's because she sat on this cowgirls big old hat"
Spencer: "Your OTEV is terrible"
Andy: "This blonde has got one of the prettiest faces even though she's a overt racist"
everyone howls
(the images below shows Amanda impersonating Spencer watching Jessie in the shower.. Spencer show them how he was doing it flapping his tongue around)

12:25AM Backyard Everyone but Elissa, Aaryn and Helen
They are talking about Nick leaving and the events went down. Spencer says he wanted Jeremy to go home that week but he won the Veto. MC felt the same. He was a bit pissed at Andy for talking Elissa into putting Nick up.
GM tells them if Nick would have stayed he would have won the HOH from Helen.
Amanda: 'He told you how many seconds .. he must be psychic then"
GM: "He knew everything… we made diagrams.. he would have won that"
Spencer says he would love to see Howard's and Candice's joint DR sessions. Amanda complains that her and McCrae didn't even get a joint DR and they had a wedding.
Amanda says she is pretty sure they didn't air the wedding they haven't really talked about it to her.
12:36AM Amanda tells them that Howard was hitting on her a little bit. Amanda says that he was rubbing her leg when she was sitting in the HOH room. Amanda: "He always had a weird thing for me even though he wanted to get me out of the house".
[polldaddy poll=7329443]