POV Holder:
Elissa
Next POV
Aug 24th
POV Used
Yes
POV Ceremony
Aug 19th
HOH Winner:
Aaryn
Next HOH:
Aug 22nd
Original Nominations:
Elissa and Helen
Current Nominations:
Helen and Spencer
Last Evicted Houseguest
David, Nick, Jeremy, Kaitlin, Howard, Candice, JUDD, Jessie
Have Nots (head cheese and habaneros)
GM, Amanda, Helen and Elissa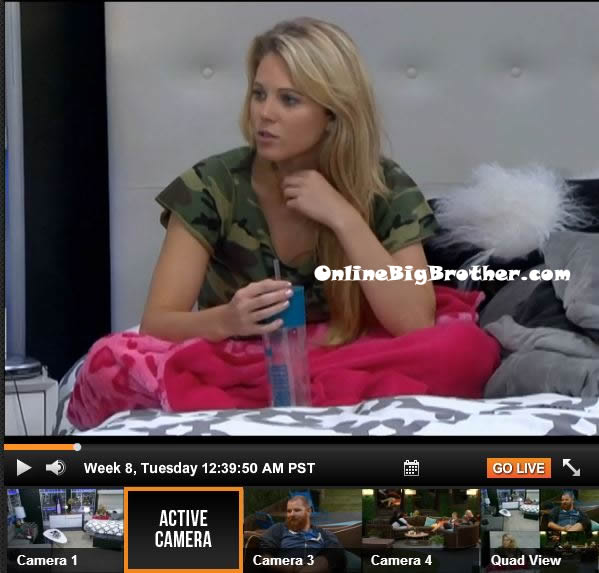 12:40am Up in the HOH room – McCrae tells Aaryn that she doesn't need to worry about Elissa coming after her next week if she wins HOH. She'll be coming after me and Amanda. Aaryn says she doesn't think so, she is coming after me, Ginamarie and Spencer because she thinks we're scum. McCrae says she thinks we're all scum. Aaryn says well that's true. McCrae says overall she thinks we're all scum, she will want to go after us because she believes we were the reason she went up on the block. I believe Helen is going to tell Elissa to make a power move is she wins HOH to put up me and Amanda. Aaryn says but one of you would come down off the block. McCrae says not necessarily like who wins veto that would take one of us down. Aaryn says me, Ginamaire. McCrae says but then she could put up Ginamarie if you took one of us down. Aaryn says I didn't join the 3AM Alliance (Aaryn, Andy, Amanda, McCrae) just to not save one of you if I could because if I didn't and I was up next week none of you would save me. McCrae says yeah, I think we will all have to work hard next week just in case she wins HOH. I am so f**king solid on 3AM. I will tell anyone anything just because but I am loyal to this. Aaryn agrees you have to lie to people. The only thing that could f**k us over is if we couldn't get in Elissa's ear if she won HOH. Aaryn says if you and Amanda went up then me, Andy or Spencer would save one of you. Amanda joins them and wonders if they are having a private conversation. Aaryn and McCrae say no. Aaryn says I didn't know Helen called me a f**king bit*h! McCrae says that Helen knows that she has been played and has no idea what is going on around her. Aaryn says yeah I am trying to make Elissa believe that I have no idea what is going on. Aaryn says Elissa is going to be so pissed (when Helen is evicted). Aaryn wonders if I go up will you take me off the block. Ginamarie joins them. Amanda says it doesn't make sense if I take you down then McCrae would go up in your place. Aaryn says well if you are up I won't take you down, it goes both ways. McCrae and Amanda think they will go up if Elissa wins because they are the architects to Helen's demise. Aaryn doesn't think so because she thinks Elissa thinks we're scum. Andy and Spencer join them. McCrae says the only way to get around it is if Andy spins it.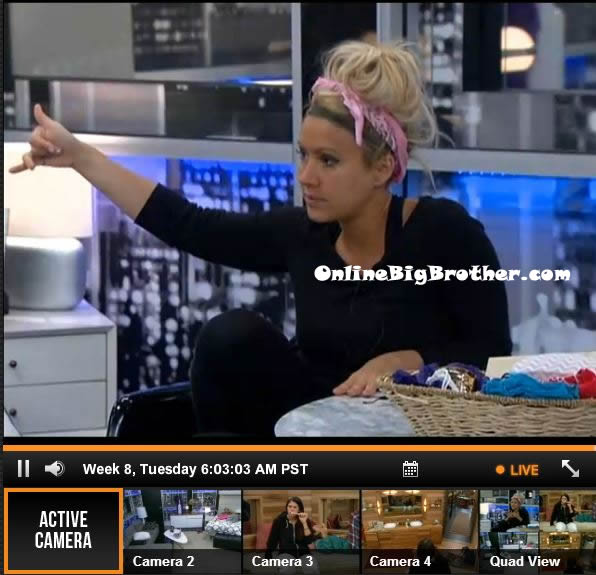 The conversation turns to talking about Ginamarie's farts. Andy takes a poll to see who has been woken up by Ginamarie's farts. Everyone but McCrae hold up their hand. Andy says hold up your hand if you are a coward a$$ pu$$y that is not willing to admit Ginamaire farts. McCrae holds up his hand.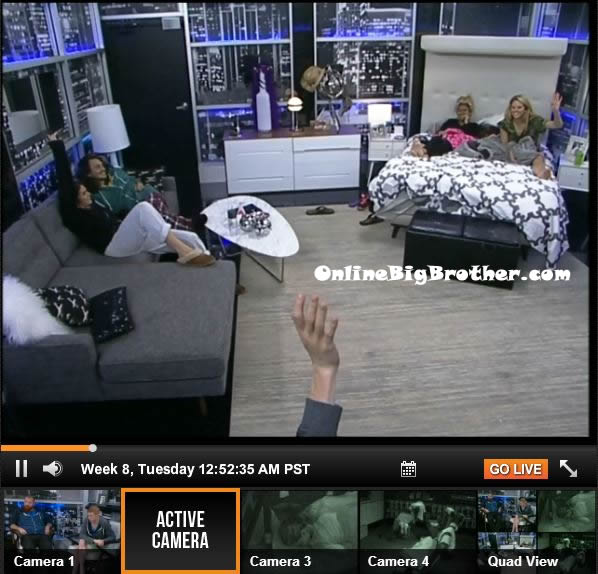 12:55am – 1:30am HOH room – They talk about Spencer's butterscotch pu$$y comment about Jessie. Aaryn asks him when he goes to jury will he please act on that and find out if she really does have a butterscotch pu$$y. Spencer says no because I am not going to jury. And besides I have something way better at home. Amanda talks about how she has been trying to avoid Helen and Elissa all day. Aaryn says that she almost pulled a Helen and almost told Helen she was going home. Andy says that an hour after he told everyone not to let Jessie know she was leaving, he saw Helen walking away and then Jessie told him that she knows everything. Andy says that Jessie formed a final two deal with him after he put her on the block. They all laugh. Andy talks about pretending to sleep in the HOH room whenever he would see Jessie coming to talk. Aaryn says that Andy did that to her too. Andy jokes about how it would feel to go home by a fruit cake like me. Aaryn says it'll be a run by fruiting. Amanda and McCrae head down to the backyard to smoke. In the HOH room – Aaryn talks about how she never saw how manipulative Helen was until now. Aaryn tells Andy we need to be careful of Amanda and McCrae. Aaryn says there is no way to win sitting next to Amanda and McCrae, they are way to manipulative. Aaryn says that Amanda is upset that we wouldn't use the veto on her if we had a choice. Aaryn tells Andy and Ginamarie she wants a final 3 deal with them.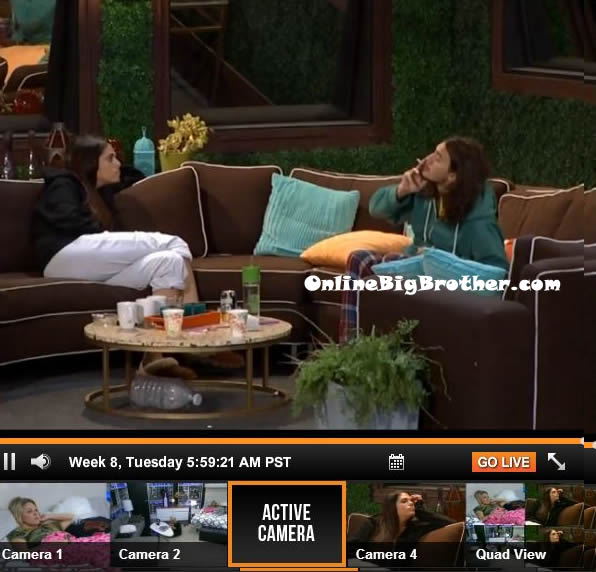 1:50am Out in the backyard – Andy, Ginamarie and Spencer are talking about Jessie. Ginamarie says Jessie was a horny toad. Andy says that bit*h wanted to get f**ked. McCrae says I bet Judd f**ked her. Andy asks in jury. McCrae says I'm sure she was over it two seconds after being there. Ginamaire says Candice just sat and watched while Jessie played with herself. She was another f**king crazy bit*h. Gina says and then Jessie was humping the bed while Howard was giving her a massage, it was the most disgusting thing I have ever seen.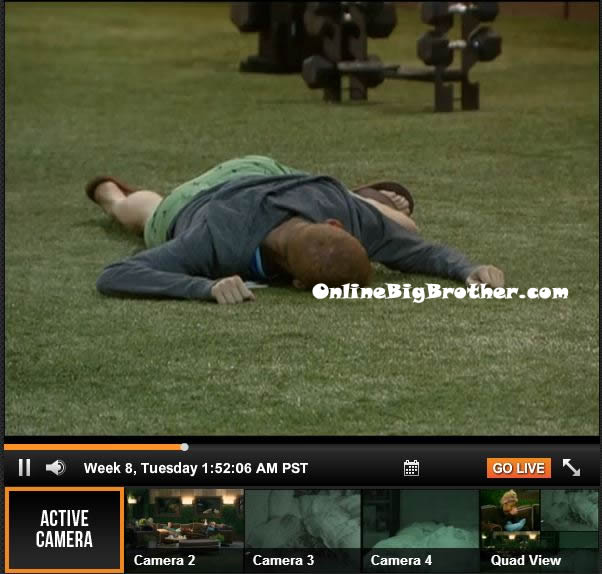 2am Up in the HOH room – Amanda talks to Aaryn about using the veto on her or McCrae are up on the block. If two of our alliance members are up on the block we need to save one of them. Amanda tells Aaryn to not doubt the alliance. We need to stop doubting each other. Andy joins them. Amanda complains about how McCrae isn't as affectionate with her right now and that she gets needy when she is on slop and not sleeping in the same bed. She says that McCrae is annoying her because all he wants to do is talk game. They talk about Elissa still sticking with Helen the sinking ship even though she knows she is going home. Amanda says I thought she would be smarter than that. Andy leaves and McCrae joins them. Aaryn says that Elissa thinks if you don't do everything for her you are bad. If you think about yourself she thinks you are bad. That's how she thinks. You can't go through life taking things from everybody and not giving back. Amanda and McCrae head to bed.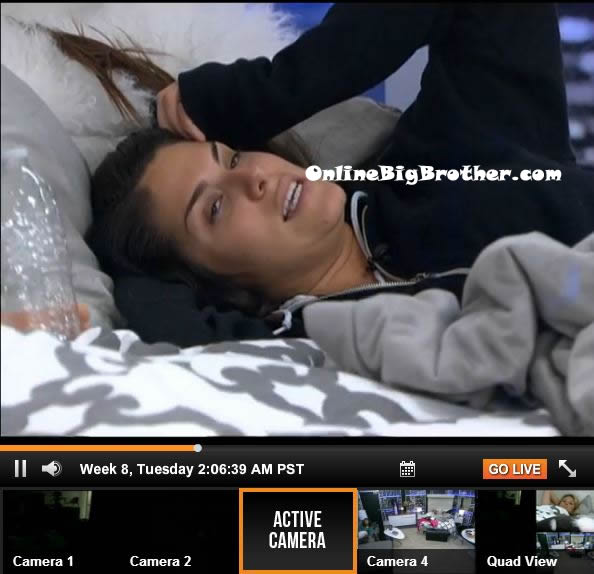 2:30am – 2:45amMcCrae and Amanda are in the lounge room talking. Amanda and McCrae talk about smoothing things over with Elissa so that she will work with them moving forward after Helen goes home. Amanda says that she is going to tell Elissa that Helen is going home and no matter what and that she is being honest with her and coming to her as soon as she knows. McCrae tells Amanda to tell Elissa that our target hasn't changed, now that Aaryn isn't in power we are going after her. Just tell her that. McCrae and Amanda make out for a bit and then head to bed.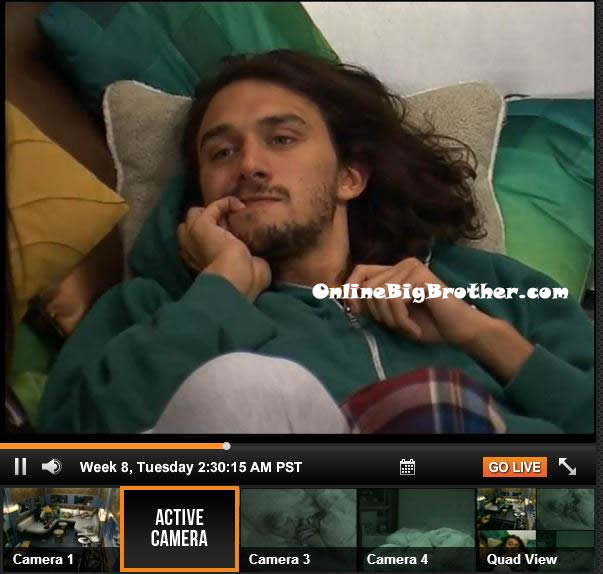 6:55am All the house guests are still sleeping..
10:10am All the house guests are still sleeping… no wake up call yet.
10:30am – 11:20am Big Brother wakes up the house guests. When the live feeds return – All the house guests are still sleeping except for Aaryn and Helen. Helen is getting ready for her morning run. Aaryn heads back to bed after changing her mic batteries. Elissa is now up and in the kitchen making coffee. Helen finishes her run and comes back inside the house. Elissa is cleaning the kitchen and Helen is doing laundry.
Use the Big Brother Live Feeds to FLASHBACK to SEE what they can't show you on TV:
[polldaddy poll=7329443]