First HOH
Dan
Second HOH
Ian
Third HOH
 ?
Final HOH
?
Last Evicted Houseguest
SHANE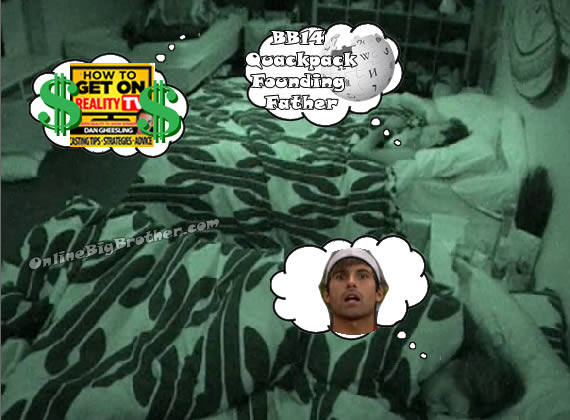 9:37AM Cam 1-4 Everyone Still sleeping.. Ian dreaming of winning money and thinking to himself how awesome of a Big Brother player he is. Ian is now all about being the founder of the quackpack and how he is happy with 50K now that the quackpack has made it to final 3. Ian is also greatly looking forward to going into Wikipedia and under Big Brother 14 entering in "Founder of the the Quack Pack.. Ian Terry.. So John Blaze..So John Blaze ..So John Blaze ".
Dan is plugging his web ventures much more now and talking about his website and email mailing lists. He plugs his new book pump it as well as his other self help books about, coaching and reality TV. Right now he's dreaming about writing a book about how to win Big Brother by taking a Memphis/Danielle type player and dragging them to the end.
Danielle dreaming about Shane proposing to her during the finale. (Dan was joking about this earlier.. she doesn't actually think this but she did play along with Dan's joke)
10:01AM Fish on the feeds.. must be their wake up call..
Final 3
There's been a few questions abut how the final 3 works.. this is what they have done in the past.
1) Final HOH is played.
2) Final HOH winner makes their decision of who to send to the jury
3) Jury cast their vote
4) Big BRother 14 winner is awarded
5) America's Player is awarded
6) Simon / Dawg take a week off
(Danielle really doesn't have very much time to "taint" the jury)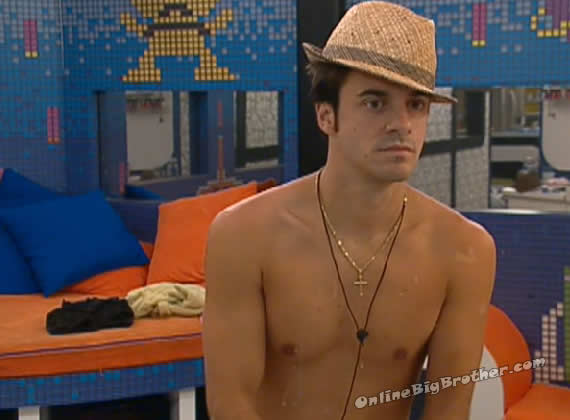 10:12AM
CAm 3-4 Dan being the only one up is getting ready for the day..
Cam 1-2 Ian sleeping.. Danielle is slowing getting out of bed.
Danielle walks by dan in the Kitchen on her way to the bathroom. Dan tells her how weak the morning wake up call was.
Dan singing as he prepares a drink "There's ants in our ice ohh ya"
If you Like this site please consider donating. Any amount is greatly appreciated, your donations go directly to paying the server and bandwidth fees needed to run this site. Donation Link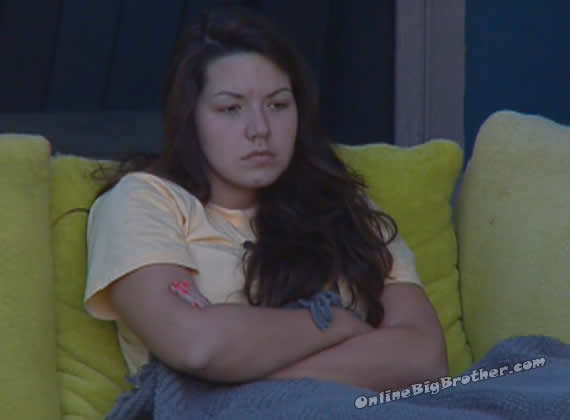 10:21AM Cam 3-4 dan and Danielle talking about university football songs.
Dan: "Monday morning 10 AM familys at work.. "
Dan starts doing Frank style shout-outs to people.. Saying his father is at trinity catholic private health care facility and he doesn't even go to church.
Cams switch to Ian sleeping..
Cam's back to Dan and Danielle. Danielle is talking about her job as a nurse she says she does medicine shots and wounds. She works 3 to 11pm and usually has to work 30 minutes overtime a day. dan jokes that Danielle hangs out in the Cafeteria and flirts with the Doctors. Danielle says sometimes she does most of the time.
Dan brings up Maggie from Season 6 and she was saying she gets annoyed when patient come in and they do not have insurance. Danielle thinks that is disgusting and wrong.
Dan asks if she's ever used the paddles.. he asks her if it is fun to use them. Danielle looks horrified says it's not fun at all Dan those people are DEAD!
Dan: "CLEAR and the whole body goes thud thud .. thud thud"
Danielle: "Dan it's not fun you are in the moment trying to save somebody.. think about their family.. you think it's fun telling a family someone is dead"
Dan: "I just think those paddles are the coolest things"
Danielle wants to change the subject.. Dan jokes says they are magic paddles like they use in Zelda to charge your health bar.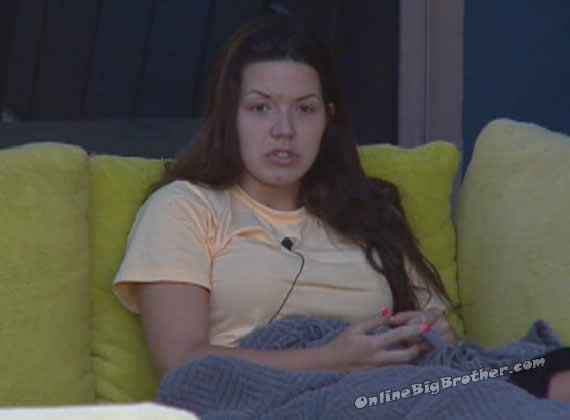 10:52AM Dan tells her that there is no way he will win this game it will either be Ian or Danielle. Danielle: "i will be over my dead body if that little sh!t wins.. you don't know my vengeance" Danielle tells him if he throws the final HOH competition she will not vote for him but if he really tries she will try her best to get Dan the votes.
Dan assures her he will not throw the Final HOH but incase he losses she needs to be ready for a jury speech.
Dan: "I still think if He wins there is a chance he will take you"
Danielle doesn't see that happening, if she leaves on Wednesday then at least she did better than she thought she would. Dan will not be happy if Danielle doesn't make it to final 2, his goal all along was to take her to the end. Danielle says if he can accomplish that then he deserves the name as greatest Big Brother Players.
Dan mentions that Ian has become very obnoxious lately, he tunes out Ian now. Danielle wishes she could.
11:03Am Cam 3-4
Danielle claims she wasn't being ugly with Ian last night and she doesn't want to make his time in the house miserable she's just done with him. Danielle goes on and on about how much she dislikes Ian.. (Flash Back if you want to hear it. 3 Day Free trial on the Big Brother 14 Live Feeds. They end on Wednesday)
11:21AM Danielle talking about the past boyfriends that have cheated on her and not once has she looked at the girls and thought something ugly about them. (I'm starting to think that all these ex-boyfriends that have cheated on Danielle didn't know she was their girlfriend.. Like if Shane slept with Kara during finale night I get the feeling that Danielle will say he cheated on her)
11:31AM Danielle: "YES live feeders I do have fake boobs" Danielle says that Shane will be pissed at her now because she never told them.
(I don't want to sound mean but unless Danielle wins the 500K Shane will be keep his distance from Danielle and be neck deep in hot girls/guys during the finale party and the weeks that follow)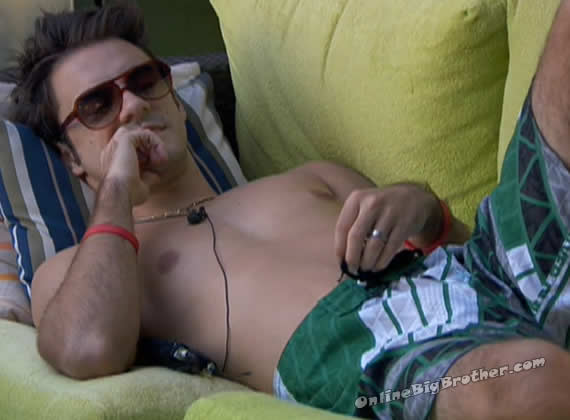 Danielle starts talking about how lame and annoying Ian is when all he talks about is pokemon cards. Dan tells her he plays a game called "magic the gathering" it's a lot like Pokemon. He likes it when Ian talks about Pokemon it's one of the things that "makes him cool". Danielle changes her tune says she doesn't care what Dan plays, "I'm not a judgmental person you should know that by now"
11:46AM Cam 3-4 backyard Dan and Danielle Danielle is joking that she will tweet out his phone number.