POV Holder:
Frankie
Next POV
Aug 16th
POV Used
?
POV Ceremony
Aug 18th
HOH Winner 1:
FRANKIE
HOH Winner 2:
Derrick
Battle of the Block Winner
Donny & Christine
Next HOH
Aug 21st
Original Nominations:
Derrick's Noms (Donny & Christine) Frankie's Noms (Caleb & Cody)
Final Nominations:
?
Have Nots
Christine & Victoria
POV Players
Cody, Caleb, Frankie, Victoria, Donny, Christine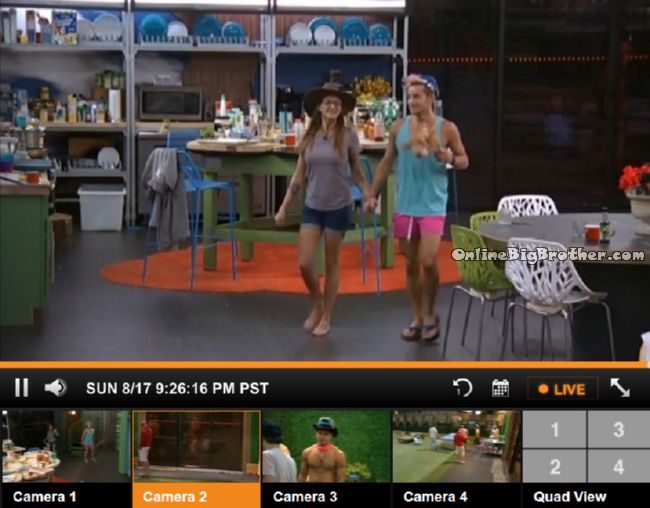 9:25pm Christine and Frankie BFF's again
Christine says COdy is really pissed he feels betrayed.
Frankie says Zach still thinks it's Victoria. Caleb comes in holding his cowboy boots and hat says nobody is talking these again.
Frankie tells Caleb his speech for tomorrow will go something like – I don't know if there's a saboteur in this house but I do know someone who has sabotaged all of our games.
Christine and Frankie head to the Hot Tub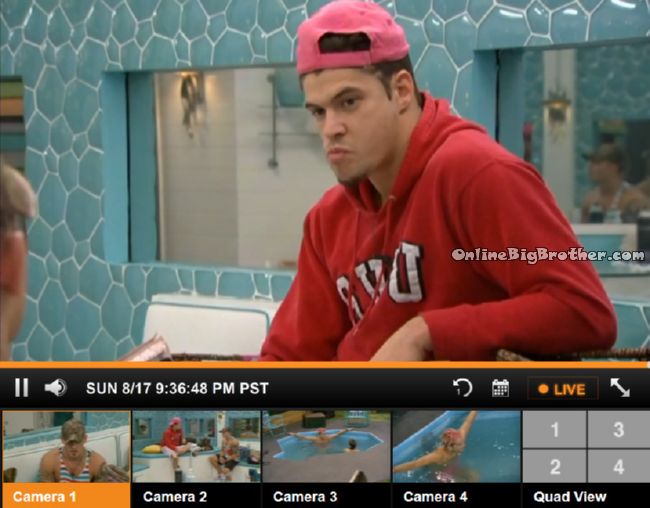 9:36pm Bathroom
Zach comes by asks Caleb if she knows he's going up
Caleb – I think it could be Victoria
Caleb thinks after all this drama today Zach might be nominated.
Caleb says after Zach tried to hide the cue ball he would put him up
Zach – really if you were in Frankie's position would you put me up
Caleb – Ya
Zach – So i'm going home because I stole the cute ball..
Caleb – If he puts you up I will vote for Cody..
Caleb says Zach looks like the saboteur that is why he might go up.
Caleb – Frankie loves you to death
Zach – no he doesn't..
Caleb – He might hate your guts. But Caleb doesn't think so.
Zach – he does
Zach asks him how his game will be affected if he put Zach up.
Caleb says that isn't being very loyal but right now Frankie has all the power.
Caleb says Zach has done things against him Cody hasn't so he would vote to keep Cody over Zach.
Zach tells him about the detonators alliance, Caleb knew the detonators were all against him.
Zach – During Frankie's HOH when Amber went home it was supposed to be you. Zach says it was Frankie's idea
Caleb says it makes sense.
Zach knows Frankie told Caleb the plan this week, Zach wants him
Zach – What good have you done for us when you won HOH you went against the grain and put up Christine
Caleb – Everything Zach is involved in is negative to us
Caleb brings up Zach trying to pit Frankie and Christine and Derrick and Cody
Zach – I didn't do that Frankie is lying
Zach – I know man i'm going home..
Caleb – He man you're Zach attack..
Zach – I got nothing to lose.. I know he's putting me up and I don't have a chance against cody.. it's going to be unanimous.
Zach – Victoria and Christine are voting to keep him and you are voting to keep him
Caleb – Game play that all it is.. and Frankie deep down believes you will put him up and one of us beasts up.
Caleb keeps deny he knows Zach is going to be nominated,
Caleb says Zach stole the cue ball put it in the trash Caleb is saying add this with Zach's saboteur allegations and it's not a big surprise is he goes up.
Zach – I'm going to laugh when you guys find out who it was"
Caleb says the best way to leave is like Nicole "Hey my game is over.. I can't wait to see you guys outside this house… that is how I play my game "
Derrick walks in to use the can.
Zach – Well I made it to day 63.. I'm going home because I stole the cue ball
Derrick – why the f** would you do that
Zach – I dunno.. everyone thought it was me I'm, really going to f** sh1t up"
Zach – I did my best I have no regrets.. Damn why did I steal that Cue Ball Damn I have one regret"
Caleb – At the end of the day it's a game
Derrick goes outside.
Zach says it's been good like Caleb says he won as soon as he got that key. At the end of the day he got a trip to Germany.
Zach tells Caleb if Caleb is up against someone he doesn't want to win he's going to campaign like crazy fr Caleb. Caleb is one of his favorite people in the house.
Caleb – I have a feeling if i'm up against anyone other than Frankie i'll win
Zach – you're winning over Frankie.
Zach says he's got a good life everything is fine. "born healthy got great parents have a 60" TV in my room, Have a great Bro, HAve a dog.. I'm going out head held high.. If I only hadn't stolen that cue ball"
Frankie comes in
Zach – It's all good Frankie dude I know you are putting me up..
Frankie – I love you
Zach – I love you to
They head to the HOH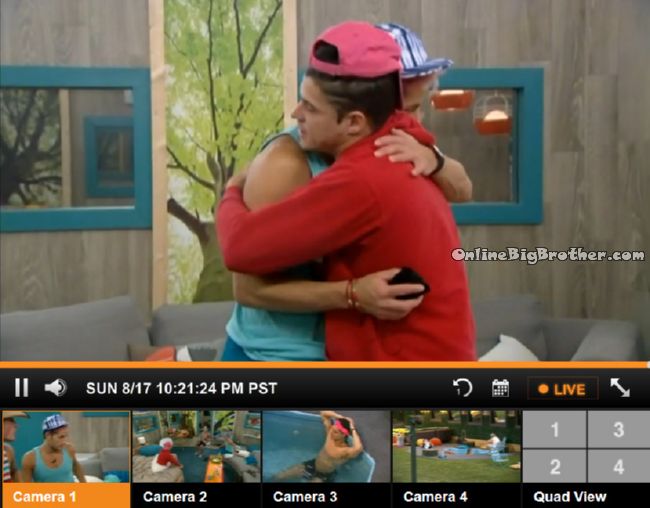 10:13pm HOH Frankie, Caleb and Zach
Zach – why would you waste a HOH on Victoria.. when you can get out me or cody.. I kinda thought why the f** would he put up Victoria.. It's starting to come time you are putting me up
Frankie – you are the one that gave me the idea honestly .. your name has been tossed to me from everyone in the house
Zach – including Cody and Derrick
Frankie- ya
Zach – Fair enough..
Frankie – I was going to tell you
Zach – no you weren't
Frankie look at Caleb I was wasn't I.. Caleb says yes
Zach looks at Caleb – You lied to me
Caleb says it was Frankie's decisions
Frankie chimes in it was a group decision.
Frankie doesn't think Zach has healed from what happened 2 weeks ago after the double eviction. Frankie says he's healed but Zach hasn't. Moving  forward it's dangerous for him to have Zach in the game.. Frankie says again that Zach gave him the idea about putting him up.
Zach – I have a great life.. I have a 60" TV in my room a great bro and A puppy I love..
Zach doesn't want Frankie to go around saying Zach gave him the idea about putting him up he knows it was a good game move for Frankie .
Frankie – are you gay
Zach – no
Frankie – dammit
Frankie – we gotta have fun this week..
Zach tells him he's going home he's got no reason to hide thing anymore 'I swear to god I never hid your sh1t"
Frankie – you have played an unbelievable game..
Zach – I still might cause havoc these next 4 days
Zach says before he walks out that door he going to tell Donny they are all in an alliance.
Frankie laughs says 9 people have already done that… Adds that there's no point to say sh1t to Donny.
Zach – I won't say sh1t
Derrick joins them.. Frankie "we've had the conversation"
Frankie – Zach.. if there's a buy back WIN
Derrick tells Zach the plan was to get Donny out it was never Zach. Only after the POV was won did they consider it.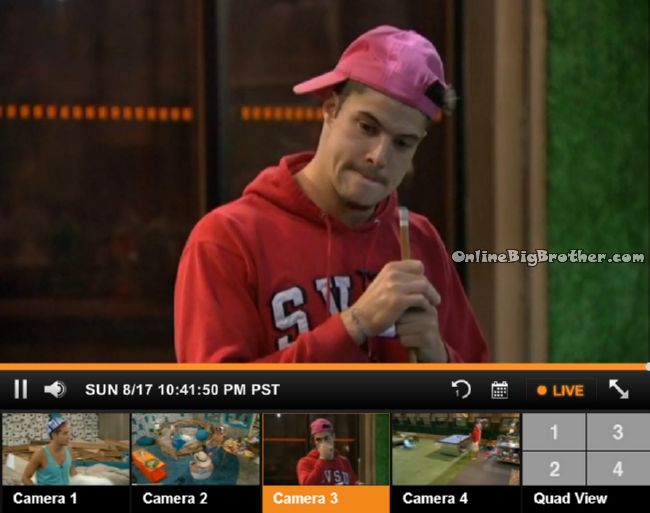 10:41pm POOL TABLE Zach and Derrick
Zach says Frankie told him all the guys wanted him out
Derrick thinks he meant vote Zach out not wanted Zach out.
Derrick – 6 people in here right now are walking away with the same thing you are.
Derrick says Zach's demise was when he refused to throw the BOB.
Zach tells Derrick he's going to win this season.
Derrick doesn't think so he thinks he'll says he hasn't made any final 2 agreements in the house (Has final 2 with everyone but Christine and Donny)
Zach – I might say some bnullsh1t lies..
Derrick – you do what you have to do
Zach – I won the second I go that Key in my golf bag.. At least I'm going home sitting next to someone like Cody
The Live Feeds are archived. You can go back and watch everything that happens
Try It Free! Subscribe now to the official BB16 Live Feeds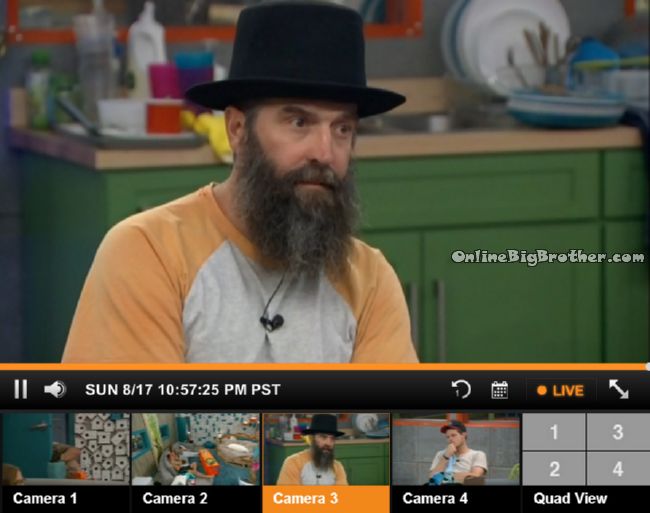 11:00pm Derrick and Donny
Derrick tells him that Frankie it putting Zach up and he's going home. They were just telling Zach that up in the HOH.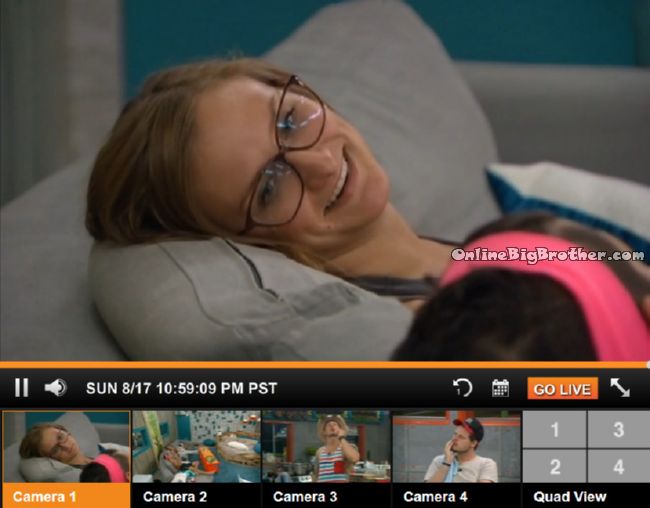 11:09pm Christine and Cody HOH
talking about what production got them to say in the Diary room regarding their zings. Christine was very pissed at them when she first went in to talk to them, "They didn't get one sound bite from me"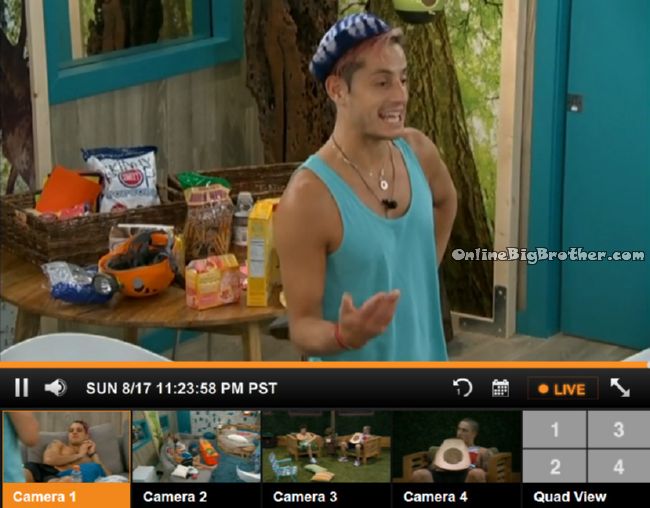 11:24pm Frankie, Christine and Cody
Frankie's rap for Zach's nomination
Frankie – I'm nervous:
Frankie – "I'm gonna take a page from my friend ZachAttack but I'm gonna do it better cause his sh1t was kinda wacked i love you so much it would be great for you to stay but if I didn't put you up it would be CRAY CRAY I'm not quite sure if you are the Saboteur but what I know for sure you're going to walk out that door Zach my man please go have a seat it's time for you and Julie Chen to finally meet.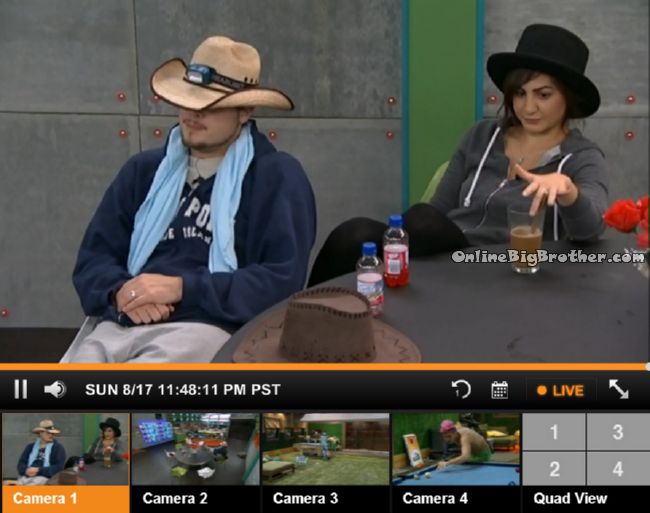 11:49pm POol in the backyard. Zach telling Frankie it's ok and to not feel bad. Frankie says Zach is his best friends. Inside the neighborhood watch is going down(See image)
11:52pm FIREROOM Derrick and Donny
Derrick says he guarantees he's staying up for 24 hours, I'm not losing 5 thousand dollars.
12:15AM Neighborhood watch.
Zach is questioning the watch. Tells them if they are trying to catch someone they should set up a trap. What they are dong now nothing will happen. Christine says people are doing thing so more stuff doesn't go missing.
12:21AM Living room Caleb and Frankie
Caleb – I really think the night watch is pointless..
Frankie says they will do it for tonight see if things stop
12:32AM
Jenga, beastmode Sleeping like a boss and night watch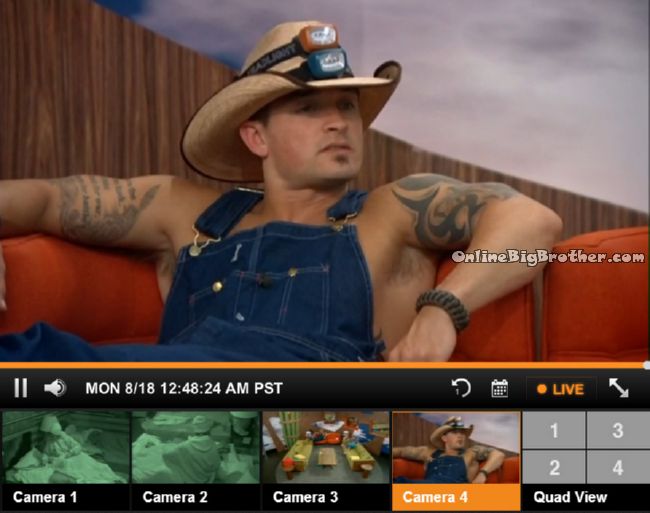 12:46AM Caleb during the neighborhood watch
Caleb says Zach was laying down and whoever came over the intercom said, "Hey Zach you OK"
Caleb is staying up once he starts getting tired he'll wake up Victoria to take over.
Caleb and Cody left alone in the living room Caleb whispers to Cody about the Veto speech tomorrow. "A the end of the day use the veto on me"
Alliances
"The HITMEN" – Cody & Derrick
Team America = Donny, Derrick, Frankie
More polls here https://www.onlinebigbrother.com/big-brother-compendium/big-brother-16-polls/
[polldaddy poll=8244330]
[polldaddy poll=8248683]