POV Holder:
Frankie
Next POV
Aug 16th
POV Used
?
POV Ceremony
Aug 18th
HOH Winner 1:
FRANKIE
HOH Winner 2:
Derrick
Battle of the Block Winner
Donny & Christine
Next HOH
Aug 21st
Original Nominations:
Derrick's Noms (Donny & Christine) Frankie's Noms (Caleb & Cody)
Final Nominations:
?
Have Nots
Christine & Victoria
POV Players
Cody, Caleb, Frankie, Victoria, Donny, Christine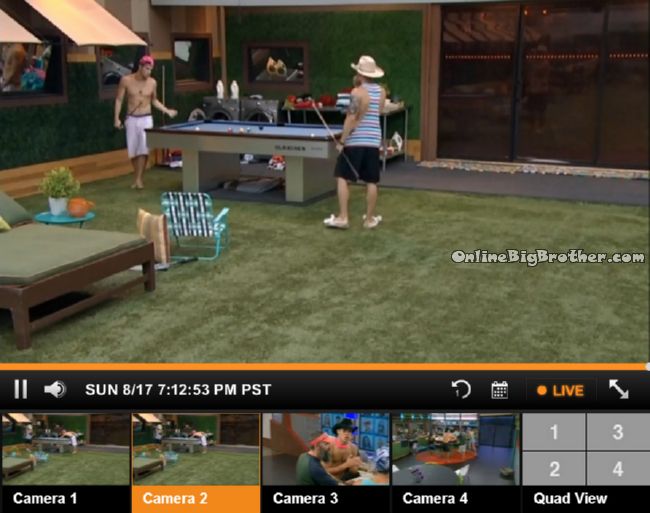 7:11pm Pool table Caleb and Zach
Caleb says it looks too perfect to not be Zach. all the evidence points to Zach being the saboteur this season. . Zach says he's not the saboteur. Caleb says until they find out otherwise he is and if they come out and discover Zach wasn't the Saboteur "My Bad"
Caleb – You have the personality of a saboteur you don't give a crap
Zach -fine.. what do I have to do to complete the mission
Caleb Explains that the saboteur gets a mission each week and if they complete it they get money if they don't complete it they get nothing.
Zach – Don't vote me out cause I didn't f*** do anything

After the pool game Zach moves to the kitchen where everyone is assembled. Frankei tries to give him a kiss but Zach pulls away. (See image)
Zach tells them all of them can think it's him wasting the time following him around. While they do that the real person (Victoria) is laughing and getting away with it.
Zach – It's you Victoria
Victoria- you are ridiculous this is absurd
Frankie – I think they all need to be watched.
Zach goes to the Diary room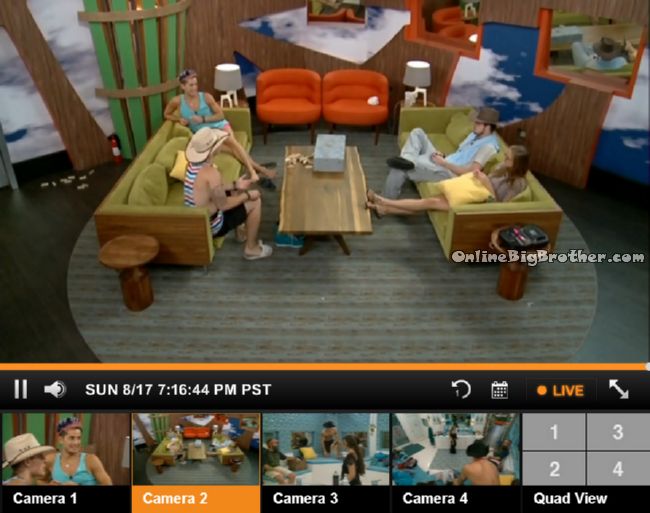 7:16pm living room Caleb, Frankie, Christine and Derrick
Frankie – I don't think I have to sit him down.. (The sit down where they were all going to tell Zach he's being nominated)
Frankie and Christine agree.
Frankie – I can't believe he took my glitter that's smart..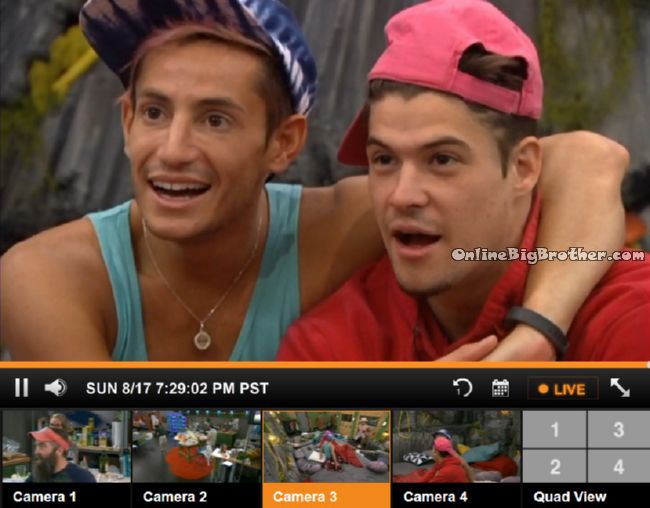 7:29pm Rockroom Harassing Zach continues..
Frankie calling Zach the Saboteur lists off all the Team America tasks that Zach had done for them. Zach is concerned people are going to start targeting him now because they think he's the saboteur
(going back and forth you are the saboteur, no i'm not etc et.v. )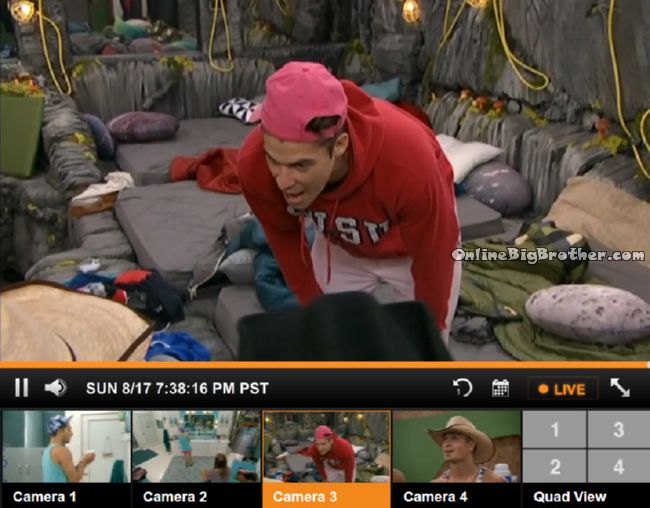 7:37pm Caleb and Cody continue to interrogate Zach..
Caleb says for someone that is going home you are sure happy.
Zach – I'm not going home..
Zach says he was in the Diary room and told them he's getting blamed to be a saboteur and people are going to want him evicted.
Zach – I'm the saboteur.. Ok everyone it's me"
7:44pm Zach and Frankie in the HAve nots Room. Zach is swearing he's not the saboteur. "It makes sense it's me I agree"
Derrick comes in. Frankie says the nominations with the skittles was Zach's idea and that is a saboteur mission.
Zach – I wish it was me man.. Caleb really thinks it was me dude
Frankie – I know everyone in the house does rose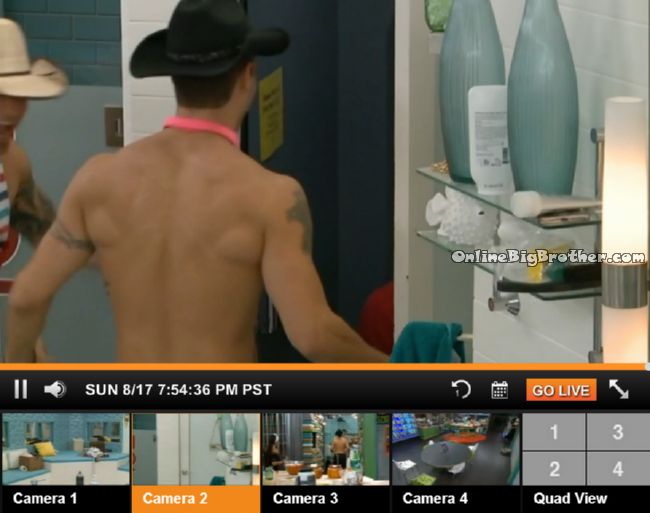 7:54pm Chase Zach down he's hiding in the toilet
The Live Feeds are archived. You can go back and watch everything that happens
Try It Free! Subscribe now to the official BB16 Live Feeds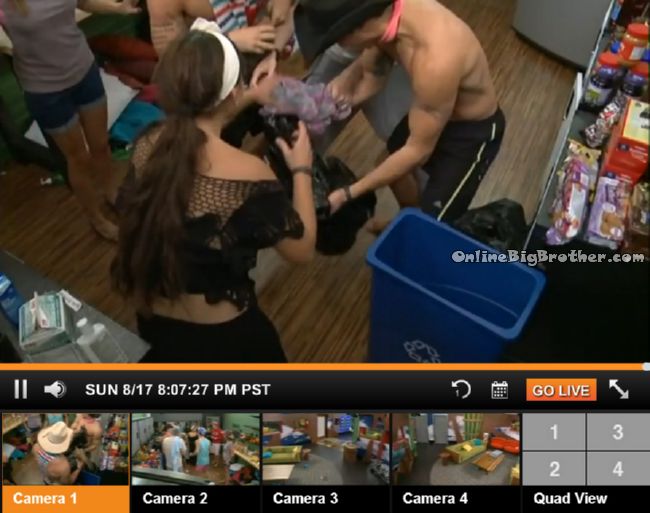 8:02pm Kitchen
Frankie saying that Zach is the saboteur. Starts listing things Zach did. Brings up the skittle nominations as Zach's Idea and a total Saboteur thing to do.
8:06pm Cody and Caleb find everything. Still blaming Zach. Zach confronts Frankie tells him it's not him. Frankie yells says Zach's been saying all season he's been doing crazy sh1t for fun, "No ONe is going to believe you ZACH"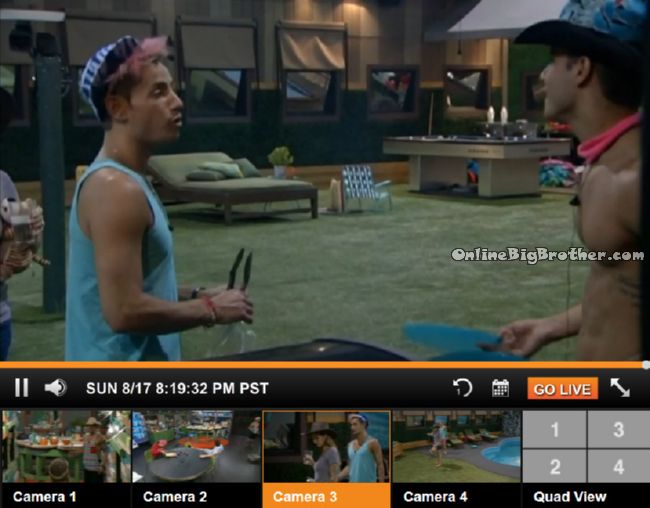 8:19pm Backyard BBQ Frankie, Cody and Christine
Cody – do you think it's been him the entire time
Frankie – yes.. what do you mean..
Frankie says Zach isn't going home because he's the saboteur he's going home for other things he's done, All this happening makes it easier "it makes my soul feel better.. all the reason why we're voting him out they could be saboteur missions"
Frankie's speech tomorrow will go something like – I'm not sure what they're calling you, but you sure have sabotaged my game.
Frankie claims this season I awesome.
8:21pm Kitchen Derrick, Zach, Donny and Victoria
Victoria having just come out of the Diary room says everyone is laughing at them. Zach says it's not him. Derrick doesn't think they will find out until after the show
Zach – Why so quiet Victoria.. pissed off that they found the sh1t

8:40pm Family Dinner
Frankie and Christine points out Zach has some glitter on his eyebrow. Zach says it wasn't him. Frankie laughs says it's obvious Zach was near his glitter.
Zach – It was on this sweater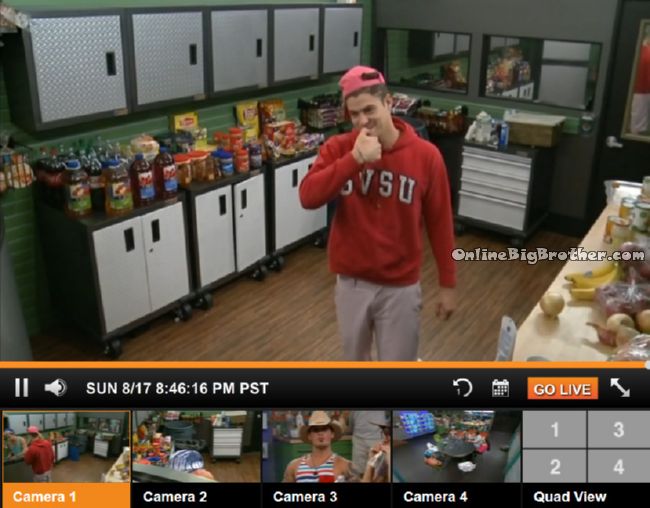 8:45pm Storage room Zach and Frankie
Zach – Dude I swear to god it isn't me
Frankie – then it's Victoria
Zach – swear to god it's not me .. You're still putting her up right
Frankie – ya
Zach wants him to swear Frankie wont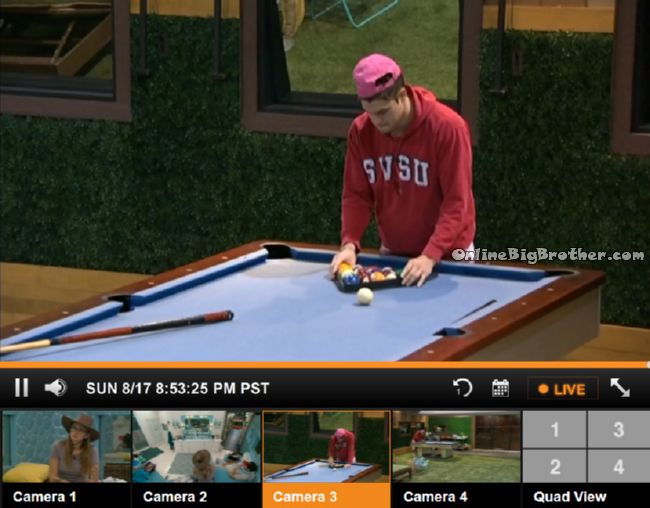 8:56pm Pool Table
Zach – I'm going home this week Donny
Donny – ya think so?
Zach – I really think so
Donny – do you think they are plotting against us
Zach – for sure.. I just have this feeling if i'm up next to Cody i'm going home.. for sure
Zach – Donny i'm going home this week
Donny – Don't think like that..
Zach – I know I don't want to.. he would be stupid to send Victoria home
Donny – she will be like Gina Marie and make it to the finals
Zach – oh my god
Donny – do you think there's a crack in their group.. I mean they can't all win
Zach – Christine will be the first one to go.
Zach says Donny was supposed to go him this week and if that didn't work it was Victoria but for some reason that is not the plan anymore.
Alliances
"The HITMEN" – Cody & Derrick
Team America = Donny, Derrick, Frankie
More polls here https://www.onlinebigbrother.com/big-brother-compendium/big-brother-16-polls/
[polldaddy poll=8244330]
[polldaddy poll=8248683]