POV Holder:
Frankie
Next POV
Aug 16th
POV Used
?
POV Ceremony
Aug 18th
HOH Winner 1:
FRANKIE
HOH Winner 2:
Derrick
Battle of the Block Winner
Donny & Christine
Next HOH
Aug 21st
Original Nominations:
Derrick's Noms (Donny & Christine) Frankie's Noms (Caleb & Cody)
Final Nominations:
?
Have Nots
Christine & Victoria
POV Players
Cody, Caleb, Frankie, Victoria, Donny, Christine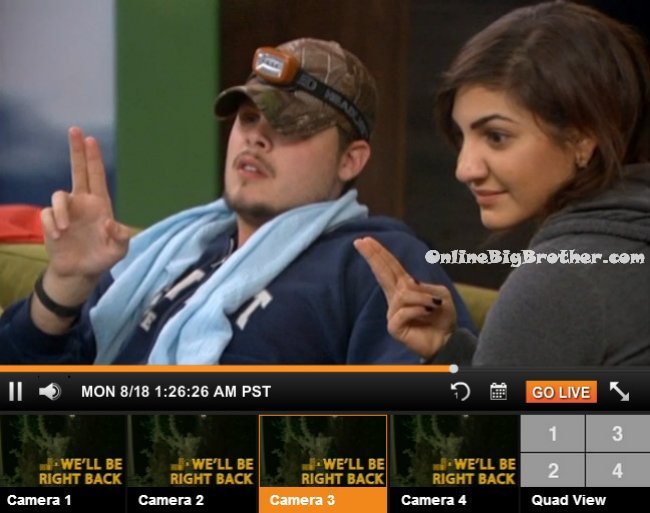 Big Brother 16 Live Feed FREE TRIAL – Use the FLASHBACK feature to watch everything you've missed!
1am – 3:10am Caleb asks Cody who do you think it could be if it wasn't Zach. Cody says honestly we were outside all day. The only person that was inside was Victoria. I wish that I had noticed my hat missing earlier so that we would have noticed earlier on today. Victoria supposedly wears her necklace every single day … why did she not wear it today? Caleb says supposedly she took it off for the competition and forgot to put it on. Cody says there's just a lot that's suspicious. Caleb says we just have to keep a close eye on people. Cody says agrees. Caleb says and they waited till there weren't that many people in the house to take things. Derrick joins them. Derrick says I am sitting up there all night. They're going to dim the light soon. I'll catch doing something. Caleb says I know the veto is being used on me, I don't care. I am going to catch someone doing something wrong. Derrick says maybe he (Zach) won't take any thing else because he thinks he's going home now and that's why they (production) were asking him if he was okay. Caleb says the most important thing is we need to win HOH. Derrick if Donny wins HOH he wouldn't have to put up Victoria as a replacement nominee and then one of us is going home. Cody asks how late Derrick is staying up. Derrick says until 5am and then Donny is taking over. Frankie joins them and says to stay vigilant. Frankie says the next HOH is the wall I will coach. I will do motivational speaking. Frankie and Cody heads to bed in the HOH room. Caleb says there ain't going to be no thieving on my watch! Victoria is up in the bathroom dry heaving. She comes out and is not feeling well. She goes to the diary room and when she comes out she says that they told her just not to eat. Derrick asks why Zach would try and steal the cue ball right in front of you. That's like suicide. Victoria joins them. Derrick goes up to bring down the chess board for him and Caleb to play. Victoria goes and lays out on the hammock by herself. Derrick wins the game of chess.. they decide to play out the rest of the game given a different move.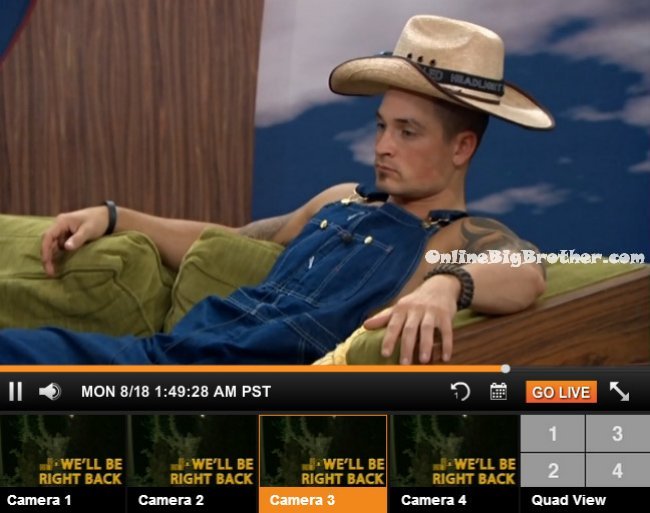 1:35pm – 2:40am Up in the HOH room – Cody thinks they voted on the two biggest social people and have them interact. Frankie says it could have been pin us against each other. Cody says America always gets to vote on something. There's been something that hasn't been as obvious the last 8 weeks. Frankie says twist after twisted twist. He could be like the twistotour or something. Cody says we might not even know the less obvious things he's done. They talk about the odd things that Zach's done like nominating an alliance member. Getting nominated and saving himself. Pinning Caleb against Amber. Frankie says in an odd way I feel better now. Cody brings up how Victoria always wears her necklace why did she not have it on. Frankie says Zach could have grabbed his gator shirt to throw people off. They wonder why there were two things of Victoria's. Cody and Frankie climb in bed. Cody says I feel like if I model and get my face out there enough maybe I could act. Frankie says coming into the house I wanted get more youtube follower and get paid to travel and do collaborations. I would say I am a C list or D list youtuber. I am really proud of my videos and I get a lot of views. Frankie says I trust everyone in this house except for Donny. And I don't think Victoria would put me up since I kept her safe all week. Frankie and Cody says I love you and go to sleep.
See what they can't show you on TV! -Try the Big Brother 16 live feeds for FREE!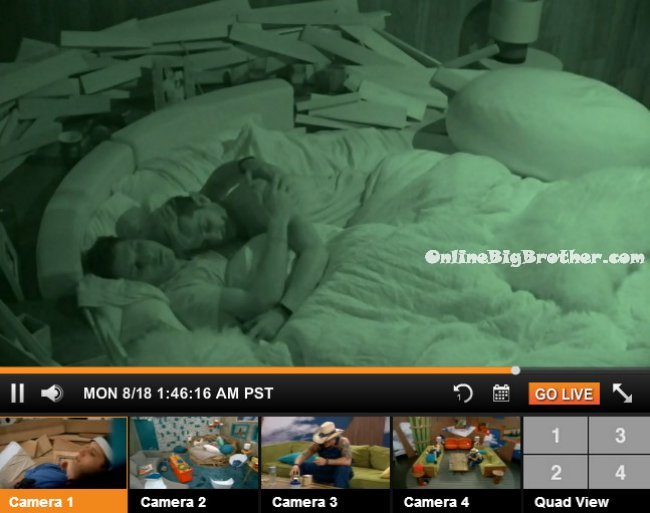 3:30am Derrick and Caleb do a patrol of the house. They head up to the HOH room and open the HOH room door waking up Cody and Frankie. Derrick says we're just doing a patrol. You're all clear. Caleb and Derrick head back to the living room. Caleb talks about what his speech will be to Frankie tomorrow during the Veto ceremony. I know we've had our up and downs but over football we fixed it. I hope you'll use the veto on me. Caleb starts talking about his home town and he and his brothers are well know. He says that if the guy he knows has become sheriff he's said he would hire me on the spot. Derrick says you would be perfect for it with your military back ground… carrying a gun, wearing a uniform. Caleb starts talking about how there are very few unattractive country singers. S*x sells. Caleb says that Taylor Swift might be the most unattractive girl that sings country music… Big Brother cuts the feeds. Victoria heads to bed. Caleb says in the military he would have to do guard shifts. The drill Sargent would walk up and ask are you looking at me? You think I'm ugly? No drill Sargent! Oh so you think I'm pretty?! Are you gay? Caleb says being in the military made me grow up real quick. Derrick asks Caleb if he feels the same way about police as he feels about other military.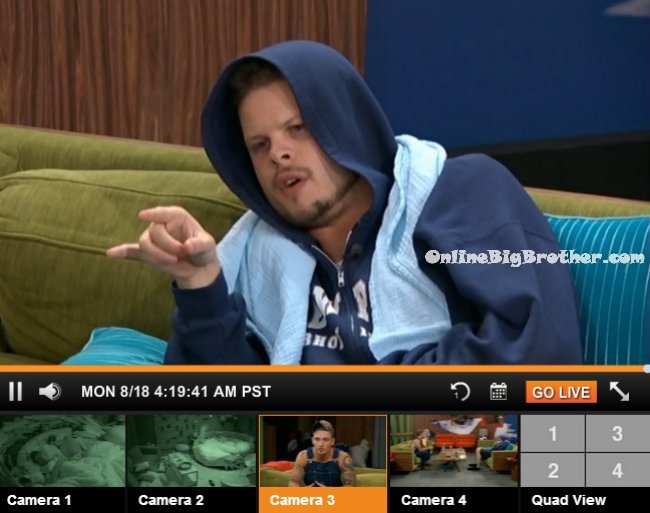 4:20am
Caleb starts telling a story about when almost got arrested. He says he was out of it and near passing out at a bar and there was a whole table of Muslims beside him. He says that they were talking Arabic and I had just gotten back from Iraq. The last thing I wanted to hear was them talking that language. When I hear it I feel like they're talking about me, like they're laughing at me. I lost it. Hearing their words that they were saying I understood it because that's what I was used to working in the prison over there. For the most part I just got pissed off because I felt like they were talking about me. I hear them laughing, joking and drinking. I'm a US soldier, I felt like they were making fun of me. So I just stood up and flipped their whole table and I just went off. I told them I was going to kill them and I was going to break their neck and bla bla bla. I just went crazy and then the bouncers came up and I knew a couple of the bouncers and they took me to the front and there were some police officers sitting on the outside of the rail and they didn't like that too much. They said we need to take care of this right now. And my head was still trimmed down. I had my dog tags.. and by then I had pushed a few of them my dog tags had come out and when the bouncer grabbed me he shoved my dog tags in. And when the officer grabbed me he shoved the dog tags back in.
Then the guy cop had my hands behind my back to control me and was asking me what happened. My buddy came out to say I had just gotten back from deployment, I'm drunk, go easy on me. The guy cop had a lady cop grab me and he went to talk to my friend. The lady cop had me and my knees were on the front of the car and she said something to me. I smarted off to her and she took me and slammed me on the front of the car hood. I looked up at her and said with all due respect if you do that again I'm going to beat the breaks off you and every officer around me. She leaned down to me and asked are you threatening a police officer? And I said no, I'm promising you! If you do that one more time, I'm going to smoke you basically. Caleb laughs. You know I ain't having that! My buddy said I just got back from Iraq, we just wanted to have a good time and those guys started it. One of the chief dudes said I'll take care of them and he came up to me and said I'll take them. He told me I'm not arrested and asked me to sit in the car. He closed the car door and then got in the front seat. He looked straight the whole time and said son, I've been in your shoes and those boots are hard to fill. He just started talking and started to make me feel better to know that at least one guy thats in uniform understands how I feel right now. We started talking about my dad being an SF and how my older brother just left. He talked to me for maybe half an hour. He said I want to thank you for what you've done. We're not going to take you to jail. He let me out and told my buddies to take care of me and take me home. The other police officers were looking like what?! Caleb says Police officers if they have been in service before we have a relationship. Like if they see my veteran plates they will pull me over just to thank me for my service. BUT for the most part I really don't like police officers! (Derrick is a police officer) I like certain ones but ones that take their job way too serious and over do it sometimes we don't get alone. Derrick says MMmmmHmm. Caleb says but when they see my veteran plate or dog tags or bracelet .. they ACT like they have a relationship with me. They don't go overboard or ask a bunch of questions. Half the time they don't even want to see my drivers licence. Derrick asks even the ones that aren't prior military? Caleb says yeah even the ones with out prior military service treat us with a lot of respect. If you're doing 150 in a 50 they probably pull you over and question you but more than likely they aren't going to yank you out and slam you on the ground because they know you're not afraid to use your hands. Some are really nice but for the most part I don't like them too much. But I would be a very good police officer. Derrick says I believe it buddy. Caleb says when I'm in my uniform I play by the rules. If I caught kids smoking pot I would take it from them and tell them I better not catch them doing it again. I would be a good cop, a laid back cop. Derrick says I see it buddy, I saw it today when the stuff went missing and you were helping figure it out.
See what they can't show you on TV! -Try the Big Brother 16 live feeds for FREE!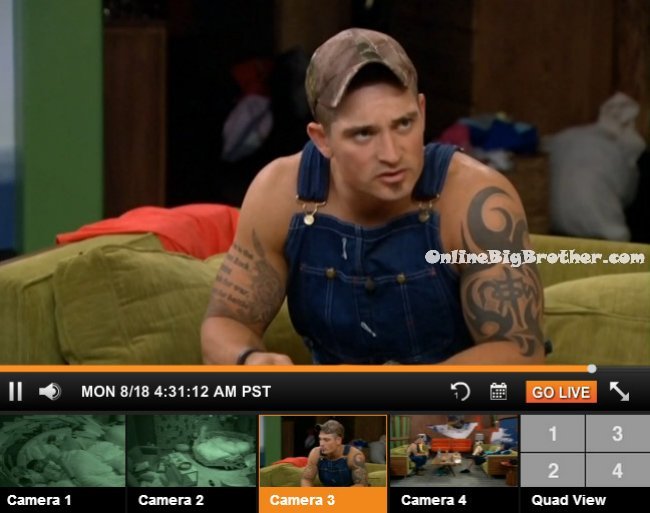 4:40am – 5:20am Caleb and Derrick talk about how if Donny wins HOH he will probably put up Christine and one of us. Derrick says or Christine and Victoria. Caleb says I'd like to stay close to Donny and if he wins HOH maybe I can suggest for him to put up Christine or Cody. Derrick says obviously Zach is going home. I would like to get down to you, me, Cody, Christine and Frankie. Then we get down to it. Donny isn't much of a veto king like everyone things. He just won 3 back to back. They talk about how Frankie is a beast. Derrick says he is a beast, he's playing for a charity. If he gets to the end he wins. What is your relationship with him? Caleb says he told me he would choose me in the end but I have not said the same to him. Caleb says the only person I am sure about is you. Derrick says you've got to ask yourself who else has he (Frankie) said it to (final 2). Derrick says Cody would get a lot of votes in the end. Caleb say he hasn't won nothing. Derrick says it doesn't matter, everyone likes him. Caleb heads to bed. Victoria joins Derrick in the living room and then she goes back to bed again.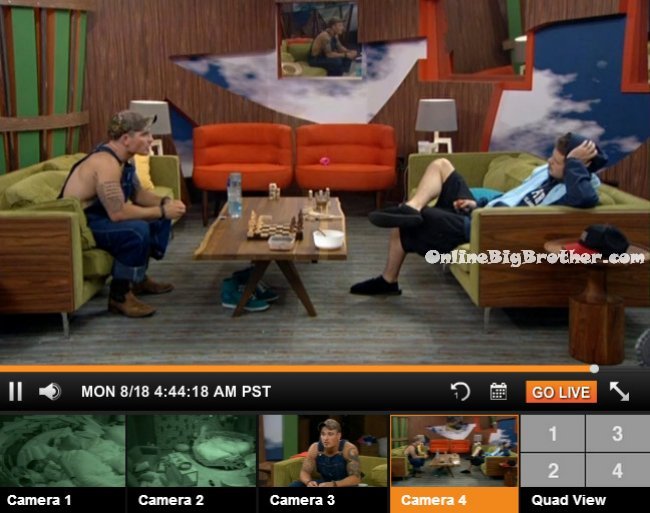 5:35am – 5:50am Derrick wakes up Donny for him to take over his shift for the neighbourhood watch (Team America Mission) making sure nothing else is taken. All the house guests are sleeping except Donny. He heats up coffee and takes his post in the living room.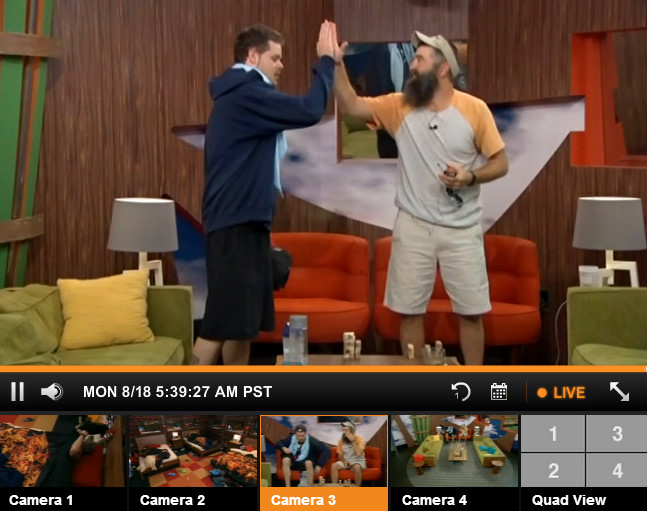 6am – 9am Donny reads the bible in the living room.
9am Big Brother wakes up the house guests.
Alliances
"The HITMEN" – Cody & Derrick
Team America = Donny, Derrick, Frankie
More polls here https://www.onlinebigbrother.com/big-brother-compendium/big-brother-16-polls/
[polldaddy poll=8244330]
[polldaddy poll=8248683]