Quick Big Brother Spoilers
Head of Household: Monte
Nominees: Indy and Alyssa
POV Players: Alyssa, Indy, Monte, Terrance, Joe, Kyle and Daniel (Michael is the host)
POV Winner: Daniel & Kyle
Veto Ceremony:
Havenots: Turner & Jasmine
Lock your ranks in before midnight
Festie Besties:
Turner & Jasmine
Joe & Monte & Terrance
Daniel & Kyle
Brittany & Michael
Alyssa & Indy
Nicole & Taylor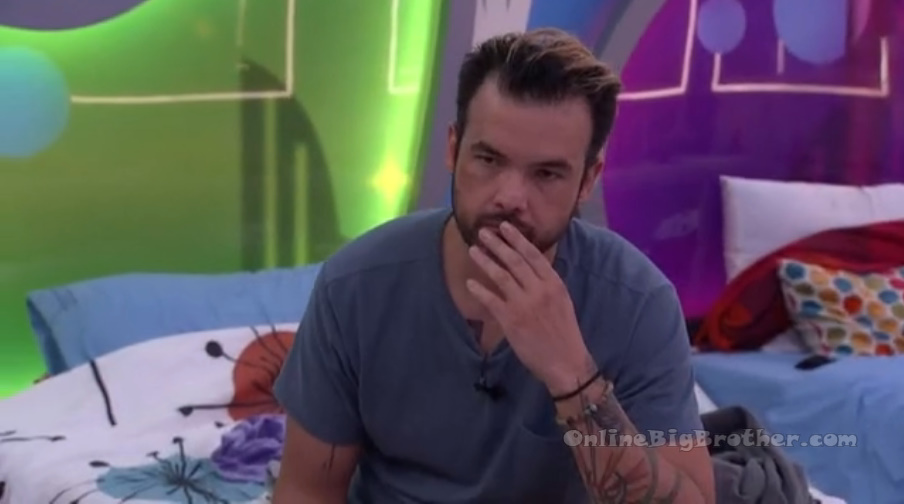 3:50pm – 4:30pm Bedroom – Daniel and Kyle.
Kyle – how are you feeling? I talked to Nicole and she seemed pretty set to be the pawn. Daniel – yeah I haven't talked to her. What did she… Kyle – I talked to her briefly. Daniel – she is my friend, she will tell me what's up. Kyle – she was like I don't really know what was said but basically she has my back, I have hers moving forward in the game. We're on good terms and working together. Daniel – she loves you dude. Kyle – I freaking love her. I think she is awesome! She said coming into the conversation she was probably going to ask me not to use it but based on the conversation she was like yeah I just want you to know that moving forward we're good. I don't know I feel like she is feeling good but no one can feel good about being a pawn. Daniel – do you know where your vote would lie if those two (Taylor & Nicole) were up? Kyle – with Taylor for sure! Daniel – like you send her out? Kyle – yeah! Daniel – okay, that's not even for me. I am just asking because I love Nicole. Even as a friend it would suck to see her go, let alone I think she could help us out. Kyle – for sure. For me I was f**king stoked that she (Nicole) almost won HOH but that Monte took it. I was comfortable either way. The only thing was hearing that we were the maybe pawn. Like F- that! I don't want to be a pawn! Daniel – again the fact that it was just so easy for him to say .. it was either you or Alyssa. And I was like oh, I thought we were a number for you (Monte). Kyle – like I didn't think we would even be an option. That could be the pecking order. Daniel – the votes where they lied really set things clear for me… because I was lied to 100% besides our only talk where you didn't know what was happening. And now its like the four girls were also lied to and I was too.. I was a pity vote. No matter who went home it would be heartbreaking.. but the fact that I felt lied to by the other 5 people… straight to my face right before. I just felt like dumb ..like you don't trust me. I would vote that way, just tell me. It seemed planned out and you just waited. Obviously with the power of veto, the options are to use it or not. In this situation where one person doesn't use it and the other does, like it still changes. There is not rule about an agreement. I would never want to put Alyssa in danger. We are obviously going to use it. So when we use it, it seems like the plan is Nicole and Taylor. My biggest fear is that what they did to Ameerah, they will do to Nicole. Kyle – no way dude! Monte and Taylor have been at each other's throats the entire game.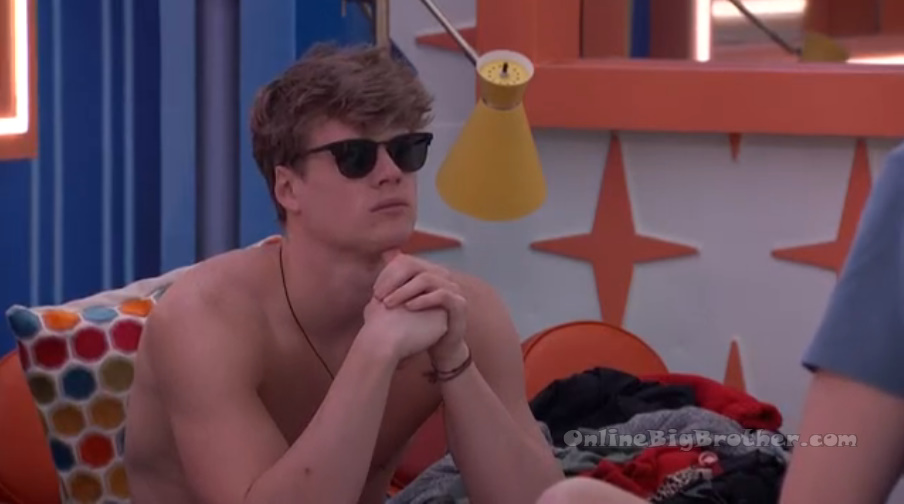 Daniel – no but I think that's changed dude! Its a smart game move to keep a bigger target in the house. He thinks I am going to go after her. I kind of put my hands up about that. She has been up in that HOH way more than other people. So I do think they're working together. I know that if a change doesn't happen this week we will all be picked off. My intuition and gut are telling me that Monte and Joe are going to steam roll this whole game. Kyle – you think!? Joseph is not there.. he is not a game player .. I don't think. He is the goof ball, he is talking to the cameras every five seconds. Daniel – I think that's his approach. I know you said you trust Monte. Other than the vote, I love him. Do you think someone like Monte or Joe would take you to final two? Kyle – I honestly haven't thought about it past this week. I was in PO's Pack with him too, so I have trust with him. I don't believe it was a strategic thing with the Ameerah thing just based on how frantic Nicole and Michael was when PO's Pack dropped. My gut is telling me it was sincere but maybe I am just being played. Are you thinking not using the veto? Daniel – no, that is scary to me. If I was playing selfishly .. I love Nicole and we're close. Kyle – you don't want her to be at risk. Daniel – yeah because of what happened with Ameerah but at the same time I respect your connection with Alyssa just as much. If we kept them the same I think we would lose Indy. I may be shooting myself in the foot if you have a final two with them… Kyle – no dude. Daniel – If you have something this could be the end of my game. If we don't make a change now, I am definitely going home and they'll eventually pick you off. If either of them sat next to you in the final two .. you are winning 100%! Kyle – no way. Daniel – I think you underestimate how likeable you are. Kyle – I don't talk to people. Daniel – in the current moment my lack of trust and loyalty is gone from that side of the house. If the votes stay the same and they keep Taylor, they officially have the numbers to do exactly what they want to do and pick us off. We need to work together to make a change in the house. Me, Nicole, you, Alyssa, Indy and Jasmine .. and I think Terrance is coming back over. Kyle – so you think Brittany, Turner and Taylor are working with them? Daniel – yes! Kyle – no way! There is no chance bro! Daniel – I know its a lot of information. This is my only shot to hopefully give us and the girls a fighting chance.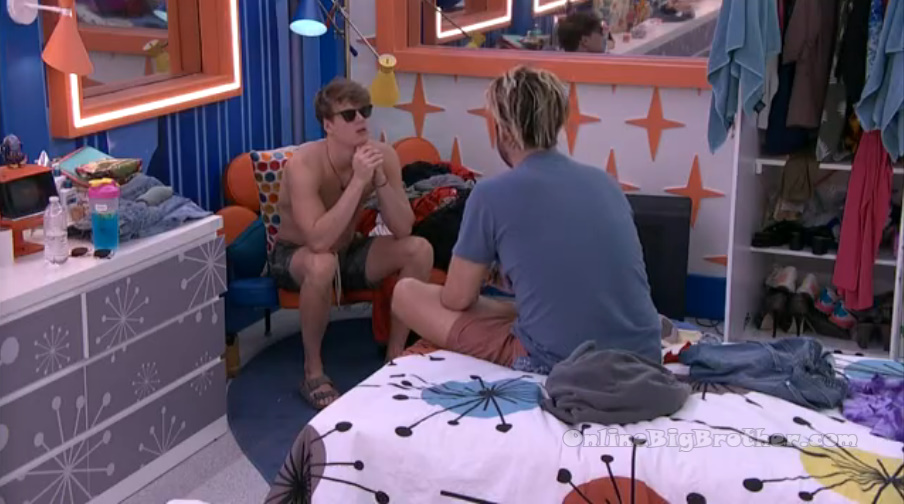 4:45pm Hammock – Joe and Taylor.
Joe – What would you do with the money if you won? Taylor – I would start a legal fund with a good part of it for women that have been in the same position as me. And part of it I want to retire my mom .. and then with the rest of it I want to launch my life, buy a house, a car. What would you do? Joe says that he would help his mom if he won and then start a fitness plan, start a podcast, situate his life.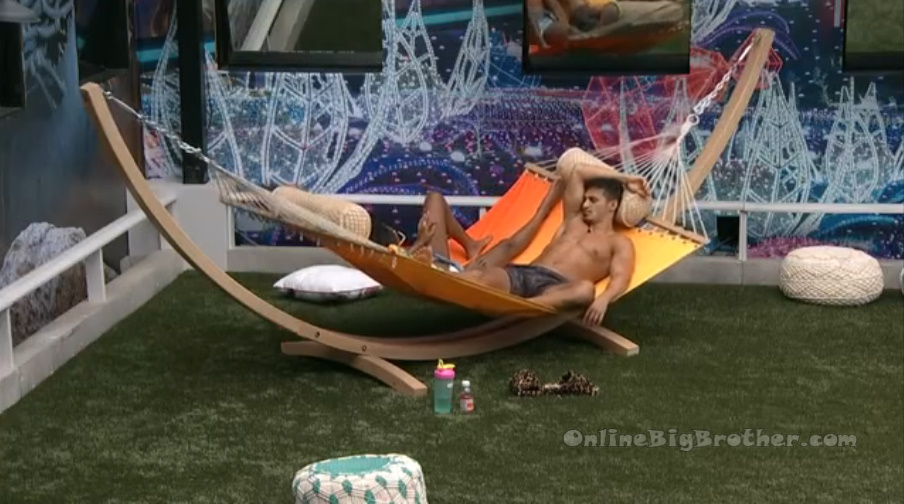 4:54pm HOH room – Daniel and Monte.
Monte – I wanted to check in with you because I had a good conversation with Nicole this morning. Big Brother blocks the feeds.

5:29pm Kitchen – Daniel and Nicole.
Daniel – I just had my talk with Monte and all of a sudden his tone changed and it seems like he is being genuine and real. Alyssa walks by to head outside. Nicole – wait go out with her.. Daniel – why?! We just talked about how its obvious. Dude they're against us! Nicole – I know. Daniel – what do you want from this? Nicole – I know. I'm sorry. Daniel – so we can never hang out any more? Its worse than it was before .. and now they've pinned us as together. Nicole – no you're right. Daniel – he (Monte) realized that your numbers are more correct than his .. I'm sure he was genuine with you. He has not talked that much with me in the last 9 days. It was open, real. I can tell he is not lying at least for the moment. He started going over numbers. Nicole – probably because he knows if he votes me out he has no power. Daniel – so its going to be unanimous (he thinks for Taylor to go). Nicole – I talked to him for over an hour .. I am not going to go out without a fight.. If I f**King survive this week I am supposed to be here and I am going to win this game. Thank you for having my back because you literally are the only person I can trust in this game … and we will be the last two sitting in those chairs. Daniel – I think so! So he is going to try and make it unanimous to be like look what I did because he realizes he doesn't have the numbers. But guess what next week, I won't forget any of this. Nicole – God I hope I get HOH next week.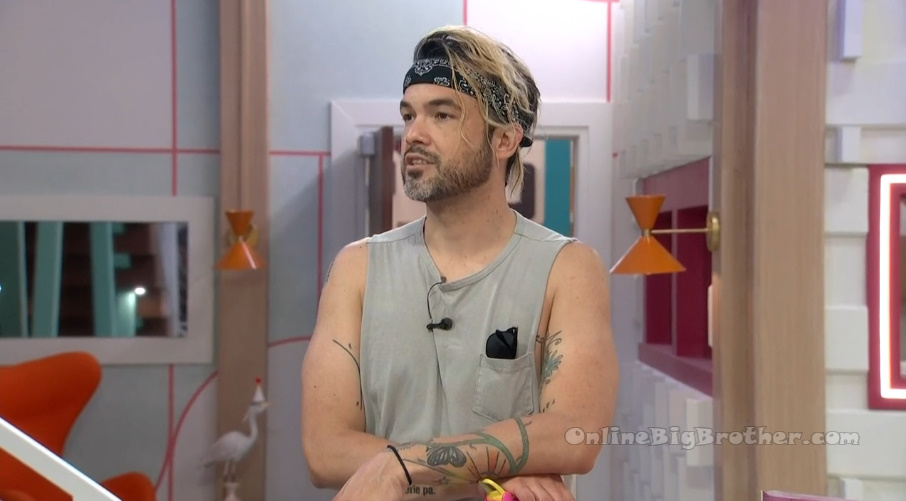 5:52pm Big Brother gives the house guests wine, beer and birthday hats, cake, etc. for Michael's birthday tomorrow.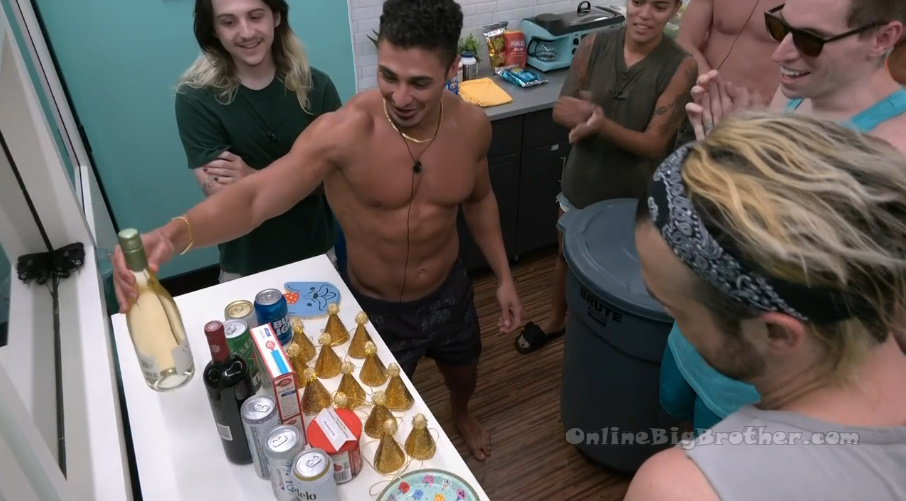 6:08pm Backyard – Daniel talking to himself.
Daniel – Nicole putting in work! That's what's up! I f**king love Nicole! I cannot trust Turner what so ever. He was the head of the snake for this big plan. Kudos for a move that was unexpected but all you did was make a few things obvious.
6:30pm Bathroom – Daniel and Kyle.
Kyle – what did Monte say? Daniel – he completely changed his tune today. Kyle – back to normal? Daniel – yeah. I think because he is aware that Nicole has the numbers. So it feels like its going to follow through (with evicted Taylor). Kyle – okay. Daniel – It seems like he is admitting it now which is better for everyone moving forward. I feel like me and Nicole are being pinned as a duo and you and Alyssa are being pinned as a showmance duo. Kyle – right.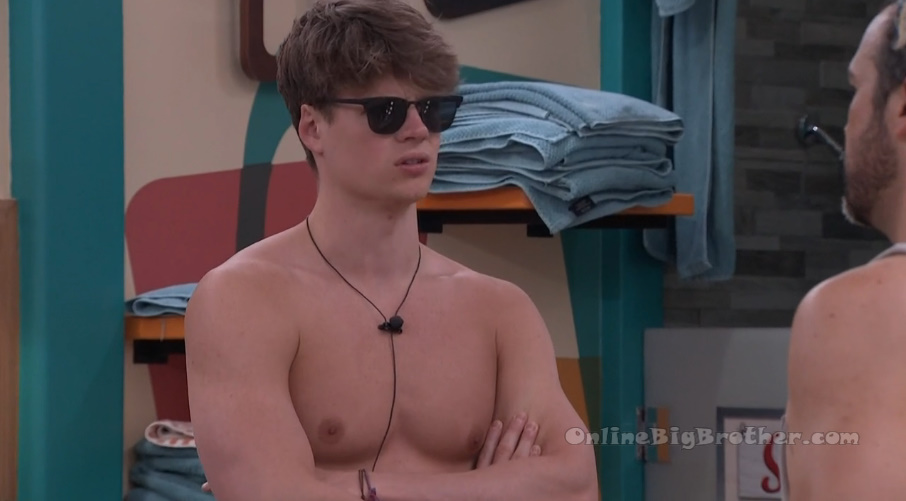 7:35pm – 8:05pm 2022 Bumper Pool tournament begins… the bumper pool tournament winners are Alyssa and Kyle.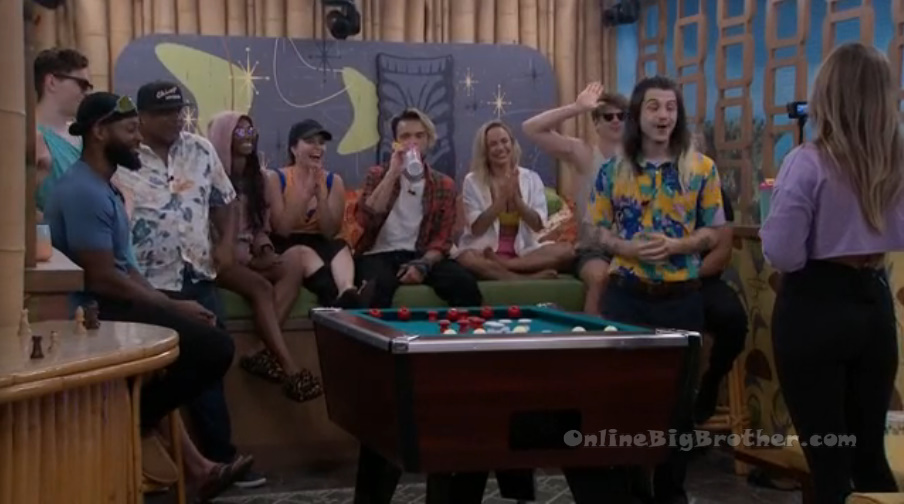 8:19pm Backyard – Kyle, Brittany and Taylor.
Taylor – I think we are the show. Brittany – I hope. Taylor – oh my god it would be so embarrassing if that's not the case. Brittany – yeah I hope. I just hope it remains the same next week. Kyle – Its tough too because just talking to Daniel I feel that desperation that we all felt last week. But I'm like .. you're done! Taylor – its done, we already solidified it. Kyle – and he realizes .. he is like my game is done if Nicole goes this week. And I'm like you did this to yourself. You have no options now. Taylor – yeah. I am sorry but treat people better! Kyle – I think after this week there will be a line in the sand. Brittany – and what he is left with.. Indy and Jasmine on her scooter. Taylor – everybody better be ready because he is going to be so amped after the speech I give. Bring an umbrella, blood will be shed and flowing all over the place. Slit the throat the blood is flying. Kyle – I am playing dumb. He thinks I'm dumb. So I am just going to play last minute.. I was told that Nicole was trying to put up Monte and Joseph and they convinced me or whatever to vote her out. Brittany – Nicole talked to me again.. she is just floundering. Michael joins them.
8:56pm Hammock – Michael, Taylor and Brittany.
Brittany – I have to win HOH! Taylor – yup! I am telling you Daniel is going to be going for blood. He is going to blow up! Because my speech is going to be dirty! Brittany – yeah we just have to win. My mind keeps going to what would everyone else do. Taylor – Monte and Joseph are getting a lot of heat right now. Michael – but is anyone actually going to put them up? Taylor – they would only backdoor them. Michael – and if they backdoor them.. Brittany – who are they going to put up? Good old Michael and Brittany. Taylor – NO.. .no no! Brittany – what other options would they have .. Indy and Alyssa?
9:38pm Mexican food dinner..

10:11pm Indy, Brittany and Taylor decorate Michael's birthday cake.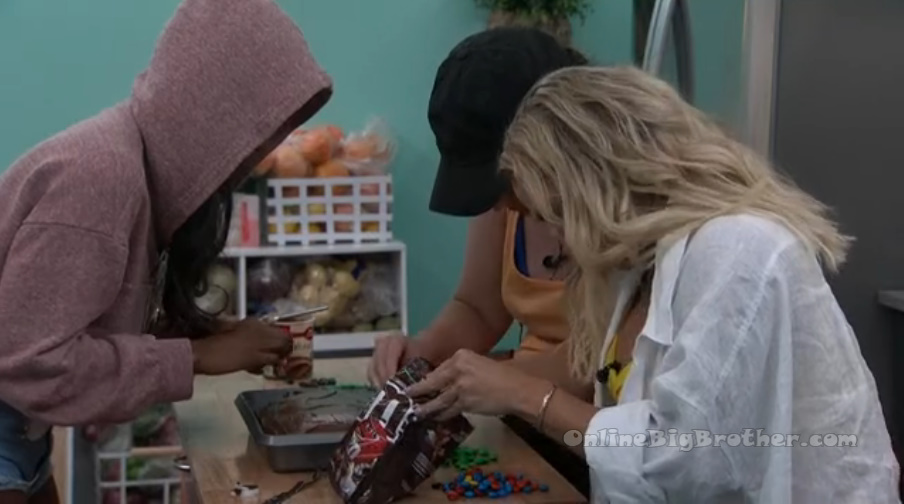 11:15pm The house guests are hanging out and playing checkers, Pool games, etc.

12am HOH room – The house guest are having the birthday party for Michael. They sing happy birthday, eat the cake Taylor made and drink the alcohol Big Brother gave them.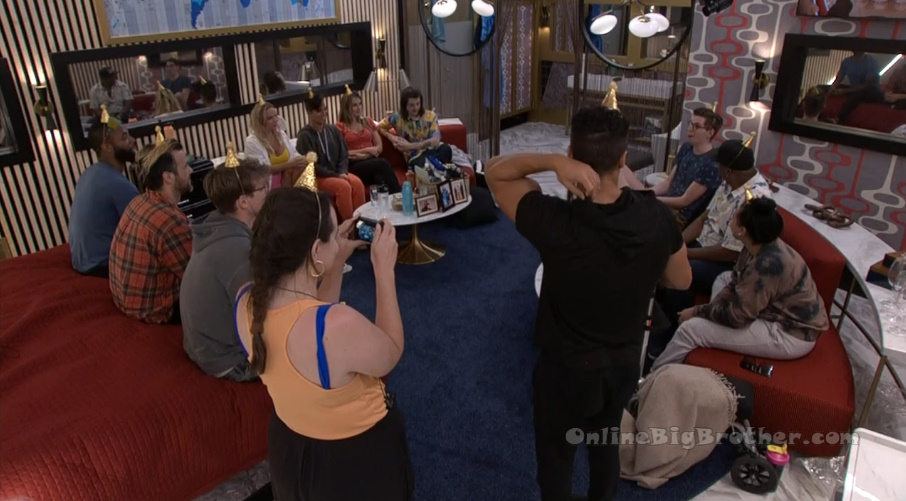 1am The party continues .. Terrance – there is definitely a lot more than what Mike lets on. Jasmine – like this is Mike but you definitely have a wild side. Michael – once I've had some long islands..