Quick Big Brother Spoilers
Head of Household: Daniel
Nominees: Michael Taylor & Terrance
POV Players: Daniel, Michael, Terrance, Indy, Ameerah and Turner. Kyle is hosting
POV Winner: Michael
Veto Ceremony: Veto used. Taylor nominated
Evicted:
Havenots: Joe, Michael, Monte and Kyle
Michael used the Power of Veto on himself. Daniel nominated Taylor in his place.
Lock your ranks in before midnight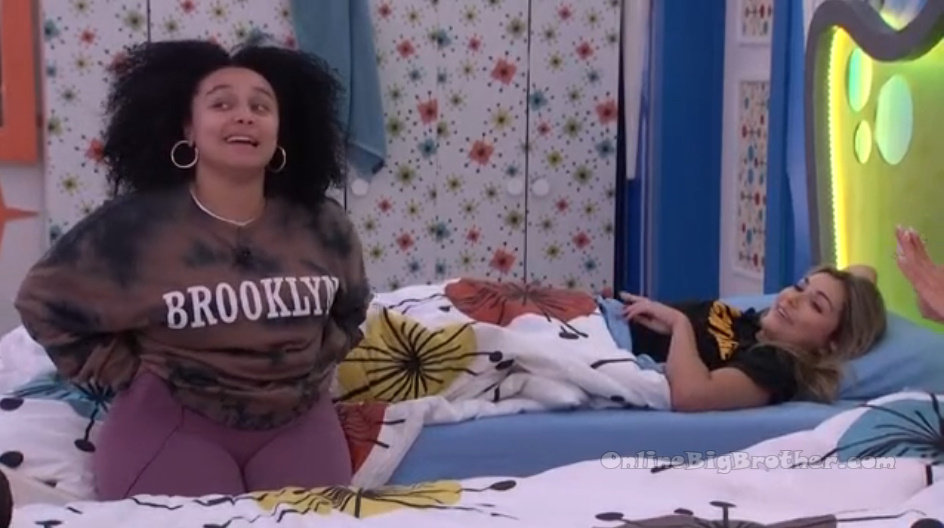 10:34pm Bedroom. Jasmine, Alyssa, Indy and Ameerah.
Ameerah – the ones that are going hard for it (HOH) are Pooch, Turner and Nicole. Alyssa – I don't think any of them are aligned with me but alright. Ameerah – I think its going to be Brittany and Terrance because its less blood but they're not going after Terrance. He's not the target. Alyssa – poor Terrance he's going to hit that block a couple weeks. Jasmine – sorry but at lease we love you enough to not send you home. Jasmine – I think its crazy that pretty much everyone I talked to wants to keep P (Paloma) protected. Alyssa – she is playing a really good social game. Jasmine – she is playing a good social game. She is doing so well that when me and Turner were talking game and he asked her if she wanted to get in on it and she said not I do not want to get in on it. She's smart. I wish I could do that. I wish I could say no I don't want to talk game. Turner said he wants Brittany and Terrance (nominees). Ameerah – oh yeah I think that's what its probably going to be. Jasmine – why are people not thinking Michael? Alyssa – because he was just on the block. Jasmine – so was Terrance. Indy – and he's sweet. Ameerah – seeing how he competed and won.. Big Brother blocks the feeds. They talk about being the power rangers. Indy – We can be Power Rangers.. and whenever someone messes up its going to be Teletubbies.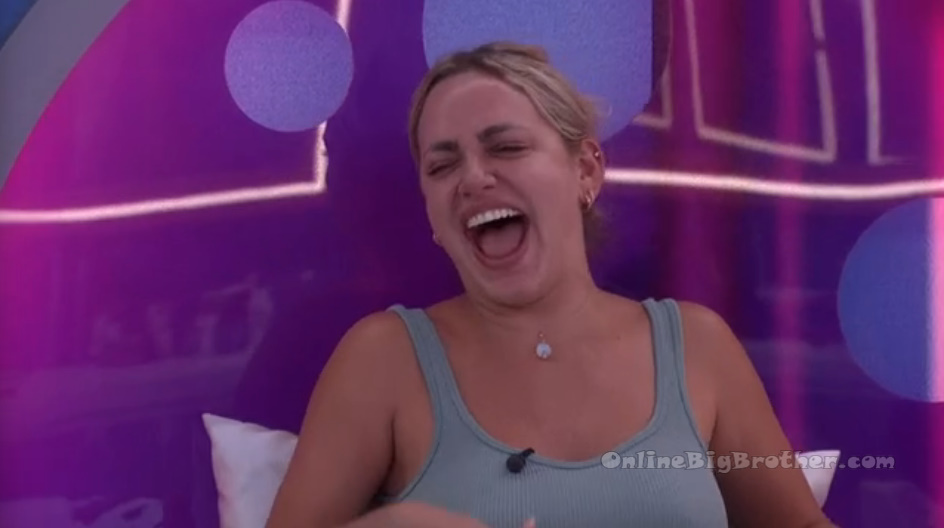 11:13pm HOH room. Daniel and Taylor.
Daniel – obviously I put you up and I've been chill with you. And Nicole's mentioned being cool with you. I don't know how much you guys have talked. When I do see you, you're killing it and when I don't see you I am thinking she's probably killing it. Taylor – my body shut down on me so I was laying in bed a lot. The way I ended the speech was that I said something to offend people. And now that I've talked to everyone in the house .. it wasn't that I insulted people in like race, ethnicity, creed or personally offended people. Its more like they just didn't vibe with me or that they thought that I was going to buddy buddy up with the guys and make it a guys versus girls thing… when really I was just trying to tamp down anxiety between the two. And so I am just like well that was just a massive miscommunication .. that sucks! Daniel – if you stay sh*t is going to get wild because we have the two sides and I would roll. Taylor – lets go! Daniel – I am glad that you're still doing your thing and fighting.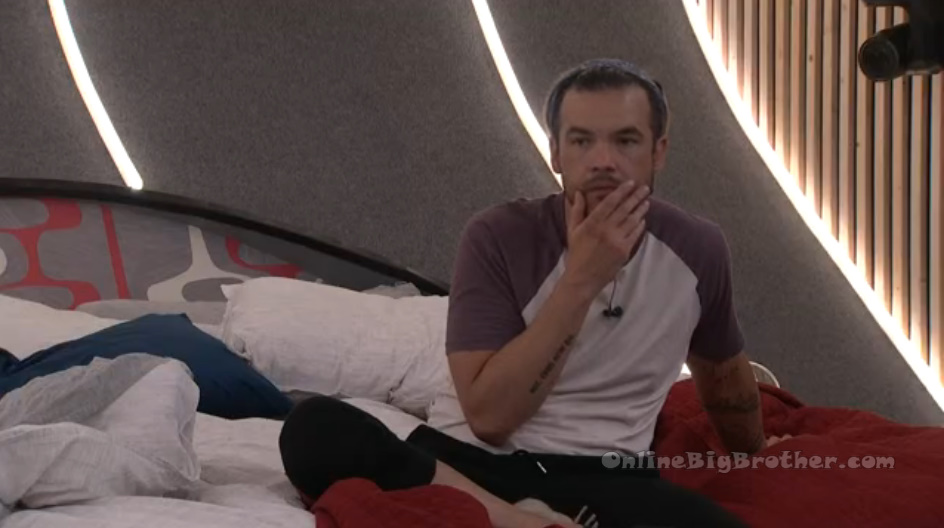 11:45pm Bedroom – Monte and Terrance.
Terrance – I do feel good that it was just me and her suitcase and not the other 3 girls (backstage) too. That made me feel a little bit better. Monte – right because then its a little more straight forward.
12:15am Bathroom talk about someone in the house that doesn't flush #2.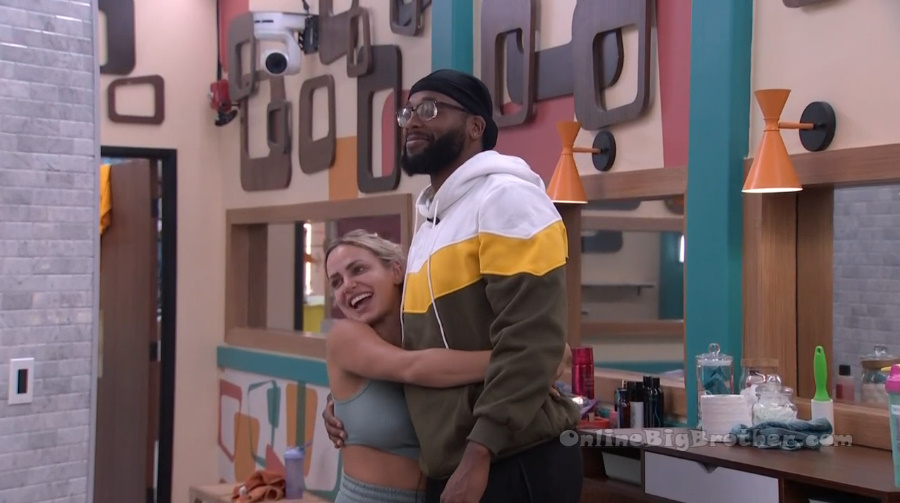 12:24am Bedroom. Poorch, Nicole and Terrance.
Nicole – we were in the bathroom last night and Joe made a blanket statement .. I'm good with all the girls. And I looked at him and I was like oh yeah, how many of them have you talked game with? And he was like ah none of them. I go like this .. you feel safe with them? And he goes yeah. I say have you ever talked game with me? And he looked at me and I go no you haven't. I wanted him to realize don't get too cocky motherf**ker. Like there are eight people in this house that you have not spit game to. You're like a little brother to me and I am going to give you a reality check! You know what I mean, like I am not going to play nice if I don't have to and I'm also not going to sugar coat anything. Don't be cocky in front of your boys just because I'm sitting here.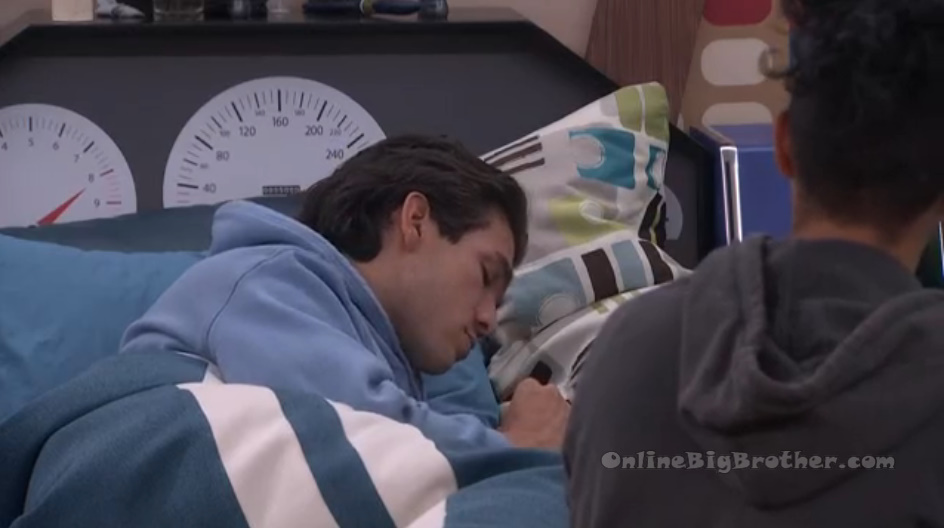 12:36am Bedroom Jasmine, Indy and Alyssa.
Jasmine – I will tell you this… if you're in good with Pooch, you're in good with Turner because whatever Pooch wants to do .. Turner wants to do. Turner said that his targets would be Terrance and Brittany. Ameerah joins them. Ameerah – are you b***hes conspiring against me?! They say no, we're talking about Pooch and Turner. Alyssa tells Ameerah – Brittany said .. did I tell you this? Brittany said that no one will look her in the eye. She said I know that feeling. I can tell something is wrong. I said don't be paranoid. Jasmine – I'm going to say something to her when backstage is done.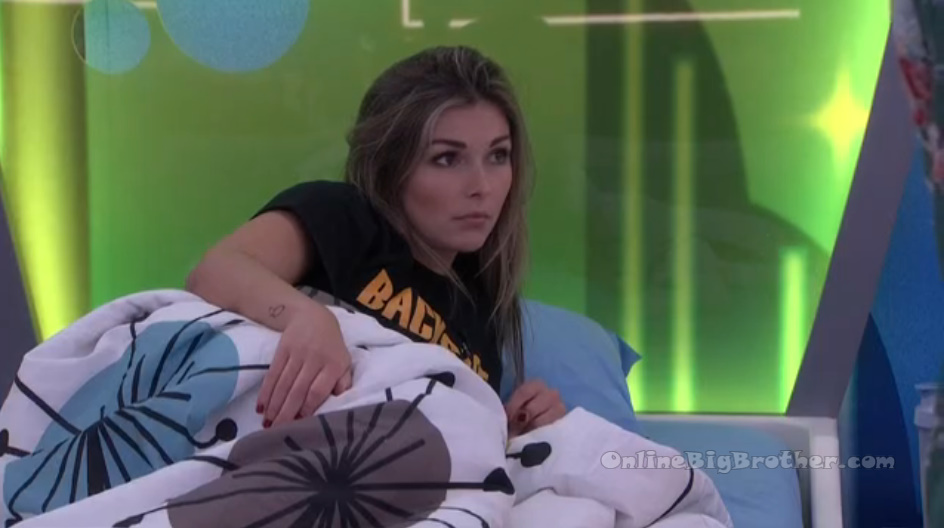 12:52am Big Brother blocks the feeds.
2am Still blocked..
Girl's Girls (Paloma, Jasmine, Alyssa, Ameerah, Indy, Brittany)
Motley Crew (POOCH, Turner, Daniel)
The Oasis (POOCH, Turner, Daniel, Kyle, Monte, Joe)
MAMBA (Paloma, ALyssa, Ameerah, Monte, Kyle, Michael)
Burner (Turner, Brittany)
TOOCH (Turner and Pooch)
PSL (Paloma, ALyssa)
Rouge Rats (Nicole, Daniel)
Smurfs (Jasmine, Paloma, Kyle, Monte)