Quick Big Brother Spoilers
Head of Household: Daniel
Nominees: Michael Taylor & Terrance
POV Players: Daniel, Michael, Terrance, Indy, Ameerah and Turner. Kyle is hosting
POV Winner: Michael
Veto Ceremony: Veto used. Taylor nominated
Evicted:
Havenots: Joe, Michael, Monte and Kyle
Michael used the Power of Veto on himself. Daniel nominated Taylor in his place.
Lock your ranks in before midnight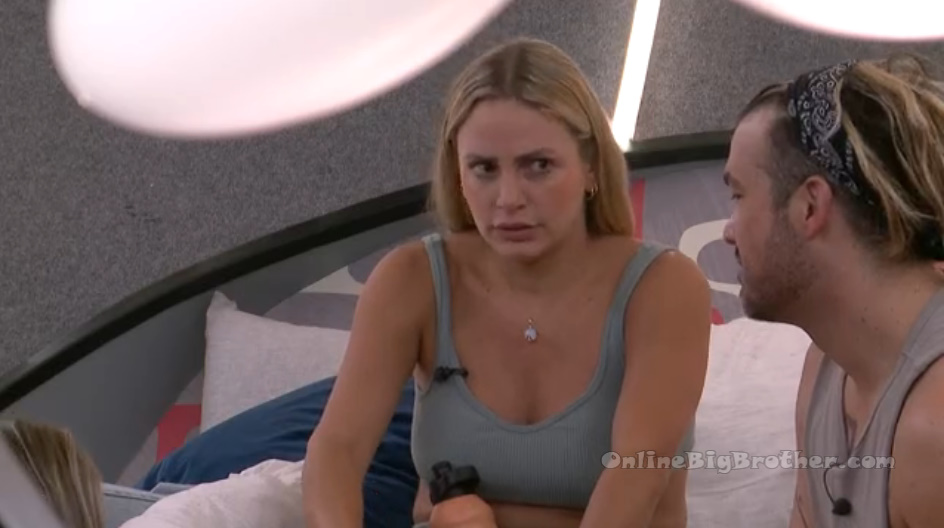 7pm HOH room. Indy, Daniel, Alyssa, Turner, Taylor and Paloma.
Alyssa – can't vote this week.. hopefully not on the block this week… not sure. Could be a third nominee. Could be a replacement. Could be safe… hopefully! Please be nice to me. Daniel – I am hoping its an option. Pooch can option to switch one of you with someone else. If he wants to. So then the strategy moving forward .. this is huge. HOH only has 50% power and it almost doesn't even matter because if your target is up there then .. so its almost like 2 HOHs. Alyssa – but why would we not be able to play in anything? Paloma – I have the most brilliant idea. Good thing we're being recorded… She says someone should patent the idea and then give her a percentage of the profits. Paloma – we're (Turner and her) talking about podcasts and we got onto the topic of sewer rats and speakeasys. I think its a cool business idea .. We're basically in a speakeasy from our phones. We're not allowed to use our phones. Big Brother loses interest and switches the feeds.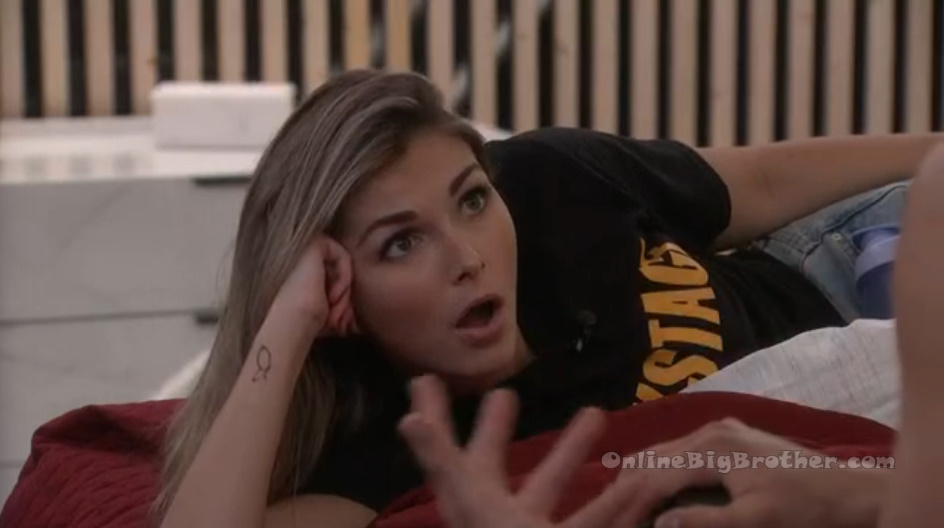 Kyle – are you going to go pretty hard for the HOH? Michael – I feel like I don't want it but I feel like I may need it. I feel like I could be an ease pawn.. or and an easy ..and it sounds like not many want it. Kyle – yeah. Michael – Paloma, Monte and Ameerah were like well I hardly have anyone I could put up so I don't really want to do it. And so I am like well if you guys don't want to do it.. ..MMmm.. maybe you shouldn't have aligned with 12 other people. Kyle – my biggest thing is we know about the ones we know about but like Daniel and Nicole are smart. Like they're not just floating right now.. so there is something we don't know about. That is the only thing that I am like.. Michael – yeah. Do you want to go for it? Kyle – I don't. I don't know. Its hard but I don't know. Michael – I'll probably start going to bed earlier. I feel like its mostly Pooch and Turner that stay up late and they don't talk to me so I don't have any reason to stay up. Kyle – I don't know why they wouldn't. Michael – I've even opened the door for them .. like if you ever want to talk.. Kyle – of course with everyone. Michael – but then I never hear from them. Kyle – I don't know every time I talk game with them its hard to even describe it .. its like teenagers playing. Like they're not smart. Michael – I hope they feel comfortable next week to not go for it. Kyle – I'll ask them and see. This kind of shows what kind of game they're playing.
8:08pm Kitchen. Indy, Kyle and Michael.
Indy – You guys want to win HOH this week? Kyle – I think so.. Michael – I plan on trying. Kyle – what about you? You got that gold ring twice. America knows you've proved you're a comp beast! I think it would be cool like not a lot of people that even get to play the game get to be HOH. Michael – I just think because I was put up last week.. its an ease excuse to put me up again. Indy – I think it would be bada$$ if you got it. Michael – I would like to get it and sleep on that bed. Kyle – I am torn about it. I wouldn't want to make that decision (who to nominate). Who would you put up? Indy – just don't put me… because I would hunt your a$$ after! Our marriage in Brazil would be done. I'm literally going to poison your food.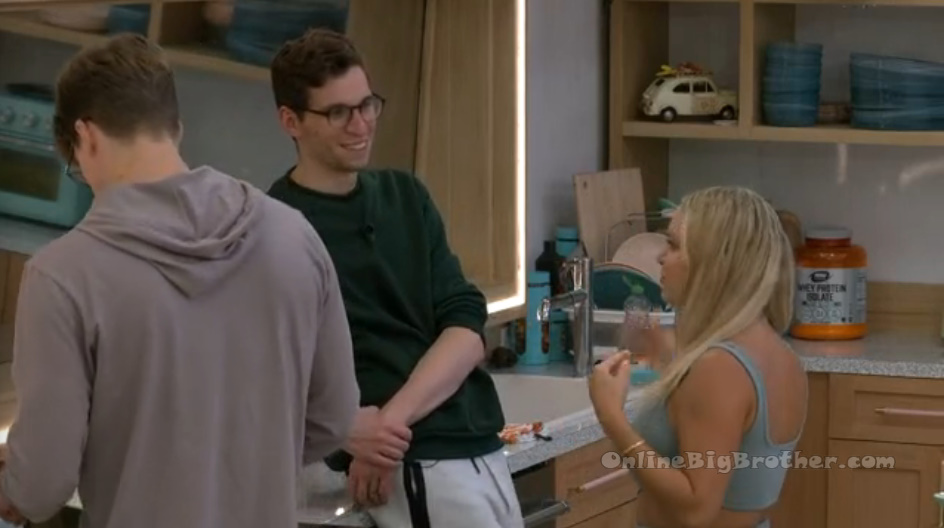 8:57pm Bedroom. Jasmine and Turner.
Jasmine – so if next week is coming up and you want P safe and who else? Turner – Pooch. Who would you not want to go up? Jasmine – Alyssa and Ameerah. Turner – okay, yeah totally. So like this week we had a big one so the best way to go is to take out like the easy targets next week. Jasmine – you think so? So like Terrance / Michael. Turner – Terrance and Michael are the easy picks just because there was a reason they were already up.. it would be the least blood on your hands. Where do you stand with Michael? Because I don't really know where I stand with him. Jasmine – Michael, like I don't talk game with him.. like I've never talked game with him.. like ever! Turner – yeah that's exactly what I am saying. Jasmine – I really don't talk game with Terrance .. just that one time when he was on the block. Turner – I feel bad putting them up two weeks in a row personally. Jasmine – yeah for sure. Turner – For some reason I would feel less bad putting Michael up twice in a row. I look at Terrance as my father and I don't want to disrespect him. And clearly Michael is a competitor. Indy, Kyle, Alyssa and Pooch join them.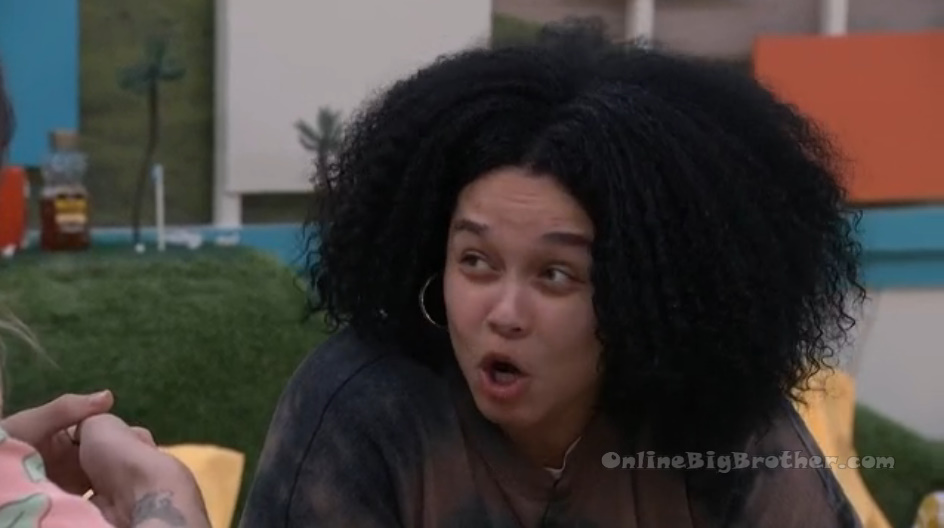 9:40pm The house guests are chatting / hanging out. Monte and Joe are working out.

9:50pm HOH room. Terrance, Daniel, Ameerah and Nicole.
Terrance – to me he is the last oldest and I said you need to figure out what side of the fence you're on. Do you want to play with them? Ameerah – who is that? Michael? Terrance – yeah. I said what you want to do because you've got to come out guns blazing. He was like, I don't fit in over there. I said I got you if you got me. I said no ill will we ain't going against each other anymore. So lets fight!? And he is done! Nicole – okay! Daniel – that is dope! Ameerah – so he is in? Terrance – yeah. He is like I am just trying to get myself in shape. Like he wants to get the guys. This is locked. And I mean 1000%! One of us has to win HOH. Nicole – so if this thing is a boss again next week we need to figure out a way for one of us to be the boss so that another one of us gets HOH. So now we're talking two of us are safe. Ameerah – the only thing with that is the boss because a target. Daniel – especially now that the boss is like a second HOH.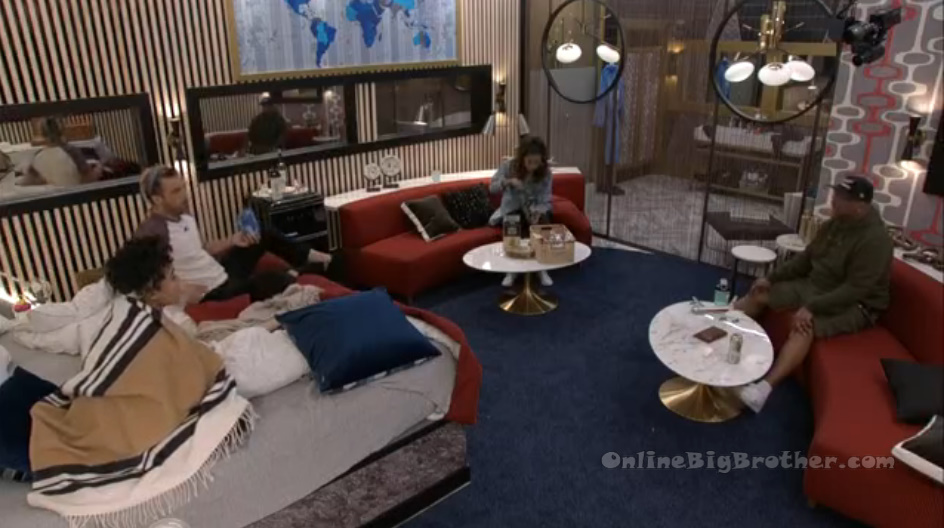 Girl's Girls (Paloma, Jasmine, Alyssa, Ameerah, Indy, Brittany)
Motley Crew (POOCH, Turner, Daniel)
The Oasis (POOCH, Turner, Daniel, Kyle, Monte, Joe)
MAMBA (Paloma, ALyssa, Ameerah, Monte, Kyle, Michael)
Burner (Turner, Brittany)
TOOCH (Turner and Pooch)
PSL (Paloma, ALyssa)
Rouge Rats (Nicole, Daniel)
Smurfs (Jasmine, Paloma, Kyle, Monte)