| | | | |
| --- | --- | --- | --- |
| POV: | Faysal | Next POV: | July 7th |
| POV Used | No | POV Ceremony | July 9th |
| HOH: | Tyler | Next HOH: | July 5th |
| Noms: | Sam, Steve | Have Nots | ? |
Big Brother Spoilers – Tyler starts pulling Kaitlyn away using the knowledge of the power. Appears like she's receptive. Foutte thinks they have the vast majority of the votes and haven't really been doing much to guarantee that. Kaitlyn tells Haleigh and Rockstar she's voting to Keep Sam. Chaos starts. The feeds go down while they are in HOH lockdown. I'm not sure if we'll get an update before the Live eviction tonight.
8:00am Morning Steve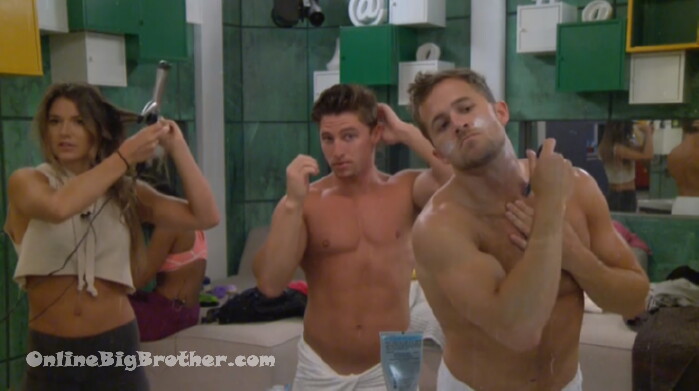 10:00am Houseguests getting ready for the first live eviction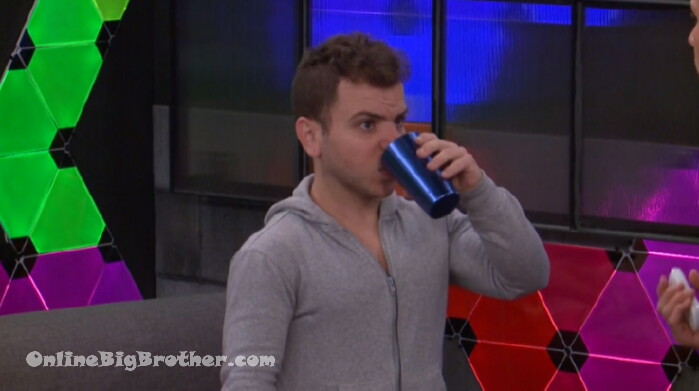 10:10am JC and Tyler HOH
JC telling him about Swagz side always coming to him about the vote.
Tyler says the reason is Haleigh is going back to that side and telling them his voting for Sam to stay and they are trying to make sure you don't
JC – how are you going to get Kaitlyn to vote
Tyler – I'm going to trick her into thinking I know who has the power and saying like she needs to vote Sam outta here or she;'ll be screwed
Tyler – and you need to vote SAM out 100%
JC – ohh no I'm voting Steve out
Tyler – 1 million percent
JC – Sam out
Tyler – no vote Steve out
JC – What.. I'm like w t f .. i'm like Dude
Tyler – you gotta stop with HAleigh dude
JC doesn't think Haleigh is as tight with Swagz side
Tyler – she is so in with them.. she's gone… she gone
JC shakes his head
JC – the times I spoke to Haleigh and stuff.. she's not with them
Tyler – SHE'S with them
JC – She's very weak minded if we really pull her and stuff
JC says right before the live show he's going to try and get Haleighs vote
Tyler – that's going to get a target on you
JC – if she asks me what are we doing
T – she's not going to ask you
JC – the night before yesterday she asked me..
Tyler – Swaggy ROCKSTAR and Fez, whatever they do she's going to do it's too early for her to flip on them.. she is so in with them dude you gotta stop.. trust me
JC – you think KAitlyn is going to do it
T – i'm not 100% sure
Tyler – Stop with HAleigh..
Tyler says Swagz 4 will vote for Sam to go 100%
JC – I don't trust Kaitlyn at all.. listen she has a boyfriend I caught her in that bed and she like cuddling with Brett and you're on the other side and I'm like GIRL (picture is in the gallery below)
Tyler – don't worry about KAitlyn don't worry about Haleigh.. ROckstar has already thrown out your name.. I know Haleigh has already thrown out your name.
T – haleigh told them that you are voting to keep Sam that is why they corner you
Tyler warns him they are going to start cornering him again to get his vote
JC says the otehrside is confident "they think they have 8 votes'
JC – they thin kKaycee is voting for Steve to stay too
T – yeah..
JC – so .. yeah this is going to be a HUGE F***g BAcklash for them
Tyler – you gotta stop with Haleigh dude..
10:35am Haleigh and Brett
She asks him what he's doing with the vote. Brett says he feels like he's always changing his mind. Haleigh says she's the same.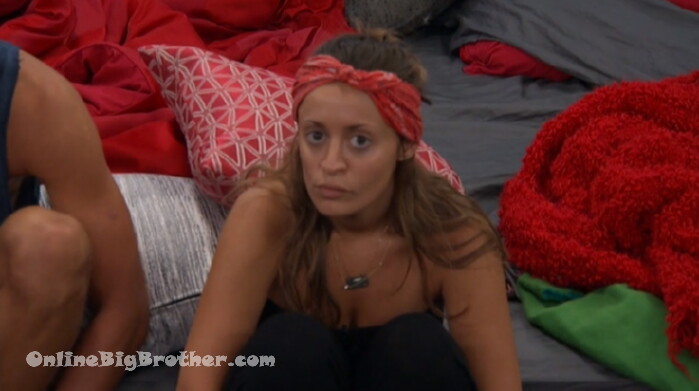 10:43am Kaitlyn and Tyler HOH
Tyler says Swaggy has been coming up to him asking him to solidify her vote because they think Kaitlyn is a cannonball
Kaitlyn – I'm voting Steve to stay
Tyler – you can't do it I know who has the power.. its on that side.. Brett, Angela and Winston
Tyler – If you vote Steve to stay your f** you need to vote for Sam to stay
Kaitlyn – why
Tyler – the power is with that group and it'll be used.. from what I got from Brett and Winston.. if you don't vote for Steve to go you're f**… I don't know what they think about you but no one trusts you in the five.. people trust you here (with him)
Tyler – they guaranteed my safety and your safety.. they'll cover for you on their side if you vote for sam to stay
Tyler – you need us..
Kaitlyn – I can't even believe I'm considering this right now..
Tyler goes on about how swags side is telling him he needs to lock her vote down because they don't trust her. He adds that swagz side is trying to pit him against her.
Kaitlyn – this is a big thing now.. if I vote to keep Sam.. they'll put me up.. Fesss and all them
Tyler- no they won't the power is on their side..
K – we don't know what it is
T – It's going to be covered. If we vote for Sam to go the power will be used and sh1ts going to pop off and you'll be screwed
K – will I be on the block
T – yeah
K – tonight
T – maybe, you need to vote for Sam (to stay)
K – we have the numbers to keep Steve.. so Brett gets to replace someone.. you think he'll put me up..
T – I don't thin Brett gets to put someone up..
K – you do
T – NO, I don't know .. all I know is it's on that side..
K – they told me I would be f*** .. why would it be me.. I'm not a target.
T – you gotta trust me right now.. I'm not trying to freak out but I'm freaking out..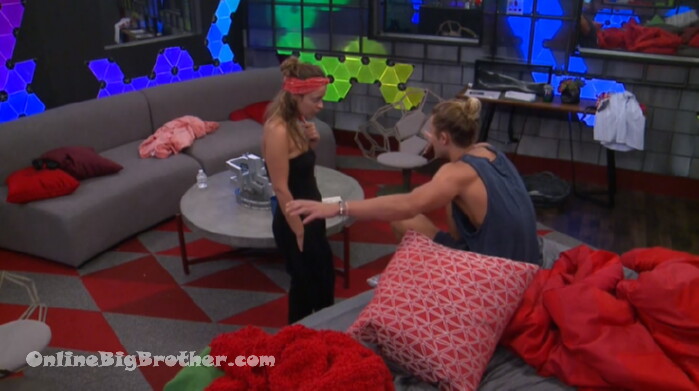 Kaitlyn says she needs to hear from Brett that she's protected.. "I'll f*ing do it but I need to know that everyone is on my side.. "
Tyler says they'll all protect her but they'll pull Brett and Winston up to the HOH.
K – you think Haleigh is against me
Tyler – Haleigh is against you and so is ROCKSTAR
K – you know that for a fact
T – I know that for a fact
K – really
T – I told you I would never lie to you.. they don't trust you they told me you're a cannonball
T – you know Swaggy straight up tells me he controls all of you
Fez comes in.. .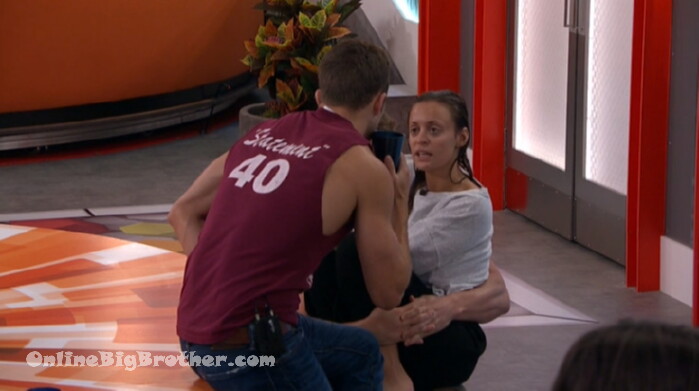 11:04am Bros and Kaitlyn 
Kaitlyn – what are we doing
Brett whispers to her you cannot vote to keep steve
11:07am Kaitlyn and Haleigh in the storage room 
Kaitlyn – I love you to death .. Swagz is telling Tyler that I'm at the bottom of the totem pole and i'm next.
Kaitlyn – Nobody in the group trust me and he runs all of us.. Sorry.. Tyler just told me..
Kaitlyn –  He's going to Tyler saying that I'm a liability and how everyone has to
Kaitlyn – Love you like Love you..
Haleigh – whatever you are going to do I am going with you
KAitlyn – Whoever votes Steve to stay is f***.. .
Haleigh – what do you mean they're f**
Kaiutlyn – don't know just heard from Tyler..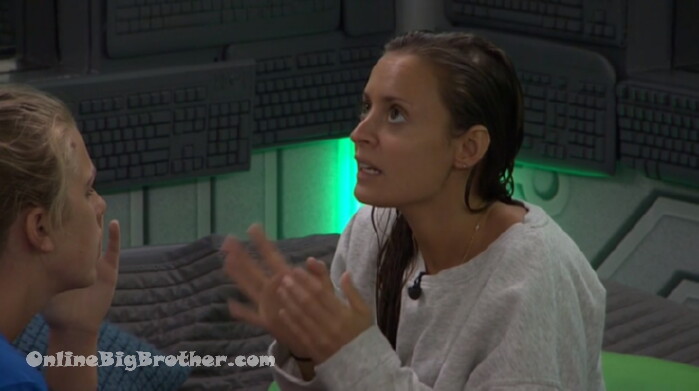 They run off to the Have nots.. Haleigh says Swaggz is just getting nervous that is why he's saying that.
Kaitlyn says Tyler was SHAKING when he told her that the the power will be used if they vote Steve to stay and nit'll f** them.
Kaitlyn – F*ing Swaggy.. he ruined a good thing.. hew said I control everything this group does.. that's literally gross..
Haleigh says she's not welcome in the other group.
Kaitlyn counts that they would have a group of 10 if they join the other side.
Kaitlyn says she's grateful the universe should this to her. They decide to always "Vote the same"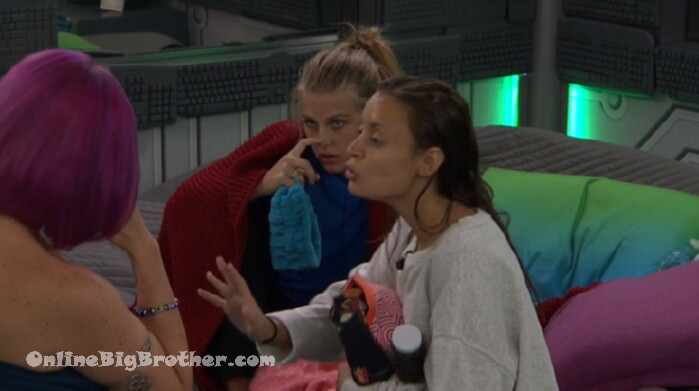 11:22am ROCKSTAR, Kaitlyn and Haleigh 
Kaitlyn fills ROCKSTAR in says there will be a power if they vote out Steve. Everyone who votes Steve out will get some penalty
Rockstar – are you sure Tyler isn't pulling something
Kaitlyn – when I was up there he was shaking..
Haleigh – there's a power in play that will put you in danger if  you vote Steve to stay
Kaitlyn – you guys can do whatever you want..
Kaitlyn says she's loyal to ROCKSTAR and Haleigh but not Swaggyz
Kailtyn – I don't trust Swaggy with a 9 foot pole I've had that Aura for him the second he walked into the house the second he made that decision the first day.. I don't trust him..
Kaityln – I'm voting Sam to stay I have to save my own a$$
ROCKSTAR says if she votes Sam to stay she's technically sticking to her word.
Haleigh and KAitlyn believe Tyler but Rockstar still isn't sure.
Kaitlyn – I'm voting for Sam to stay and i'm going to lie abotu it until the day I die
Haleigh – I don't want to vote the wrong way and have the power f* me up
Kailtyn – I know this is last minute but the universe was like b1tch you have to see this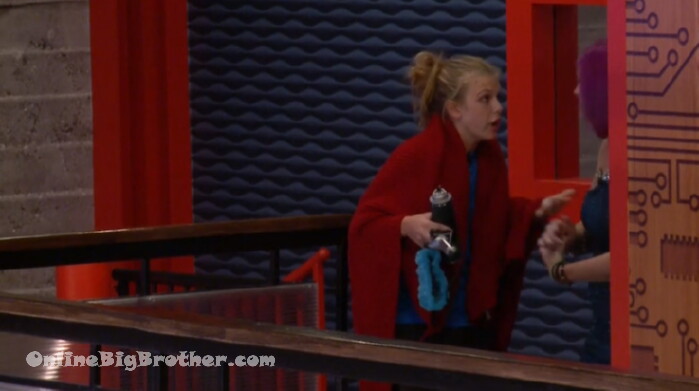 11:31am ROCKSTAR and Haleigh
Rockstar – we've said the same thing about Kaitlyn..
Haleigh – I know but we didn't go up to someone else and say it
Haleigh – what the f* was he thinking.. (swags)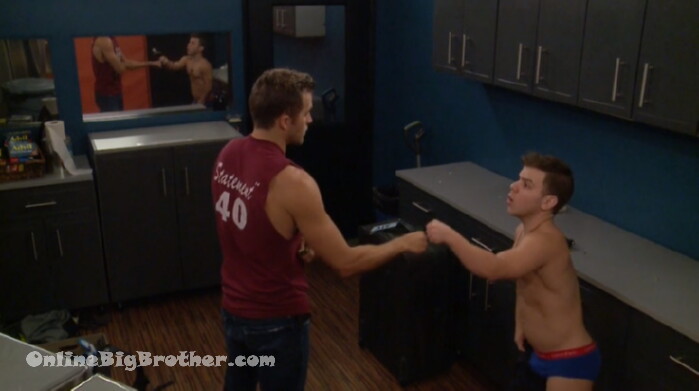 1:25pm Storage room JC and Winston
Winston – we're doing it right? Steve out
JC – yeah
JC isn't going to give her time to think she's going to talk to her right before the vote.
JC – you see how cocky they are
(they scare JC)
Brett scares JC in the storage room #BB20 @DawgsBigBrother pic.twitter.com/4qqqI4uBwU

— OnlineBigBrother.com (@bigbspoilers) July 5, 2018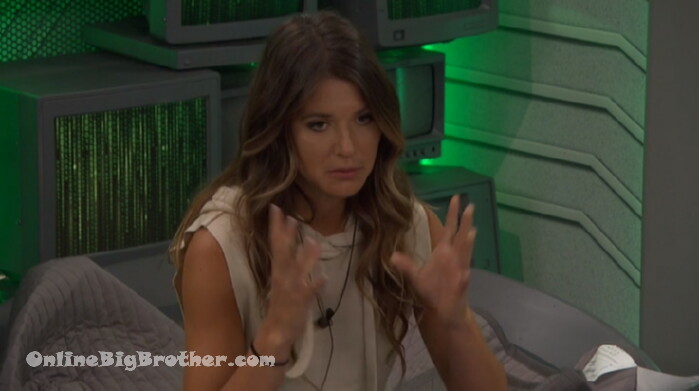 1:39pm Angela and Winston
Winston says Kaitlyn came in and told him "i just want to know that Swaggy is the target next"
Winston – I think SCottie is on to her flipping..
Angela says Tyler is pretending to float with Kaitlyn.
Rachel comes in Angela order Winston to talk to Tyler.
Rachel asks ANgela what is happening
Angela – KAitlyn opened her mouth
Angela – Scottie was pretending to sleep he knows that Winston just promise KAitlyn to go after Swaggy next
Rachel – Scottie heard that..
Angeal – that makes her a target .. everything is going to blow up tonight.. "BOOM"
RAchel – That's not really bad for me.. my personal game
Angela is the same. says it exposes Kaitlyn as the one that flipped "it could be a good thing"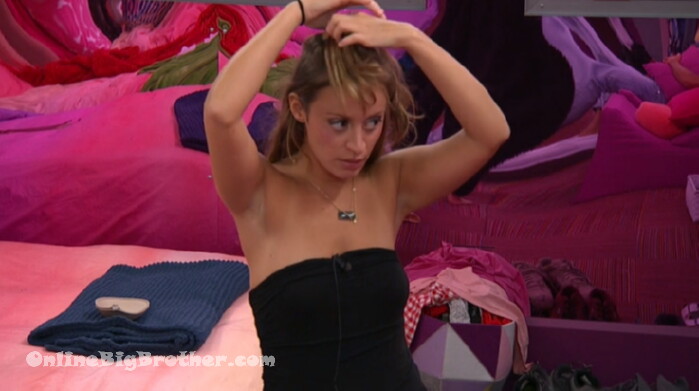 1:40pm Kaitlyn tells Tyler 
Kaitlyn "If we don't win HOH I'm going home.. has anyone considered that.. no one is thinking about me"
Brett – there's bigger things going on regardless
2:01pm
May be the last update before the show..
Tylers hair is down meaning voting Steve out is a go
Rachel fanclub
Get your Feeds through this link
For all you folks that need a VPN I use this one
Rank the houseguests!
Easiest way to Rank the house guests use link below