Quick Big Brother Spoilers
Head of Household:  Michael
Nominees: Terrance, Monte & Joseph Kyle and Daniel
POV Players: Terrance, Monte, Joe, Brittany, Michael Jasmine and Turner; (Taylor is hosting)
POV Winner: Michael & Brittany
Veto Ceremony: Veto was used Kyle and Daniel nominated
Havenots:  None so far
Lock your ranks in before midnight
Festie Besties:
Turner & Jasmine
Joe & Monte & Terrance
Daniel & Kyle
Brittany & Michael
Alyssa & Indy & Taylor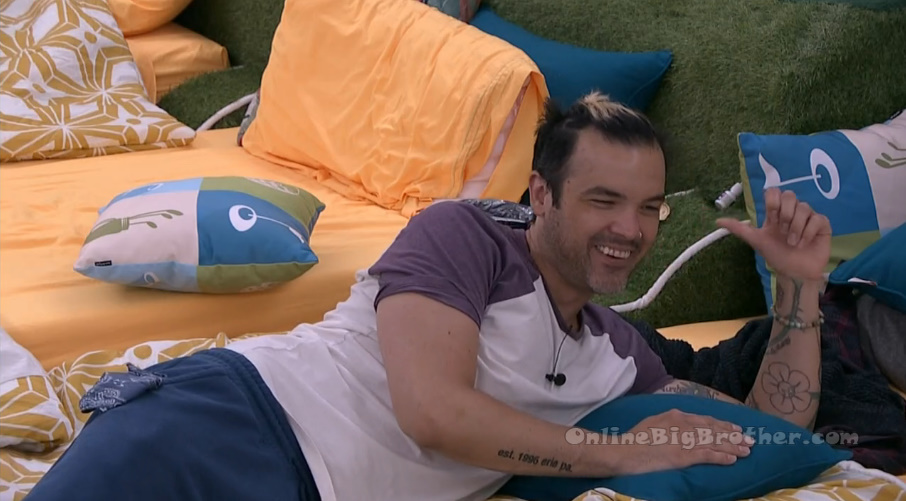 7:20pm Bedroom – Terrance and Daniel.
Daniel and Terrance look for "Hide the Veto" spots for Terrance to prep if that veto comp happens this season. Daniel – I still think that Turner is America's player or Saboteur. Terrance – I definitely do. Daniel – but like that can't be the only thing in play. There has got to be more in play.. unless that starts this week because Besties cannot be the only thing happening right now. That is so boring. Its hard for us to navigate but its boring. Terrance – it is. Daniel – its so normal. Terrance – if this don't go .. I feel like a lot of it is kind of her fault. Daniel – Alyssa? Alyssa? Terrance – I told her how important it is. Daniel – oh Jasmine. Terrance – I told her she was the key to it. Daniel – oh if I go home .. and next week they also get HOH again.. just tells her I told you. You were the glue to keep all this together because its the truth. I am good with Alyssa and Indy but Jasmine is their girl. It would be like if Jasmine told me you better get Terrance on board bro. I would be like.. DONE! And then BOOM! That's how it works. Terrance – so like if its just me and her next week.. I would be like I don't care what you do .. go join them or do whatever. Taylor laughs in another room. Daniel – UGH.. I will not miss that laugh. Watching this back is going to be cringe.. but I will. Big Brother switches the feeds away and then back.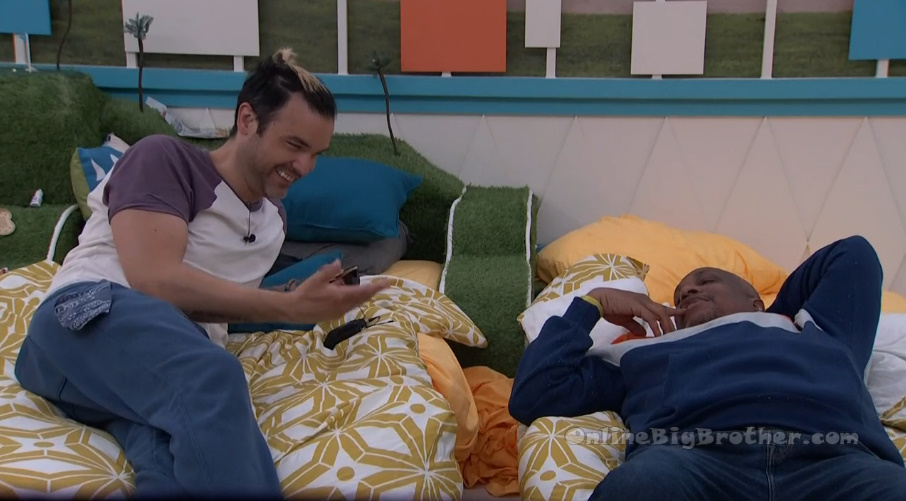 Daniel – here the bad person always wins because they lied and manipulated and I was like yeah but that's what makes it so hard that you have to find out on your own. America doesn't tell us. And she was like no but like in Brazil, whoever goes home you find out that they lied a lot. This isn't about best person gold stars?! I think it bothers her that people have to lie. That's why Nicole's idea did not fly with her.. the I'm going to vote them out… because Indy doesn't understand that you have to do that. Terrance – right. Daniel – to get to people's heads. Indy was like no! Terrance – her mentality of the game is like.. Daniel – skewed. Terrance – yup. Daniel – this game isn't for best loser or sweetest liar or sweetest talker. The boy who did good. The boy who did good gets a star and then wins 750K. Big Brother, the boy who did good! Do you want to be the next boy who did good? Sign up today! Terrance – I want America to decide this one. Daniel – no, I would have been home week 2. I wonder at this point who would get America's Player. I guess at this point, Michael would. Terrance – probably Michael. Daniel – especially if he gets sent home or to jury because he's good. I'm sure America loves him. He deserves something for being a bada$$! Maybe Jasmine, if she is as funny on TV as we see her. Terrance – right. Daniel – she is amazing. I almost made it half way. I made it further than Nicole.
7:42pm Big Brother blocks the feeds.
8:40pm The feeds are still blocked.
8:53pm The feeds return.
Bedroom – Daniel and Jasmine.
Daniel – if I'm not here I hope you and Terrance succeed. You guys need them. Jasmine – who? Daniel – Indy and Alyssa. You guys have them. Jasmine – I don't know .. sometimes I feel like I can be decent at this game and sometimes.. Daniel – who? You? Your social game is on top! Jasmine – why does everyone keep saying that? How?! Daniel – because you're a chameleon. You're so good that when you vibe with Taylor … I'm like oh now you f**k with Taylor?! That's how good you are. Like I get jealous. And that's why your social game is on top. Like I hope you kill these competitions. You're going to go straight to the top. Jasmine – I feel like I am a pretty strong female.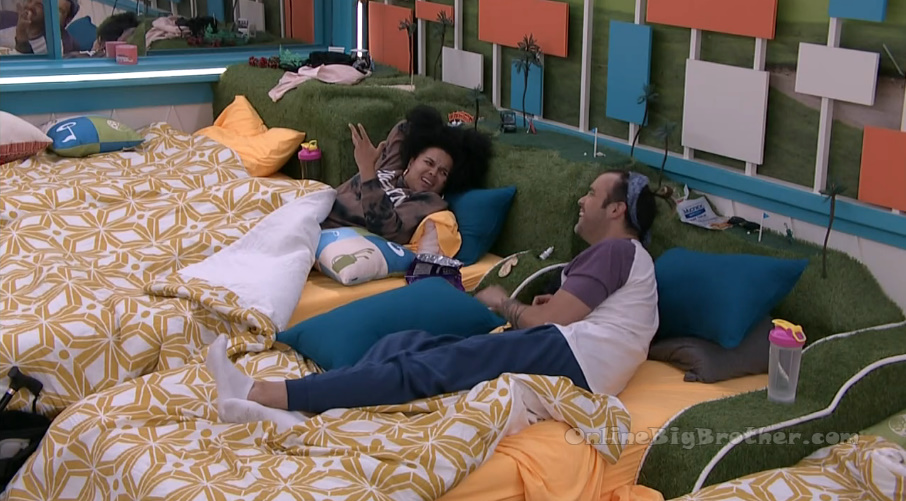 9:10pm Bedroom – Klyssa
Alyssa – come home to Florida! Go home to Utah then come to Florida, then I'll come to Utah, then we'll travel and go to Paris and get married and have 6 babies. Kyle – I'm very curious who will hang out this cast once we get out because we do not have the same cast as last season. This is like the only thing I enjoy right now. Alyssa – really? Kyle – Mmmhmmm.. See because I can enjoy this just literally chilling with you .. like yeah I think outside the house we could really like like each other because if we enjoy sitting here doing nothing in this stressful environment can you imagine if we had all the opportunities to go out and get food and do stuff outside. Alyssa – I agree because I feel like that is a big reason why people on the bachelor fall in love because the are always doing physical exciting things and we're literally just.. Kyle – doing nothing. I do like kissing you. Alyssa – you do? Kyle – Mmmmhmmm. Alyssa – I like kissing you. They start kissing. Kyle – I just want to get on top of you… but then I also just want to naked with you. Alyssa nods. Alyssa – yeah I really want to have sex with you right now! Kyle – yeah I do too! I really want to. Alyssa – yeah. Kyle – we probably shouldn't. Alyssa – I think if we had a bed alone and it was dark… like if we had the HOH room..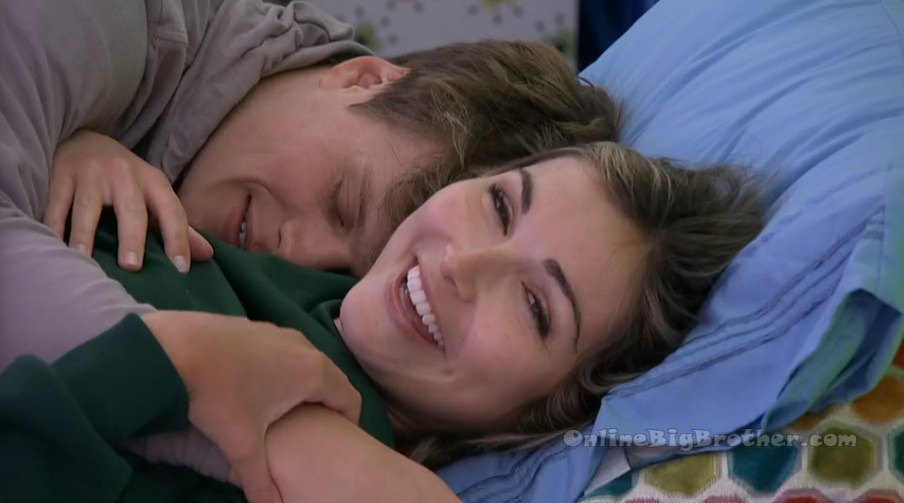 9:23pm
Big Brother gives the house guests more alcohol.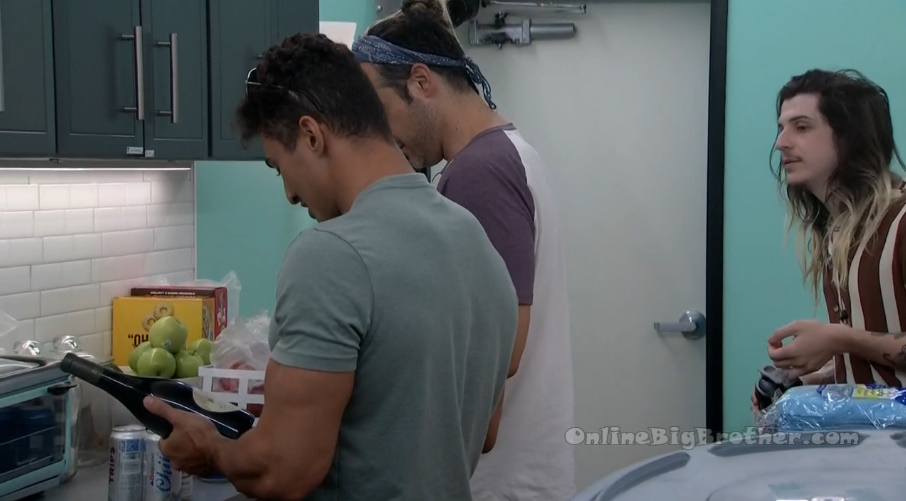 9:57pm Jasmine's sugar pickles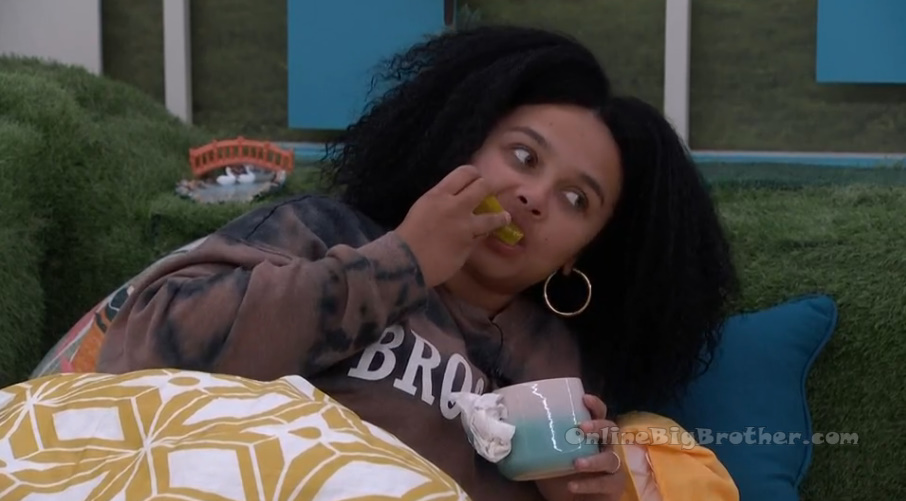 10:08pm Kitchen – Turner & Taylor shot gun a beer. Turner kills it. Monte sips it instead of shot gunning it. Monte – I didn't want to make a mess. (lol)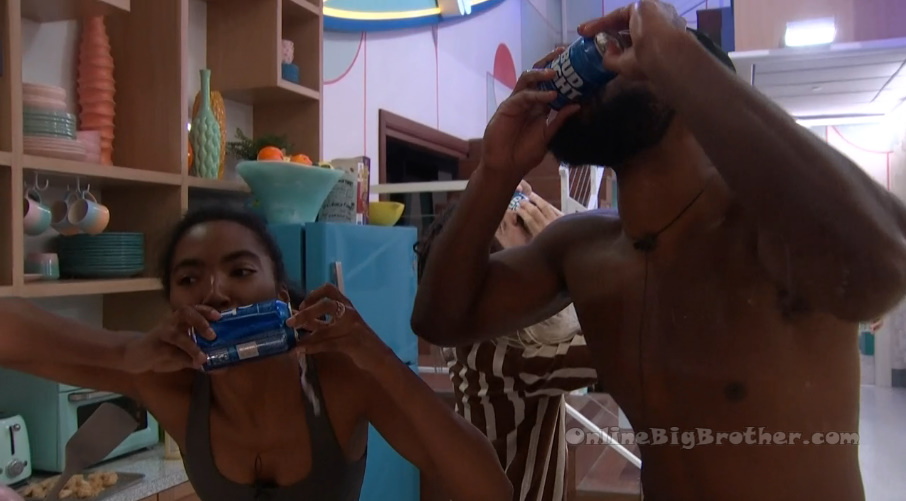 #BB24 Turner kills it! Monte's epic shotgun fail.. @bigbspoilers pic.twitter.com/IJj7WA1ul1

— Dawg (@DawgsBigBrother) August 10, 2022

11:35pm Havenot room – Brittany is crying about feeling "fat" and not feeling like herself.
11:18pm – 12am HOH room – Kyle and Michael.
Kyle – .. no no like not notice but like you know what I mean though? Even just like stuff that like just happened. Like okay this could quickly become.. Michael – what just happened? Kyle – I mean even like her being like pick up this water thing and then I spilled it on her. Michael – I didn't even notice. Kyle – just things like that .. do you think it is annoying to people in the house? Michael – no, I really don't. Its early like oh its cute. Kyle – exactly. Michael – but I will give you a heads up if it does. Kyle – yeah because that's a risk for sure. Turner, Alyssa, Monte and Taylor join them to play chinses checkers.
12:25am HOH room – Michael, Joe, Monte, Taylor, Turner and Kyle.
Joe – did you hear about the alliance they're creating? Michael – is it another alliance that I'm being excluded from? Joe – yes. They're tricking Kyle and I that they're creating one with me and Kyle. So Old School is just adding me and Kyle… pretending that its new. Indy is on a leash and that's how they're trying to control me and through Jasmine. Kyle explains what Jasmine told him. He says that she outlined the five people other than him and Joe. Joe – they spoke for me and then I agreed. Kyle – then I played up the Alyssa card. I want to play with Alyssa. I want to be in an alliance with her. I would do anything for her. To make it seam like you and I are their puppets basically.. which she bought.. she seemed to buy. Joe – she is running the show over there… her and Terrance. And Alyssa is their physical threat. Kyle – I mean she hasn't proven anything. Kyle – I'm going to talk with them and say that you and I chatted and we're on the same page.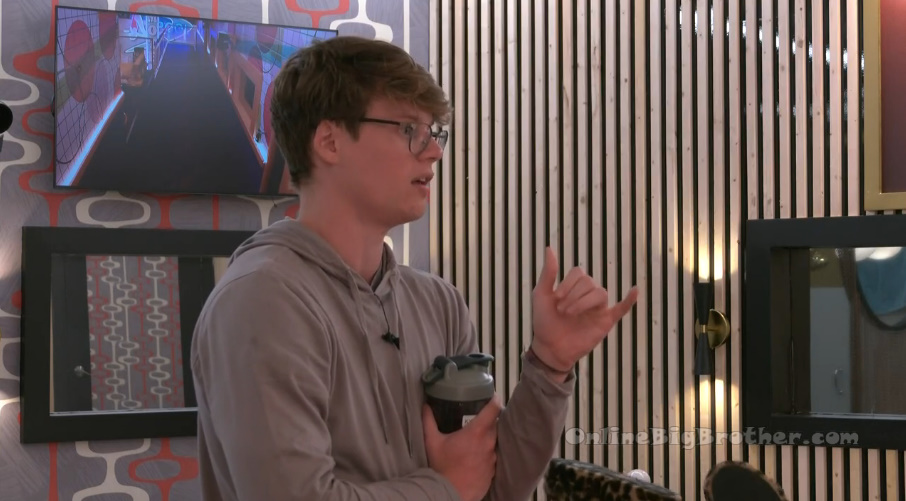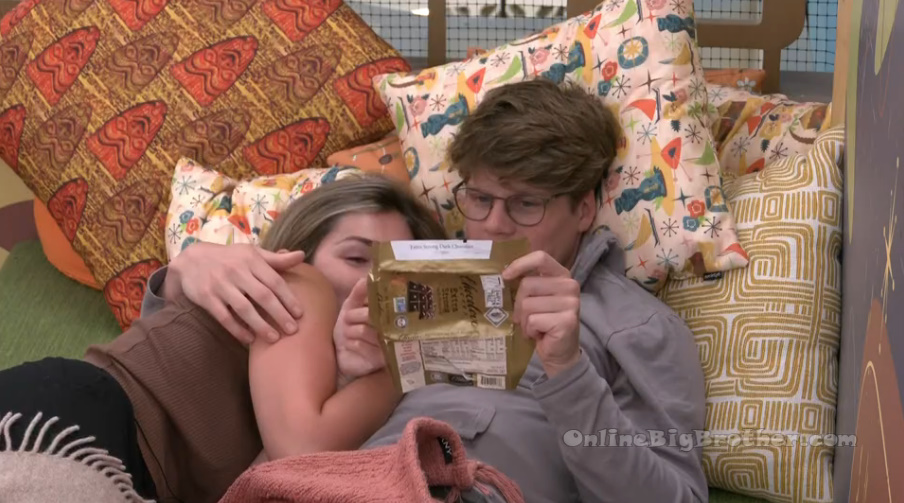 1:30am Kyle and Alyssa read the poems on the "Chocolate Love" wrappers.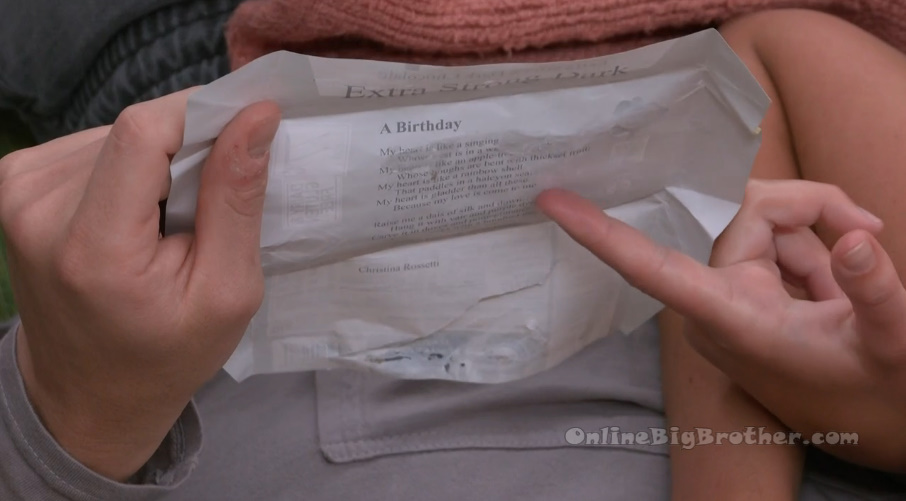 1:45am – 2am HOH room – Michael alone talking to the cameras.
Michael – I am not about to go down with any ship. I trust this alliance not to put me up but hearing Kyle and Joseph complain about their jury votes…. Monte and I might be the first and second member of the jury because we are sticking out necks out and putting our asses on the line for all of us and you're going to come to me and complain about your f**king jury vote!? Get the f**k out of here. Get the f**k out of here!! Its f**king ridiculous. Like I get it, I get it… its something that you should be concerned about but to voice that to the people that run the greatest risk of going home for having your back .. I can't, I can't. They've given us a lot of good information and I am appreciative of that but don't sit here and complain and b***h about having to lie and how its difficult and how you have to think about your jury management. Jury management is not luxury that I have. Its not a luxury that Brittany gets… that Monte gets. And America I hope you see exactly how Jasmine is playing this game.. if she is owning it in the DR.. good but I am so sick of the fake bullsh*t.. the I love you .. I'm a straight up honest player.. the emotional manipulation when she is a mean girl that talks sh*t about people behind their backs .. am I doing it now?? Yes but I don't claim to be mister honest and integrity and its only about the sh*t thats happened here. I didn't judge anyone and say that I didn't like them or that they're this or their that.. I am frustrated because that is not how I want to treat other people. I can't wait to send Jasmine home. I am planning a scathing goodbye message for Daniel. I am planning some damage control with the other side. But if they're going to target me because I didn't do what they wanted .. then so be it.