Want to watch the Big Brother Canada 5 live feeds but live outside of Canada?
Bypass the geoblocking with HideMyAss VPN and be Canadian Anywhere: VPN Help Guide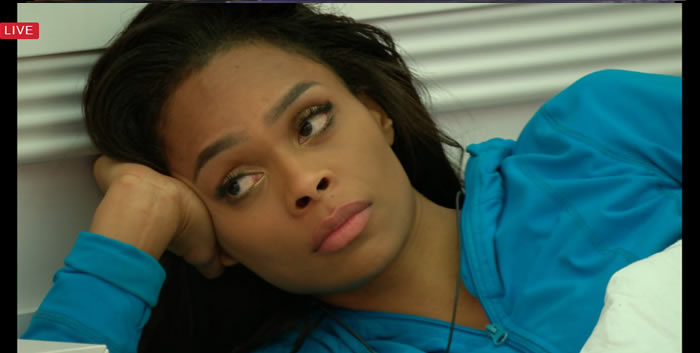 8:35pm Ika, Dre and Gary
Ika says she's not going to Cassandra him she'll tell him straight up he's the target and if Dre goes home it's because of some twist. Gary thought Dre was the target. Ika says Neda doesn't like Gary that much. Ika says that Neda told her everyone is telling her Gary.
Gary bring sup his conversation with Neda where she said if he could convince the house he didn't campaign to save Cassandra he'll be OK
Ika – She said that to you.. That's so EWE
Ika – that's bullshit she's coming after you guys, it's either you, me and Dre.
Ika – look at me I'm not lying to you.. I'm telling you right now you are the target.. They will keep her and you will go .. My one vote can't save you
Gary – I just can't see me leaving like this
Ika – I'm telling you they want you out
Ika says she will vote for Gary over Dre, even if Dre has the votes she'll throw one to Gary.
Ika tells him all he's got is Ika and Demetres, "You don't have Kevin he's working with them"
Ika – you don't have william he's voting for Dre..
Gary – I'm not giving up
Ika – Don't Cassandra yourself.
Gary mentions the backyard is closed for 2 days.
Ika – I really feel like the people on the block are not going home
Gary – I hope you're right
Ika says Neda is not about making big moves. She brings up Season 3 where Neda didn't do anything big.
Ika adds that Neda thinks she has an army that will go after each other before they go after her.
Gary – I have to try.. I'm not leaving here without a fight. There's more that Arisa has to tell us.
Dre joins them.
Gary asks them who they are going after if they win the HOH, "Jackie/Emily?"
Ika says Dillon, blames it on Dillon that's spreading around the house that Gary and Dre were campaigning for Cassandra.
Gary says he doesn't like Jackie.
Ika says Emily and Dillon are soldiers for Neda.
Gary thinks jackie is a soldier as well.
Gary – Jackie is the reason Cass left
Ika doesn't think so, "Neda already had her mind made up"
Ika really wants Dillon gone.
Ika – you guys are on the block because that's what Neda wanted
Gary and Dre agree.
Gary – we're going to have to go to work tonight.. I don't know I don't know what to do
9:05pm Dre and Ika whispering
Dre – I've told everyone William likes Jackie just so she's blindsided when he takes her out
Dre says she's putting everything on Gary. Ika says Demetres and her will be voting to keep Dre.
Ika warns that Dillon knows Jon in real life.
9:12pm Kevin and Demetres Storage room
Kevin says if Dillon and Emily get power next week they'll probably go after whose left out of Gary and Dre.
Demetres mentions Neda getting pissy when he nominated Emily and Dillon.
Demetres says they all have different agendas but still are working together.
Demetres – I've never seen a group like this plow through
Kevin – I'm so into this
Kevin goes on about how the twist really benefited them.
9:23pm Ika and Demetres
Demetres says Kevin mentioned to him that they are going to start turning on Dillon and Emily
Ika – Liars
Ika – Neda does not want Dillon and Emily to go.
Ika says in Neda's pecking order those two are at the very bottom because she knows they are not coming after her.
Demetres – honestly that f***g twist.. It's bullshit
Ika – it screwed us
Demetres – like her f***g safety thing
Ika – it's bullshit because she gets to play in HOH's .. she shouldn't have gotten a chance to vote and shouldn't have been playing in HOH's
Demetres – now she can do whatever the f** she wants and set up a F***g army
Iak – that's what she's doing
Demtres – gives us time so we can go after her later
Ika says Neda is getting out all the people that will go after her.
Demetres – she ain't getting rid of us
Ika – but she'll have votes
Demetres thinks they will be able to rally people on their side.
Demetres – don't worry we got this.. we got this.. (No you don't)
Demetres bring sup his conversation with Kevin.
Ika says Kevin is lying when he tells them that Emily and Dillon don't care they nominated them. Neda nd Sindy both told her they are pissed.
Ika – I hate Jackie, Emily and Dillon.. Jackie is repulsive..
Demetres – I hate Jackie the most
They agree they want Dillon out first.
They talk about getting something for Ika to eat.
Ika – I hate bread
11:00pm Dillon and Emily
talking about taking out Ika/Demetres after Gary leaves.
Bruno joins them they talk about getting rid of Ika, Demetres followed by Dre.
11:30pm undercovers Demetres and Ika
Demetres says because of the twists nobody is in a good spot. They got each other
Demetres – we're both very strong..
Demetres says Dillon and Emily are stupid.
Demetres – I just want want to f***g break his nose and make it look even worst than it is.. am I allowed to say shit like that..
12:00am Ika and Demetres
Ika says Canada probably regrets giving NEda the power "Based on how she's behaving.. how she turned out.. umm right now they like Gary and Dre.. They Hate our alliance"
[polldaddy poll=9712548]