Want to watch the Big Brother Canada 5 live feeds but live outside of Canada?
Bypass the geoblocking with HideMyAss VPN and be Canadian Anywhere: VPN Help Guide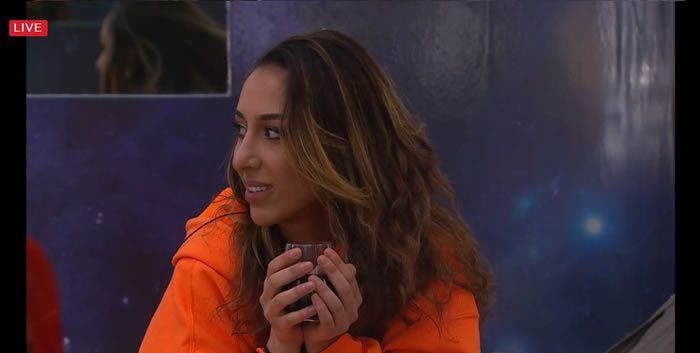 Winner of the POwer of Veto is Neda
Jackie, Neda, Dillon, EMily, Bruno and Kevin
Neda tells them they will play HOH and the HOH that wins is the sole vote to evict.
Neda – "Gary Already came up to me I need to talk to you"
They want to take out Gary this week.
Neda says she knew it was going to be a spelling comp because the costumes were the same as on her season.
Bruno – you're a genius
Neda – I'm so smart
2:50pm Bruno and Neda
Neda says she couldn't stop herself from laughing at Cassandra's speech.
Neda thinks the fans will start rooting for the other side because they are the underdogs. She reminds them all to not get too cocky and don't be a$$holes.
EMily leaves..
Neda can't understand what she did wrong to piss Ika off. Says they did their makeup together and Ika said nothing to her.
Bruno points out how Ika and Dre are together all the time.
Bruno says Demetres is changing up his story why they nominated Dillon and EMily.
Neda says Ika and Demetres don't think Logically that is why they didn't stick to their original plan. Goes on to say if their alliance comes out they'll say they formed it because Ika and Demetres were acting Sketchy.
Neda says Dillon has his sights on Demetres and Ika
Bruno – he can take the shot at them.
Neda says once Ika/Demetres feel the heat they are going to go to Dillon and tell him they're backstabbing him.
Neda – we got to start putting it into his (Dillon) head we were working with them (Ika/Dem)
Talking about Dre and Gary being some of Ika/Demetres people
Neda – we assume Jury start week 5.. that's soon .. it's so scary..
Bruno tells her he'll fight for her
Neda says it'll suck if immunity ends and she's out next week
Bruno- don't worry I'll fight to keep you here
Neda – you, Sindy and Kevin are my people
Neda accuses Ika of over playing. Says she's surprised at how Gary is playing.. "Did he play like this his first time"
Neda calls Ika and Demetres Floaters.
Neda syas she knows she's Gary's target, she's hoping that they can break Gary and Dre up cause drama between those.
Neda – Ika is closer to Dre she'll vote out Gary.. everyone other than Karen will vote out Gary.
Neda – sh1ts going too OK.. we're missing something
Bruno – it shouldn't be this OK
2:53pm Ika and Dre Bathroom
Ika says Sindy is saying that Ika influenced Demetres to nominate Dillon and EMly. Dre says she dug deep into her soul she found a bit of fakeness.
Ika – ok girl.. cause I need something.. what you dig .. here.. here.,.
Dre – when I was calling my ancestors they came to me
Ika – Where did you dig…
Ika says Jackie is with the other side if she wins HOH she's putting them on the block
Dre – we're already on the block..
Dre says they need to win HOH
Ika – we suck.. we can't win a HOH to save our lives.

3:14pm Dre and Ika
Dre asks who they will go after after Gary and her are gone.
Ika – me and Demetres
Dre – then they'll turn on each other
Ika – it's me and Demetres whose next for sure..
Talking about how to make sure they keep Dre over Gary. Ika says Sindy talks the most out of the other side if you tell her anything she'll run and let them all know.
4:30pm Ika, Neda and Sindy
Ika – Clearly they (the other side) don't think we're working together
Ika – Girls I was working like the rent was due for you guys.. then Arisa came on the screen.
Ika says they know she has their back.
Ika – it was William that Said Bruno it wasn't Dre /Gary
Ika points out that None of their names were mentioned yesterday because of her efforts with the other side.
Ika says she's been working her a$$ off with the other side.
Ika – Kevin lied to me again.. when the whole thing was over he came up to me and gave me a hug.. said I voted for Karen.
Ika – I never even asked him.. that's the second time he lied to me in this game when he didn't have to
Ika says next week they should go after JAckie, EMily or Dillon. Adds that Neda can control Jackie.
Ika says Neda still has some pull with Emily and Dillon.
Neda – we'll figure it out when the time comes.
5:41pm Gary and Kevin Bedroom
Gary is pissed that Kevin told bruno they were talking game.
Gary – Kevin I hope you're not trying to play me.. I'm doing everything I f***g can to be loyal.. you haven't given me anything Kevin..
Gary – I'm on the block Kevin and you don't care.. you need to start showing your loyalty to me.. are you f***g kidding me.
Gary calls him out when he asked Kevin if he would use the veto on him and Kevin said "I don't know I've been hearing things"
Gary says he's feeling like Kevin is playing him.
Gary asks him who he's voting out. Kevin says Dre.
Gary – did you throw the veto
Kevin – do not say I tried to throw the veto.. just asking that irritates me.. I tried to win I sear on everything
Kevin lost the final round with "rissen"
Gary says if he had wont the veto and Kevin was on the block he would use it to save Kevin.
Gary points out he voted out Cassandra even though he knew she would never vote him out but he knew Cass was targeting Kevin.
Gary – Kevin do you want to work with me
Kevin – Of course..
Gary – final 2
Kevin – I'm doing work on the other side keeping your name out of the equation
Gary is surprised that Kevin spelled risen with 2 's'
Kevin swears he thought it was spelled rissen not risen
Gary says he knows Kevin is working with people on the other side that want him out and Kevin won't tell him the names.
Kevin won't give names "Those are my people as well"
Gary laughs "I'm your person" says it's obvious that Sindy, Dillon, Emily and Bruno want him gone.
Kevin says it's because Dre and Gary tried to flip the vote last week.
Gary – that's not the case.
Kevin – I want them to thin Dre is the bigger threat than you
Gary and his boys #BBCAN5 pic.twitter.com/bORwXkJ4AI

— OnlineBigBrother.com (@bigbspoilers) March 31, 2017
Emily and Dillon showing off some skillz
6:46pm Gary and Neda
Gary says he was never campaigning for Cassandra. Gary asks her if she would use the veto on her.
Neda – people would be so made if I used it on you
Neda says for him to tell the house he wasn't campaigning.
Gary – I Swear to you 100% I didn't campaign for Cassandra to stay.. she went around to everyone saying I have this this this and this..
6:51pm Ika searching for Jackie's "notes" (JAckie has made notes like when the POV was HOH who won what etc.. She's used toilet paper and food stuffs. This doesn't appear to break the rules. )
Ika – sucks I can't find it.. I don't want to go through her personal bag.
Demetres – what a b1tch
7:00pm Gary and Dillon
Gary saying it wasn't him trying to flip the house it was Dre.
[polldaddy poll=9712548]