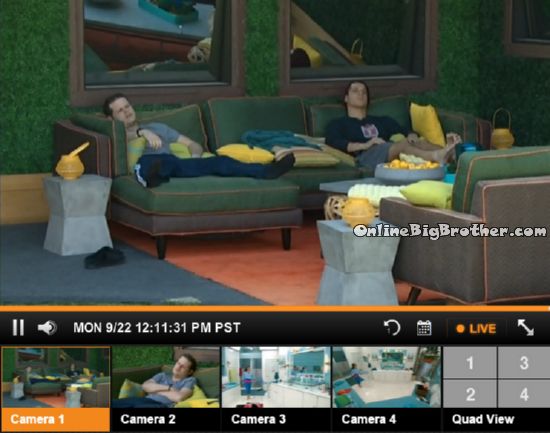 12:11pm Cody and Derrick backyard
Plane flies overhead.. Derrick – Weird looking up at those planes and thinking theres a hundred people in there.. floating through the air it's crazy…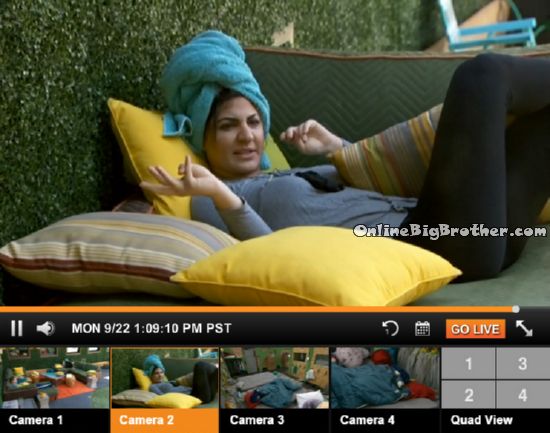 12:50pm Victoria and Derrick Backyard
Victoria says she so tired she doesn't want to get ready. Derrick – why are you getting ready for the DR
Victoria – no for the day .. Cody went back to sleep
Derrick – ya.. take another nap there's nothing going on
Victoria – I couldn't .. You're not tired
Derrick – no
They talk about their families flying out to see them on finale today
Victoria- I cannot believe the day has come.. the day Wednesday.. it's right around the corner
Derrick – 48 hours from now we'll be on lockdown..
Victoria – you are going to have grown men coming to you asking you for your autograph
Derrick I don't know about that..
Victoria can't wait to watch the episodes just to see how Derrick played "I don't really care about anyone elses game play.. a lot of people were really transparent.. "
Victoria – I can't believe you
Derrick – what what are you talking about
victoria your game
what about it you don't even know the game i played yet for all you know I was horrible
Victoria – You will be final 2 and everyone loves you
Derrick – that's what you think
Victoria says everytime he was at the pool table there would be someone in kitchen saying "That man hasn't lied to me once"
Derrick – good for me I guess
Victoria – God.. why Cody of all people
Derrick – I'm still me.. ya I had to work with people but i'm still me..
Victoria – I know.. You know the real me
Derrick – do I .. I hope I do..
Victoria – me in the DR is not the real me
Victoria asks him if he thinks he'll be asked for Big Brother All stars
Derrick – I hope
Victoria – would you do it
Derrick – depends where i'm at in my life ya I would do it depends if i'm as good of a player as you say I am.
Derrick would like to see how good he is against the best, "Probably gets smoked taken out the first week"

Victoria- are you nervous
Derrick – ya.. I wish I was as confident as you are
Victoria – I believe in good energy and good will come to those that do good/
Victoria doesn't know how anyone in the Jury will vote against Derrick knowing the person he is.
Victoria – "in the game you can't have everyone's back but personally you were there on some level.. when Nicole was crying you didn't have to be there for her.. who is Nicole to you know one.. you still were human even though you were playing.. most of the people weren't (Nicole was a jury vote)
Derrick thinks he has a good chance but doesn't have any idea what is going on in the jury.
Victoria – I'm telling you no matter what happens you will win the 500 thousand dollars, I'm telling you
Derrick thinks he'll beat Cody as long as Cody isn't hiding something like Frankie was. Victoria says if he's hiding something like Frankie and they know he has a lot of money nobody will vote for Cody.
Victoria – what if he's gay
Derrick – I don't know anything.. I don't know if that will sway people.
Victoria – that's not swaying Nicole and Hayden
Derrick – Nicole and Hayden are not enough to win
Victoria – who else will vote you over him.
Victoria thinks Frankie and Caleb will vote for Derrick.
Derrick doesn't know about Caleb and Christine those are the toss ups for Derrick.
Derrick knows he doesn't have Jocasta and Donny, "Donny's liked COdy the entire game he started an alliance with Cody didn't include me.. I was his target the whole time"
Victoria – they are going to crush us even though I'm not…
Derrick – they are crushing all three of us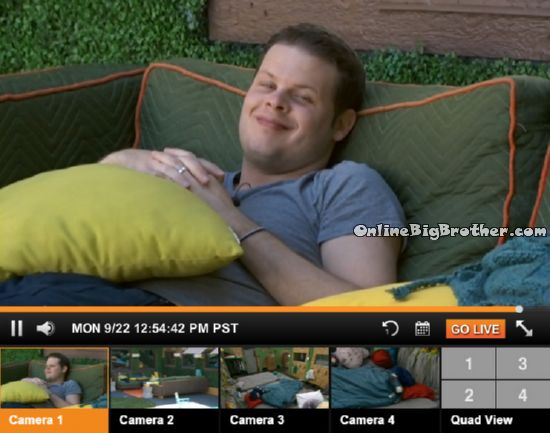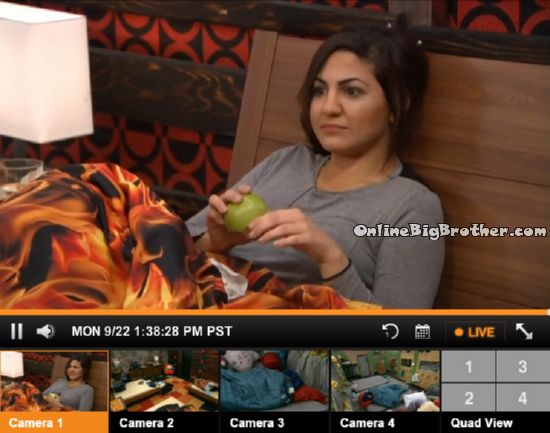 1:36pm FIREROOM Victoria and Derrick
(Victoria mentions something about him seeing her face after they told her something )
Derrick packing his bags..
Derrick – I love you you are so gullible.
Victoria that is why people like to mess with me it's so annoying
Derrick – it's what makes you you ..
Victoria- Gullible that's not a good thing
Derrick – that isn't a bad thing means you take what people say.
Derrick tells her in his real life he doesn't take bullshit from people.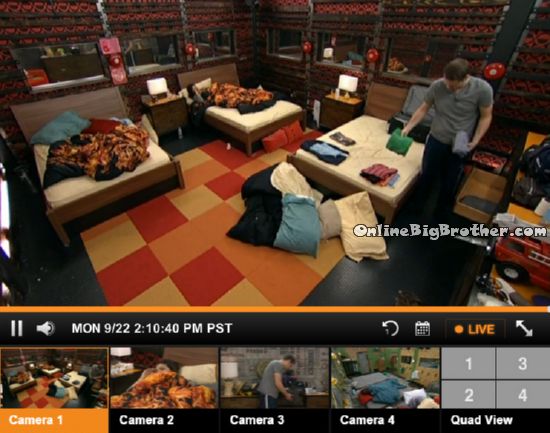 2:10pm FIREROOM
Victoria says she's surprised Caleb doesn't smoke, "Because he was in the Army"
Derrick – it's a new Army
Victoria – he was in Iraq
Derrick – he dips
Victoria – I can't wait to start texting you pictures..
Victoria – I have a real problem with insomnia
Derrick – WE know rose
Victoria – my brain is always running
Derrick still packing "I'm going to crush these t-shirts"
Victoria – oh my god you're going to meet my brother.. Oh mu god..
Cody wakes up and joins them.. jumps on Victoria because she was talking about production and Big Brother got after her for it over the speakers which woke Cody up.
They talk about production not giving them a lunch today. last night they assumed they're going to get another lunch so they were already picking what they wanted to eat. (They wanted chick fil a)
Derrick – we can't take things for granted.
Derrick says he got Victoria good today.. He had brought a pack of cigarettes so he could use it for game purposes. he was planning on smoking socially with them. He doesn't smoke and after finding out nobody in the house smoked he never brought them out.