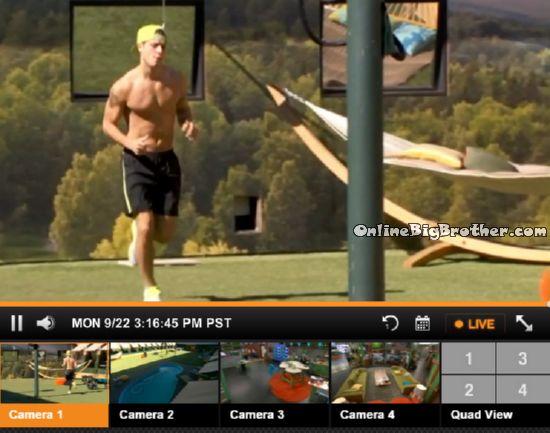 3:16pm Cody jogging.. or as he put it "Crushing it"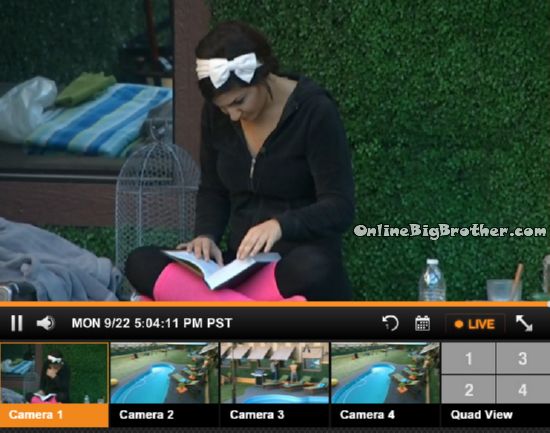 5:00pm Pool Derrick wins. Victoria gets called to the Diary room. The guys get excited thinking it's "booze" Victoria tells them it's her book. (Something to do with her religion an event is coming up that will require her to pray for extended amount of time)
5:35pm Derrick alone in the backyard – "What's up feedsters are you already for Finale.. I am "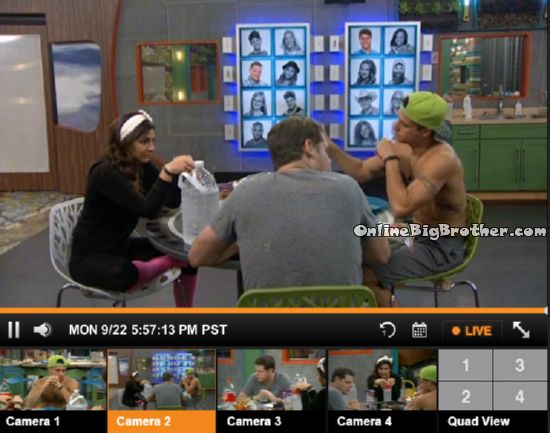 5:58pm Kitchen.. Eating and talking about Aaryn from last season.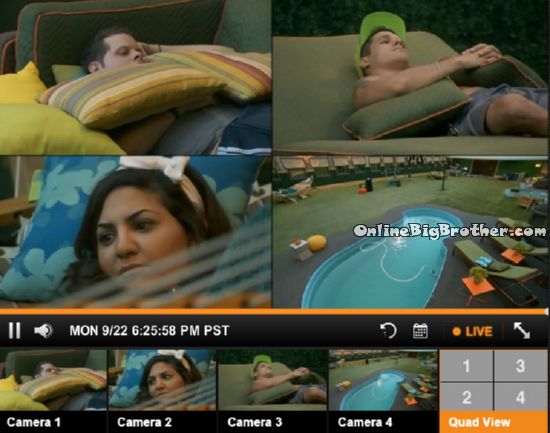 6:25pm Nothing
THey find out tonight is the last night they get the backyard.
7:51pm Backyard Derrick and Cody
Derrick – Dude I can't wait till Wednesday … hear what these jamokes have to say.. who knows they (Jury) might smoke us at all
Derrick asks if Victoria said anything while he was passed out. Cody says all he's seen Victoria do was read that book.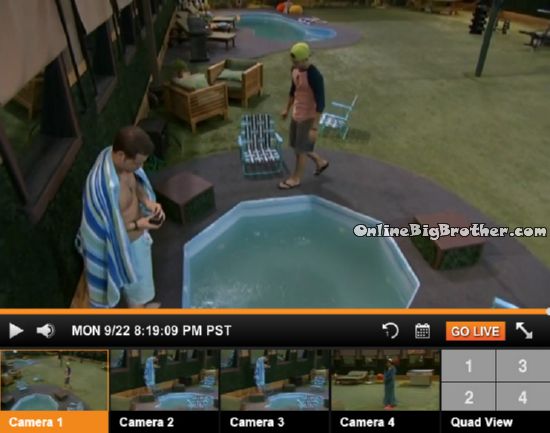 8:19PM The hot tub looks pretty rough. Cody says he went in earlier got out right away. Says it's way too foggy "It's kinda gross" Derrick wonders why. Cody – "I think that duck goes into the filter and all the shit murks it out"
Victoria also points out how Foggy and yellow the water is. Derrick "there's definitely a yellow colour to it.. It's pretty hot" not steaming

8:28pm
Cody says he couldn't stand Christine's laugh
8:54pm Victoria and Derrick claiming their hands are still numb. Cody say's he's fine.
9:27pm Cody – That pool is piss yellow
9:31pm They get 3 beers and a tiny bottle of wine.
9:55pm
Cody – 100 thousand percent double kissing the eight ball is a lost
Derrick -if that's a win you want to take
10:24pm Derrick says the lockdown starts at 7am. Cody says they are really "Doing it up" in the back yard. Cody thinks this season was MASSIVE.


11:00pm Derrick suitcase is packed full of souvenirs
(If you enjoyed the spoilers Please consider a donation through PayPal)
Make your Amazon purchases through the links below it Supports this site
[polldaddy poll=8244330]