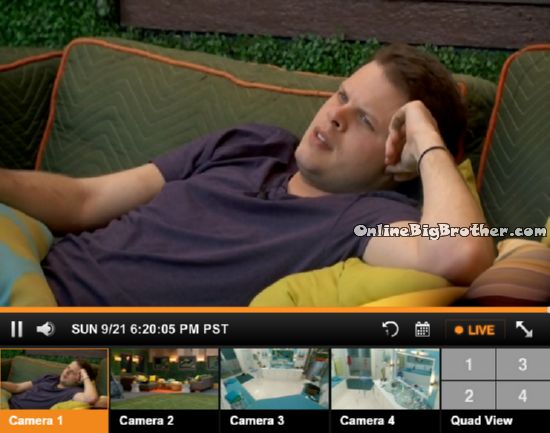 6:19pm Backyard Victoria and Derrick
Victoria tells him it would be epic if Derrick breaks up the Hitmen. Derrick tells him it would depend on who you ask.
Victoria – I will do anything.. Please Derrick"
Victoria – you will be chilling with ½ a million dollars ,.. I'll have nothing..
Derrick says he hopes he wins the money. "that's a bullshit statement nobody walks out of here with nothing"
Victoria – i'm just kidding
Feeds go to fish for awhile. When they're back victoria is saying she's excited to go Skiing with Derrick. She asks him what the difference between Skiing or snowboarding. Derrick explains that skiing is with two skis your legs are apart and snowboarding is with your legs attached. He says she'll start skiing first because if she tries snowboarding she could get hurt.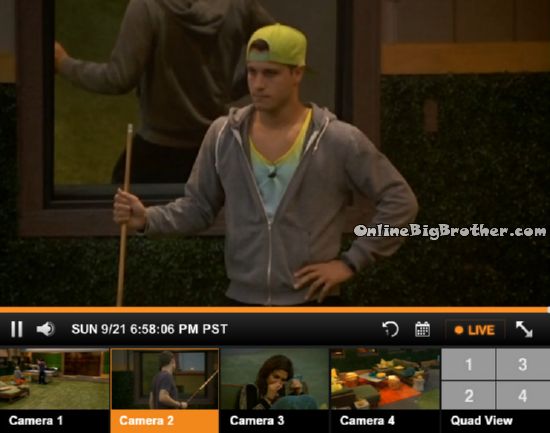 6:44pm Derrick and Cody
Talking about schools in their hometowns, Playing pool, Crushing it.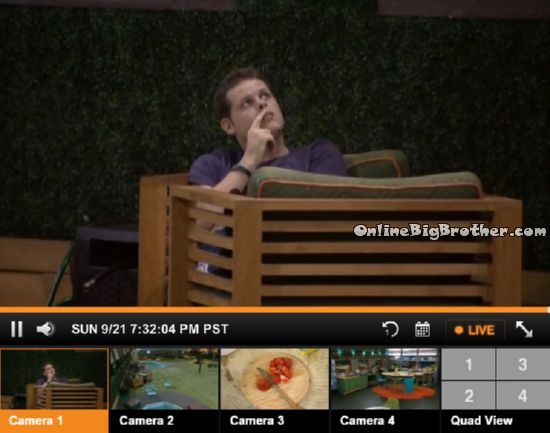 7:32pm Nothing…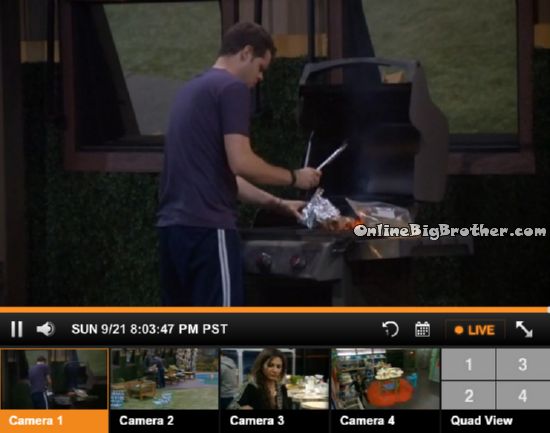 8:02pm
(Food prep very little is being said)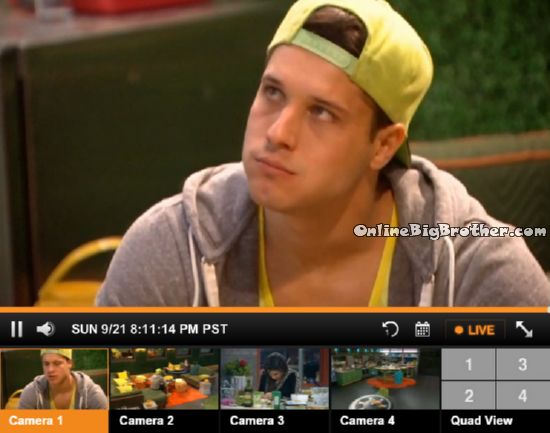 8:10pm outside
(Eating their dinners)
Derrick tells Victoria she'll make a good housewife some day. She goes back inside to continue making food.
Tells Cody all that Victoria wants is to be married so bad says if she finds a guy she likes "She'll worship the ground he walks on"
Derick adds that some guy is watching the show right now he'll flip her a line and she'll be hooked.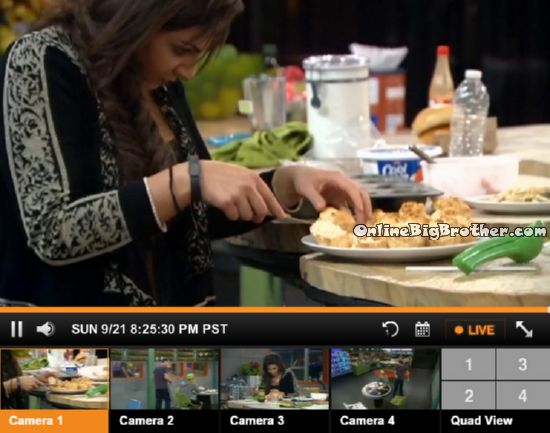 8:25pm Victoria made biscuits
Derrick – oh my god.. dude dude these are like bread biscuits … Oh my god where's the butter lets do it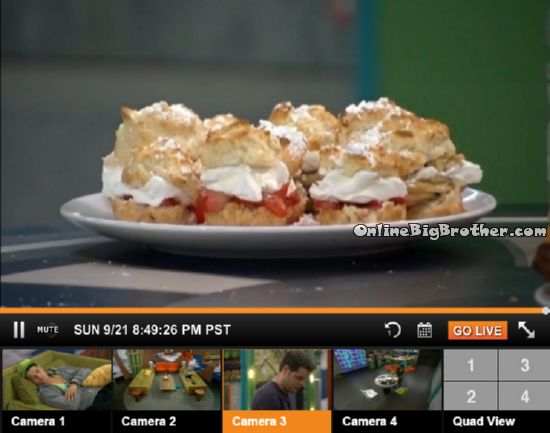 8:45pm Kitchen Victoria and Derrick. Cody is in the living room crushing it
Derrick thanks Victoria about her recipe says she'll have to send it to his wife. "It was the real deal"
Derrick tells the camera – Guys if you are single late 20 early 30 Jewish not a virgin but hasn't slept with too many people.. is all about spoiling their wife or girlfriend and treating her the princess she is.. Hit her up on twitter.. and if you meet the criteria you will get a direct message
Victoria says they have to go through Derick first
Derrick says they will have to go through a screening process.
Derick – we'll need bank statements credit history.. that all has to be disclosed before any transactions complete .. she cooks she cleans she does laundry.. these are qualities a guy looks for she puts a little mint on my pillow before I sleep..
They laugh "God Derrick.. I need a guy they have to be a good guy"
Derrick – there's no way of measuring how good a guys is
Victoria he needs to be serious
Derrick – needs to be serious not play games.
Victoria – If he's not ready to settle down..
Derrick – If he's not ready to settle down don't even f*** bother this isn't a booty call right… don't f***g hit her up for a booty call
Victoria – that would never happen what the f*** is that
Derrick – Ohh my that is exactly what what i'm saying.. don't hit her up with one liners these cheesy one liners
Victoria – i'll just ignore them
Derrick – She'll just ignore you
Victoria – I'm kidding .. that's mean
Derrick – If they give you a cheesy one liner they deserve to be ignored.
Victoria says they have to pass through Derrick first. Derrick says they'll hit her up on twitter then she sends him the information via text he'll check them out
Derrick – I might call you guys for a skype call have a skype call with them.. You'll be like how was John and I'll say no bueno he's been in jail has 7 children.. that he knows of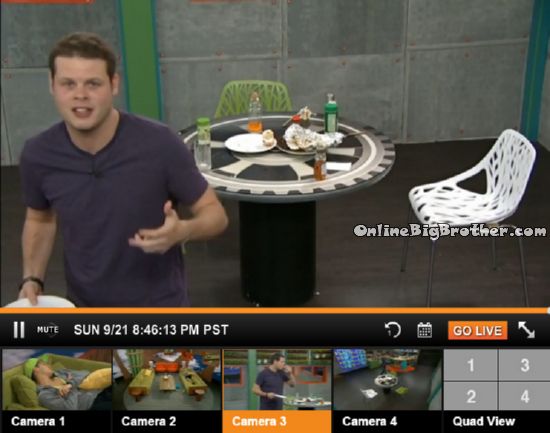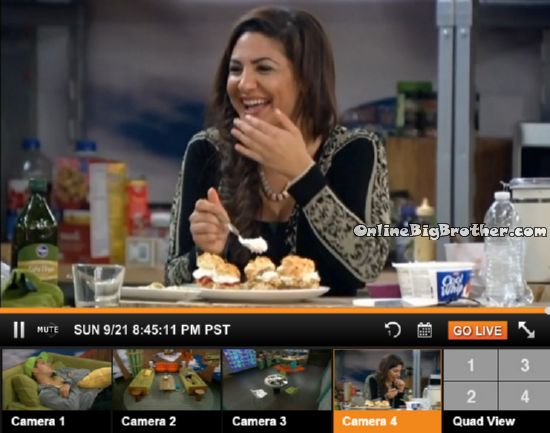 Share it YO!!
Tweet