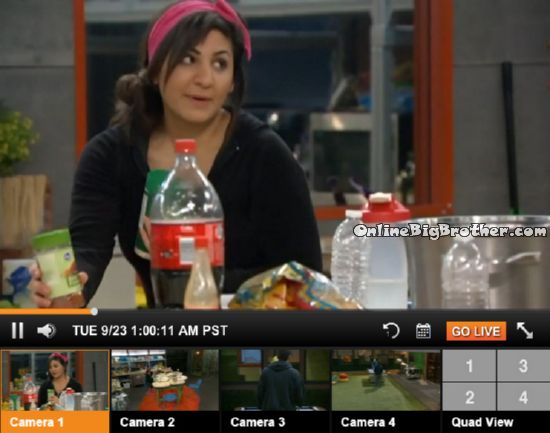 1:00AM Kitchen Victoria alone
Victoria – this sucks..
Victoria – "Sorry mom but I tried.. did my best at this game.. hopefully I see you on Wednesday can't wait"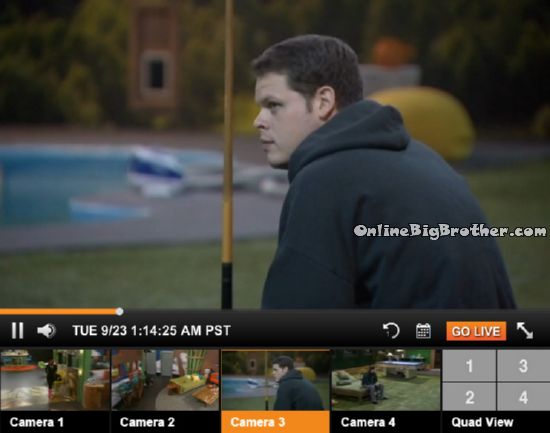 1:14am Backyard alone Derrick
Derrick – it is bitter sweet it's coming to and end i'm excited to see the family but i'm going to miss the place a lot of good strategy.. in the hammock.. a lota game talk..
"Looking out the sliders seeing people talk game over here.. endless games of pool.. hot tubing it and the pool. WOW..
regardless what the outcome it tomorrow I appreciate the experience so much I appreciate all the people that voted for Team America.. F*** awesome experience.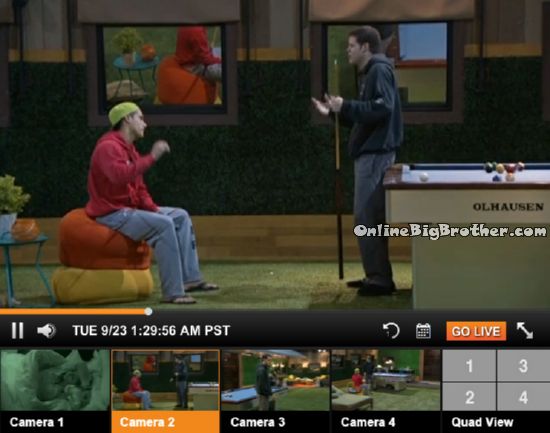 1:20AM Pool Derrick and Cody
Derrick saying he's screwed for Nicole and Hayden jury votes.
Derrick – You think I have the edge.. you have the edge. They both think they were too close to people.
Derrick – you absolutely have Donny's vote he worships the ground you walk on..
Derrick says Even after Cody nominated him he thought it was Derrick's doing. Derrick adds that Nicole even told him. "That dude just didn't like me"
Derrick adds threat the "country Shit" Caleb was selling to Donny Donny bought and that is why DOnny liked Caleb./
Derrick whatever happens happens we're both decent speakers. They agree the jury's mind is already made up they just have to go in there and give their best speech and let it happen.
Derrick – Even if you think Caleb is for me I think he's for you. (Jury Vote)
Derrick says Both Caleb and Christine can go wither way. Cody says Caleb will know that Derrick and Cody were working together, "He'll find out he was getting screwed no matter what"
Derrick – I love you dude whatever happens happens.. if you get the 500K over me I know it's not because you were a better speaker.. it was predetermined.. If I get the 50 thousand I know I lost to my beast friend in the house"
They agree they would never had made it so far without each other. THey got over past years votes like BB12, BB10, BB15, B16. Cody says Andy/Ginamarie were not better players over Eliza. (LOL)
Victoria joins them says she can't sleep. Cody tells her she was only in bed for 10 minutes she's got ot give it more of a chance.
Victoria – I hate laying there alone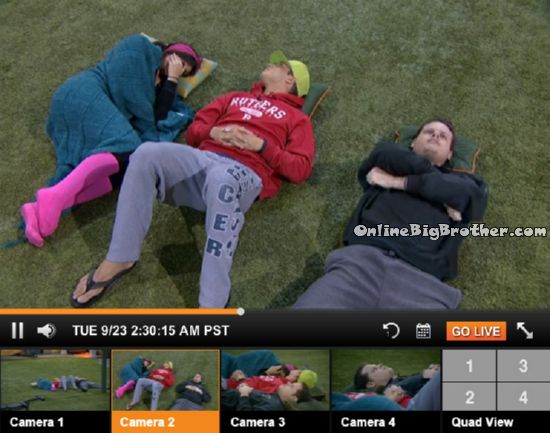 2:30AM Last night in the BB16 backyard. (Very little being said)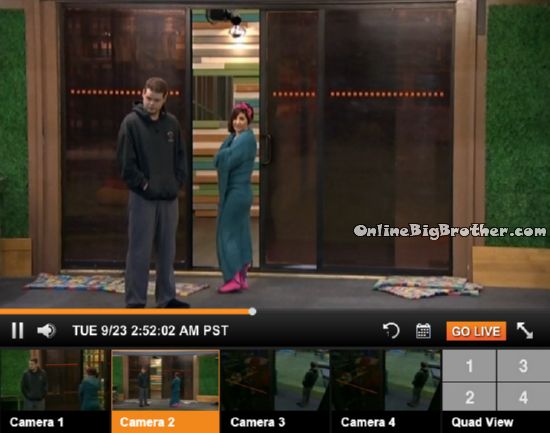 2:50AM
Derrick – We'll come back for something.. we'll come back.. this won't be the last time we're back here.. "
Victoria – bye backyard"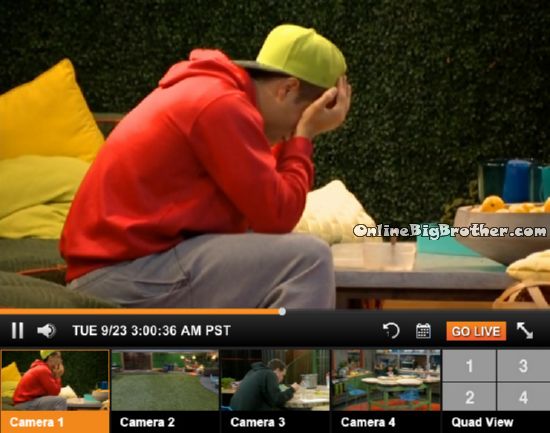 3:00am Cody and Victoria
Silence.. Victoria heads to bed Derrick and Cody meet up in the in the backyard.
Cody – I was going to say bye BB backyard
Derrick – this is just nuts ma.. we're fortunate in a lot of ways at least we got to do this.
Derrick lists off Christine, Caleb and Frankie they thought they were staying and it flipped on them, "WE get to go out the way we want to go out"
Cody – take this all in for the last time.. Most people don't get to do that the majority.
Derrick is interested in seeing what production is going to do to the backyard, "They need the whole time the full 36 hours who knows what they are going to do"
Derrick – we're the last ones to play pool on that pool table.
Cody -yup
Cody – last ones on the hammock
Derrick – you're the last one on the weight bench
Cody – yeah, you see what I wrote on it.. somehow I'm hoping the sun comes up and burns into it.. obviously that won't happen but it would be nice
Cody – it's sad man
Derrick – it is sad.. it's tough we have so much to look forward to these next 2 days.
Derrick says they are going to sleep in tomorrow until 12 1 o'clock put in a 12 hour day and go to bed a little earlier
Cody says they will clean the entire house tormorow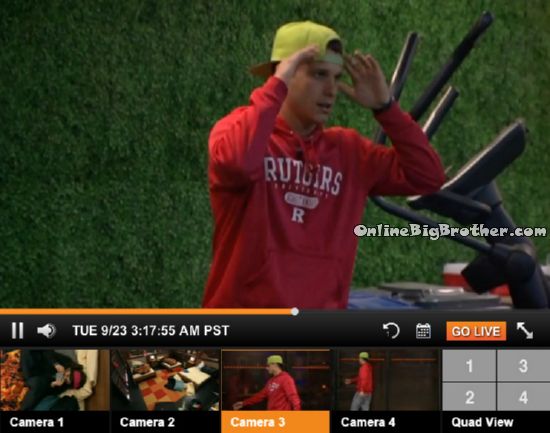 3:17am
Cody says bye to the backyard thanks it for the memories.. "This has been unreal GOODNIGHT"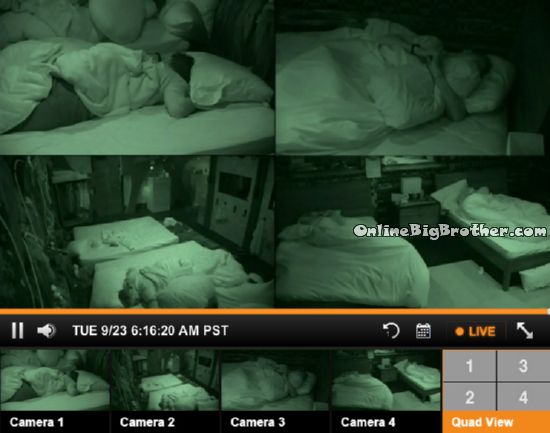 6:16AM – 11:51am ZZZZzzzzzz

1:09pm Cody is up looks like he's "Crushing it"
1:47pm Cody still alone playing cards upstairs on the picnic table.
2:13pm Everyone up eating take out chit chat..
3:00pm Victoria has been packing, Derrick and Cody laid out on the couch talking about what they will show in the finale.
(If you enjoyed the spoilers Please consider a donation through PayPal)
Make your Amazon purchases through the links below it Supports this site
[polldaddy poll=8244330]