POV Holder:
Steve
POV Competition
Aug 8th
POV Used
?
POV Ceremony
Aug 10th
HOH
Becky
Next HOH
Aug 13th
Original Nominations:
Shelli and Steve
After POV Nominations:
? and ?
Have Nots
Meg, James and Jackie
4:45pm James and Austin
Talking about the treasure of the titanic
5:02pm James goes to get Liz
Liz – Austin.. you've changed..
Austin – how did I change
Liz – we had our first fight last night
Austin – JAmes Started that
James- fights are important with relationships.. don't hide your feelings.. Dr Phill told me that
Austin – I'll make you a nice dinner tonight
[envira-gallery id="127232″]
5:00pm Meg swimming with the sharks
5:22pm Kitchen Austin, the twins and Vanessa
vanessa – tomorrow on track
Austin – yeah supposed to be.. that's why i'm hanging out having fun
Vanessa wants them talk game soon. Austin – Tomorrow night
Vanessa tells the twins – I've really excited my skin is clearing up
Liz – that's the best it's looked
Austin heads to the back yard
Julia brings up James telling Steve she liked him, she wants to make it clear she doesn't like Steve that way
When James asked her who does she like out of the guys, Julia said Steve – "I thought it was hilarious yeah whatever…"
Julia adds Steve told SHelli "I think Julia really likes me "
Vanessa – The maturity level of someone much younger.. you have to be careful.. like middle school.. he's fine
Julia – James why did you do that's so annoying.. I love Steve he's like my friend my little brother.. I don't date guys that are younger or the same age, just older.
5:33pm Liz and Steve Hammock
Talking about James telling him about Julia. Liz says Julia likes Steve like a little brother and James is being James.
5:33pm Julia and Vanessa
Vanessa talking like Johnnymac is going up against Shelli.
Julia – I'm questioning Steve.,., I see him and Johnnymac talk more.. Johnnymac is weird
Vanessa – you can't get a read on him
Vanessa – you want to keep Shelli
Julia- Yesssssssss
Julia – I'm more scared of James than Jackie
vanessa- do you think Austin is trying to win.. or throwing HOH that means we're just getting the blood on our hands.. I don't understand why he's doing so bad.. he's so fit
Julia – He' sa lot smarter than we thinks and it makes me mad you've won so many he doesn't want to get the blood on his hands.
Julia – I don't trust him I've never trusted him
Vanessa – will there be a point where he tried to sell you out, that point is rapidly approaching
Julia – I don't think he's going to put me up
Vanessa – work behind the scenes
Vanessa is pissed off she thinks Austin is throwing all the competitions.
Julia- he doesn't give a f*** about anyone but Liz
Vanessa – when he says he goes up there and defends him does he..
Julia – I don't know
Vanessa goes on about how much she's done to protect Austin
Liz joins them.. "The deed is done.. steve deed"
Liz told Steve maybe when he's rich and famous and not a virgin Julia would be interested
LIz – He's like she doesn't like virgins.. Umm NO
Julia – I want a man with Experience…
5:59pm James and Meg watching Austin and LIz fold sheets
Meg – I hope they are not mad tomorrow
James- we're f*** if they are
Meg – I think becky should tell them, but whatever
James- I'm so ready for tomorrow.. just to get it done
6:09pm James tells them he was able to sneak a watch in the first day. Everyone was pointing it out so production took it from him.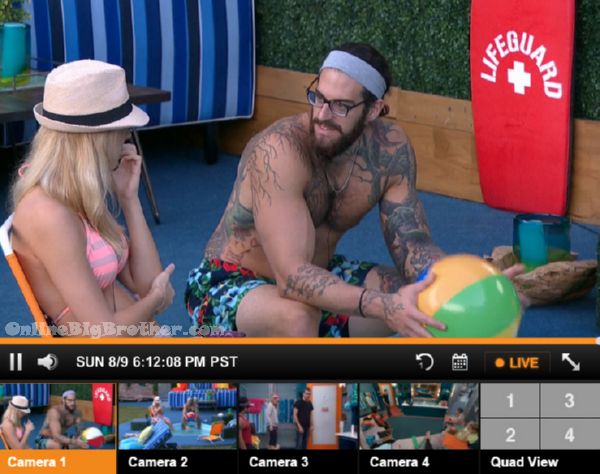 6:09pm Hot Tub Liz and Austin
They're getting overwhelmed by Vanessa's non stop game talk.
Austin says James is so gung ho with sticking to their final 8 strategy
Liz – Shelli is leaving this thursday there's no question
Austin says Vanessa is going to try to get them to Flip the house and vote Johnny Mac out
They don't want to do it they want to stick with their deal with James, Meg, Becky and Jackie.
Austin – I enjoy hanging out with them.. we have fun
Liz – I knowwwww I like themmnmnmm
They have noticed Vanessa acting really weird
Austin wonders if she knows something they don't
Austin doesn't think Johnnymac is working with the HOH but Vanessa thinks he is.
Austin thinks Johnnymac will put up Vanessa because of their fight earlier in the week.
Liz – that's why she's freaking out because she's the most vulnerable out of the three
6:26pm Steve's makeover from Vanessa
[polldaddy poll=9015303]