POV Holder:
?
Next POV
?
POV Used
?
POV Ceremony
?
HOH Winner
?
Next HOH
May 7th
Nominations:
?
Have Nots
Canada gets to vote
POV Players
?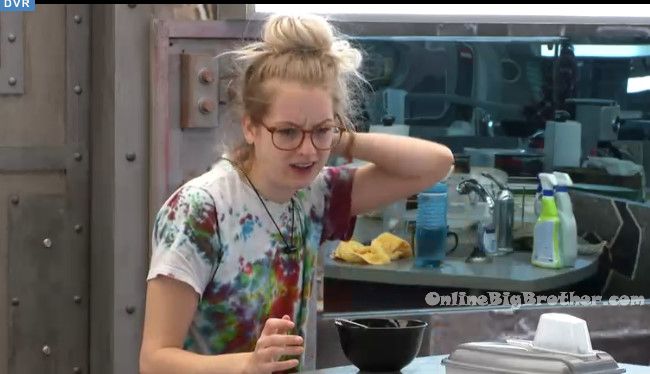 8:30am – 9:05am Big Brother wakes up the house guests. Sarah asks and he gave Zach the veto? Britt says I think it was more of a I going to save you in the hopes of you're going to work with me. Britt says you're just going to have to win today. Sarah agrees. Sarah says and he got so personal about the girls thing. Britt says I just don't care. Sarah says but after he uses the veto he is still lying. Bruno comes down and hugs Sarah. "Morning Sarah, you feel better?" Sarah says yeah. Bruno heads into the storage room and Sarah whispers to herself "Don't f**king touch me"
They start eating breakfast. Zach joins them. Zach says last night was f**king nuts! It will never be forgotten. Not just Canada but in the US too .. a triple eviction has never happened before. Bruno asks if it had something to do with that button. (Vault button where Sindy or Bobby were offered 10K to leave). Zach says he thinks if it had been press they would have just had a double. They comment on how early Big Brother started building in the backyard.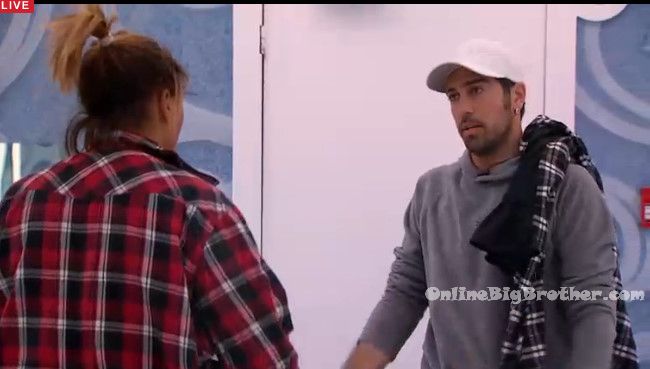 9:15am – 9:35am Bruno says I can't fucking trust her now! Britt asks so you trust Zach now. Bruno says no I trust You and Godfrey. Bruno says clearly she wanted you to put me up. Bruno says actions speak louder than words. If I win today, you're not going up. She was trying for me to go up before you even won. Britt says I just sent two peoples closest allies home. Zach's Willow and Pili's boyfriend. Bruno says I am going to try and win today and you're not going up. I am f**king pissed at her though. Britt says she's mad at you too. Bruno leaves and Sarah joins Britt. Britt says it feels like you're mad at me. Sarah says I was just upset at the whole thing. How it all played out, how we all got lied to. I wouldn't have broken down at all if he hadn't screamed at me in the face. It triggered a lot of things. Britt says the way he explained it kind of made sense to me from a game move. Sarah says I don't give a f**k about peoples game move. Britt says I think he just saw his chance at the 100K slipping away when his name was mentioned. Sarah says I am going to try and win it. Britt says I know you will and if you want to have a sh*t eating grin.. Godfrey joins them.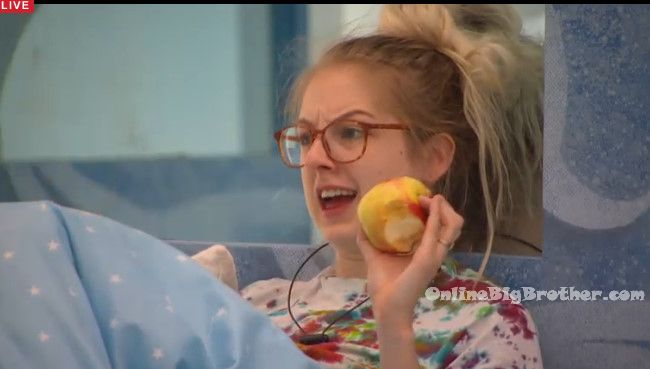 In the bedroom – Godfrey and Sarah talk. Godfrey says if I win and put up Zach and Bruno. Sarah asks if you have a guys alliance with Zach and Bruno you can just tell me. Godfrey says oh hell no. Sarah asks why would you put them up right away? Godfrey says so they don't use it on each other. Godfrey says I swear to you the only two people I would take to the final 2 are you and Britt. Sarah says I am going to win this one today. I can feel it. Godfrey says I don't think Ash has even voted for herself this whole time .. I think she just waited for the memo. Sarah says I am so disgusted by these people.. they're sucking his d**k. Brittnee joins them.


10am In the kitchen – Bruno says I am willing to ride this out. Lets do it. We can do it. If we can just ride it out back and forth. Zach agrees. I'm down. Bruno says lets do it. Bruno and Zach talk about what a threat Sarah is. She is able to rally all the girls.
In the bedroom – Pili says that at first she thought Kevin was America's player because he got called to the diary room so much.
In the kitchen – Bruno says if Sarah wins she won't put up B or Godfrey. Pili joins them and says they were just talking about Willow. Burno says Willow was dangerous. Pili says people were afraid to put her up because she was so emotional. Bruno says that he thinks Willow threw that HOH. She knew those answers. She's a super fan. She knows everything about last season and doesn't know everything about her own season? Bruno says she knew no one would put her up. That was the only way to get her out though for sure.. 6 days of that would have been unreal.

10:45am All the house guests have been called to the diary room. When Sarah when in she let out a big gasp. When Zach comes out he starts pacing around a lot. When Pili comes out she is smiling. Ash comes out and starts laughing with Pili and Zach. Zach says you see why now? Pili says day 50, one of the bests days! When Bruno comes out Zach asks how was that? Bruno says it was an emotional DR. (They possibly saw Emmett in the diary room? He might be the host of the competition?)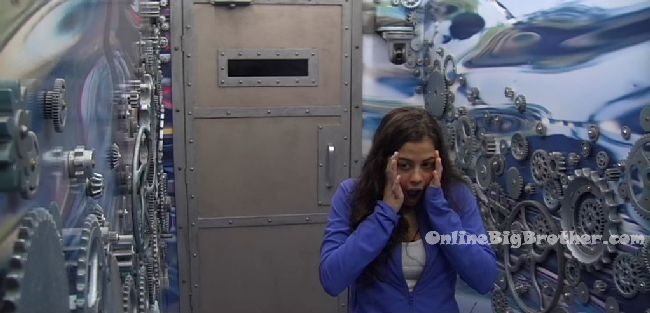 Britt's reaction to her DR session @bigbspoilers #bbcan3 ALL the HGs are leaving their DRs happy – "Something is UP!" pic.twitter.com/LFFERt51nv

— Dawg (@DawgsBigBrother) May 7, 2015

10:50am In the bedroom – Sarah and Bruno are talking about the vote last night with Willow going home. Bruno says I though you would have voted for her to stay. Bruno says that he told Willow "we got you" and then she got voted out. Bruno says why logical and game sense would I want to work with you when just yesterday you tried to get me out. Sarah says Zach wants to get you out too. Bruno says I had to do it yesterday to be here today. Sarah says I get your move .. he's a shield now. Bruno says I wouldn't put it that way.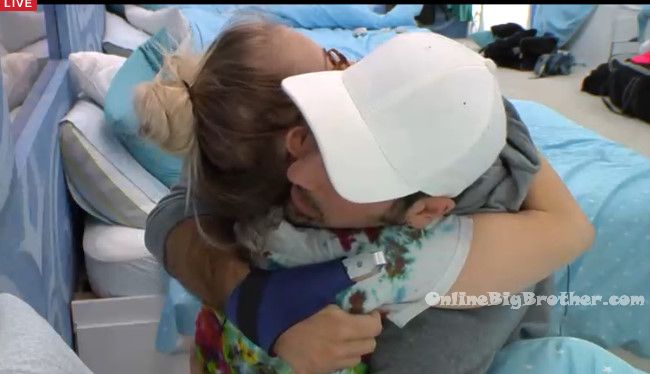 11:15am Big Brother blocks the feeds.
If you are outside Canada and want to watch the FREE Big Brother Canada Live feeds sign up for a VPN service here https://www.hidemyass.com/vpn/r16399/. It's safe to use, easy to set up, and cheap. Need to know more check out this post explaining how to set it up.
[polldaddy poll=8849979]