Head of Household Winner – Cliff
Have note are: Tommy, Christie, Jackson, Kat
Nominations are: Jack and Jackson Bella
Power of Veto Players are – Cliff, Jack, Jackson, Sis, Sam, Kat
Power of Veto holder – Jackson
Power of Veto Ceremony – Jackson used the Veto on himself Cliff nominated Bella
Powers in the game
Christie – Panic
At any of the next four Power of Veto Ceremonies, Christie can turn the Golden Power of Veto into the Diamond Power of Veto and allow the current veto holder pull someone off the nomination block, but instead of the Head of Household naming the replacement nominee, the veto holder names the replacement.
Grab your live feeds —-> BB21 Live Feeds Subscription Link
Rank your houseguests —-> Big Brother 21 Ranking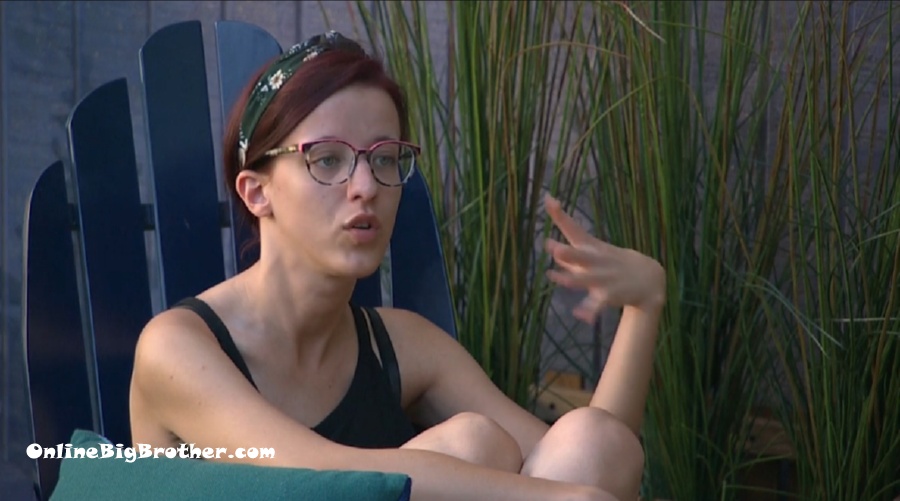 5:16 pm backyard Bella, Nick and Nicole
Going over ways to campaign. Nick is going to push Holly/Michie that this is the only time they can get Jack out and there's no blood on their hands.
Bella mentions that Cliff told her he would vote her way in a tie
Nicole says he knows they're all f*ed
Bella – I get Cliff and his morale compass I can't hold that against him
Nick – that was dumb
Nicole- game-wise we're all f*ed
Bella – I'm going home that fine but you're all f*ed ..
Nick – it's going to be 8 on 4
Nick asks who they think Jess will put up
Nicole – I have no clue she scares me
They see Jessica putting up Nick and Sam
Nicole – because that's what the house wants me to do
Nick – Cliff can't compete so it's 8 on 3 next week
Bella – perfect
Nick – they are going to make Jury
Nick mentions that Jackson told him he was debating to use the veto on Jack.
Bella being enthusiastic about trying to get Michie and Holly to flip.
Nick – getting them to flip is so unlikely
Bella – yeah it will be so amazing
Nick mentions that Nicole would have to get 100% certainty from Jackson and Holly and they never will give that
Nicole says Jess sees the other side the problem is Kat.
Nicole – there's going to be like Guess what she said now
Bella – if I'm out I'm out at least I tried
Nick – try, shoot your shot, just don't throw anyone under the bus
Bella – I hate Jack,
Nicole – I love you guys so much and I don't know why .. I always thought I was a thinker but I'm a feeler and I just feel it in my gut
They talk about last week and Bella says they got caught up in the big alliance. Nicole says she had no idea she wasn't getting evicted she thought she was.
Nick – when I heard 6 – 4 I thought ohh it flipped
Nick – Kat that little b1tch
Nicole – she thinks she is high up on their totem pole
Nick – I told her when they are going to get her out
Nick says once Bella goes that side will pick another person. "they pick one us because they can"
Nick – Christie does the same sh1t as us but they don't point a finger at her, Jack does the same sh1t
Nick – they are too high to get picked off .. we do it and we get caught
Nicole – it's so annoying
Nick – people play scared. I'm so annoyed at Kat.
Nick says he would rather goes back home to work than go to Jury
(they go over who they think will be evicted)
Nick – It's going to be me, Cliff, Nicole, Jess then Kat
Bella – Holly, Sis
Nick – Tommy, Jackson
Nick – Christie and Jack final 2 and Christie thinks she's going to win but Jack's going to win. If you are the biggest threat in the house and you make it to the end you deserve to win
Nick – I would vote for him if he made it
Nick – the good news is if I win HOH next week they wouldn't use the power to put you up they would use it to put Sam up
Bella – at least you made it to jury
Nicole – yeah
Nick – I'm not going to make a safe move and put up you and Jess like they want
Nicole – Cliff almost had it
Nick – that changed the whole game that stupid f*ing power
Bella – that's what so annoying that she still has it
Bella – why didn't he let her use it (Christie's power)
Nicole – they made a deal
Nick – he's going to be safe the next two weeks
Bella – he would have been safe regardless
Nick – the thing is .. he only secured himself two or three weeks he has no chance.
Nick – if he would have kept you (Bella) not only would he have a number he would have taken out the biggest threat in the house.
Nick says they only have jack, Christie, and Jackson on that side as competitors. The rest of them "hasn't shown any promise"
Nick – he had a chance to get out the biggest player.. they just voted you out you owe them nothing that's crazy .. just doesn't make sense.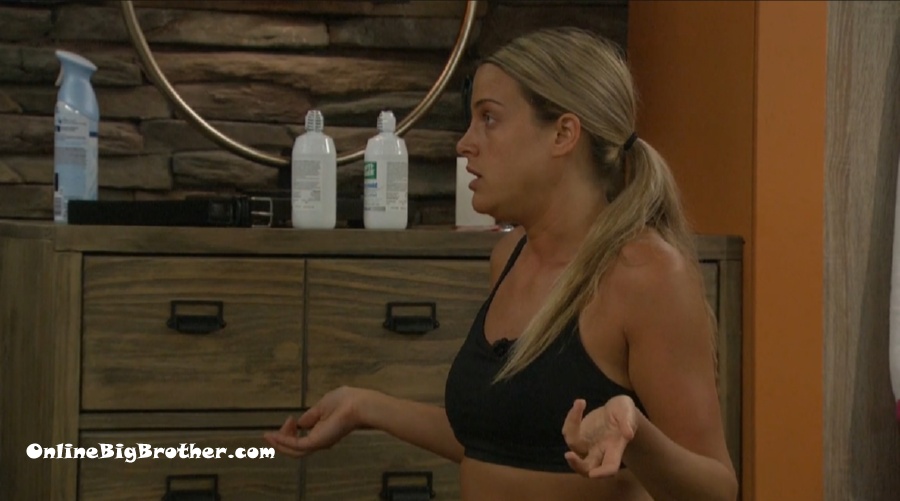 5:26 pm Christie and Sam
(Sam 100% knows Christie bullsh1ts him)
Sam – I have a plan but right now my plan is not working.
Christie – I don't know what my next step will be I feel like you have to feel everyone out
Christie – Everyone still gunning for JAck it just so happens that this week everyone wanted to help me out more than get him out
Christie – I haven't thought any further than this week
Christie – I'm so grateful to Cliff I'm his B1tch for the next couple weeks until my powers done
Christie – everyone respect straight forward honesty
Christie says Bella said her name that was it there wasn't a question, "To me at that moment you are so stupid if you let this person stay she told multiple people she wanted me out " (how dare she)
Christie – she was coming after me and Nick jumped on board and literally lied to my face, lied to Sis' face, lied to Tommy's face. try to create this whole mastermind plan to get Cliff to dupe me
Christie – sorry failure.. better luck in the next plan
Christie says the game will completely change now "I know I have the boys back.. you know Holly, Sis, Jack, Michie because I didn't use the power they got me now"
Sam – right
Christie – I don't have to have a target right now because I'm protected and I still have my power for 2 weeks so whose really putting me up I don't have to worry
Christie – straight up even if someone did put me up like me and everyone's back I had this week would easily win the veto and I would use it and put who I wanted up
Sam – Right
Christie – I do know I'm going to have their backs going forward (the 6)
Christie – But I have no issue with you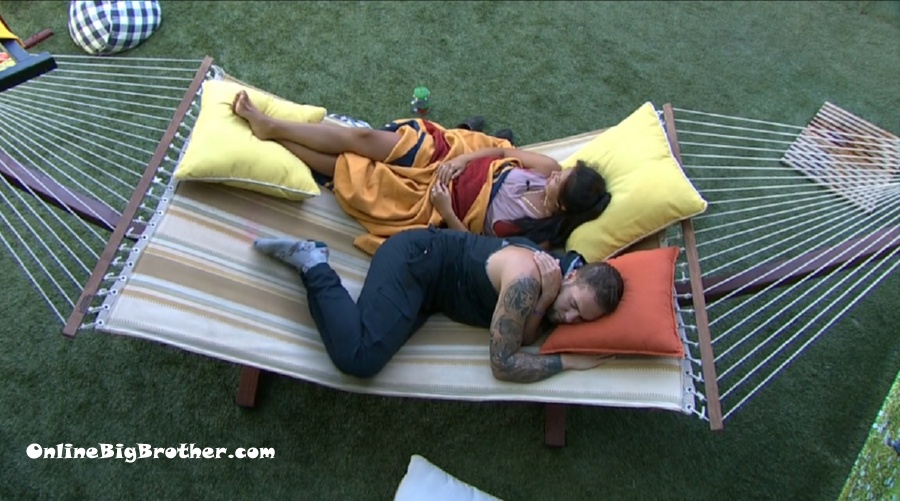 5:40 pm Bella and Nick
Bella – I'm sure Cliff feels uncomfortable to .. I'm sorry Cliff's family but Cliff is a duma$$.. I said it that's it. But damn
Nick – he's not a dumba$$ . it gives him 2 more week.. if people are targeting you what's the difference now or in 2 weeks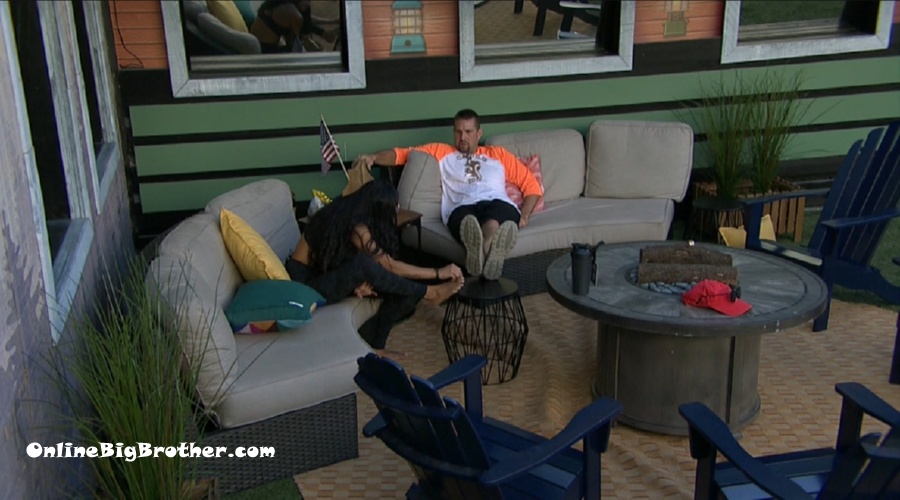 6:18 pm Sam and Sis
Sam says he likes Bella's compnay likes hanging out with her but he doesn't like her game adds tahshe really hasn't done anythgn for his game.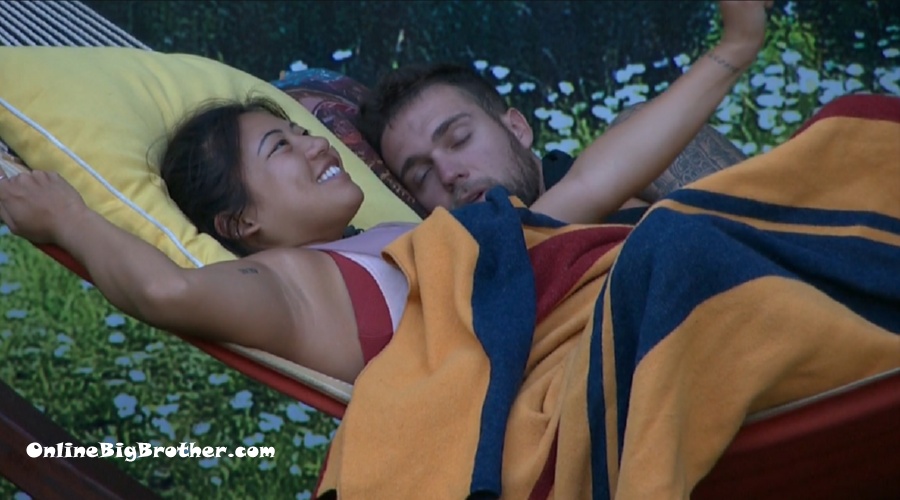 6:24 pm Bella and Nick
Bella – people need to all come out here look at the sky and remember we're in a f*ing parking lot and we're here to win 500 thousand dollars
Nick – it's not even about the Bread BRO it's about winning
Bella – they're here to win
Nick – Apparently not
Bella -apparently here every one is here to suck jacks d****
Bella – even you are
Nick – I'm not really .. what am I supposed to do
Bella – I don't know. bite it off..
Nick – I have nothing against him he's just really good at the game and this was the chance to get him out. and they blew it. Cliff Blew it Christie blew it and I hope wins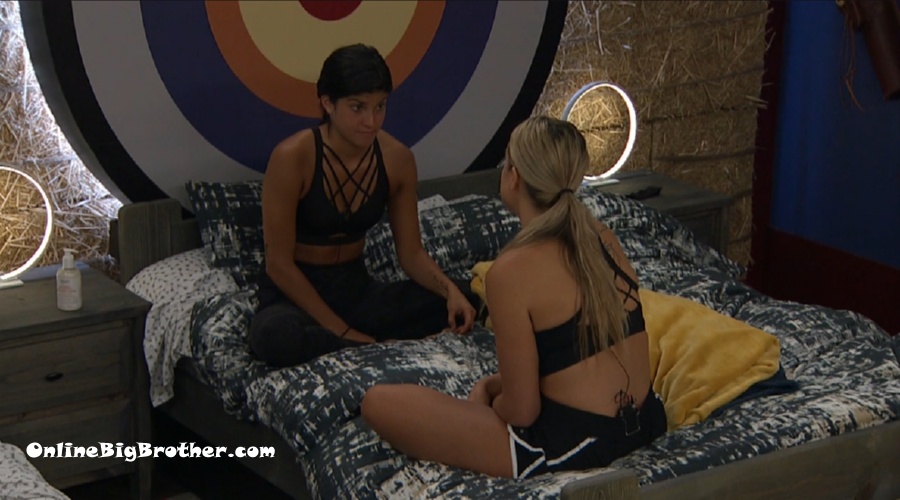 6:28 pm Sis and CHrstiei
Christie says they should take out Sam before Nick because he's going to win COmps. Next week both of them go on the block.
(of course)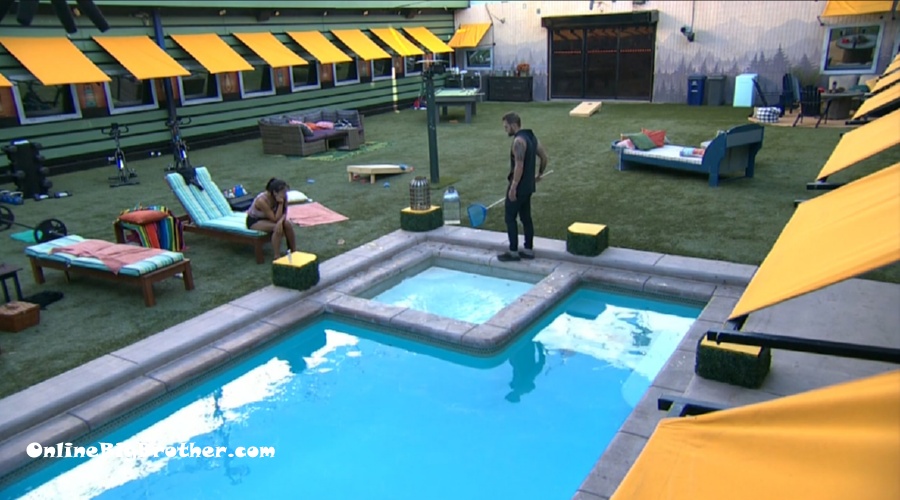 6:33 pm Nick and Bella
Nick – you know how you can tell a lot about a person is how they act when they are in power.
Nick – I just can't believe he's still in the game.. Jack
Sam joins them
Sam – I am so f*ed .. my game is f*ed .. Sis does not trust me at all.
Sam – Kat said that you and I came up with the plan and my name was dragged into it ..
Nuxcik – when Did I ever say that.
Sam – did you drop my name
nick – swear to god
Sam – I'm going to talk to kat and see if you said my name if she says no I might call a house meeting ..
Nick – I made that whole plan up
Sam – do you mind if I call a house meeting
Nick – go ahead it was my plan bro. I literally made up the whole plan
Sam – I might as well call a house meeting I have nothing to lose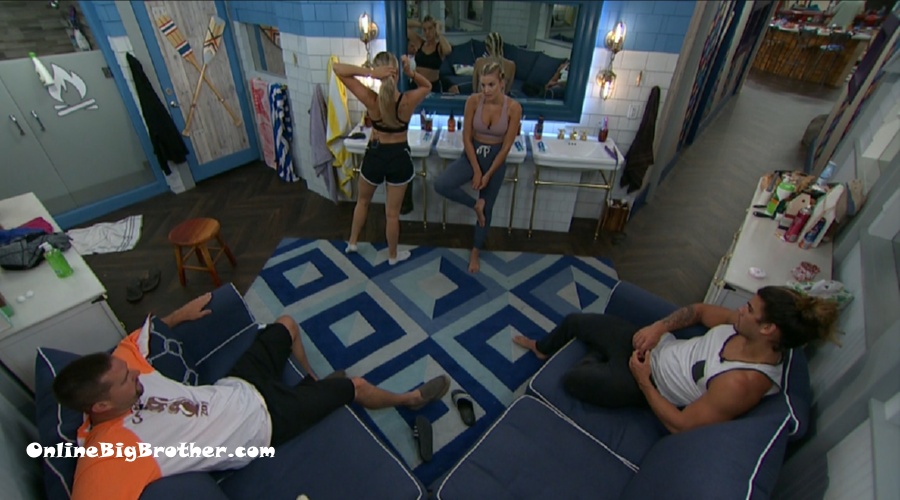 6:51 pm Kat, Christie and Jack
Christie's talking about who they should get rid of next week.. sounds like it's Nick again because he's scrappy
Sam joins them.
Sam – When Nick came to you did he name drop me because he says no
Kat – I don't want to get in the middle of it I purposely .. by the plan people knew the plan I did not say anything
Kat – I Want to say no but I can't remember enough to say
Kat says she doesn't remember Sam's name getting put up.
They tell him it's not about someone being name-dropped.
It was Sam spending time with Cifff leading up to the noms
Kat – I don't think Nick name-dropped you
Sam – yeah that I can see
Sam – I almost want to call a house meeting and air it all out. I want to call Nick up next to be I want him to verbally admit I had nothing to do about it (LAst nights attempt to get Cliff to trick Christie)
Christie warns him that everything will get aired during a house meeting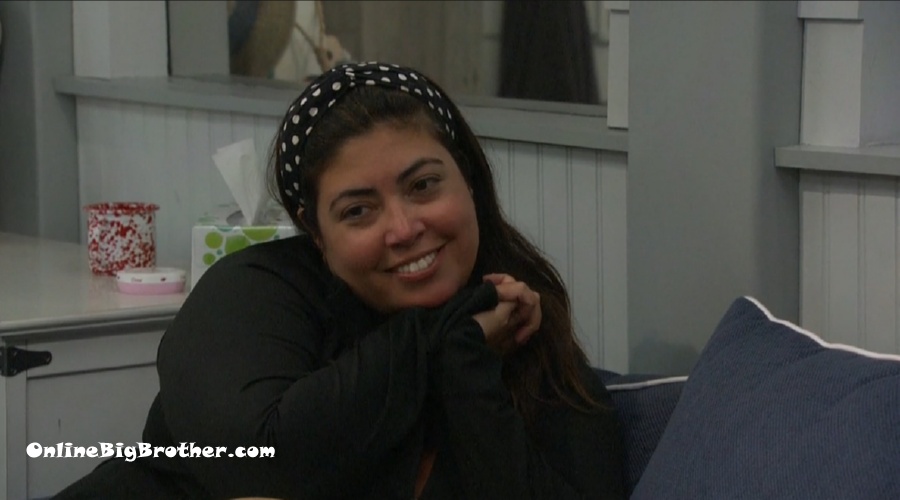 7:14 pm Jessica, Sam and Nicole
Jessica says none of them were part of the 8
Sam – we were at the bottom
Nicole -that's what so scary is numbers. Right now it's 6 and 2 of the 8 now 6 and 1
Jess – what are you talking about
Nicole – the way it's split ..
Jess – I don't think it's six. we're talking about showmances that's four and tow.. technically they are 6 but the 6 broke into 4 and 2
Jessica – there's still people outside .. out of that that are close to a few in that area.
Jessica doesn't see there is a 6 "whos to say anybody out of that 6 will win HO next week and do exactly what Cliff did" (Something tells me the only person that would do anything is Nick, Sam, and Nicole the rest of you 6shooter wannabes_
Jessica – Sammy you telling me you are going to self evict
Sam – no
Jessica – I know how tough it is Beleive me I thought about it.. wanting to leave before jury so you don't have to stay n the house by yourself
Sam – no I would never self evict
Jessica – I wouldn't either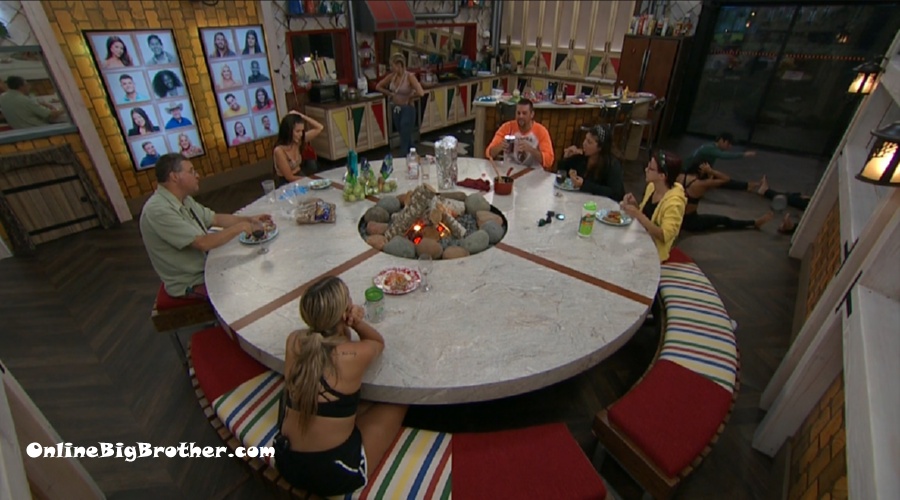 7:40 pm Family dinner minus Bella and Nick