Head of Household Winner – Cliff
Have note are: Tommy, Christie, Jackson, Kat
Nominations are: Jack and Jackson Bella
Power of Veto Players are – Cliff, Jack, Jackson, Sis, Sam, Kat
Power of Veto holder – Jackson
Power of Veto Ceremony – Jackson used the Veto on himself Cliff nominated Bella
Powers in the game
Christie – Panic
At any of the next four Power of Veto Ceremonies, Christie can turn the Golden Power of Veto into the Diamond Power of Veto and allow the current veto holder pull someone off the nomination block, but instead of the Head of Household naming the replacement nominee, the veto holder names the replacement.
Grab your live feeds —-> BB21 Live Feeds Subscription Link
Rank your houseguests —-> Big Brother 21 Ranking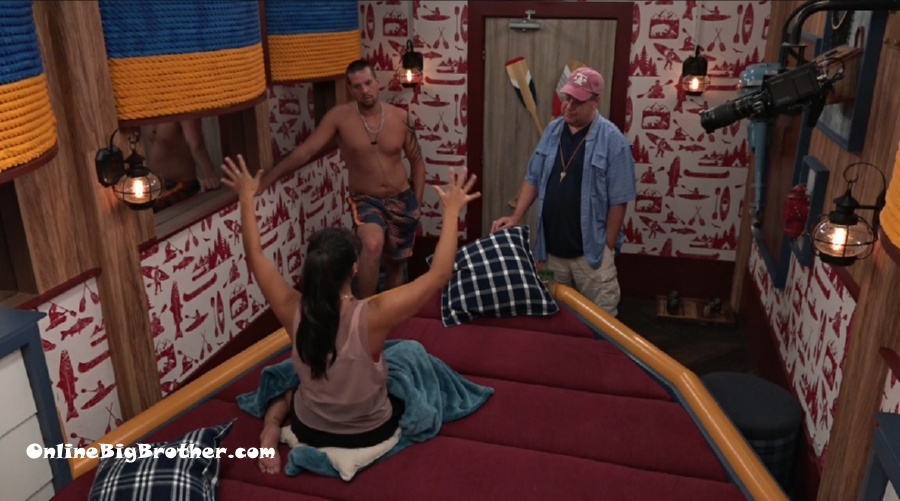 1:10 am Cliff and Bella
Cliff – I wanted to send Jack home and it became obvious that she would use the power
Cliff – I would love to see Jack still go home If you can make it work more power to you .. You are going to come off as a champ if that happens (like you're a champ Cliff)
Sam joins them.
Cliff – this wasn't a plan to backdoor her from the start I wanted Jack out .. I don't vote at this point it's out of my hands I will talk to them as much as I can and you tell me if there's anything I can do to help
Sam – work on kat.. if she can flip to last minute it'll be a tiebreaker
Cliff – if it's a tie-breaker I will do what I need to do
Cliff – I just couldn't do it even though I know it hurts our game
Cliff – you need Jess, Kat, and Nicole
Sam – ohh she's (jess) thinking she's working with the Jack now
Cliff says Holly and Sis have been working on Holly a lot
Bella is going to talk to Nicole this is there
They agree they'll get picked off.. (Cliff being the last one picked off)
Bella working on her campaign angle .. she'll go up next week, they'll get picked off one at a time, Jack's a HUGE player
Bella says it's so bizarre that Kat trusts Michie
Sam – because they did stuff
Bella says the only person I would try is Michie because he needs to get Jack out this would be a perfect time
Sam – I highly doubt it you can try
Cliff says Michie and jack are tight
Sam – you have nothing to lose
Cliff – yeah whatever it takes
Bella – based on the previous evictions I'm looking at what worked .. I don't want a Kemi situation Nicole did it eloquently but she waited last minute ..
Cliff says one on ones might be a little nerve-racking pull in 2
Sam – so Michie and Holly .. Christie went out of her way to get you up and Sis is a waste of time
Cliff – I Would start with them
Bella – should I wait
Cliff – I would give it a little time. everyone waiting for nick or you to blow up
Bella decides to spend the day thinking about what to say
Sam – I was trusting Christie .. we said hey if you make a big move here do you have our back .. I went to Christie and was like Hey if he makes a big move do you have his back.
Sam – she's like .. 100% as long as it's not me I'll do whatever Cliff wants so what was that?
Cliff – that was not the case
Sam – don't try and hug me and say sorry bud .. get the f* outta here
Bella – Tommy, and Her
Cliff says if Christie didn't use the power she would have all the 6 shooters "B1tching at her"
Bella – if Jack does leave this week it's Jack's game.. this will decide who wins Big Brother
Cliff – people are playing out of fear of the other side
Cliff – If I was a betting man
Sam – you're going home
Bella says she's going to be positive.
Cliff offers up the HOH room for Bella's campaigning "if you all want some cuddle time"
Cliff – we were so close
Cliff – I've heard more stories and spins about how I'm the most loved person in the house. That I'm just going to win America's favorite player. no one wanted me as a target sending me home last week was nothing more than this elaborate plan to keep me in the game
Cliff – like Cmon guys. Anything you can imagine.
Cliff – I'm still convinced she would have used it
Bella – at this point I wish she did
Cliff – for purely selfish reasons I was able to extract safety and I took it.
Bella – numbers side what the f* you have to win everything
Sam – what if Nick wins next week put up Jack and Michie she uses her power puts me up.
Cliff leaves.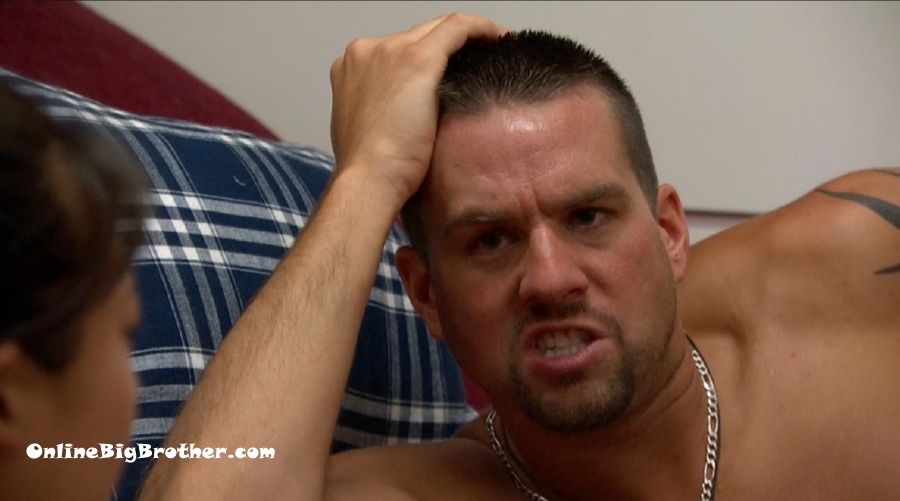 Sam – you know how the vote flipped it was 100% me then I got shafted.
Sam – I was up late talking to Nicole we were in the kitchen and Cliff was there.
Sam – Christie burned me flat out.
Sam goes on about how Christie claimed to have known about the flip to evict Cliff just moments before it happened. He knows this wasn't the case based on him giving Nicole the lines to say when she campaigned to Christie and Tommy.
Sam – you guys f*ed me .
Sam – that's why it pisses me off with Cliff standing here saying you know we're going to have to make a big move eventually or like him saying you know Nicole just wants to do what's best for the house she wants to go with the majority because she's worried. Well so did you what do you think you just freaking did. You just went with the majority do you really think they are going to save him
Sam – If I win HOH I'm putting up Jack and Michie BAM lets do this again I'm so at the bottom of this it's fricking pathetic
Sam – I just don't want to sit in Jury with these people
Sam doesn't think Cliff will screw him "he's so keen on keeping his word"
Sma – we got to get Kat to flip and Jess.. so stupid to put up the power and not use the power. I'm at the bottom of this. my game is screwed.. I've been lied to too many times and I believed the lies..
Sam says people have looked him in the eyes and said "Straight up no lying"
Sam – I'm like you obviously were
Sam goes on about how Christie swore she would back up Cliff on his HOH as long as she didn't go up.
Bella – Christie swore on her sister she wouldn't put me, you and Nick up
Sam says if anyone on that side wins HOH he's going up with Nick.
Sam says there's a hardcore 6 person alliance.
Bella – the Tommy thing is annoying he went from Buddy buddy and now he doesn't even look at me
Sam – you are running the show and you getting out someone that mentioned a name..
Sam – I'm really really pissed.. and Sam being MAD is no fun
Sam – you guys dun screwed up like bad
Sam – Nick will be voted out before me then Jury me and Jess will be the next ones to go .. this is why people cry in jury they see everything implode and they see their game sucking
Sam plans on planting seeds with Kat about the two of them being on the bottom of the alliance.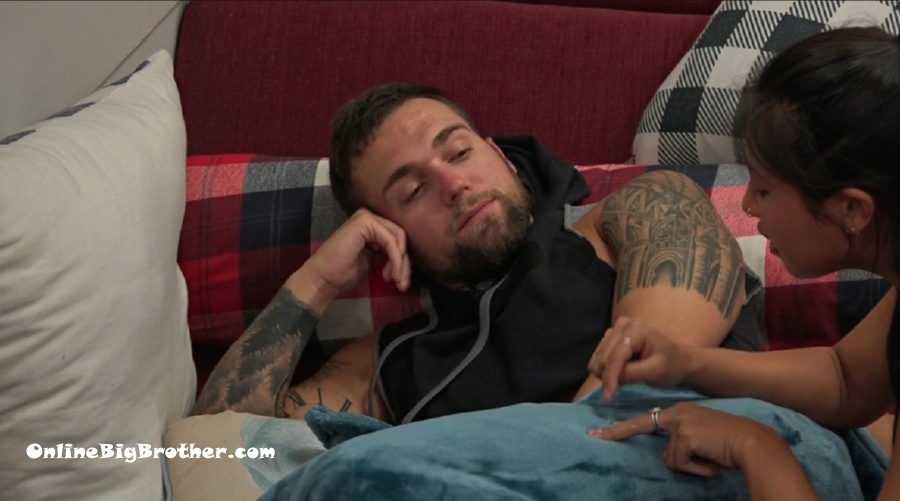 2:06 pm Bella and Nick
Going over her campaigning strategy She's going to talk to Michie and Holly and tell them it's their one chance to get out Jack.
Bella says Sam is the reason the vote flipped He didn't mean to and they didn't tell him.
3:32 pm Backyard boring
Cliff and Jess hanging out at the pool because they are now popular kids.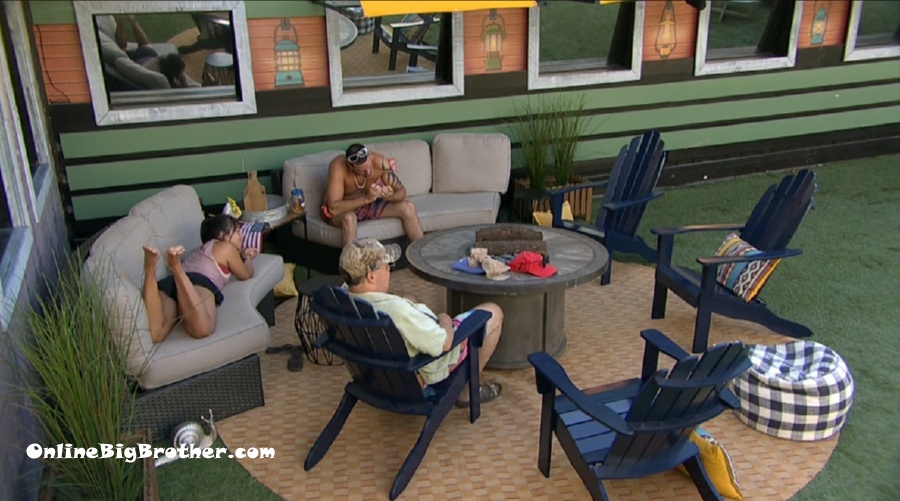 3:52 pm Cliff, Cliff, and Sam
Cliff is surprised nobody approached him with what Bella said in their conversation
Cliff says he knows it's a long shot but it would be really "funny" to see jack be confident that he's staying and not even pack his suitcase. (lol yeah would be hilarious if someone got Jack out)
Nick joins them "we need to put up Holly and Jess they aren't as good competitors"
Nick says they need Ovi's dream power to be activated
Cliff – I'm glad I came in and took a shot.
Nick – The last 5 people have been nominated by the HOH have stayed in the house
Cliff goes on about all the excuses why he folded on them all. it's his word and it's too early to start breaking it.
Bella talking about maybe getting a chance to come back into the game.
Cliff – that's what they want Drama and unexpected results" (yeah that's all we wan I wonder what could have given us that.. wish someone had the opportunity to do that)
Nick – I need to win this next one I don't have a choice
Nick – but if they want me to stay they'll give us a comp with throwing
Cliff says they just might.
Bella talks about her only chance is Michie and Holly and the angle that they can take out the biggest target in the game.
Cliff – anything that's done that build suspicions in that group helps
Cliff doesn't think Christie would give Kat the power
Nick – they must trust her she's running back to them and telling them everything I told her