Head of Household Winner – Cliff
Have note are: Tommy, Christie, Jackson, Kat
Nominations are: Jack and Jackson Bella
Power of Veto Players are – Cliff, Jack, Jackson, Sis, Sam, Kat
Power of Veto holder – Jackson
Power of Veto Ceremony – Jackson used the Veto on himself Cliff nominated Bella
Powers in the game
Christie – Panic
At any of the next four Power of Veto Ceremonies, Christie can turn the Golden Power of Veto into the Diamond Power of Veto and allow the current veto holder pull someone off the nomination block, but instead of the Head of Household naming the replacement nominee, the veto holder names the replacement.
Grab your live feeds —-> BB21 Live Feeds Subscription Link
Rank your houseguests —-> Big Brother 21 Ranking
10:30 am wake up time. Jacks boil is looking nasty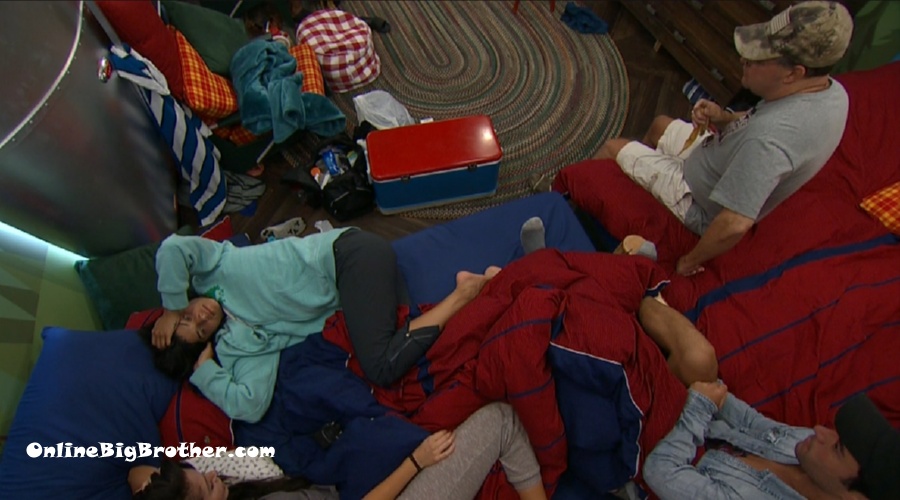 10:37 am Holly, Sis, and Tommy
Holly yelling them that Jessica and Nicole were making hot digs at 2 am because Nick and Bella are being extra cuddly especially now that Bella is going.
Cliff joins them they start talking about how "All About That Bass" isn't actually body-positive and the singer got praised for it.
10:43 am Holly, Cliff, Sis, Nick, and Tommy
They are talking about the backyard being closed down because the Hot Tub needed fixing
Holly – I hate that hot tub
Nick – we haven't had the hot tub in weeks
Holly – they had to redo it. they had to redo the hot tub because there was a bacterial infection in it
Nick – are you serious
Holly – yup
Nick – how do you know
Holly – Becuase I had it and it sucked
Nick – you and the hive thing
Holly – skin disease not a skin disease I'm being really dramatic. Like hives
Holly – and they told me it was from the hot tub and that's why when the yard was closed they redid the whole thing
Nick – the linning
Holly – put new water and new linning in it .. I'm pretty sure i"m not the only person cause they knew exactly the second they say it they were like OH that's whatever whatever from the hot tub
Feeds flip..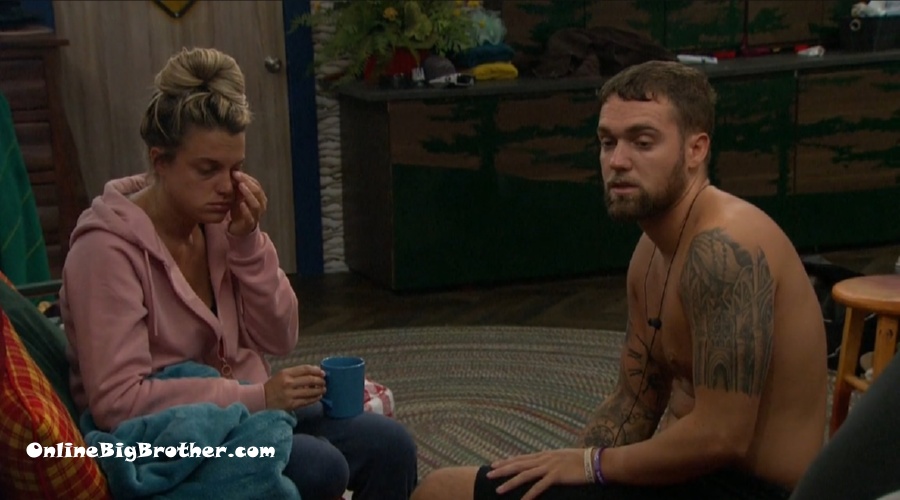 11:09 am Nick and the sixshooters
Nick – even though my eyes are closed I still see static in the background
Nick – every background I see is static I never knew how to explain it to the eye doctors they did all these tests to my eyes and my eyes are fine
Nick – I see static on you when I talk to you it's like TV
Nick – I was so upset when it happened. I just woke up one day and I had it I was in 7th grade I woke up I thought I saw Abraham Lincon in my room. I swear to god.
Jack – so the story is Abraham Lincoln gave you static
Nick – yeah
Nick goes on about how none of the doctors knew about it but he's finally found something about it on the internet it's called visual snow
Nick – it's the worst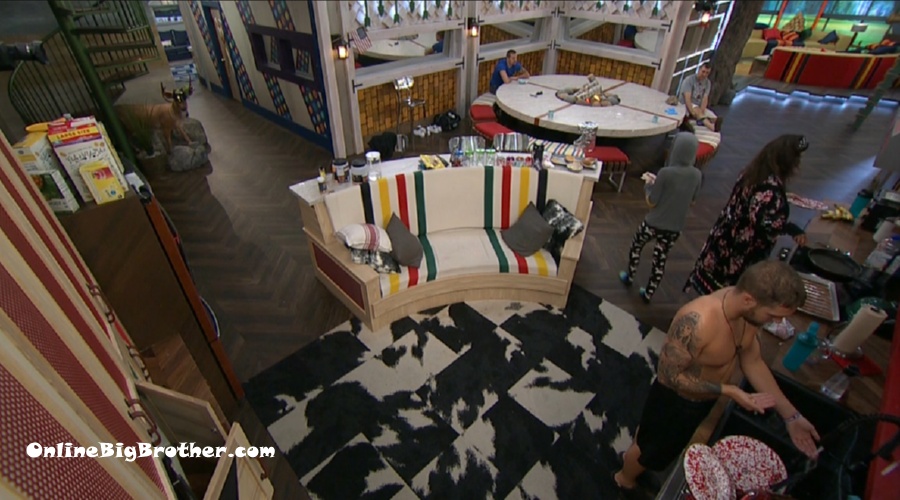 11:13 am
Cliff – It's day 35 .. I was thinking it was Wednesday. god, we have all day today and all day tomorrow. OH my gosh it's going to be horrible (My thoughts exactly)
Nicole – yeah we're locked in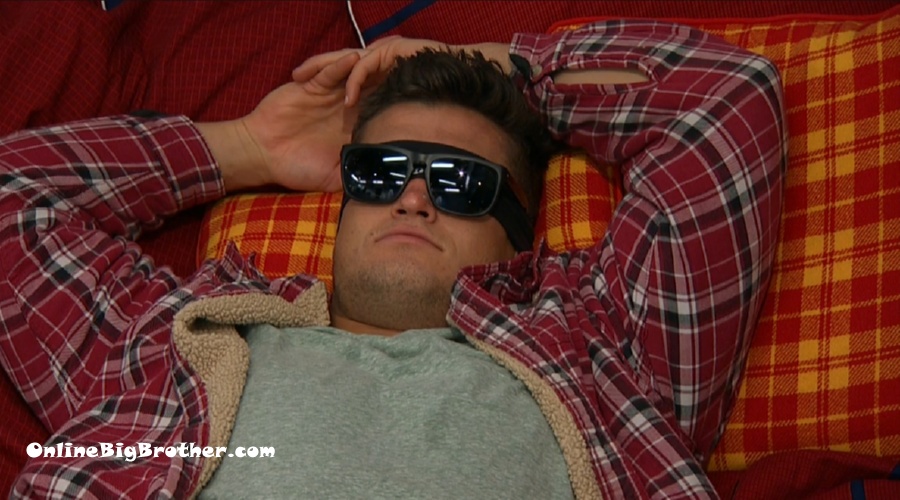 NOON – nothing but chit chat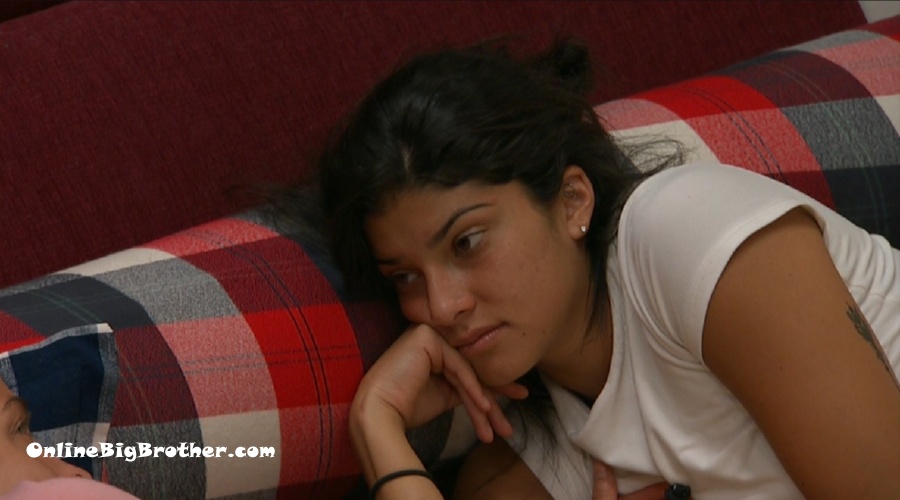 12:04 pm Sis and Christie
Sis – I just want to hang out
Christie feels low energy today the slop is catching up to her.
Christie complains that Jackson slams the Have nots door "he doesn't care if he wakes anybody"
Sis – thank goodness this next one is endurance and you're good at that
Christie thinks she means put Jackson up
Sis – you're good at endurance you won't drop early so you don't have to go back on it
Christie says she doesn't want to win head of household "I already nominated two people and both stayed"
Christie says she wants Nick gone but if Sam won the veto and saved him Nick will be gunning for her.
Sis – I'll put up Nicole and tell her she's a pawn .. I just don't know if I can backdoor Sam just because of our relationship
Christie – I don't think Sam will put me up
Sis agrees she doesn't think he'll put her or Christie up
Christie – I have a good relationship with Sam
Sis – when I get out of here I don't know what I want to do
Christie – you have to go back to school?
Sis – no I'm done.. I'm going to start my life
Christie – what did you major in
Sis – Community Health Science, Public health I don't want to do anything in that field.
Christie – if you can have a dream job not related to this .. like anything
Sis – If I could do anything in the world? I want to be an Instagram influencer .. I could just go do events and like go wherever and not have to wake up get ready
Christie – like a nine to five
Christie – what could you see yourself doing career-wise if you had
Sis – I guess I would be a sports reporter. I really want to be an Instagram influencer. I want to be able to work on my own time. I could travel anywhere do an appearance or like do whatever and like get money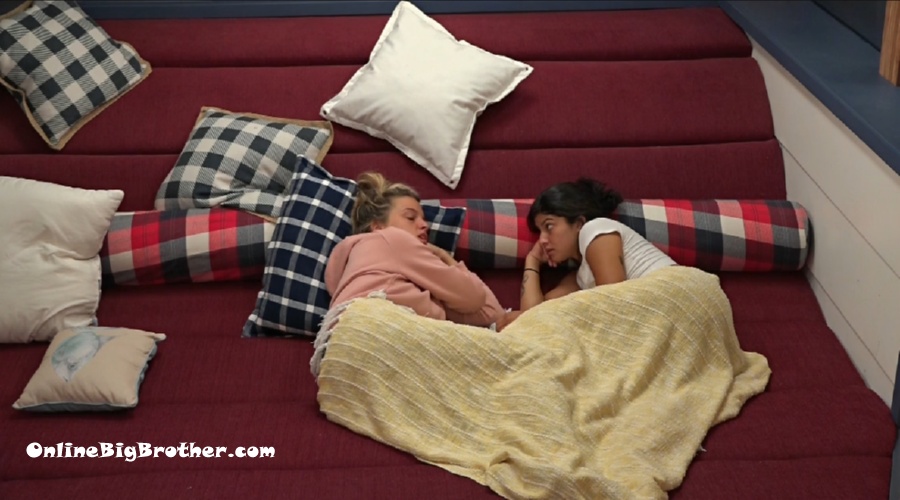 12:26 pm Christie and Sis
Christie calls Jackson a jerk and Jack is the sweetheart
Christie – jack is appropriate .. he talks about respect it just seems more authentic
Christie goes on pouring scorn on Jackson and pointing out how great jack is..
Christie about Jackson "he's a douche "
Christie is going to put up Jackson and Holly when the split happens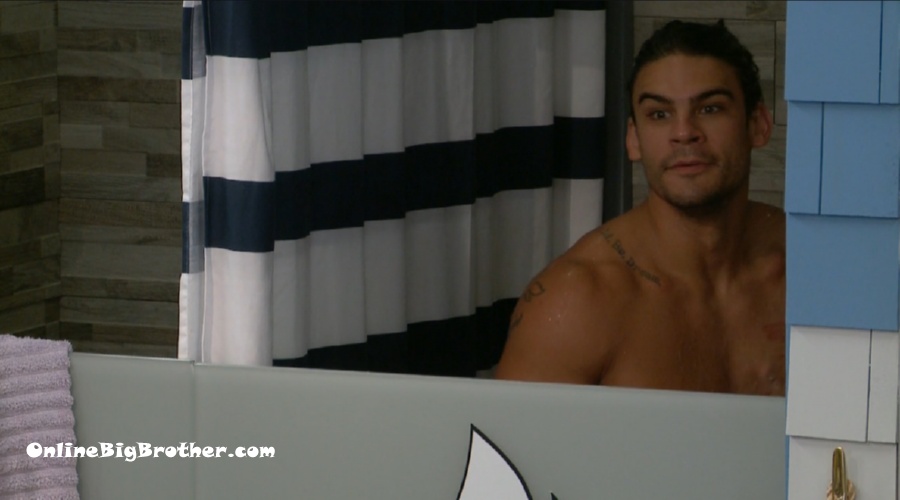 12:47 pm jack and Kat
Kat tells him he has her vote no matter what
(of course she did)
1:05 pm in the bathroom
Kat says the gel in her hair makes it feel like someone ej@cul@ted in it "it's so sticky"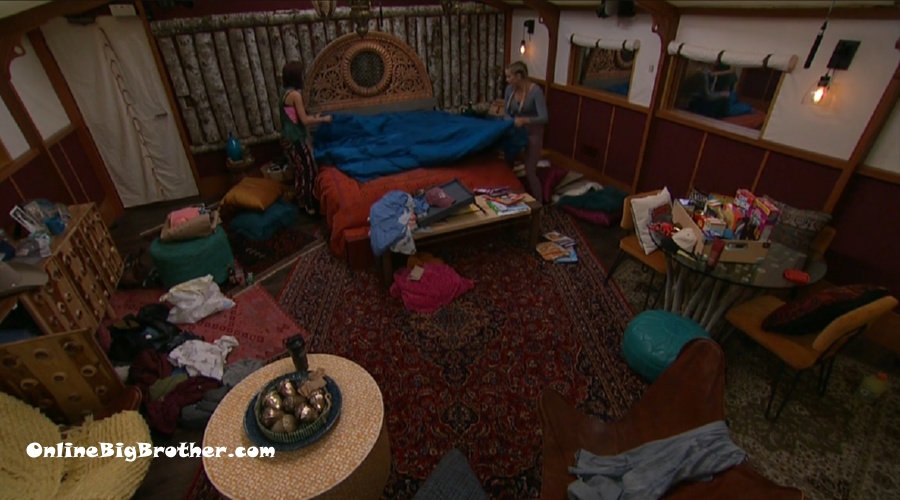 1:52 pm Nicole and Kat clean Cliff's HOH room
Nicole – who would have thought Cliff was so messy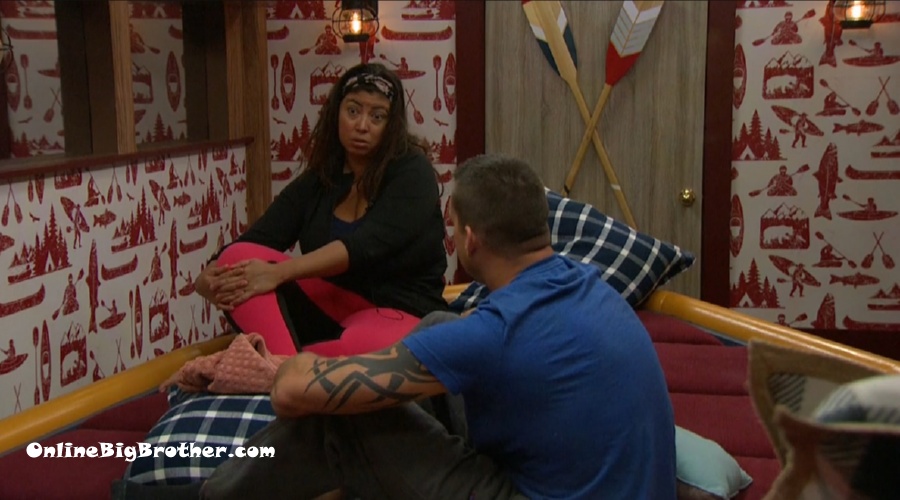 2:15 pm Jess and Sam
Sam says unless they win HOH it will be him and Nick going on the block
Jess – the only thing you can do it just win the f*ing HOH. I'm sure on the past seasons it was the same sh1t you have no other chance than to win the HOH
Jess says if it's the wall endurance they have a 50/50 chance to win it "might be sis might be Nicole, Could be Christie"
Sam – if they don't put me up and you up who else would they put up? Kat?
Sam – they're close to Kat now. So who else? you and me would still go on the block
Sam – and now that they already have saved Nicole they wouldn't use her as a pawn so again we're at the bottom
Jessica groans. "I gotta pee"
Sam says he has to leave before it looks shady "I gotta watch who I'm talking with"
Jess – I don't talk to you anyways
Sam – now that I'm in this whole new game change I'm trying to salvage what's left. I want to be careful. look at how fast things get back and then I don't know and it's too late. Then I'll have to call another house meeting"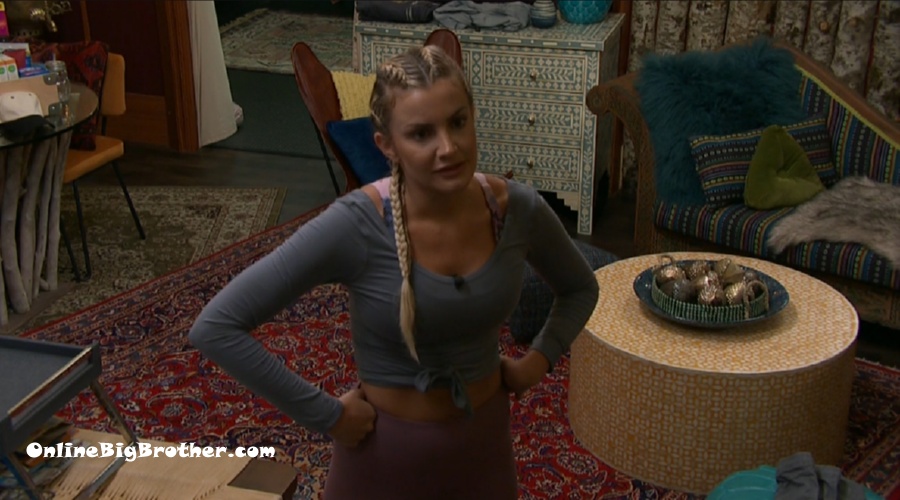 2:20 pm Cliff and Kat
Cliff warns her she's going to be campaigned to by Bella "I assume you've made your"
Kat – there's no way I could not vote to evict her. She even gave me these pants
Kat – I'm like I'll take the pants but I'm still voting to evict you
Cliff – I'm not going to try and convince you other wise .. I'm cool with it
Kat – no I'm worried her, Nick and Sam will come after me
Cliff – no they have bigger targets
Kat – yeah
CLiff – that's cool I respect your opinion
Share it YO!!
Tweet