POV Holder:
Next POV
Aug 17th
POV Used
POV Ceremony
Aug 19th
HOH Winner:
Aaryn
Next HOH:
Aug 22nd
Original Nominations:
Current Nominations:
Last Evicted Houseguest
David, Nick, Jeremy, Kaitlin, Howard, Candice, JUDD, Jessie
Have Nots
9:57pm Cockpit Helen, McCrae and Andy
Helen is telling them that the DR is asking her about Spencer and why he chose the people he did in the HOH competition. Helen explains to Andy that Spencer put up McCrae and GM instead of GM and Aaryn. When he was confronted by Elissa about why he chose those he fumbled his words and said he got flustered. Helen thinks Spencer is much smarter than that he knows what he's doing. She suspects he's working with Aaryn and GM.
Elissa comes in..
They fill her in on the Spencer/Aaryn/GM super alliance. Andy and McCrae are playing along. Helen says Aaryn is probably wanting Elissa gone this week so she can work with Helen.
Elissa asks them if there is anyway they can get Spencer up.
Helen: "No way.. at a certain point she's got to be worried she's won 4 HOH's"
MC: 'She's going to have Janelle syndrome.. everyone will be gunning after her because she's so good"
Helen: "She's going to be good at vetos"
MC says Aaryn and Gm will have to go back and forth from here on out to stay in the game.
Helen: "Maybe we should have kept Kaitlin"
MC: "JUDD f*** us on that one"
Helen: "Totally"
Helen and McCrae both say they would vote for Aaryn in the end. Helen likes how Aaryn is so humble with her wins.
Helen says she feels sorry for Aaryn because no one was congratulating her beside GM.
MC: "Aaryn winning is the worst Case scenario"
Helen mentions how she really wanted Amanda to win it, "You know it's good for different people to win You know"
Helen says Aaryn is amazing under pressure.
Elissa: "I just think she has good luck and Adderall"
Helen: "Don't say that she'll put you up"
Elissa: "She'll put me up anyways"
MC: "Amanda is on Adderall and she f****g blew"
Ellissa: "But she's been on it for like 8 years"
Helen: "you shouldn't say that because Aaryn got really upset about it"
Elissa: "I know"
Helen: 'We can't get down in the dumps OK"
Helen says they just need to be prepared that her and ELissa are going up or McCrae and Amanda.
Helen asks them if there is anyway they can get Spencer up. Elissa suggests they tell Aaryn Specner was going to put her up if he won HOH.
Helen: "No that's no going to work she's not going to put him up based some hearsay"
Elissa: "She put him up before"
McCrae mentions that him and Andy could be going up. Andy says he's sacred if a duo goes up and veto is used he'll go up.
10:30pm Aaryn gets her HOH room
10:36pm Spencer, GM and Aaryn
GM says she's pissed because she wanted to put up a pair. Aaryn: "That is what's happening"
Aaryn tells them Helen and Elissa are going up.
They tell Spencer he's good Spencer leaves.
Gm: "Dude.. you want Elissa to go over Helen right"
Aaryn: "YA"
Gm can't stand Elissa
10:44pm HOH Helen, Gm and Aaryn
Helen: "So I know Elissa pissed you off"
Aaryn: "Ya.. why would you do that right before a HOH"
Helen: 'Because it's Elissa"
Aaryn: "I thought that her and I had come to a common ground"
GM jumps in says what Elissa said was disgusting and she's ready to cry right now.
Helen is trying to explain why Elissa said the things she did. Helen thinks Elissa gets really nervous before competitions and she's also been missing her family a lot and is stressed.
GM basically tells her that is not a valid excuse, mentions she only pinpoints GM and Araryn.
Helen says it was childish of Elissa it's not like they are on the school bus in 3rd grade.
GM: 'Why didn't she say it to anybody else"
Aaryn: "What did I do"
Helen: "Not that I know of.. she hasn't talked about yo in a long time… I thought your relationship did a 180.. she was nervous about the comp she was crying"
GM: "I know you're trying to defend her Helen… I respect that I know you are friends.. . but you shouldn't have to strike and hurt people's feelings saying negative things about them to make yourself feel better"
Helen: 'ohh Of course"
Andy joins them.
GM starts saying that she doesn't have any money she lives with her parents. The house she lives in looks like a hurricane hit is, "it looks like a wh*re house.. that's how bad my house looks "
GM: "I don't care what her f*** husband does I don't care what he f*** drives I got 20 mother f*** dollar shoes and I make that sh1t look good"
Gm says she hasn't said anything bad about Elissa since they squashed out their issues weeks ago. She was complimenting her in the Diary room saying how amazing her body is. Gm doesn't care if Elissa was upset she should have never had said it.
GM: "I never said nothin bad about the lady and now she's coming out saying i'm in squalor and I smell bad so I can't sit next to you.. what is this the 1940's and I can't sit next to black people at the back of the bus.. c'mon bro you aint better than nobody "
GM: "Even Donald Trump ain't better than me"
Helen: 'So.. I understand that she rubbed you all the wrong way and she owes you an apology and I'm sure at some point she will do that"
Aaryn: After keeping her safe for two weeks of the block.. this is how she repays me by calling me scum"
Helen: "I agree with you.. and I don't agree with her not wanting to sit next to certain people on couches"
Helen: "Her sister was a comp champ and she never did well in comps"
GM: "Can I ask you something" (Feeds cut)
11:00pm HOH Amanda, Andy, Specner, McCrae, Helen, Aaryn
going over the whole Elissa thing again. Helen is still bringing up the excuse that Elssa doesn't like competitions and misses her family .
Gm:"It made us feel like we shot pissed and stabbed somebody"
Helen points out that Elissa's sister played this game before and "Beat it to the punch.. made it look easy.. she convinced her to go on the show and it's not easy "
Helen: "It's easier to go to work and earn 500 thousand dollars than win Big Brother.. it's a very complicated game"
Amanda:L "I disagree"
Helen says Elissa thought her experience was going to be a lot like her sister but it's not because she's not wining anything.. Helen goes on and on about Elissa getting overly nervous at the comps and she was in a bad mood that is why she said the things she said.
Aaryn and GM say they are over it.
Amadna jokes that Gm does expell some nasty a$$ odours from her Anu$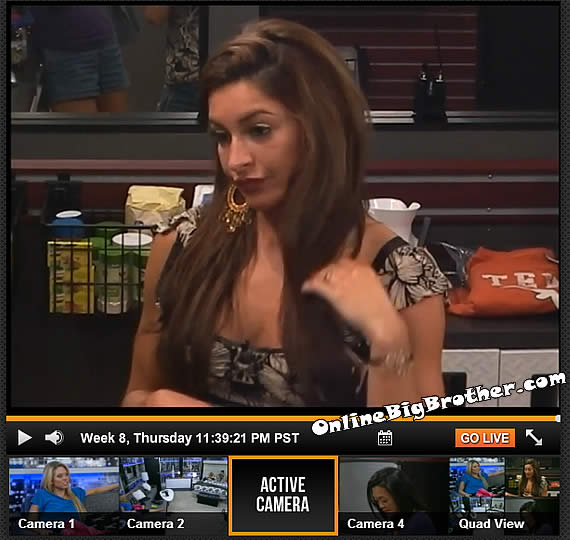 11:24pm Storage Helen and Elissa
Helen: "I have the feeling you are going up .. not sure about the second person it could be me it might be me."
H: "I know you don't like her I know you don't.. it just sucks you got in a argument before a competition"
Elissa says she never said that straight to GM and Aaryn she only told Amanda, Helen and McCrae.
Elissa says she was having a bad day.. Helen mentions how she was trying in the HOH to explain to them you were just having a bad day.
Helen: "If she puts us both upo one of us will go home"
Elissa: "Not if one of us wins the veto"
helen:' No she'll put up Spencer and one of us will go home probably"
Elissa: 'you think they will vote us out"
Helen: "Yes they do"
Elissa thinks maybe if they put up Spencer and Elissa and veto is used Aaryn will put up Amanda or McCrae. helen says no because then she will piss off 2 couples.
Helen tells her the reason she is going up is Gm/Aaryn feel like they have kept you safe for 4 HOH's and today you didn't want to sit next to them on a couch so they are pissed off at you.
Elissa: "That's kinda ridiculous.. I never put Aaryn up as MVP or vote against her so we're even.. She's been gunning after me since week one"
Helen tells her it's going to be a tough week and it doesn't look good if Spencer wins the Veto. Helen: "I will obviously do my best to keep you here.. I'm also on the down low because jessie killed me with Aaryn.. who knows what Aaryn thinks about me.. Jessie was like GET HELEN out.. I knew Jessie was bad news."
Helen is blaming JEssie for sinking their game with Aaryn. Helen says the one thing Candice said to her before she left was to trust Jessie. HElen: 'Candice didn't know the game. "
Elissa: "Jessie doesn't know this game either"
Helen: "Jessie doesn't understand this game either I totally agree. .. look what kind of Horror she was"
They leave the storage room.. Elissa tells Helen if she goes home this week she's not going to Jury she going straight home.
You can re-watch ever second on the feeds using the flashback feature.. It's just like a DVR and is super easy to use. click this link for a Free Trial —> Subscribe to the Big Brother Live Feeds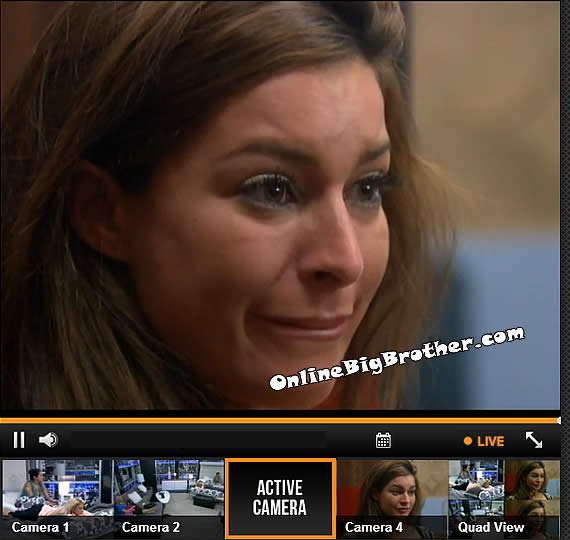 11:55pm heads up to the HOH starts to cry
Helen says she cannot protect Elissa anymore.. Helen says Elissa is one of her only votes she doesn;'t want her to leave. McCrae says production will talk her out of it
Amanda tells her if Elissa walks off the set she will not be eligible to win the 25K America's favorite, She points out Elissa isn't playing the best game, Helen has been carrying her thorough the entire time. Amanda wants the 25K to be freed up for someone that fought to be on the show. Spencer mentions that Elissa wasn't even sequester in a hotel like the rest of them.. Feeds cut..
12:10AM Kitchen Aaryn and McCrae
Aaryn: "Thats really sad"
MC: "that's f*** heartbreaking.. thats someone that doesn't care about anyone but themselves.. "
A: "We already knew that"
MC says he really pissed at Elissa right now for saying she's going to walk off if she goes to Jury. .
Mc: 'It hurts me inside.. I hope Helen wins the Veto .. I will feel so happy sending her home "
Aaryn: "Me to.. But if this is game play.. thats the only thing that scares me"
Mc: 'I know.. thats what I think to"
MC now tries to compare Elissa's game to Dr Will's game, points out that they started the game with such a HUGE target on them and they both sucked at comps . MC says the only difference is he knew what he was doing and she is falling "A$$ backwards into it"
Spencer comes down.. Aaryn says what's going on in the HOH (With Helen crying) is horrible almost as bad as the camel toe in the pants she's wearing.
Aaryn heads back up to the HOH. Amanda comes down and joins the guys in the kitchen.
She says she doesn't feel bad for Helen and Elissa.
McCrae: "I do "
Amanda: "I don't"
Spencer: " I feel sorry for all the mother f****rs at the hotel that I stopped seeing after day 2 and 3 and 4"
Mc and Amanda Agree.
Amanda: "Helen needs to stop worrying about Elissa and start worrying about her f****ing self"
Spencer: "Lets just smooth this over].. vote Helen out and if Elissa leaves f*** her .. final 6"
Amanda: "Ya.. agree 100 and 50 thousand percent"
Amanda again says she doesn't feel any sympathy for helen. Mc says the only person that feel sympathy is Aaryn..
Amanda: "She'll be fine"
McCrae: "of course she'll be fine but for me it's more OK F** helen ceya"
They move to the door near the cockpit… Spencer says if Helen goes they have a good chance Elissa will quit.
Amanda points out that Helen is acting like she was the only one protecting Elissa when in reality it was McCrae, Spencer and her that were trying to keep her in the game for the MVP.
Spencer: "I don't give two fucks that there will be one less vote for Helen" (this is a response to Helen crying in the HOH and saying if Elissa leaves it's one less jury vote for her)
McCrae agrees why do they give a f** if helen losses a jury vote when Elissa walks out.
Spencer: "If Helen goes home this week ELissa have a mental f*** breakdown.. she will lose her support system and go nuts"
MC suggests that if Helen leaves and Elissa stays she may find some crazy mentally disabled strength during the HOH endurance competition and win it. (what a PC way to put it)
Amanda says she knew this was going to happen. McCrea agrees with them they need to have Elissa go crazy.
Mc says he wishes Elissa would just f***g walk. Amanda and Spencer are both excited that she'll walk from jury it frees up America's player.
Spencer jokes says once the POV is known and everything is good he's going to fart in Elissa's mouth..
Amanda: "Sit you bum hole on her eyeball socket and fart in her eyeball"
McCrae jokes says he's going to rub lotion all over his body and run into Elissa's bed.
They agree Elissa wanting to quit is the biggest slap in the face to all the people that tried to get on the show.
Amanda: "Is it bad I do not have 1 oz of sympathy for Helen"
Spencer: "I liked watching her cry"
Amanda: "I enjoyed it.. does that make me a bad person"
Spencer: "Dude I f*** cannot stand that b1tch since she told me she would let me get to jury but thats as far as she can take me.. "
McCrae laughs he remember her saying that.
Spencer: "I thought ahh thank you gandalf.. "
Amanda: "This is the same thing she did with Jessie.. She wanted to flip the house with Jessie.. but after she realized she didn't have the numbers she threw Jessie under the bus.. jessie was telling the truth the whole f-***in time.. "
Spencer knows..
Amanda: "Now she's going to throw Elissa under the bus because now she know Elissa is a ball and chain.. BUT little does she know she should be protecting herself over Elissa "
1:26AM Bathroom Helen and McCrae
Helen: "I know she is going to put up Elissa.. who is the second person"
MC:' I don't know"
Helen: "Spencer Is still up there" (in the HOH)
MC:' Ya he's going to be up her a$$"
MC says he doesn't' know if it's going to be Elissa and him or Helen, he suggests it could also be Andy. Helen thinks it will be her and Elissa. She wonders if they can convince her to put up Elissa and Spencer.
McCrae:" Spencer is scary.." he think she's going to put someone up to make sure Elissa doesn't stay
helen: "Which is me.. if ELissa wins the veto who does she put up.. Andy.. "
MC: "I dunno Spencer maybe"
Helen: "Will you keep me over Spencer. "
McCrae: "Of course.. Spencer is dangerous.. you're on our side.. we got numbers numbers"
MC says she needs to win the Veto. "We have to psychologically break Elissa down.. if she doesn't want to play with you in the end then why should you play for her right now"
McCrae says Elissa saying she's going to quit jury is a big f*** you to everyone that has tried out for this game, voted for MVP or been in the game.
Helen says she's been playing for ELissa, McCrae, Andy and Amanda from the beginning she now has to play for herself.
McCrae: "You have to win Veto and take yourself off"
Helen: "But I don't want Andy to go up"
MC: "Ya"
Helen: "then I guess Elissa goes home.. and it's 4 of use against 3 of them"
MC: "Yup"
H: "If I can't win it the second best person to win it will be her(aaryn) because she won't use it"
Helen wishes Amanda would have won the HOH doesn't understand why she just didn't like the HOH button.