POV Holder:
Next POV
Aug 17th
POV Used
POV Ceremony
Aug 19th
HOH Winner:
Aaryn
Next HOH:
Aug 22nd
Original Nominations:
Current Nominations:
Last Evicted Houseguest
David, Nick, Jeremy, Kaitlin, Howard, Candice, JUDD, Jessie
Have Nots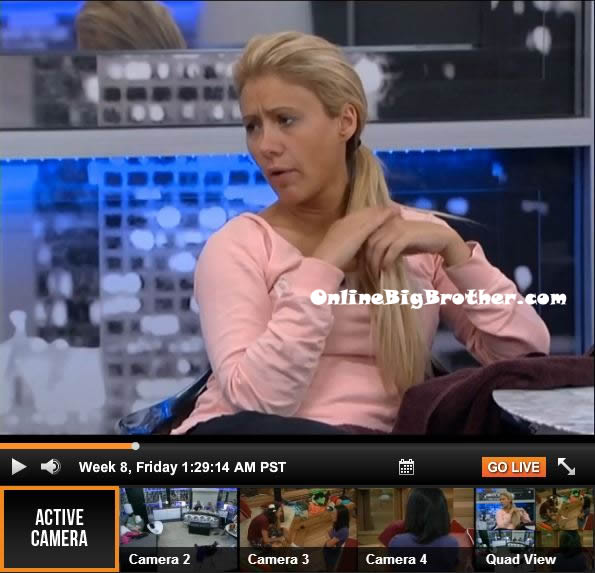 1:30am Up in the HOH room. Amanda comments that Andy likes being back doored. Aaryn says yeah lets back door Andy. They talk about Helen is getting upset and crying that Elissa is going up on the block. Ginamarie says its the same thing when Howard went up on the block she started crying. Aaryn says well don't worry Aaryn Queen of Balls is here! Amanda says okay queen of balls. Aaryn says really, who here has done a ballsy thing? Amanda raises her hand. Aaryn asks what? Amanda says everything! Amanda says every single thing that comes out of my mouth is ballsy, look BALLS! Aaryn says that's because you suck on McCrae's! Amanda says well it works. Aaryn says and that's a different type, ball mouth. Amanda says that the only person she (Helen) said she did not want up at any time was Andy and McCrae. Aaryn says you know I need to put you (Andy) and McCrae up because you need to understand how it feels. Amanda says yeah lets do that. Aaryn says Andy would run away crying and McCrae would be like what the f**k.
1:50am – 2:10am They talk about what the veto competition will be this week. They think it will be the hour one where the closest person to dropping at the hour mark wins. Andy, Spencer and Aaryn all say they are good at that one. Aaryn says or it could be the what would you do veto – like shave your head for the veto. Aaryn says whatever it is, I don't think they (Helen / Elissa) will win it. They talk about trying to psych Elissa out during the competition to make her nervous and lose. Andy says he is going to bed. Ginamarie yells at him to go back to the slums you bum! McCrae says that if Helen does go this week my picture (memory wall photo) is going to look so awesome! McCrae then tells Spencer that Helen is trying to make you (Spencer) look bad so that you go up instead of her. Aaryn wonders who Helen thinks I might back door. McCrae says because she thinks it would be bad if Andy or I went up. Aaryn tells Spencer to just win the veto. Spencer says even if it Chinese or Mandarin I could decipher the fucking code – He then makes a bunch of noises trying to sound Chinese. I don't care I will win that motherf**ker. McCrae says we need to designate one person to take all the luxuries like GM and then the rest of us take all the punishments. Amanda says why can't I take the luxuries. McCrae says because then you will be targeted for it. They talk about how usually you don't know who took the luxuries. McCrae and Spencer say they really want the chum bath. Aaryn says it could be the balance beam competition too. Spencer says I would like to be on the prize side of things. Amanda says no you already won a trip you need to fly to the punishment side of things. Amanda says so how many bad things am I going to regret tomorrow? Spencer says the racial stuff and then r-word. Amanda says no I don't care about that, I mean game stuff. Big Brother cuts the feeds. When then come back – Spencer says when she (Elissa) is doing yoga, I will go over there and dry hump her. (Talking about ways to make Elissa self-evict.) Aaryn says that would drive her crazy.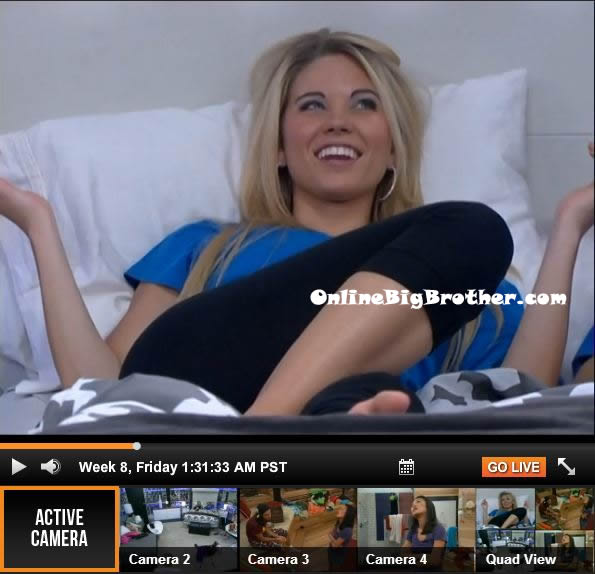 1:50am Meanwhile in the bathroom – Helen and Andy are talking. Andy asks Helen if she is okay. She says yeah. I have to go back, they want me to clean my face (Diary room). Helen tells Andy that Spencer is so much more dangerous than Elissa, she's not going to come after me, you. She's going to come after Amanada. Andy says that he knows and feels that Aaryn knows that. Andy says sure if one of us was HOH everything would be good, but I am going to head to bed. Andy says try not to think about it. Helen says I try not to get sad, I didn't mean for all of that to come out upstairs. Andy says hopefully she will come to her senses but I am 100% she (Elissa) is going to be nominated, I'm just not sure who's going up next to her. Andy leaves to go to bed.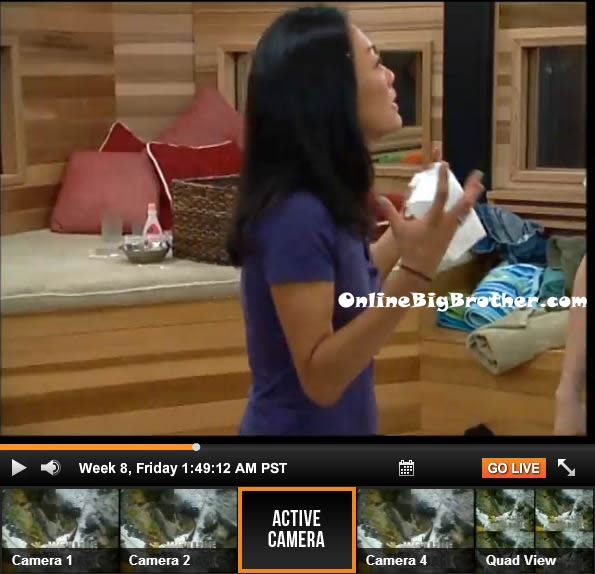 2:10am Up in the HOH room – Amanda puts one of the black chairs on her head and pretends she is Darth Vader from the movie Spaceballs. McCrae says it looks exactly like that actually. Aaryn leave the HOH room. Spencer says if Helen feels safe going into the veto she will stall on the questions. And Elissa's brain doesn't process stuff fast enough. McCrae says I would much rather Helen go home first but if Elissa went home first it wouldn't be that bad. They watch Aaryn on the spy screen dancing outside the HOH room. Amanda says I love her, I love her racist a$$! Aaryn joins them. Amanda comments that she cant understand how Aaryn felt bad for her (Helen?) – I would have to think about dead puppies in the blender to try and cry.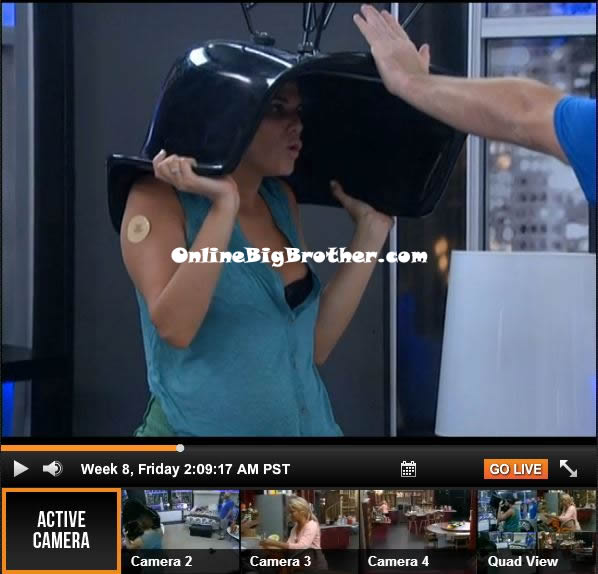 2:10am In the kitchen – Ginamarie is cleaning up and cooking a pizza. When the pizza finishes cooking she yells "Yo f**k faces, pizza's done!" Aaryn comes out of the HOH room and puts her leg up on the railing and says Gem's Saddle up! Ginamarie yells yeah bitches I'm ready!! Aaryn then starts shaking her butt for the camera.

2:20am – 2:45am Up in the HOH room – Aaryn, Spencer, Amanda and McCrae. Spencer says that Elissa commented that she just got back from an international vacation. That is f**king big time dude! Why don't you say you need to Elissersize your dumba$$ out of this house! They laugh. Spencer says I am going to Elissersize the deamons! Aaryn says she said that they travel every weekend. Elissa you feel like you're better than everyone here and like this experience is below you.. so why don't you go back to whatever you think is better than being here because we all think this was a dream. Spencer says yeah! McCrae says yeah that's exactly what I would say because that is the truth. Spencer says you know what I used to say, that bit*h was born on Thursday and thinks she got a triple, you know what I am saying!? McCrae says I love that saying. Aaryn says Elissa you think of this whole experience as disposable and below you. Amanda agrees. Aaryn says she could say in her nomination speech "Elissa you think this experience here as disposable and below you which you remind us of every day. While the rest of us are living our dream, so since we all want to be here, I am going to give you the opportunity to go home since that's what you want to do." Amanda says yeah. McCrae says his goal is to meet and match every time she (Elissa) makes a complaint. Spencer says like yeah, when she said her shoulders hurt. Say my friend has spina bifida. Amanda says my goal here is to see you walk from jury because you have the worst game play and just because of your sister you get America's Player (MVP) which you do not deserve because your husband already drives a.. Big Brother cuts the feeds. Spencer says exactly you are playing for toilet paper. I would like to see what would happen if we made her walk before the veto is played. Amanda says lets see if we can do it. McCrae says I think we could make that happen. Spencer says easily! Big Brother cuts the feeds. When the feeds come back – Helen and Ginamarie are cleaning the oven and Spencer/McCrae are getting ready for bed in the bathroom. Spencer heads to the bedroom. Andy complains that they are making so much noise in the kitchen. Helen apologizes for the noise and says she didn't realize people were sleeping in this room. Andy says he appreciates them cleaning the oven, just not their timing.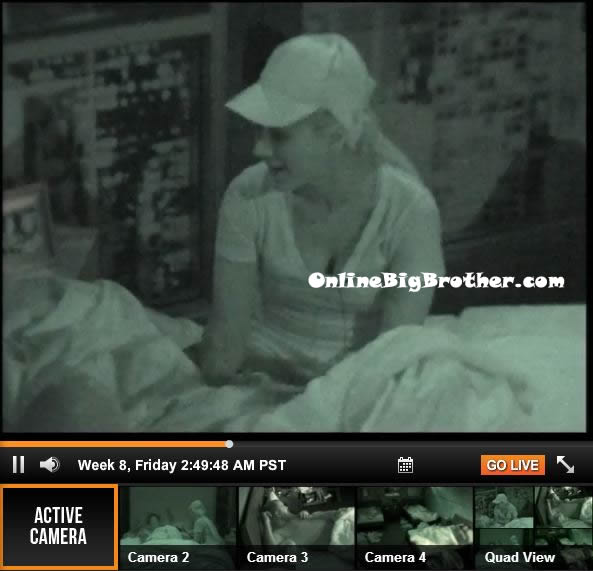 Big Brother 15 Live Feeds: FREE 2 DAY TRIAL
2:50am – 3:20am Up in the HOH room – Gina talks to Aaryn about how Helen was worried about going up on the block. Ginamarie says that Aaryn went from the lowest to the highest while other people have been running the house. She says it's the time for Elissa to go! Ginamarie says Elissa has always has an advantage over us in many ways with the MVP. She says but now MVP is over so they can't be under Elissa's wing. Ginamarie says everyone tip toes around Elissa like she is a princess but she's a queen. Aaryn agrees and says this is BB airlines, time to go home bit*h! They talk about Spencer trying to win the veto and how it didn't piss Aaryn off that he tried to win it was that he was down with the plan at first. Gina and Aaryn agree that Spencer is shaddy. Aaryn comments that McCrae commented that Amanda can't win anything. Aaryn says that was so mean and he didn't win it either. They talk about how Elissa called them disgusting. Aaryn says we don't do anything disgusting. Aaryn says that she thinks Amanda and McCrae would rather have Spencer here than us .. because whenever we bring him up they don't say anything. Aaryn says coming in here I did not think I would be as good at competitions. Gina says she didnt think coming in here she would do very good at smart competitions but thought she would do okay at physical ones. Aaryn says you beat Helen in that knockout and she is one of the smartest people here so you can't say that you aren't smart any more. Gina laughs and says thanks. Aayrn and Gina go to sleep…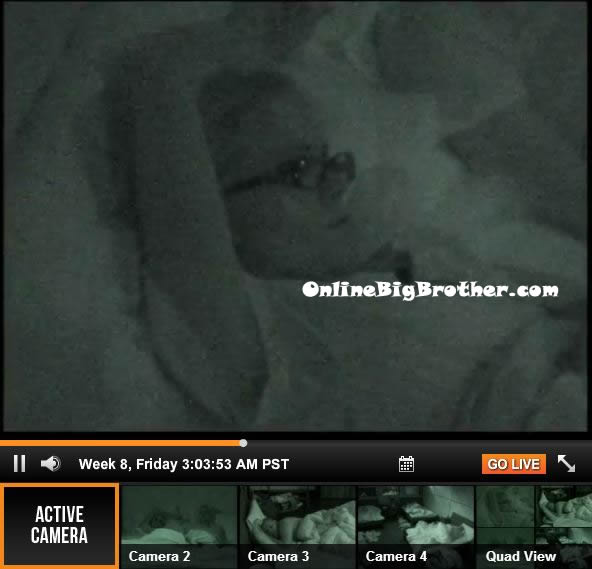 8:10am All the house guests are still sleeping..
8:40am – 10:15am Big Brother wakes up the House Guests. When the live feeds return – Aaryn and Elissa are in the kitchen. Aaryn heads back to bed after getting her medication. Elissa asks Aaryn if it was nice having the HOH bed? Aaryn says yes. Elissa also heads back to bed. Big Brother zooms in on the pizza Aaryn half ate and left on the kitchen counter. Ginamarie thanks Aaryn for letting her sleep up in the HOH. Ginamarie heads downstairs to sleep. Helen is awake and doing her morning run inside the house. Aaryn does her make up in the HOH bathroom and then heads down to the diary room.

Use the Big Brother Live Feeds to FLASHBACK to SEE what they can't show you on TV: BB15 N!p Sl!ps / N*des