POV Holder:
Next POV
Aug 17th
POV Used
POV Ceremony
Aug 19th
HOH Winner:
Aaryn
Next HOH:
Aug 22nd
Original Nominations:
Current Nominations:
Last Evicted Houseguest
David, Nick, Jeremy, Kaitlin, Howard, Candice, JUDD, Jessie
Have Nots
7:57pm Cockpit Amanda and Andy
They are amazed that every week has gone their way. Andy doesn't want to mention how awesome they are doing because he'll jinx it.
Andy asks her what he should say to Spencer. Amanda instructs that he tells Spencer, Elissa and Helen wanted him and GM nominated but Andy, Mc and her told Aaryn to put up Helen and Elissa.
They wonder who Spencer will put up if he wins HOH. Amanda thinks it'll be Elissa and Gm. Andy thinks Elissa and Aaryn he points out that GM and Spencer have some type of weird bond. Andy: 'Watch out for the GM/Spencer alliance.. God imagine if you go home because of that"
Amanda says she can't .. If it happens she would kill herself.
Amanda: "I can't believe Ginamarie knocked out Helen" (in the HOH competition)
Amanda: "This week is HUGE"
Andy: 'What the f*** America we're not making big move that JUDD move was Big"
Amanda: "It was HUGE.,. f**** that .. maybe this last week we just got rid of Jessie"
Andy: "SOrry.."
They laugh "it had to be done"
Andy says his biggest worry is Helen stays this week and puts up Amanda and Aaryn. Amanda explains Helen has no power this week and no vote the best thing for Andy is to stick close to his "alliance". She instructs him to let her know she is staying and the only reason Aaryn is putting her up is to ensure Elissa goes home. Reinforce the reasons Aaryn will give Helen.
Andy: "Then blindside her.. she is going to kill me she is going to be heartbroken."
They agree after what Elissa said to her before the comp Helen will understand for Aaryn's game it is best.
Andy: "Jessie was 100% telling the truth about Helen all week. .Helen was blatantly lying to her face.. "
Amanda: "I know.. I went to Jessie and told her that"
Andy says he did to right before the vote.
8:26pm Ginamarie is waiting for Spencer to come out of the Diary room so she can throw a bag of mung beans at him. FYI she misses after waiting around for 20 minutes.
9:00pm Pranks and chit chat..
9:05pm Living room Andy, McCrae and Spencer
They are talking about the Tweet question from "Xerses" Julie gave Helen during the live show. Julie said she then corrected herself and said He or She.
MC: "She was playing it safe PC style"
Spencer: "I hate all that PC sh!t.. it muzzles real conversation.. you can't talk about real stuff because of the fear of offending somebody."
Andy: "People who get offended can go f*** themselves.. life is too short to always be offended by everything"
Spencer and MC agree.
Spencer says people that are easily offended are pu$$ies"
Andy
McCrae says he wishes he could remember that Ricky Gervais qoute about offending people. Spencer: 'What tehy can go f*** themselves" MC: "Ya pretty much "
("Just because you're offended, doesn't mean you're right." ? Ricky Gervais, Heres one)
9:26pm Dinner
Helen in the Diary room
Elissa sleeping
The rest are chit chatting
Amanda is trying to convince Aaryn to request some black hair dye in her HOH basket. Amanda says she's is going to be completely grey but the time she gets out of here.
Specner: "Are you 28 or 38"
Amanda: "Oh my god I want to die"
They're explaining to Ginamarie how the HOH competition worked.
Aaryn: 'McCrae.. did you throw it.. "
MC: "No"
Aaryn: "I thought he threw it"
GM: "Look at that F*** smirk"
MC: "NO"
GM: Don't lie dude"
MC: "NO"
GM: "You can't lie bro.. sorry.. your wifey is better at it you can't lie"
Aaryn: "I walked up to the thing and Amanda said Give it to me" Aaryn explains she heard the music knew it was Veto looked at Amanda waiting for her to hit the button.
Aaryn adds that the first 1/2 of the song she was debating if she should throw it or not. She thought Damned if I do Damned if I don't McCrae agrees.
Amanda says she told them in the DR she threw the HOH and the said "no you didn't"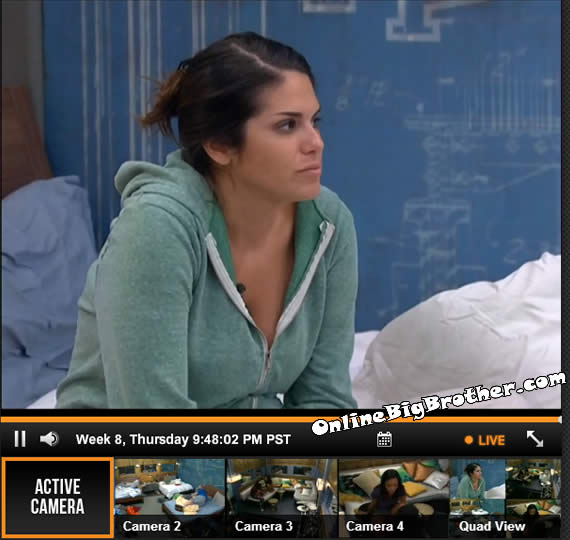 9:46pm Bedroom Spencer, Andy, Amanda and MC
Talking about stuff they would like to get in the game.
Andy: Zingbot
Amanda: Celebrity host
Specner: Elizabeth Shoe
Specner: "I want them to give me a m@sterb@t!on booth"
Andy asks them if Elissa gets evicted do they think she will leave. Amanda isn't sure they all heard Elissa threaten that she'll walk out of the jury. Amanda tells them if they get to jury and Elissa is there they need to make her life hell so she leaves that way America gets the vote.
9:48pm Cockpit Helen and McCrae
Helen saying that Spencer is working with Aaryn. MC plays along says he's worried they are working on something to get him out.
Helen: "I think she wants Elissa out because Elissa fought with her right before the competition"
Helen says Elissa didn't want to sit next to Aaryn and GM and she made a big deal about it. Aaryn went up to Elissa and said something and Elissa ignored her.Helen thought it was silly thing for Elissa to do right before the competition she should be worried about winning the HOH.
Helen: "I'm scared she'll put up Me and Elissa and put me up as the pawn.
MC: "Or put up me and Elissa.. That way AManda votes out Elissa."