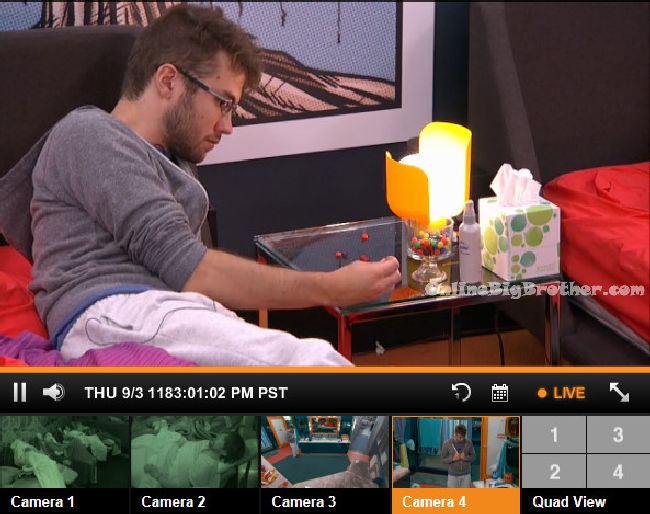 1:40am – 3:30am
Steve heads to the comic room and starts hitting himself with a pillow. I never had any intention of going to the final 5 with the scamper squad. What I need to do is break this down and figure it out. The first thing I have to acknowledge is there is risk in either scenario. I need to play the odds. He starts laying out m&m's. One thing that I do believe from Vanessa is that Austin is going to throw it tomorrow. Steve starts whispering very quietly and moving the candy around. He goes through scenarios. Steve then lays in bed staring off at the wall. Sh*t I give up! I give Up!! He then says he needs to go to bed.. Steve then lays there restlessly. He then gets up had goes to sit at the chess table. He wonders around the house and then goes back to the candy's. He starts laughing and says OH I'm so hilarious. I could just stand back and let.. He wonders around the room and then says I'm going to bed. He shuts off the lights.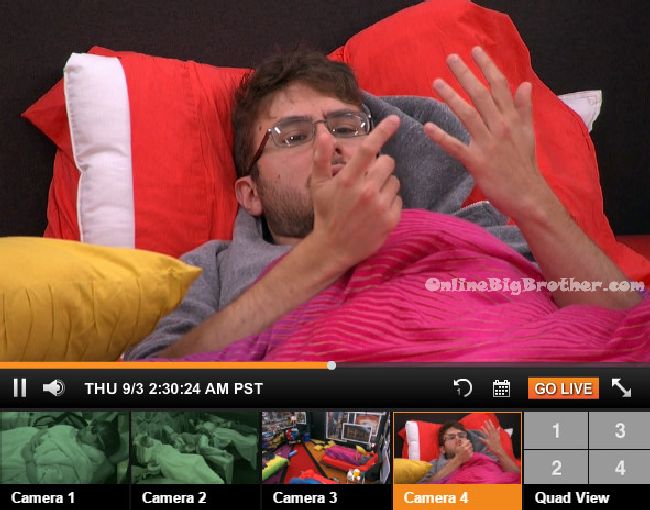 4am – 4:40am Steve still hasn't gone to sleep and is up whispering to the camera but his mic is off so you can't hear what he's saying. He then goes back to counting out scenarios with the M&M's. Steve goes back to bed.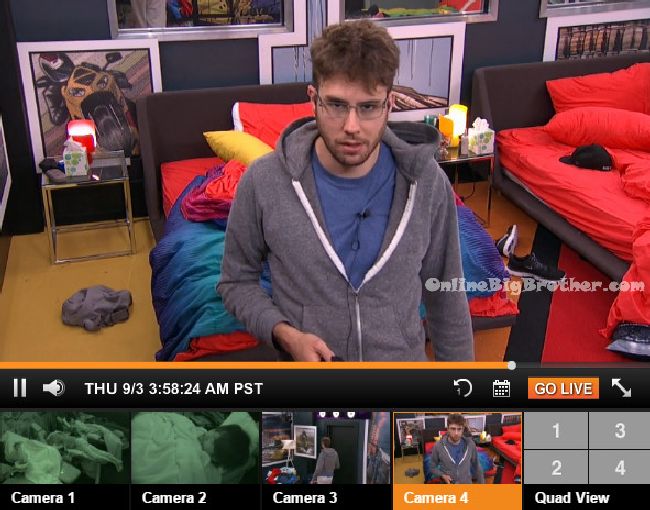 5:25am The boy can't sleep..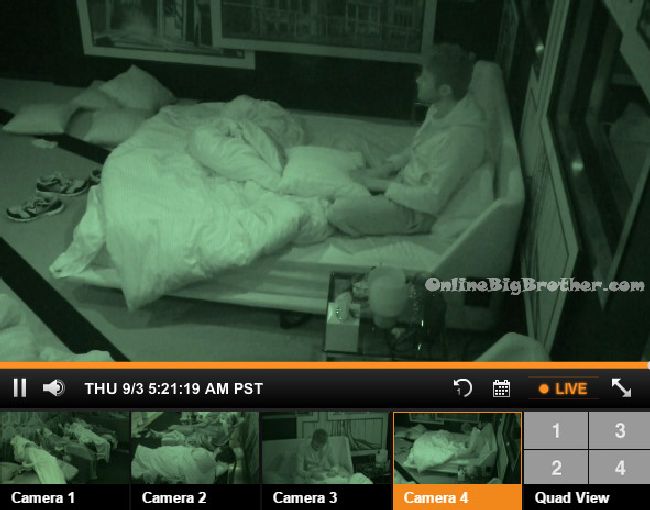 If you've enjoyed the spoilers please consider a donation using the drop down box below. Simon and I work 24/7 all season long to keep you updated on everything that happens inside the Big Brother house.
ALLIANCES:
"Goblins/Gremlins" = James and Meg
"The Generals" = anyone allied with Becky
"SOS" (Students of Sound) = Steve and Vanessa
Rockstars = Steve and Jmac
AUS-Twins = Austin, Julia and Liz
"Austin's Angels" = Austin, Liz, Julia, Vanessa
"Brass Tacks" = Gobins and Austwins
The new "Brass Tacks" = Aus-Twins, Meg, James + Vanessa
"Freaks and Geeks" "The Scamper Squad" = Aus-Twins, Vanessa, Steve
"The new Freaks and Geeks minus Vanessa" = Austin, Liz, Julia, Steve, Johnny Mac
"The Authority" = Austin, Liz, Julia, Steve
[polldaddy poll=9046808]
Share it YO!
Tweet