POV Holder:
James
POV Competition
Aug 29th
POV Used
Yes
POV Ceremony
Aug 31st
HOH
Vanessa
Next HOH
Sept 3rd
Original Nominations:
Meg and James
After POV Nominations:
Meg and Julia
Have Nots
Johnny Mac, Julia, James, Meg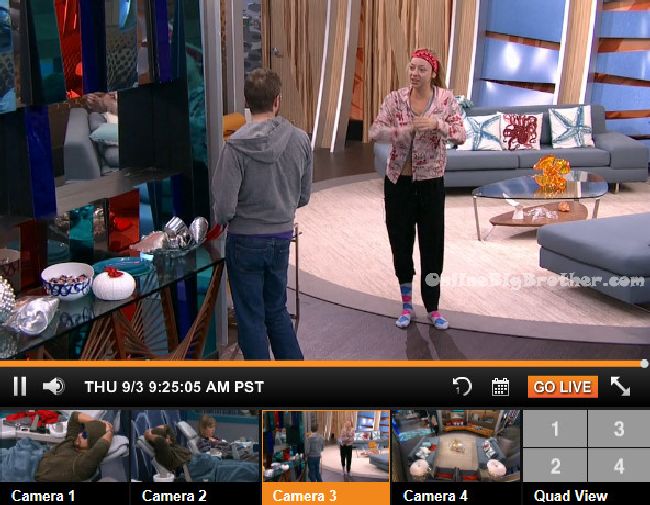 9:30am
Julia ask Steve what's wrong with him? Steve says he's exhausted. Julia says it took her a long time to fall asleep. Steve says MMMmmHmmm. Steve heads to the bedroom. Austin and Liz comment on how Steve was up a lot last night. Steve says he was sick. Austin asks from what? Steve says he doesn't know. Austin says from nerves? Steve asks you can get sick from that? Austin says yes. Some athletes get sick from the nerves before a game. Steve head up to the HOH to get in his corner. Vanessa says that she talked to Johnny Mac and presented all the same things to him if we voted the other way. Vanesssa says so you've agreed. Steve says I think so. Vanessa asks did you talk to Austin? Steve says no because he would obviously want to keep Julia. Vanessa says oh so you were literally going to do it even though he wouldn't approve? Steve says no it was an idea. Vanessa asks okay got it so you would never do this without me being on board? You realize I would be the most lonely depresses blindsided cookie of all time. Because I'm reasonable. Steve says I know you are. Vanessa says if you told me you had to do this I would hear you out.. I would just disagree. I would respect that ..way more than random. Steve says I didn't sleep much and I was throwing up. Vanessa asks ohh.. why?! Are you okay!? Steve says he isn't sure. Steve heads down stairs.
Watch the NEXT WEEK of the Live Feeds for FREE! Click here for your: 1 Week Trial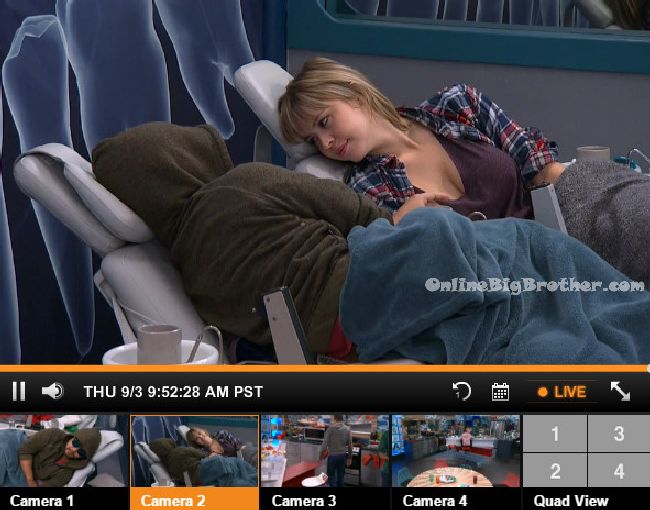 Havenot room – Meg says it was surprisingly easy to pack all her things. James says me too. Meg says you were already packed. James says he'll hide in her suit case. James says he is going to try and take at least one more person out after you leave. If I win HOH they are going to be sweating bullets. Even Steve! Meg says he is so annoying. James asks did I offend you?! He always tries to act like he's 12 years old. He is doing the whole Ian (Terry) act.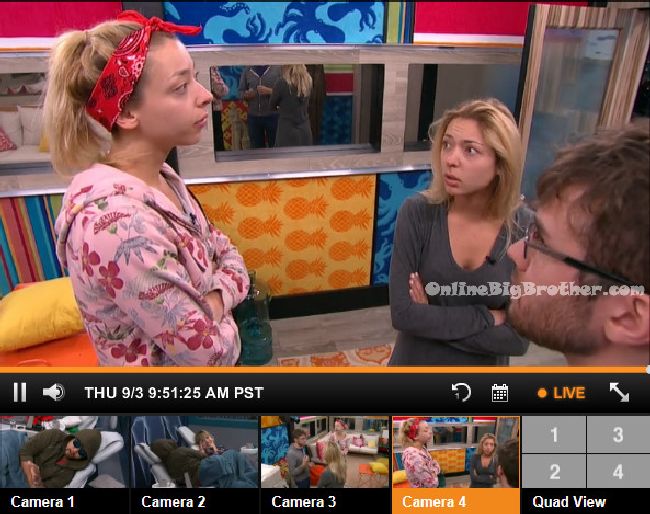 9:50am Steve asks to talk to Julia and Liz in the Cabana room. Steve says I know I am being really stupid. I am just covering my bases. I'm not going up if you win right?! If either of you win HOH, I'm not going up am? Liz says a million percent! Oh my god! Steve asks at the nomination ceremony or the veto ceremony? Julia says no. Liz says 100% no. Steve asks can you swear on your family? Can we shake on it? They shake. Liz asks is that why you're nervous? Steve says no, I'm just trying to cover my bases. I trust you 100%. Julia says she overheard James saying this HOH was so important. Steve says they're scampering, I am just nipping everything in the bud. I am telling you right here, right now you have my vote. Steve reiterates I'm not going up at the nomination ceremony or the veto ceremony? Julia and Liz both shake his hands again. Julia says you're not even going up as a pawn. I've been used as a pawn and no. Steve says thank you. They all leave the room. Steve heads up to the HOH room. Steve and Johnny agree not to vote out Julia. Its too risky.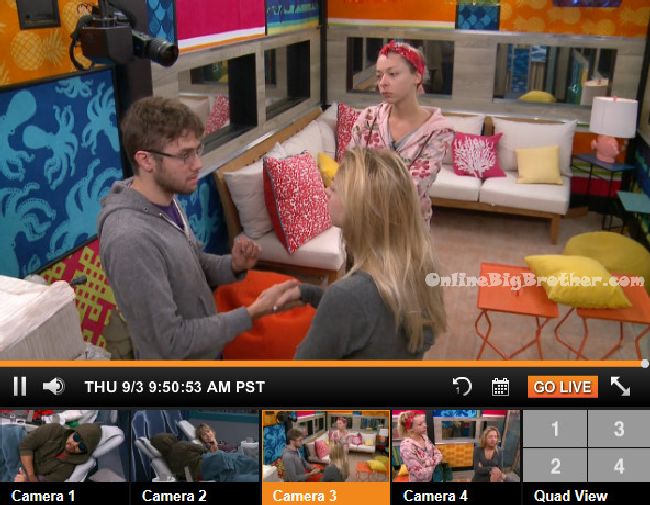 10:10am – 10:15am The house guests start heading up to the HOH room in preparation for the HOH lock down. Big Brother switches the feeds the live feeds highlights.
12:10pm The live feeds are still blocked.
If you've enjoyed the spoilers please consider a donation using the drop down box below. Simon and I work 24/7 all season long to keep you updated on everything that happens inside the Big Brother house.
ALLIANCES:
"Goblins/Gremlins" = James and Meg
"The Generals" = anyone allied with Becky
"SOS" (Students of Sound) = Steve and Vanessa
Rockstars = Steve and Jmac
AUS-Twins = Austin, Julia and Liz
"Austin's Angels" = Austin, Liz, Julia, Vanessa
"Brass Tacks" = Gobins and Austwins
The new "Brass Tacks" = Aus-Twins, Meg, James + Vanessa
"Freaks and Geeks" "The Scamper Squad" = Aus-Twins, Vanessa, Steve
"The new Freaks and Geeks minus Vanessa" = Austin, Liz, Julia, Steve, Johnny Mac
"The Authority" = Austin, Liz, Julia, Steve
[polldaddy poll=9046808]