POV Holder:
James
POV Competition
Aug 29th
POV Used
Yes
POV Ceremony
Aug 31st
HOH
Vanessa
Next HOH
Sept 3rd
Original Nominations:
Meg and James
After POV Nominations:
Meg and Julia
Have Nots
Johnny Mac, Julia, James, Meg
8:29pm Steve and Jmac
Steve tells him to practice his days tonight
8:33pm last night of the GOBLINS
8:43pm Meg and James
James who is Austin working with he could be working with everyone but us or he could be secretly working with them and with us
Meg doesn't know how to approach Austin "It's so awkward from yesterday"
The goblins agree Johnnymac has told Vanessa everything they were proposing this week
James – I'm f**ked for next week
9:03pm Goblin meg still packing, James watching, Austin is now with them
James – that's a bad ass suitcase
James – if you do go home tomorrow tells Jackie I say HEY
They start talking about how much alcohol they are going to drink when they get out.
9:16pm HOH Vanessa and the twins
Vanessa – I know it's stressful being on the block I have your back 100%
Julia – Did he say something
Liz – J-U-L-I-A -aaaaaaaaaaaaaaaaaaaaaaaaaaa
VAnessa – have you thought of things from Austin's perspective
Liz – what's his perspective.. I don't see why he would vote against us Meg is clearly not on our side
Vanessa – no one is going to do anything with Austin's blessing you just make sure Austin realizing not to f** a round..
Vanessa – he says he's going to (Vote for Julia to stay) but you never know..
Vanessa – I just think of incentives.. you think Austin wants t6o twin the game
liz – at first I didn't know but I have seen a attitude change from him.
Julia – He might vote me out to get closer to you (Liz)
Vanessa – what happens if it comes down to you three.. Is that good for Austin
Liz – No
Vanessa – that's my only concern
Vanessa – I'm saying this because I'm worried about you girls
Liz – i've told him If she goes home I will self evict
Vanessa says the only way Julia goes home this week is if the house has Austin's blessing to vote her out.
Julia says it's painfully awkward how austin has been around her, "You are dating my sister, he doesn't say a word"
Vanessa says Austin has never said anything to her about taking out the twins "he knows I would tell you "
Vanessa says Austin and Steve were whispering on the hammock..
Vanesa – you have to trust me .. I'm good when I want something I'm a good campaigner.. I have your back i'm not going to let it happen..
Vanessa – The reason I'm telling you I want Liz to help me combat him from that angle.
Julia tells Liz to tell Austin tonight "Pillow talk" that if he votes out Julia it will break her heart.
Julia – I trust Steve more than Austin
Liz – If the vote is f*** up tomorrow I know it's Austin that's how Sure I am of Steve
Vanessa says if Steve voters out Julia he never would do it alone
Vanessa is only concerned about Austin and Steve having something planned because they were whispering in the hammock.
the twins eat this up Liz says if Austin vote sout Julia they are done she will never talk to him again.
Vanessa says she knows exactly what Austin would say "I read his mind"
Vanessa asks them to not tell Austin any of this. "The two of you have an unbreakable bond you are family… "
Warns them if Austin finds out she was talking to them he might make a move tomorrow.
Julia starts practicing her speech.
[envira-gallery id="131858″]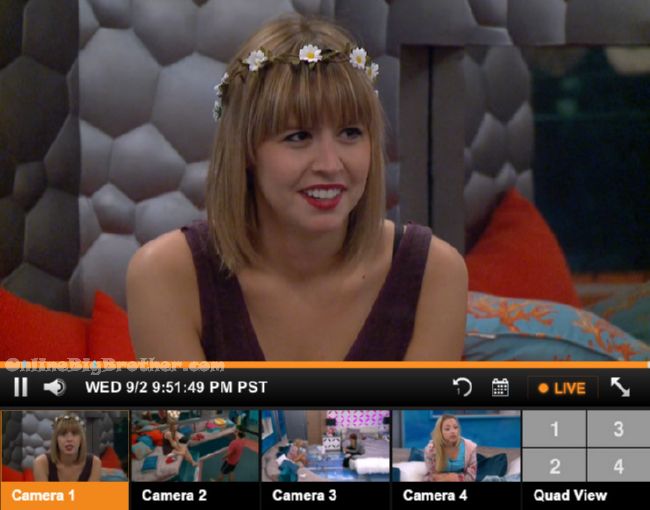 9:38pm Goblins going over what Meg should say to Austin.
James points out that the Jury is filled with other goblins, "Becky, Jackie, You, Shelli" (Not sure why they are thinking Shelli was with them)
James points out those people are not going to vote for Vanessa to win it.
Meg says Steve's game isn't original
James likes Jmac's game so does Meg.
James – you think Julia is worried at all she could go home
Meg – no
James – that's crazy
They talk about campaigning and how awkward it is to do right now..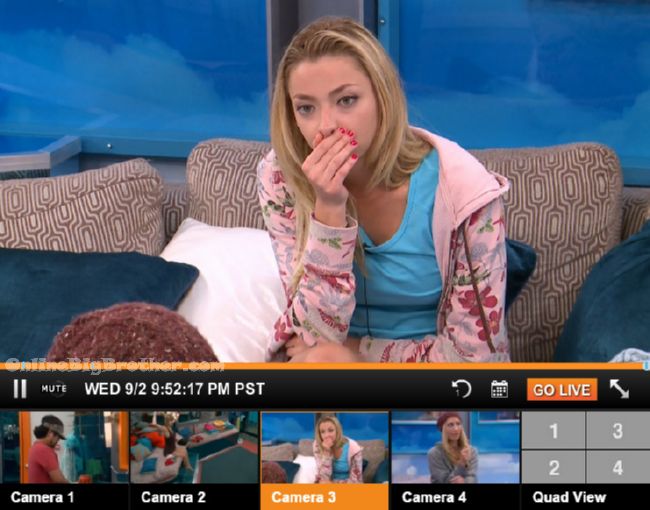 9:38pm HOH, Vanessa and Twins
VAnessa keeps saying that Austin wants to keep James in his back pocket
9:51pm Vanessa and Julia
VAnessa is saying that Austin's dream scenario is the final 2 with Liz
Vanessa- he did not say anything
Vanessa going on and on about never lying to Julia and if there is a flipo she'll stop it.
Julia says Austin is being a a$$hole and rude.
Vanessa- I know exactly what that feels like he did that to me
Julia – he's mean he's not nice
Vanessa says she will handle Austin. Vanessa says it's Steve that will vote out Julia and Austin will try to blame it on Steve.
9:56pm Austin, Vanessa, Twins and Jmac playing Chess
10:06pm Bathroom Goblin talk
James – I gotta ally with somebody even if I get f*** over
James says he wishes they would have taken the twins out back when they're was just 1 of them.
Meg says at the time they didn't want a person coming back in.
Steve goes in to use the toilet
James wonders why Steve sits down when he pees
Steve says he doesn't always sometimes he doesn't trust his coordination
Meg – why are you limping
James – cause my nuts are heavy
Steve – did he get blue balls watching you pack
meg – ewwww
Steve – was that a line..
Liz – James has said worst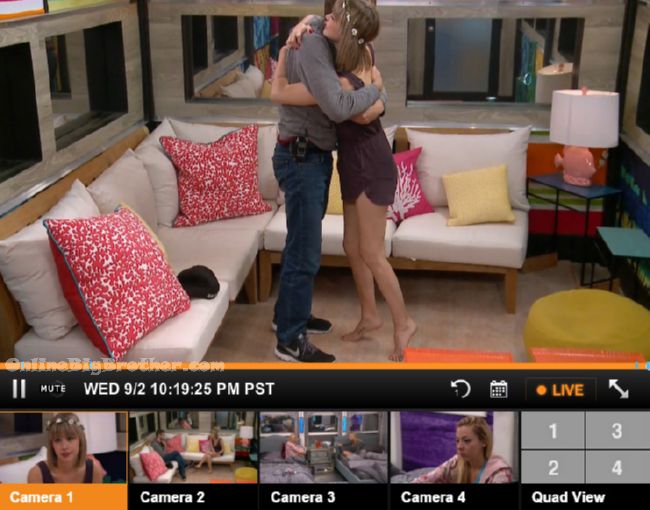 10:14pm Hammock room Steve and Meg
Meg says she's certain she's going home "95% sure"
Meg asks for his vote she's talked to Johnnymac and he's open. She points out there's a strong threesome in the house.
They hug 5 minutes later they are done.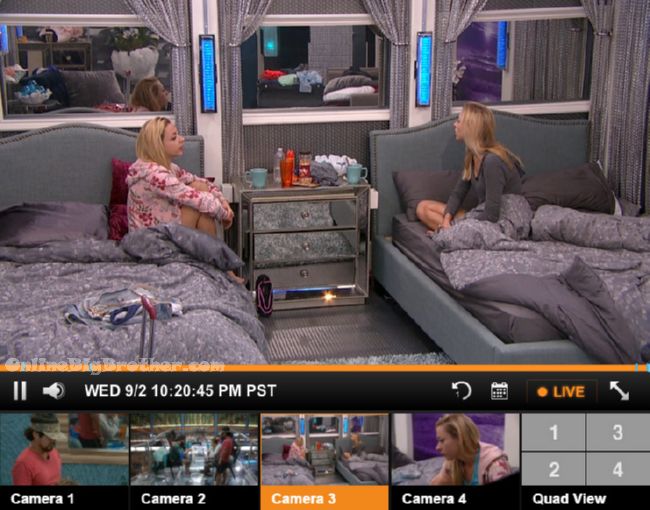 10:14pm Twins
Agreeing that Austin is "So mean"
Julia – he asks like I'm not even there
Julia – I don't like him at all he's really mean
Liz says if Austin votes out Julia she's going to know and she will never talk to him again. he should know this.
Liz – why is he acting like this
Julia – he's mean I don't like him for you
Julia calls Austin a spoiled a$$hole brat
Juli a- I'm over it I'm so over it I want to go home..
Liz – No you don't
Julia – Home Miami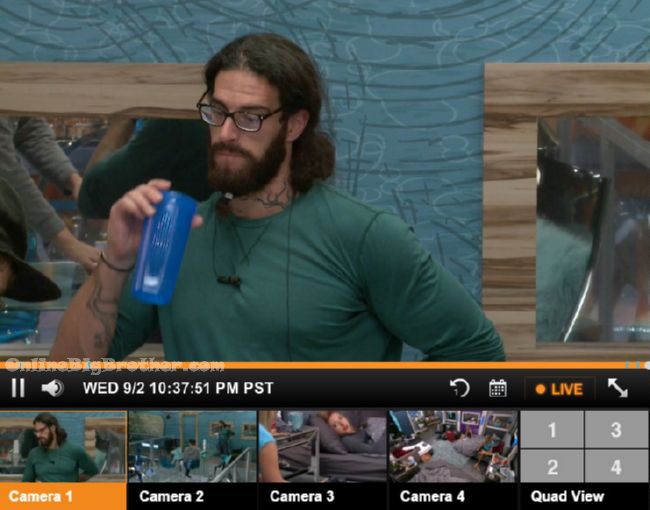 10:36pm Chess table Austin and Steve
Steve mentions Meg talking to him in the hammock room
Austin – She's not doing much
Austin wants to talk to James so they can secure something in case Jmac wins.
Austin – We need to work with Johnny Mac right now.. Vanessa's right when I'm down to final 5 what do You doi I never thought we would make it this far.. I don't want to be Diane
Steve – we'll talk later.
James joins them. Steve and Austin start up another game.
james chit chats and leaves.
10:41pm bathroom James and Jmac
James says he walked up to the chess table and Austin and Steve were whispering and when they saw him they stopped. they agree they both need to win the next competition.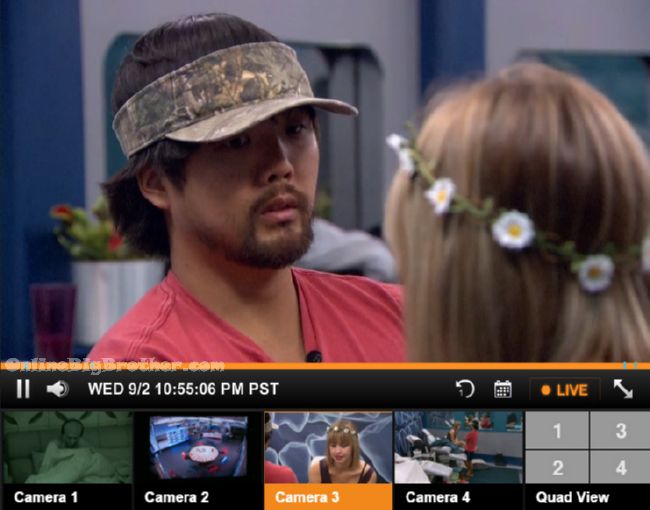 10:43pm Have nots Goblins
They are suspecting Austin is working with Steve.
Meg – Steve is working with one of them (Austwins) way more closer than we think
After some more goblins talking they start saying that Vanessa, Steve and Vanessa have something.
James says he feels like there's 6 firing squads after him.
James thinks there's a final 6 he's got to win eh HOH
James is going to call Austin out on his shit.
James says Austin is the brains of Liz, "Once Austin leaves this house will break down.. Vanessa will bring them together"
Meg – you see it nights like this everyone is against us, You can see who works together
Meg tells him he's got all the Jury votes
jame s- not Shelli
Meg – wait until I get there
Meg – I want to call out Austin.. but it will hurt your game
James leaves he's going to go see where Jmac is at "if he's up there (Chess) i'm going to be like F****"
11:11pm Bathroom Jmac and James
Jmac says he can't flip the vote himself. James knows, he's planning for the next week. Warns them Steve and Austin are working together.
Jamc – we either win or we die.. take it from there.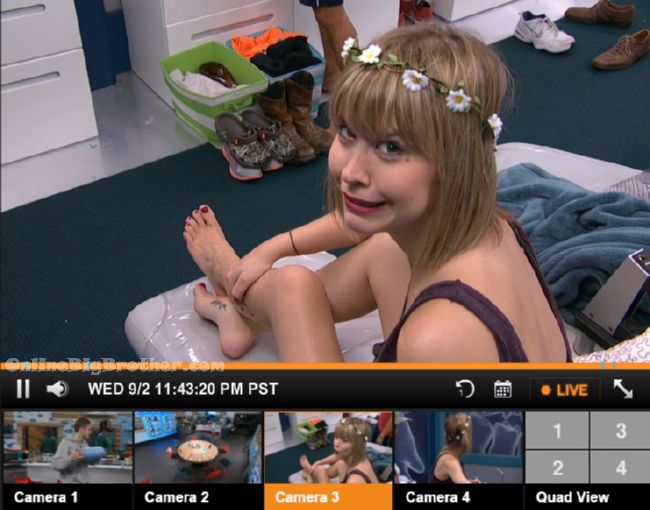 11:40pm JAmes is packing all his stuff just in case something comes up
meg – It's going to be me not you
james – It's going to be me… next week
meg talks to the camera says JAmes is packing his stuff and he's not even on the block.
Midnight. The goblins are giggling in the Have nots. Austin and Jmac chatting in the kitchen while Austin makes food. The twins are up playing Chess with Steve watching and Vanessa is sleeping in the HOH.
If you've enjoyed the spoilers please consider a donation using the drop down box below. Simon and I work 24/7 all season long to keep you updated on everything that happens inside the Big Brother house.
ALLIANCES:
"Goblins/Gremlins" = James and Meg
"The Generals" = anyone allied with Becky
"SOS" (Students of Sound) = Steve and Vanessa
Rockstars = Steve and Jmac
AUS-Twins = Austin, Julia and Liz
"Austin's Angels" = Austin, Liz, Julia, Vanessa
"Brass Tacks" = Gobins and Austwins
The new "Brass Tacks" = Aus-Twins, Meg, James + Vanessa
"Freaks and Geeks" "The Scamper Squad" = Aus-Twins, Vanessa, Steve
"The new Freaks and Geeks minus Vanessa" = Austin, Liz, Julia, Steve, Johnny Mac
"The Authority" = Austin, Liz, Julia, Steve
[polldaddy poll=9046808]